In an unexpected twist of events, Meta (Instagram's parent company) has released a novel social media app, Threads.
Since the new app launched, it has captivated the digital realm by racking up tens of millions of Threads accounts, 55 million users within a span of less than 24 hours, to be exact. As of July 11, 2023, 100 million users have joined Threads.
Mark Zuckerberg, who owns Facebook and is Meta's current CEO, proudly announced this phenomenal achievement on social media. Instagram head, Adam Mosseri, has also taken to Threads to join the celebration and further spread the good news.
While the two CEOs continue to enjoy their victory, Twitter responded and threatened to sue Meta. But this is a topic for another day, as only time will tell how this side of the story will unfold.
Threads offers a unique blend of real-time conversations and Instagram's familiar aesthetic, potentially posing a significant challenge to Twitter's dominance. 
Read on to discover the key features Threads has to offer and get more insights into Meta's strategic approach.
Note:
Threads currently lacks an API for seamless third-party integration. However, we remain hopeful that they will introduce it in the future, allowing for a smooth integration with the SocialBee app and enhancing our overall user experience.
Short Summary:
Threads offers a combination of real-time conversations and Instagram's aesthetic, potentially challenging Twitter's dominance.

Threads integrates elements from Instagram and allows seamless sharing of posts to

Instagram Stories

while remaining a separate app.

Users can download Threads from the App Store or Google Play Store and can create an account using their existing credentials and Instagram username.

Key features of Threads include private profiles for users under 16 and 18 years old (depending on the region), the ability to maintain existing Instagram following lists, and accessibility features like AI-generated visuals and screen reader assistance.

Posts on Threads can be up to 500 characters long, include links, and feature photos or videos up to 5 minutes long.

Concerns about sustained success, user interaction, data privacy, and the inability to deactivate Threads without deleting the associated Instagram account have been raised.

Although Threads is available in 100 countries, including the United States, the United Kingdom, Australia, New Zealand, Canada, and Japan, it's not being launched simultaneously in the European Union, possibly due to the need for further privacy compliance measures.
Free Editable Social Media Strategy Template
Get the social media strategy template you need to audit and plan your marketing efforts for maximum results.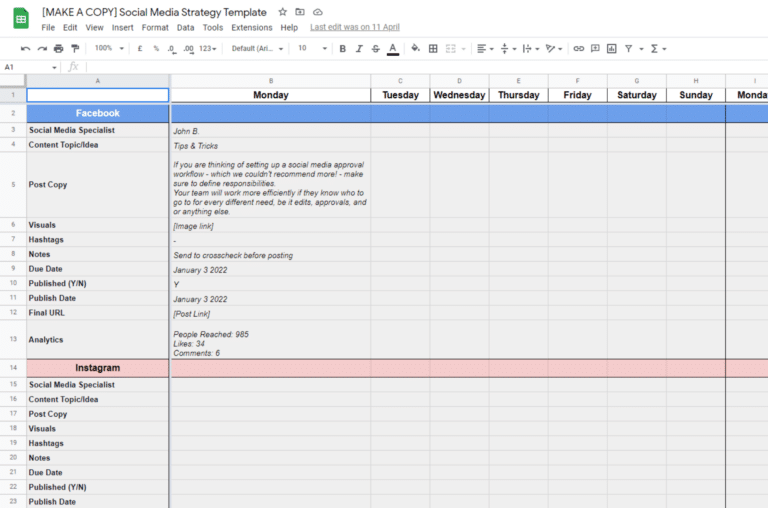 What Is Instagram Threads?
Threads, the new Instagram app from Meta, aims to provide users with a space for public conversations, focusing on text-based posts. However, multimedia content like photos and videos are also supported.
Similar to Twitter, the new social network allows users to engage in real-time discussions, reply to, repost, and quote others' posts. However, it also integrates elements from Instagram, offering seamless sharing of Threads posts to Instagram Stories, but remaining separate from the existing app. 
Introducing Threads: A Strategic Move
Threads' launch comes at a crucial juncture when Twitter is implementing restrictions on user content consumption, limiting the amount of content users can view per day. This new development seems to have been that last straw that motivated Twitter users to look for other social media platforms that can replace the platform.
The peak of this organic demand for a Twitter alternative has created the perfect environment for Meta's Threads app launch.
Instagram's introduction of Threads presents an opportunity for users to diversify their social experiences. By focusing on text-based conversations, Instagram caters to individuals who seek more extensive and in-depth discussions on topics they care about. 
This strategic move has the potential to attract users who find themselves longing for an alternative to Twitter. Considering that there aren't many other Twitter competitors ou there, Threads might be the next best alternative to a public conversations app.
Threads: The Origin Story
In 2019, Instagram introduced a camera-centric messaging app called Threads, which allowed users to share photos, videos, and status updates with their close circle of friends. 
This previous version offered dedicated inboxes and notifications, providing a standalone experience for Instagram's close friends list. Regrettably, this incarnation of Threads was discontinued in 2021.
The new Threads app started as a confidential initiative named "Project 92," born from Instagram months ago with the explicit intention of challenging Twitter. The project was cloaked in secrecy, with only a limited group privy to the early versions of the app. This exclusivity only amplified the anticipation surrounding Threads' unveiling.
Accessing Threads
Users can download Threads by accessing either the App Store or Google Play Store. 
The process of creating a Threads account is designed to be user-friendly, allowing individuals to utilize their existing Instagram credentials, including their Instagram username and password. Furthermore, the app provides an opportunity for users to customize their Threads profile separately for the platform.
Once inside the Threads app, users are greeted with a visually appealing home feed showcasing the latest posts from the people they follow. The user-friendly interface also allows for effortless discovery of new individuals to follow, along with convenient access to notifications. 
Here are some key Threads features you should know about:
Users below the age of 16 (and in certain nations, those below 18) will have a private profile by default.

Instagram accounts that have already received verification will be automatically verified on Threads as well.

Threads allows individuals to maintain their

following list

from Instagram and provides the opportunity to discover other users with aligning interests.

Threads also incorporates Instagram's accessibility capabilities, such as AI-generated visuals, descriptions, and screen reader assistance.

Users' feeds on Threads include posts from followed accounts and recommended content from new, undiscovered creators.

Posts on Threads can be up to 500 characters long, contain links, and include photos or videos up to 5 minutes long.

Users can share a Threads post to their Instagram Story, or share their post as a link on other platforms.

Users can filter replies to their Threads posts using hidden words, similar to Instagram.

Users can manage their interactions with other Threads accounts by unfollowing, blocking, restricting, or reporting profiles. Blocked accounts on Instagram will also be blocked on Threads, as Meta's enforcing the same Community Guidelines.

Users can import the list of accounts they follow on Instagram, enabling a smooth onboarding to the new app.
While some users experienced minor glitches during the initial hours of Threads' launch, it is expected with a surge in user activity. 
Threads First Reviews & Impressions
Dan Barbera, content creator at MacRumors with over five years of experience in tech reviews, has recently reviewed the Threads app. He states:
"The app itself is actually incredibly simple, it looks a lot like Twitter and Instagram mixed into one."
Here are the main takeaways from Dan Barbera's video review:
Profiles on Instagram automatically port over to Threads upon downloading the Threads app. When you create a new account on the social media platform, you are provided with an option to automatically connect with your Instagram followers.

Threads has an automatic follow feature for Instagram friends who sign up for Threads, allowing you to connect with your Instagram community quickly.

As an early version, Threads is currently displaying posts from both known and unknown people, which is by design. However, the amount of unknown content will likely decrease as more users sign up.

The Threads app has some current limitations like crashing while adding a photo. There's a workaround of copying and pasting photos for now.

Activity can be sorted by all replies, mentions, and verified profiles.

User profiles on Threads have an Instagram icon that redirects to the corresponding

Instagram account

.

Threads now display a user number under the profile image which indicates the order of joining.

Future improvements are expected, such as sorting the timeline based on who users follow and in chronological order.
Jonny Keeley, the Brand and Content Manager at Igloo Vision, has also taken it upon himself to review Instagram's Threads. With over six years of experience in the digital marketing world, he had some interesting insights to share. 
One of the most important aspects Johnny mentions is that Threads may break down the notion of a niche on social media platforms and encourage more diverse posting:
"I think it's going to break down what niche means on these kinds of platforms. I post whatever I want to Twitter if I've got some images I really enjoy I just post them, but I don't do that on Instagram. I think I will do that with Threads."
Unlike Instagram, there is no grid when you visit someone's Threads profile. You can see their profile picture, account name, and bio, followed by a flow of posts beneath it.
Johnny Keely also states that the integration between Threads and Instagram is seamless, with the ability to tap on an icon to visit someone's Instagram account.
Here are some more main takeaways from Jonny Keeley's video review:
The app allows posting images in various aspect ratios (even in

carousel posts

) and provides a seamless user experience for viewing them.

The tap-to-follow feature allows users to quickly follow people they come across in their feeds.

The absence of a grid on Threads is seen as a positive change from the highly polished Instagram feed, allowing for a more uncurated way of sharing content.

The ability to link threads with Instagram is a convenient feature, as it allows users to easily access someone's Instagram account and serve as a means to build one's platform.

Threads does not display

view counts

on videos, focusing more on communication rather than popularity.

The follow count is understated compared to Instagram, potentially

reducing the emphasis on numbers

.

Deleting Threads data requires deleting the associated Instagram account, raising questions about the relationship between the two apps.
It's worth mentioning that Jonny Keeley emphasizes that using Threads can be an opportunity to care less about social media and focus more on genuine connections and communication. Meta seems to use Threads to encourage users to avoid growth hacking and artificial number boosting, emphasizing the importance of meaningful interactions.
User Concerns About Threads
While the initial wave of downloads and engagement is undeniably impressive, ensuring sustained success and user interaction is a different beast altogether. After all, Twitter retains a significant edge with over 237 million daily users. 
It's also worth noting that Meta grapples with continuous data privacy concerns that have haunted the company in the past. Preventing spam, harassment, misinformation, and conspiracy theories will be crucial in maintaining user satisfaction.
At the moment, Threads is not being launched simultaneously in the European Union, possibly due to the need for further privacy compliance measures.
Here is the data Instagram Threads collects from users:
Health and fitness

Financial info

Contact info

User content

Browsing history

Usage data

Diagnostics

Purchases

Location

Contacts

Search history

Identifiers

Sensitive info

Other data
Furthermore, users have expressed concerns about leaving Threads, as deactivating the profile requires deleting the associated Instagram account.

Frequently Asked Questions
Is Threads the Next Twitter Alternative?
Since Instagram introduced Threads, the excitement around this new Twitter rival is palpable. The app, seen as a blend of Instagram and Twitter, has sparked widespread interest and offers a compelling option for those yearning for a change. 
The public conversation around Threads has been divided between those who praise Meta and those who accuse them of copying Twitter. Some even have called Threads the "Twitter killer" app in an effort to dramatize the situation.
However, as the rivalry between Meta and Twitter unfolds, user preferences and the companies' ability to adapt to the changing social media landscape will determine the eventual winner. 
Until then, don't forget to take care of the rest of your social media platforms, including Instagram and Twitter from SocialBee. Start your 14-day free trial today to experience seamless social media management.
Note:
Threads currently lacks an API for seamless third-party integration. However, we remain hopeful that they will introduce it in the future, allowing for a smooth integration with the SocialBee app and enhancing our overall user experience.
Manage Your Social Media Accounts with SocialBee!