If you are looking to generate more sales through your content, Instagram carousel posts are here to help you.
Instagram carousels are versatile posts that increase engagement, boost your reach, and bring you closer to achieving your social media goals.
A study of over 22 million samples revealed that carousel posts are the most engaging content type on Instagram, having these statistics about the Instagram algorithm in mind: 
Carousels

—An engagement rate of 1.92%

Images

—An engagement rate of 1.74%

Videos

—An engagement rate of 1.45%
In today's article, we'll teach you everything you need to know about Instagram carousels and how to post multiple photos at once.
Keep reading to discover eight IG carousel examples that will inspire you to generate your own creative content for better Instagram marketing!
Social Media Strategy Template
Streamline your marketing with an efficient social media strategy template.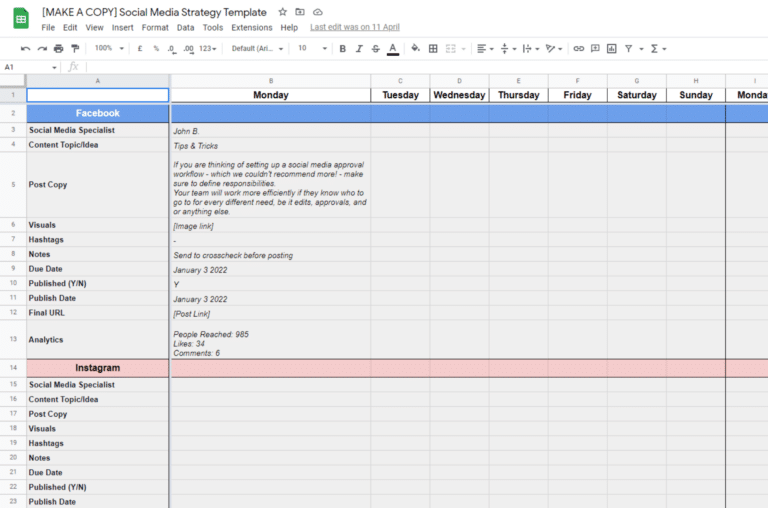 What Is an Instagram Carousel Post?
An Instagram carousel is an Instagram type of post that allows you to share up to 10 photos and videos in a single post format. The photos and videos within the carousel can be viewed by swiping left. 
It has all the features of a single-image Instagram post. The only Instagram carousel feature that is different is the little design touches that notify users that they are seeing a carousel post:
A small white square icon on the upper left corner of the post preview
A counter that shows how many pictures are in the post
Small gray circles that indicate how many pictures you have seen from the carousel 
Instagram Carousel Post Size and Specifications
Before you figure out how to make a carousel on Instagram that stands out from the crowd, you first have to consider the specifics — image and video size requirements. Otherwise, you will end up with visuals that are either too big or too small for Instagram. This will cause important parts of your post to be cut out or not have the ideal quality you intended.
Although you can choose to post your Instagram carousels in a square, portrait, and landscape format, you must remember that all visuals must have the same dimensions. You can also use Instagram presets to create a cohesive look and feel.
To make your Instagram posts look flawless, respect the following Instagram carousel post requirements.
Image Sizes for Instagram Carousels
When you post Instagram carousel images, these are the specifications you need to take into consideration:
Maximum image size: 30MB 
Square: 1080 x 1080 px
Landscape: 1080 x 608 px
Portrait: 1080 x 1350 px
Aspect ratio: 1:1 (square), 1.91:1 (landscape), 4:5 (vertical)
Video Specifications for Instagram Carousels
For video Instagram carousel posts, the specifications are the following:
Ideal formats: MP4, MOV
Length: 3 – 60 seconds
Aspect ratio: 1:1 (square), 1.91:1 (landscape), 4:5 (vertical)
Maximum size: 4GB
How to Use An IG Carousel in Social Media Marketing
Now that you know the specifics of a carousel, it's time to learn how you can use Instagram carousel posts in your social media marketing strategy.
Here are possible ways to integrate carousels in your Instagram posts:
Make a statement
Promote your business
Show the before and after
Educate your audience
Post customer testimonials
Show the behind the scenes
Redesign your blog articles
Include user-generated content
1. Make a Statement
Your products are not the only stars of the show. This is why the next Instagram post idea we are presenting is the statement post.
Let's not forget that social media is a place where you can connect with your audience. So, let your values speak for themselves and show what makes your brand unique and worthy of their time.
In a statement post, you can share:
Your mission, vision, values, and objectives
Causes and charities important to you
The company's origin story
Relevant social events
The impact your business has on the world
It is recommended to create statement posts on your Instagram account, but without overdoing it. Therefore, it is recommended that you schedule your Instagram feed, so you can post various types of content.
With SocialBee, you can schedule Instagram carousel posts from your dashboard.
Schedule Your Carousels on Instagram with SocialBee!
Create posts, publish, analyze, engage and collaborate, all from SocialBee.
2. Promote Your Business
Having up to 10 images and videos in one single post is a great opportunity to showcase your products and services by providing a more in-depth look at their features and benefits. Moreover, it's an ideal post format for a new product/service launch. 
Let's imagine you have a business that manufactures and sells coffee machines. You launch a new model and you want to promote it on social media. 
When you post a new carousel post meant to promote your business, you can:
Showcase all the colors the product comes in
Present the main features of the coffee machine
Demonstrate how to use the product
Share both images and videos that make the product look more appealing
Furthermore, by making such detailed promotional posts you will spark more interest, and encourage more conversations surrounding your new product.
Rather than making individual posts that only emphasize a couple of features and benefits, your users get to learn all the details they need to know from. This is just from a single carousel post with the potential to generate increased interest in your products and services.
And don't forget about Instagram shoppable posts. By using this feature, you will be able to seamlessly advertise your products with the help of clickable shopping bag icons that show your product information. 
Once users click on the shoppable carousel post on Instagram, they are redirected to a page within the app that:
Offers more details about your product
Recommends other items listed on your page
Displays a CTA that encourages users to visit your website
Here is an example of a well-done promotional carousel post on the Instagram app from Rare Beauty. With just one post they showcase four products that go well together: a liquid and a cream blush, a highlighter, and an eyeshadow.
This is a great carousel post because:
It is made up of high-quality product photos
It highlights the beauty of the packaging
It shows all the different shades and textures of their products
All products are meant for the same target audience
In case you want to use multiple visuals in your advertising campaigns, you can opt for carousel ads. The carousel ad format is now available for Instagram, Facebook, and Messenger as well.
3. Show the Before and After 
Actions speak louder than words. And showing how you can improve someone's life through your business is more impactful than just listing the benefits in your Instagram caption.
Before and after carousel posts not only promote your products and services but also have entertainment value. Why? Because they tell a story and show a journey of improvement.
Such posts apply to multiple topics: from weight loss transformations to home renovations and more.
Beauty professionals often use this type of Instagram carousel templates to show their skill and versatility, which otherwise couldn't have been fully expressed through single-image posts. 
The following carousel post doesn't only show the end result, but also the initial state of the client's hair. Seeing just a photo of a great hairstyle is great, but it's not as impressive as seeing the progress made by the stylist.
4. Educate Your Audience
To develop a strong social media presence, you have to use Instagram carousel posts as a way to diversify your content strategy. Ultimately, you want to bring value through your content and show that you are more than an average business.
Therefore, you can use your platform to educate your customers by showing your professional expertise through "how to" content. As a result, you will gain more credibility and build a relationship based on trust with your customers.
Moreover, by educating your audience you can make a positive impact on your online community.
Our next example is from Wilson Wings. Through their carousel post, they give young designers a look into the logo design process. They dedicate each page to a specific step of the process, making the information well organized and easy to understand.
5. Post Customer Testimonials 
Don't let good reviews go to waste. Organize them into an engaging Instagram carousel post. 
Your audience may not be fully convinced about purchasing your products and services, but customer reviews and testimonials can steer them in the right direction. 
Just think about your buying behavior. What is the first thing you do before you buy from a new brand? You check the reviews. It makes sense that you want to see what other customers experienced before you.
In addition, posting your customer's testimonials shows that you care about their views and value their input. Thus, creating a better and stronger community around your brand.
So, gather several reviews, add an attractive design, and let your customers boost your sales.
6. Show the Behind the Scenes 
The key to building a meaningful relationship with your audience is to open up and be transparent about your business.
Behind-the-scenes content refers to sharing information that helps your customers get to know your brand better. You can post about: your employees, the process that goes into your products, the story of your company, anniversaries and celebrations, etc.
But let's face it, your team is your greatest asset. So why not put the spotlight on the people that make everything possible. 
That is what we do at SocialBee. Our Freelancer Spotlight is an ongoing Instagram tradition that celebrates all our talented bees. 
Through these carousel posts, we can publish our team's testimonials in a fun format that we can share with our Instagram community. 
7. Redesign Your Blog Articles
Sharing your blog posts on Instagram the same way you do on Facebook or LinkedIn might not be that effective. Instagram doesn't allow clickable links outside your bio, so users have to put in a little more work to access your link. Which they usually don't do if they aren't interested enough.
However, this doesn't mean that you should give up promoting your blog on Instagram. At the end of the day, it is a great way to gain more traffic to your website.
By using Instagram carousels as social media posts, you can:
Restructure your article in several visually engaging images
Add attention-grabbing facts from your blog posts without revealing too much
Provide your followers with the source of your post
As a result, you recycle your blog content and redirect your followers to your website. All while also providing knowledge that earns you credibility and authority in your niche. Bingo!
Here is a great example of a redesigned blog post.
8. Include User-Generated Content
Social media is a fun place where you can get to know your customers. 
Rather than you having to be the only one posting for your followers, how about you turn the tables and let them provide you with new Instagram post ideas? 
An effective way to get Instagram users to join in on the fun is to launch challenges, contests, and giveaways that require them to send content (Instagram reels, images, videos, stories) in exchange for a reward (free products or services, a gift basket, a feature on your social media platforms). They can help you with the content, and then you can create an Instagram carousel with their ideas!
In addition, with the help of great user-generated content, you get to:
Create a stronger social media community 
Understand your audience better
Reach new audiences through their online friends
Diversify your content
Are You Ready to Experiment with Instagram Carousel Posts?
Social media is the perfect place to experiment with your content. Limiting your posts to just one image or video will prevent you from growing your platform.
Instagram carousels allow you to be creative and share multiple images and videos without spamming your followers' Instagram accounts. Moreover, by using carousel posts you add depth and versatility to your content that will help you keep your audience interested in what you have to offer.
It's time to double your sales while you create Instagram carousel posts!
Did you know that you can use social media tools like SocialBee to create, schedule, and post Instagram carousels, reels, stories, and more? Start your 14-day free trial now!
Schedule Your Carousels on Instagram with SocialBee!
Create posts, publish, analyze, engage and collaborate, all from SocialBee.