You guessed it, it's time to learn how to change your Twitter handle. Also known as your username, it plays a vital role in identifying you on the platform and is a fundamental component of your online identity.
Whether you're yearning for a fresh start, looking to rebrand yourself, or simply seeking a change, knowing how to rebrand your Twitter account is a valuable skill that can help you gain more followers.
Let's delve into the process and uncover effective strategies to change your Twitter handle in 2023!
Short Summary
The article provides detailed instructions on how to change a Twitter handle on various devices, with an emphasis on the importance of the handle as an online identifier.
It offers advice on selecting a new handle that aligns with the user's brand identity, maintains professionalism, and enhances memorability and discoverability.
The article highlights potential reasons for changing a Twitter handle, like rebranding, simplification, or organizational changes, and discusses solutions if the desired handle is already in use.
Free Editable Social Media Strategy Template
Get the social media strategy template you need to audit and plan your marketing efforts for maximum results.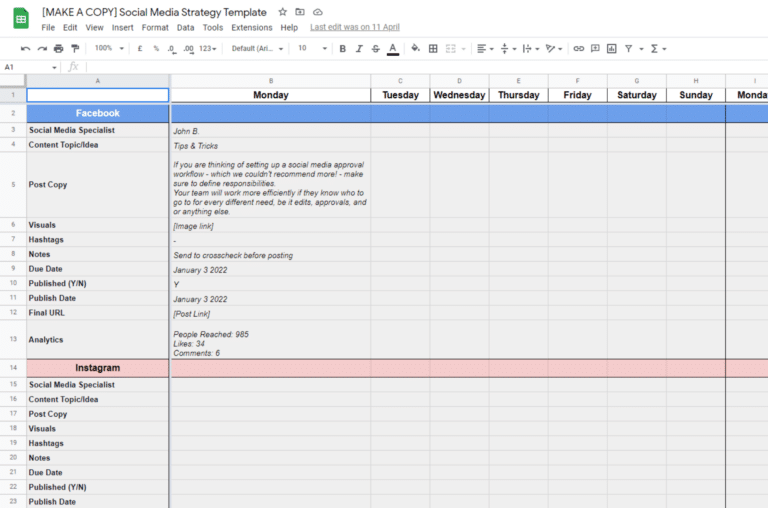 What Is a Twitter Username or Handle?
A Twitter handle, often referred to as a username, serves as a distinctive identifier representing an individual, organization, or brand within the Twitter social media platform. It is recognized by the "@" symbol followed by the selected username and is the most important account information on Twitter.
Twitter handles have multiple functions, including the ability to mention or tag specific accounts in tweets, facilitating direct communication, and referencing during conversations.
They play a vital role in identifying an official Twitter account from impersonators. They can be customized to reflect personal names, brands, or any desired identifier, adhering to the character limit specified by Twitter.
Please note that the handle is different from your display name.
What Is the Difference Between a Twitter Handle and a Twitter Display Name?
The main difference between a Twitter handle and a Twitter display name is that the latter, also known as your name, serves as a personal identifier. Conversely, your handle can be used for logging in, being mentioned in other people's tweets, and receiving DMs.
It's important to note that modifying your display name will not impact your @username, which will remain the same. Your display name offers an opportunity to personalize your online presence and can be easily updated whenever necessary.
How to Change Your Twitter Username: A Step-by-Step Process
There may come a time when you feel the need to change your Twitter username – whether to adapt to new endeavors, revitalize your digital persona, or simply evolve with the ever-changing landscape of social media.
Understanding the step-by-step process of how to change your Twitter username is vital for successfully navigating this transition. Let's explore how you can do this across a variety of devices, by simply accessing Twitter settings.
How to Change Your Handle from the Twitter Mobile App for iOS Devices
If you're an owner of an iOS device who wants to pick a new username for their Twitter Profile, you're in luck.
Here's how to change your Twitter handle from an iOS device:
Open the Twitter app

Tap your profile icon in the top-right corner of the screen

Tap "Settings and Support"

Select "Settings and privacy" from the drop-down menu

Tap "Your account"

Select "Account information"

Tap the "Username" section

Type in your new username in the text box

Tap "Done" in the top-right corner of the screen
How to Change Your Handle from the Twitter App for Android Devices
Android users, gather 'round! We know just how to change your account information and add your desired username, directly from the Twitter mobile app.
Here's how to change your Twitter handle from an Android device:
Open the Twitter app

Tap your profile icon in the top-right corner of the screen

Tap "Settings and Support"

Select "Settings and privacy"

Tap "Account"

Tap the "Username" section

Type in your new username

Tap "Done" in the lower-right corner of the screen
How to Change Your Handle from Desktop Devices
Are you a predominantly desktop user? Let's figure out how to access your account information and change your current username ASAP.
Here's how to change your Twitter handle from desktop devices:
Open Twitter

Click the "More" button from the menu on the left side of the screen

Click "Settings and Support"

Select "Settings and privacy"

Click the "Account information" section

Confirm your password

Click the "Username" section

Type in your new username or select a suggestion

Click the "Save" button
5 Tips for Choosing a New Username For Your Twitter Account
Before you ditch your old username, you should map out a plan on how to change your username. That way, both new and existing followers can easily identify you and save your profile URL.
Here are five tips for choosing a new username on Twitter:
Think of your brand identity

Avoid numbers and special characters

Choose a short Twitter handle

Check the availability of your desired Twitter handle

Promote your new Twitter handle across other social media sites
1. Think of Your Brand Identity
After you learned how to change your Twitter username, you should start paying closer attention to what exactly defines your brand. When your Twitter handle aligns with your brand identity, it becomes easier for people to recognize and associate your account with your brand. It becomes an important part of your brand's online presence and plays a role in brand recall. 
Consistency between your handle and brand reinforces the messaging and values you aim to convey. Make sure that your Twitter bio is also on-brand.
2. Avoid Numbers and Special Characters
When a Twitter handle incorporates numbers and special characters, it may create an impression of being generic or lacking professionalism. Such handles might appear less polished and may not align effectively with the desired brand image or identity and cause your profile page to seem rookie.
Conversely, selecting a clean and straightforward handle without these characters tends to convey a more professional and credible impression.
3. Choose a Short Twitter Handle
Short Twitter handles are more memorable most of the time, right? They are easier to recall and type when people want to mention or search for your account. 
The accessibility and memorability of your handle increase, facilitating engagement with others. Also, with a shorter handle, you are more likely to fit within character limits for mentions, tags, and hashtags. 
4. Check the Availability of Your Desired Twitter Handle
Having the same handle across all your go-to social networks enables you to maintain consistency across your online presence. If someone else is already using the handle you want, it can create confusion among your audience and hinder their ability to find and engage with your brand.
Having a unique and available handle allows you to establish a cohesive and easily recognizable brand identity across various platforms.
5. Promote Your New Twitter Handle Across Other Social Media Sites
By promoting your new Twitter handle across diverse social media platforms, you can amplify your outreach and enhance your visibility.
Because some of your audience follows you on multiple social media sites simultaneously, using these platforms to share the news about your new username will ensure that your followers stay informed about this recent development.
Create, schedule, and publish new content for Twitter and other social media platforms with SocialBee.
Start using SocialBee's scheduling features in order to conveniently plan your promotional posts and relevant business updates ahead of time. 
This automation not only saves you time and effort but also empowers you to concentrate on other crucial tasks while guaranteeing a steady promotion of your Twitter username. 
Here are three social media post caption ideas for promoting your Twitter handle:
Exciting Announcement! 🎉📣 Follow us on Twitter @BrandNewHandle for exclusive updates, behind-the-scenes content, and more! 🐦✨ Join our Twitter community and be part of the conversation. Hit that follow button now! #BrandNewHandle #FollowUs #JoinTheConversation

We're taking our brand to new heights with our official Twitter handle, @BrandNewHandle! 🚀🐦 Follow us for a daily dose of inspiration and tag your friends in the comment section to join our special giveaway! See you on Twitter! #BrandNewHandle #Giveaway #ConnectWithUs

Calling all Twitter enthusiasts! We're thrilled to announce our new Twitter handle, @BrandNewHandle. 🎉🐦 Follow us to stay in the loop with the latest trends, industry insights, and exclusive offers. Get ready for exciting contests, Q&As, and lively discussions. Join us on Twitter and let's make some noise! #BrandNewHandle #FollowForNews #JoinTheBuzz
Schedule and Publish Your Twitter Content with SocialBee!
Why Should You Change Your Twitter Handle?
Is your Twitter username that important? Actually, it kind of is. Now that you know how to change your Twitter handle, it's time to learn more about why this is worth doing.
It's the first thing people type when they wish to mention you or look your profile up. The handle also acts as a guarantee that your account is legit, for a lack of a better term.
Here are three reasons why you might need to change your Twitter handle:
Rebranding and brand consistency:

As businesses evolve, rebranding becomes a natural progression to reflect new missions, visions, or target markets. Changing the handle and display name through Twitter settings aligns with this rebranding effort, ensuring consistency across all digital touchpoints.

Streamlining and simplification:

Over time, businesses may find their current Twitter handle to be complex or difficult for customers to remember or identify with. An intuitive handle can improve brand recall and make it easier for customers to discover your page.

Mergers, acquisitions, or change in ownership:

Business dynamics can change due to mergers, acquisitions, or shifts in ownership. In such cases, changing the Twitter handle or display name can help reflect the new ownership or corporate structure. It also helps prevent confusion among customers and stakeholders by aligning the Twitter handle with the new business structure.
What to Do If Your Desired Twitter Handle Is Taken
If you're an existing Twitter user looking to update your username but find that someone else has the same username, don't worry. There are several options and steps you can take to resolve this situation and secure a suitable username for yourself.
Here is what to do if your desired Twitter handle is taken:
Modify the handle: Try slight variations of the desired username by incorporating elements such as underscores, abbreviations, or relevant keywords. Be sure to keep the username recognizable and connected to your personal or brand identity.
Conduct a search on Twitter:

Find out if your desired username is available by searching it on Twitter. If it is, seize the opportunity and click "Update" to start using it promptly.

Address imposters or trolls:

In the event that your desired username is taken by an imposter or troll, report the imposter account to Twitter by visiting their profile and clicking on the "Report" option. In your report, clearly state that the account is falsely impersonating you or your business, emphasizing that you have no affiliation with it.

Reach out to the current user: If the account seems inactive, you might try contacting the user directly and asking if they would be willing to change their handle so you can use it. Be polite and respectful in your communication.
Consider verification:

If your business has a notable presence or a significant risk of impersonation, think about your verification status. Verification grants your Twitter profile a blue checkmark, confirming your authenticity to users. It helps establish trust and authenticity, allowing people to recognize your account as the genuine representation of your brand.
Frequently Asked Questions
Change Your Twitter Handle and Become Instantly Recognizable!
When you decide to change your Twitter handle, you encounter a chance to boost your online presence and become instantly recognizable. Opting for a memorable and consistent handle that aligns with your brand reinforces your identity and simplifies interactions with others. 
Through a deliberate handle change, you can leave a lasting impression and position yourself for heightened recognition in the ever-evolving realm of Twitter. Make this big change from the Twitter mobile app or via a desktop.
Now that you know how to change your username, you can start using SocialBee. Promote your new Twitter username across all your other social accounts and maintain a cohesive social media presence that can establish your brand as an authority in your industry. Try the 14-day free trial and see what SocialBee is all about!
Schedule and Publish Your Twitter Content with SocialBee!