Owning an Instagram Business Account is the best way for brands to improve their digital marketing strategy while using the platform. Unlike a personal account, an Instagram Business Profile increases your chances of doing marketing profitably. 
To put it briefly, a Business Account allows you to establish a solid social media presence alongside 25 million other businesses. Furthermore, this enables them to better promote their products and services, interact with customers, and increase sales.
In this article, we will show you the benefits of owning an Instagram Business Account, along with a series of helpful tips on how to best use it for business growth.
Let's get started!
Social Media Strategy Template
Streamline your marketing with an efficient social media strategy template.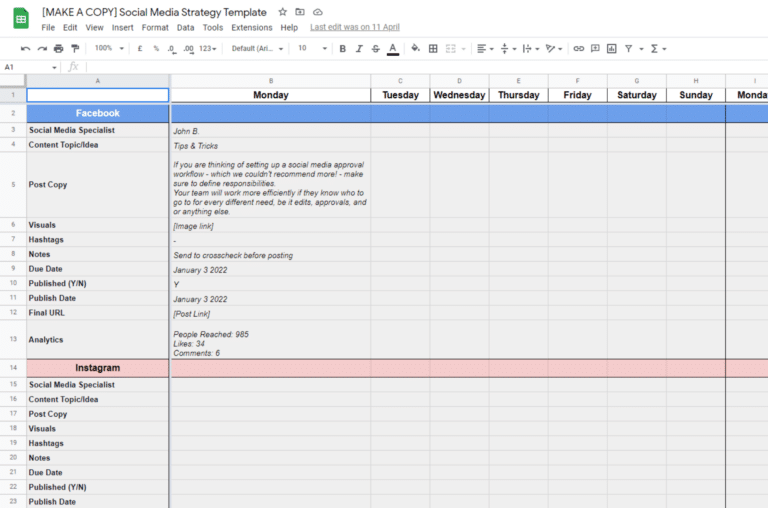 Why Should You Switch to an Instagram Business Profile?
Making the switch from a personal account to an Instagram Business profile is a great way for businesses to increase brand awareness, reach wider audiences, and drive more sales.
With a Business account, any business owner has access to powerful Instagram analytics and audience insights that provide valuable data on content performance. 
Let's not forget that a professional account also allows you to create paid ads and Instagram Stories which can significantly boost engagement.
Here are five reasons why you should switch to an Instagram business account:
Schedule and publish Instagram posts

Monitor your Instagram marketing strategy

Run Instagram ads and boost posts

Open an Instagram Shop

Unlock new features
1. Schedule and Publish Instagram Posts
Unlike a personal Instagram account, an Instagram Business Account allows you to schedule and publish your posts. 
This Meta Business Suite feature makes it easy for you to create an efficient content strategy for your business profile and plan ahead by scheduling content at the best times.
Most conveniently, Instagram also has partnerships with several third-party social media management tools that perfectly fit your marketing needs, such as SocialBee.
How to Manage Your Instagram Business Accounts with SocialBee
Managing an Instagram Business Profile necessitates plenty of preparation, time, and creativity. 
Unlike a personal account, a business account will require you to constantly take a closer look at how well your Instagram content is performing and how you can improve your Instagram feed. For that, you'll need a powerful third-party app like SocialBee.
Manage multiple Instagram accounts from one place—create, schedule, and post content with ease.
Start your 14-day free SocialBee trial today!

Here are the 10 SocialBee features for your Instagram Business Profile:  

SocialBee supported Instagram post types

Content categories

Instagram first comment

Tags and mentions

Canva, Unsplash, and GIPHY integrations

Bulk post Instagram scheduler

Location tags

Hashtag generation and collections

Team collaboration features

Instagram insights
A. SocialBee Supported Instagram Post Types
Start harnessing the power of visuals and increase your reach and engagement rates by constantly updating your Business account. 

Next, spice up your Instagram feed with multiple photos and videos that showcase your products and services. 

Finally, leverage Stories for improved engagement and post reels to your business profile, directly from SocialBee.

Here are the supported Instagram post types you can schedule with SocialBee:

B. Content Categories
SocialBee's content categorization feature is a useful way to mix things up and keep followers constantly on their toes whenever they check your Business account.
Organize your content into easy-to-use categories and schedule them with SocialBee!
Start your 14-day free SocialBee trial today!
By organizing posts into different categories such as products, memes, educational, and behind-the-scenes, you can ensure your Instagram Business Account will remain both engaging and unpredictable.
Additionally, alternating between the various categories will help generate interest from your audience and attract new followers for your business profile.
C. Instagram First Comment
With SocialBee, you can schedule and automatically post the first comment on each of your posts. That way, you won't have to worry about remembering to do it manually each time.
This allows you to emphasize the power of hashtags without cluttering up your posts' captions. By doing this, managing an Instagram Business account will become a much easier task. 
D. Tags and Mentions
SocialBee enables you to easily tag different accounts on your posts. This feature allows you to give others credit or shout-outs to increase the reach of Business account.
This is a great way to connect with Instagram influencers, collaborate with other businesses, and create strong relationships with prospective customers. 
E. Canva, Unsplash, and GIPHY Integrations
Your business profile message should always have a competitive edge compared to that of your competitors. With SocialBee's Canva integration, you can easily create top-quality visuals for your Instagram Business Profile.
Design and import your social media graphics from Canva directly from SocialBee.
Start your 14-day free trial today!
Simply select from a wide range of ready-made templates or design one from scratch. Once you're satisfied with the final result, just import it into SocialBee. Don't forget to add captions and hashtags before scheduling the post.
Unsplash and GIPHY integrations are also readily available. Both will give you access to millions of royalty-free images and high-quality GIFs to choose from for your Instagram Business Profile's social media posts.
Create visually engaging content for your business account in no time. 
F. Bulk Post Instagram Editor
Leveraging the features of SocialBee's bulk editor and scheduler should be a no-brainer. Do it and you'll be able to quickly approve, unapprove, or delete multiple posts at once.
Bulk post scheduling removes much of the time-consuming manual work associated with managing an Instagram Business Profile. It's finally time to focus on more important tasks regarding your business account!
Here's how you can bulk schedule your posts with SocialBee:
Log in to your SocialBee account

Click the "Schedule Setup" button from the left-side dashboard

Click "Calendar View"

Click any slot available

From the "Define your posting time" select your category, day, and posting time

Click "Create"
G. Location Tags
Location tags make it easy for your Instagram Business Profile to connect with your local audience. 
With SocialBee, you can easily add a location tag to any of your posts. This helps target people within the same area as you. 
Sometimes, it's important to ensure that the content reaches the right audience, not necessarily a global one.
H. Hashtag Generation and Collections
Oftentimes, identifying the right hashtags for your social media posts can become a rather lengthy and tiring process. Luckily, SocialBee is here to streamline this process considerably. 
After adding the text and images of your post within the content editor, SocialBee's hashtag generator will be able come up with relevant hashtags suggestions based solely on your content.
You can then save these hashtags into collections for future reference or add them directly to your next posts. Save time and make sure that your content is cleverly tagged. Your Instagram Business Profile will benefit from this.
Organize your social media hashtags in categories and add them to your posts with just a few clicks.
Start your free 14-day trial at SocialBee today!
I. Team Collaboration Features
Within SocialBee, you can create dedicated workspaces for your business and personal Instagram account. Luckily, your team members will find this useful, as they'll be able to work together with more ease.
By assigning roles to each member, teams can review content together and mention various team members directly from the comments section. That way, they can easily provide feedback points that will impact your Instagram Business Profile.
J. Instagram Insights
How do you figure out how Instagram users interact with your content? With the help of SocialBee, of course! 
The app provides comprehensive Insights you can easily keep track of, such as total impressions, views, reach, and engagement levels.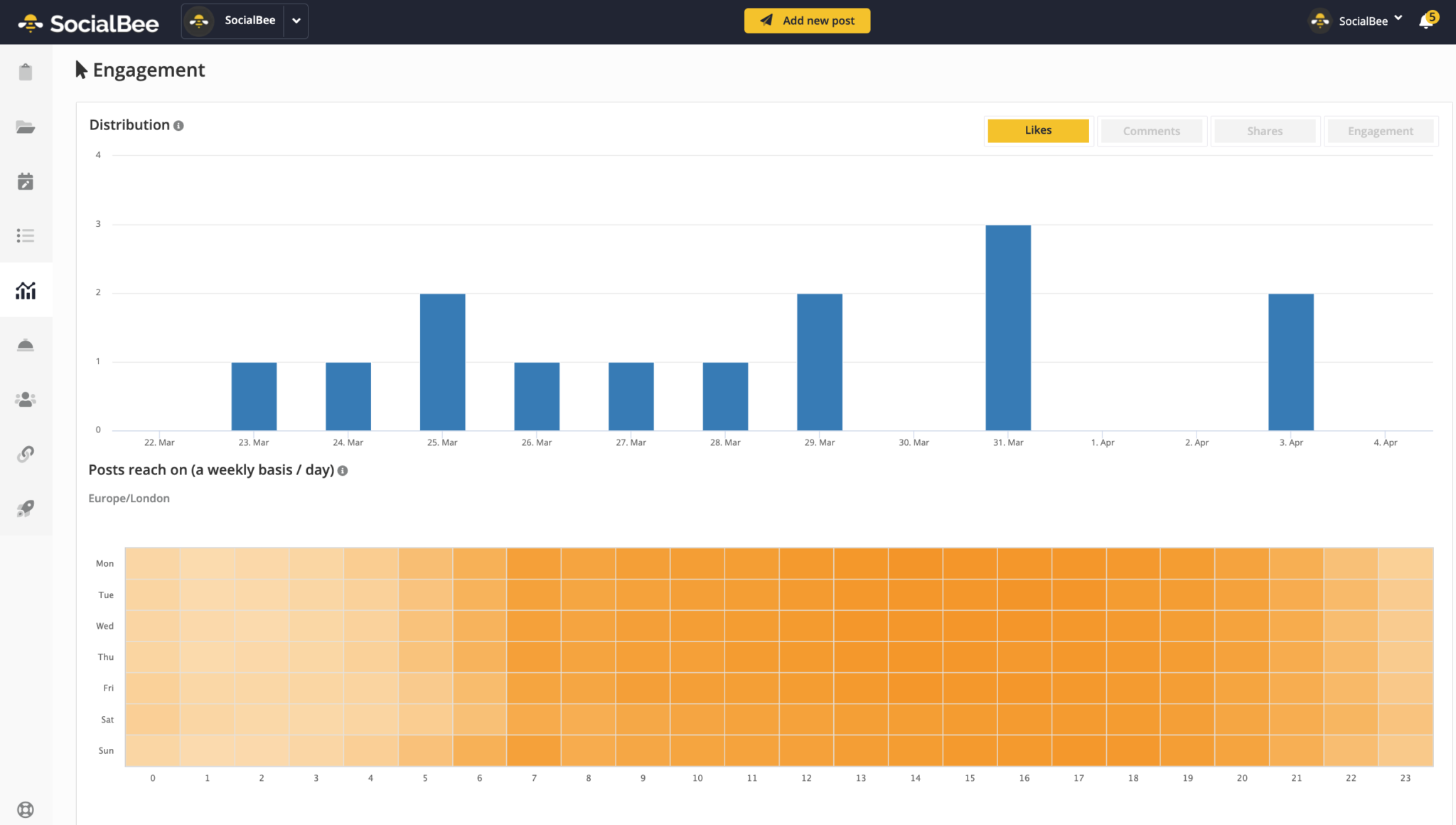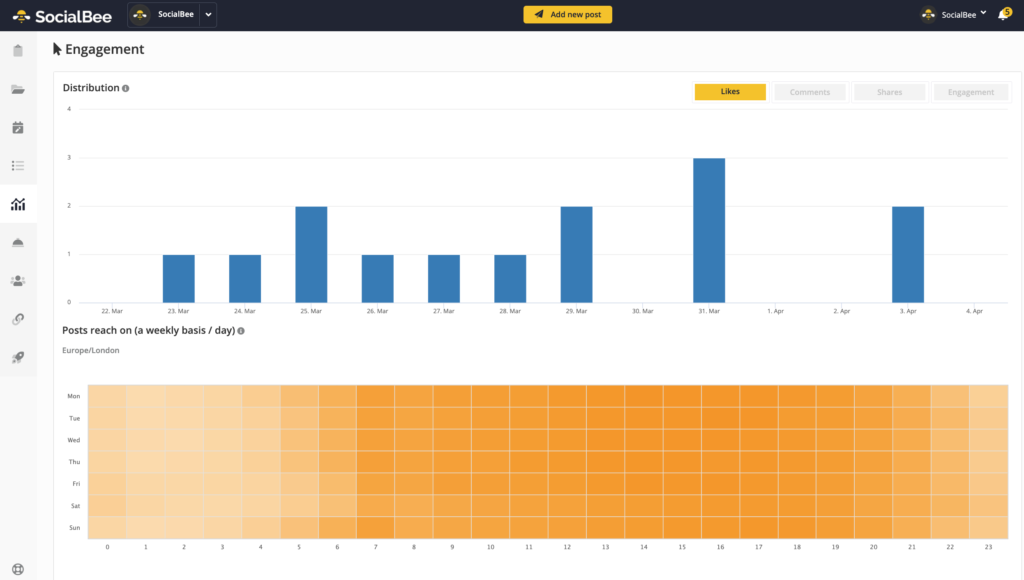 Track the performance of your Instagram posts from SocialBee's Analytics dashboard.
Start your 14-day free trial today!
You must learn how to decipher your followers' demography from your Instagram Business Profiles. Knowing more about your fans can speed up your marketing efforts. 
Finally, don't shy away from downloading the reports in a PDF format. That way, you'll conveniently share your performance data with your team, clients, and stakeholders.
Manage Your Instagram Business Accounts with SocialBee!
Create posts, publish, analyze, engage and collaborate, all from SocialBee.
2. Monitor Your Instagram Marketing Strategy
Wondering why analytics are so important? They basically enable you to understand your Instagram Business Profile audience on a deeper level and integrate them with more professional business and financial analytics solutions.

Start monitoring your likes, shares, and comments in order to figure out whether your marketing strategy is engaging your target audience or not.
Are you noticing any growth in your follower count? If not, it might be time to rethink your strategy. What about your existing content? Does it boost your engagement rate? 
Asking yourself these basic questions will ultimately help you build the perfect marketing approach from the ground up.
3. Run Instagram Ads and Boost Posts
Marketers who are tired of waiting around for organic growth are most definitely aware of the power of paid advertising. With the right budget and strategy, your business profile should reach new engagement heights.
Here's how you can make use of paid advertising on Instagram:
Instagram Ads

Instagram Boosted Posts
A. Instagram Ads
Instagram Ads are an effective way to reach a larger online audience. 
Here's how to create Instagram Ads:
Log in to your Meta Business Suite, specifically Ads Manager. 

Select an ad objective, such as awareness or engagement

Upload an image or video from your device or select a visual from your existing posts

Set the budget of your ad

Schedule your ad's posting date and time frame. 
Now, your ad is ready to go live and bring in some much-needed engagement to your business profile. 
B. Instagram Boosted Posts
Instagram boosted posts allow Instagram Business Profiles to expand the current reach of their content with the least amount of effort. 
The targeting becomes much more precise once you decide to invest in boosted posts. That way, you can rest assured that your target audience is receiving your message.
The best thing about boosted posts is that they can provide business owners with detailed analytics in order to improve their current content and marketing strategies.
Here's how to boost a post on Instagram: 
Access your Instagram Business Profile

Tap the post you'd like to boost

Tap the 'Boost Post' button you can find below the image

Select your goal

Create an audience

Choose the daily budget

Choose the duration of your ad
Feel free to adjust your campaign when necessary, especially if the results were less than satisfactory.
4. Open an Instagram Shop
Instagram Shopping is basically an eCommerce marketplace powered by Instagram. 
What does it do? It enables you to set up a storefront, showcase your product collections with the help of product detail pages, and allow users to checkout either directly from Instagram or through your website. 
To enjoy its benefits, you're going to need a business account.
You can streamline purchases with integrated payment options such as PayPal and StripeIn. However, the traditional Visa and Mastercard payment methods might resonate with most of your audience. 
With Instagram Shopping Insights, you can get a clearer glimpse into the consumer decision journey and figure out a way to make your products and services easy to sell.
Here's how you can set up an Instagram Shop: 
Connect your Instagram Business Profile to Meta Business Manager 

Add your products and services

Set up the correct pricing

Select your shipping terms

Customize the aesthetic of your storefront
🐝 Pro tip: Keep in mind that user-generated content (UGC) is a fantastic social media tool. To enhance your Instagram Shop, associate a post you've been tagged in by a customer with a product in your shop. This is guaranteed to boost your Instagram Business Profile sales since people love authenticity.
5. Unlock New Features
Most owners of personal accounts are probably aware that Instagram for business comes with an impressive collection of new features. They are meant to increase your efficiency and achieve your business goals.
Here are two features provided by Instagram for Business:
Contact button

Quick reply

Swipe-Up Links on Instagram Stories
A. Contact Button
Instagram's contact button feature is an awesome way to connect with your followers. 
This button at the top of your business profile page will spark conversations in your Instagram Business Profile comment sections and direct messages. 
Here's how to add a Contact button to your profile:
Tap "Edit Profile" 

Select "Contact Options"

Add your business' email, phone number, and address. 

Head over to "Profile Display" 

Toggle the "Display contact info" button
B. Quick Reply
Quick replies are an awesome way to save time, especially when your Instagram account keeps receiving the same FAQ. 
Here's how you can enable the Quick Reply feature: 
Select the three horizontal lines at the top of your Instagram account profile

Tap "Settings"

Select "Business"

Tap "Saved Replies"

Tap the plus (+) symbol 

Type in the Shortcut and Message and tap the checkmark to save
C. Swipe Up Links on Instagram Stories
Instagram swipe-up links are a great functionality for marketers who wish to drive traffic from their Instagram account directly to their website/landing page. This feature is only available for accounts with over 10,000 followers and/or verified accounts.
Here's how you can add an Instagram swipe-up link to a story:
Create the post you want to feature in your story

Tap the "Link" icon at the top of your screen

Insert the URL of the website you'd like to feature in your post

Hit "Done" 
Kudos! You have successfully added an Instagram swipe-up link to your story.
How to Create an Instagram Professional Account
Ready to set up your very own business profile? Great! We've got a step-by-step list of how you can do this.
Here's how to create an Instagram Business Account:
Go to your profile page

Tap the three horizontal lines in the upper right corner

Select "Settings"

Tap "Account"

Scroll to the bottom and tap "Switch account type"

Select "Switch to Business Account"
How to Optimize Your Business Account
Once you switch to a professional account, it's time for you to optimize your profile. 
Here are the top three ways to optimize your Instagram account:
Use a branded profile picture and username

Improve your Bio

Prioritize your Instagram grid aesthetic
1. Use a Branded Profile Picture and Username
When getting started, your profile picture and username will be the first details Instagram users see when visiting your professional account. Both of them are absolutely essential for creating an instantly recognizable identity for your business profile. 
Your logo can help to differentiate your account from other business accounts and help customers find you. 
Make sure to use the same username and profile picture across all your social media platforms. This will make your business come across as consistent and increase brand loyalty.
2. Improve Your Bio
As a business, your bio is a decisive detail that can drive conversions like no other. Make sure to introduce yourself and your services to prospective customers.
A well-crafted bio should cleverly summarize the story behind your brand in no more than 150 characters. Use emojis and symbols to emphasize the points you're trying to make. 
Here's what you can add to your Instagram bio:
Your business' location and contact information

A brief description of the products or services you're selling

Keywords relevant to your industry or niche

An invitation to join a mailing list, newsletter, or sale

A link to either your website or landing page
3. Prioritize Your Instagram Grid Aesthetic
Create a unique aesthetic for your Instagram grid. This will increase your reach and incentivize people to tap the "Follow" button. 
The trick is to use consistent colors, patterns, imagery, and fonts.
Also, using images with white space can enhance the visual impact of your grid. With careful post scheduling, you can create a visually appealing and on-brand grid.
Here are some tips for the perfect Instagram grid:
Leverage the Rule of Thirds composition method to create the perfect grid

Use colors that match your brand identity

Use visual transitions to separate your seasonal aesthetics
Frequently Asked Questions About Instagram Business
1. Who Needs a Business Instagram Account?
All businesses can leverage Instagram Business to promote their products and services. Whether you're a small business or a huge enterprise, you can use Instagram to the max. 
Promote your products and services with shoppable posts, generate leads, and drive more sales than ever before. Thanks to the rise of eCommerce, you can now sell directly from Instagram. 
2. What Is the Difference Between a Personal Account and a Business Instagram Profile?
The main difference between a personal account and a business Instagram profile is that a business account enables you to check insightful analytics. Meanwhile, personal profiles don't have this advantage. 
Also, business accounts can advertise on the platform. Additionally, you will have access to tools such as Instagram Shopping and Instagram Creator Studio. If this sounds good to you, switch to Professional Account.
3. Is Instagram Business Free?
Yes, Instagram Business is free. The only exception would be some of its paid advertising features that are only available for business accounts.
Make the Most Out of Instagram's Business Features
All in all, Instagram is a great social channel for businesses that want to increase their conversion rate and sales. 
Instagram Business Accounts give you full access to powerful features such as analytics and advertising tools that will inform your marketing strategy.
So, what are you waiting for? Switch to Professional Account and take control of your Instagram presence with SocialBee. Start creating and scheduling posts like a pro, track your social media metrics with ease, and surpass your competitors in no time. 
Sign up for SocialBee's 14-day free trial today!
Schedule Posts to Your Instagram Business Account with SocialBee!
Create posts, publish, analyze, engage and collaborate, all from SocialBee.