A successful social strategy starts with an insightful social media audit that pinpoints your strengths, identifies your weaknesses, and finds new growth opportunities for your business.
In spite of its benefits, the social media audit is an underrated process that many businesses avoid. The assumption that a social media analysis is a difficult and time-consuming task determines professionals to rather skip over it. 
As a result, they start developing a social media marketing strategy without having a good understanding of their performance. This is a habit that often sets you up for failure. Why? Because you don't have the data you need to improve your future strategy.
So today, we decided to show how easy it is to conduct an audit. We created a free social media audit template that will help you run an effective evaluation for all your platforms in under 20 minutes.
[Free Download] Social Media Audit Template
Download the template below to get the step-by-step process of running a social media audit for your profiles.
What Are Social Media Audits?
In the social media field, an audit is a simple analysis that puts your strategy into perspective. It focuses on the progress you have made so far, and it gives you the right information to improve your strategy.
Moreover, an audit contains key data about all your social media accounts such as KPIs, community engagement metrics, reach, and target audience.
Having all this data organized in one place will help you:
Asses your social media activity

Find growth opportunities

Develop a future strategy with your team 
The Ultimate Social Media Audit Checklist
Now that we clarified what a social media audit is, it's time to delve into the steps you should take to conduct an insightful social media analysis for your business. 
Here's how to conduct a social media analysis:
List all your social media channels
Check your social accounts
Look at your content analytics for each social media network
Evaluate your social media audience
Track social media brand sentiment
Calculate your ROAS
Research your competitors
Set new social media objectives
Establish key metrics
Repeat the social media audit periodically
#1: List All Your Social Media Platforms
We will start simply by compiling all the social media profiles you have and adding the links in a document for easier access.
On this occasion, you should also search for your business name on all the channels where you have a social media presence. This is a precautionary measure to check if there are any fake accounts that you should worry about. Or maybe there are accounts made in the past that are no longer relevant and need to be deleted.
Let's take for example SocialBee. Here's what we'd add: 
Furthermore, if you identify social media accounts that didn't bring value to your business or that lost their popularity, now it's the time to say goodbye and move on to greater things.
#2: Check Your Social Media Accounts 
With all your social media accounts in front of you, it's time to look at each account more closely. The purpose of this step is to check if your profiles are updated with your latest information, links, and visuals. 
Furthermore, you want to make sure your audience has all the right information about your business in case they want to get in touch or learn more about your brand. So, put yourself in their shoes and try to be as objective as you can.
Here are the things you should check at this step:
Handle

– This is simple. Your social media handles must be your business name so that your customers can find you easily on social media.

Profile/Cover pictures

– Make sure to use images relevant to your industry that represent your business and contain branded elements (logo, tagline, specific colors).

Bio

– Make the most out of the limited space you have and include the most important information your potential customers might need. Don't leave text fields empty, your audience needs to know: what you do, where to find you, and how to contact you.

Links

– Most businesses link their websites, which we also recommend. But we also encourage you to change your links based on your most recent and relevant projects. For example, if you have a new product coming out, don't hesitate to promote it through your bio link.
#3: Look at Your Content Analytics for Each Social Network
To audit your social media content, you should look at: impressions, post reach, clicks, likes, comments, and shares. This is a very important step. By going through your analytics, you will find your best-performing posts.
If you're conducting remote audits, it's important to ensure you have access to all the necessary data to analyze your social media content effectively.
So, start looking for patterns and determine what factors lead to improved performance:
Did you include a question in the copy?

Did you use an image or a video?

Did you use any specific keywords or hashtags?

At what time and on which day was it posted?
PRO TIP: Create a 'notes' section in your social media audit to write down any interesting thoughts and ideas you might come across.
The content analysis section of your audit should include:
Posting frequency

Average post engagement

Average post reach

Conversions

Referral traffic
How to Access Social Media Analytics
You might be wondering about how you can access your social media analytics. Well, all the main social platforms have insights or analytics sections that provide you with post-performance information.
The downside to this strategy is that it can be quite time-consuming to manually access and organize all the valuable insights into reports.
Another more time-efficient option would be to use a social media management tool like SocialBee, where you can access all your analytics from one dashboard and generate PDF reports in a matter of seconds.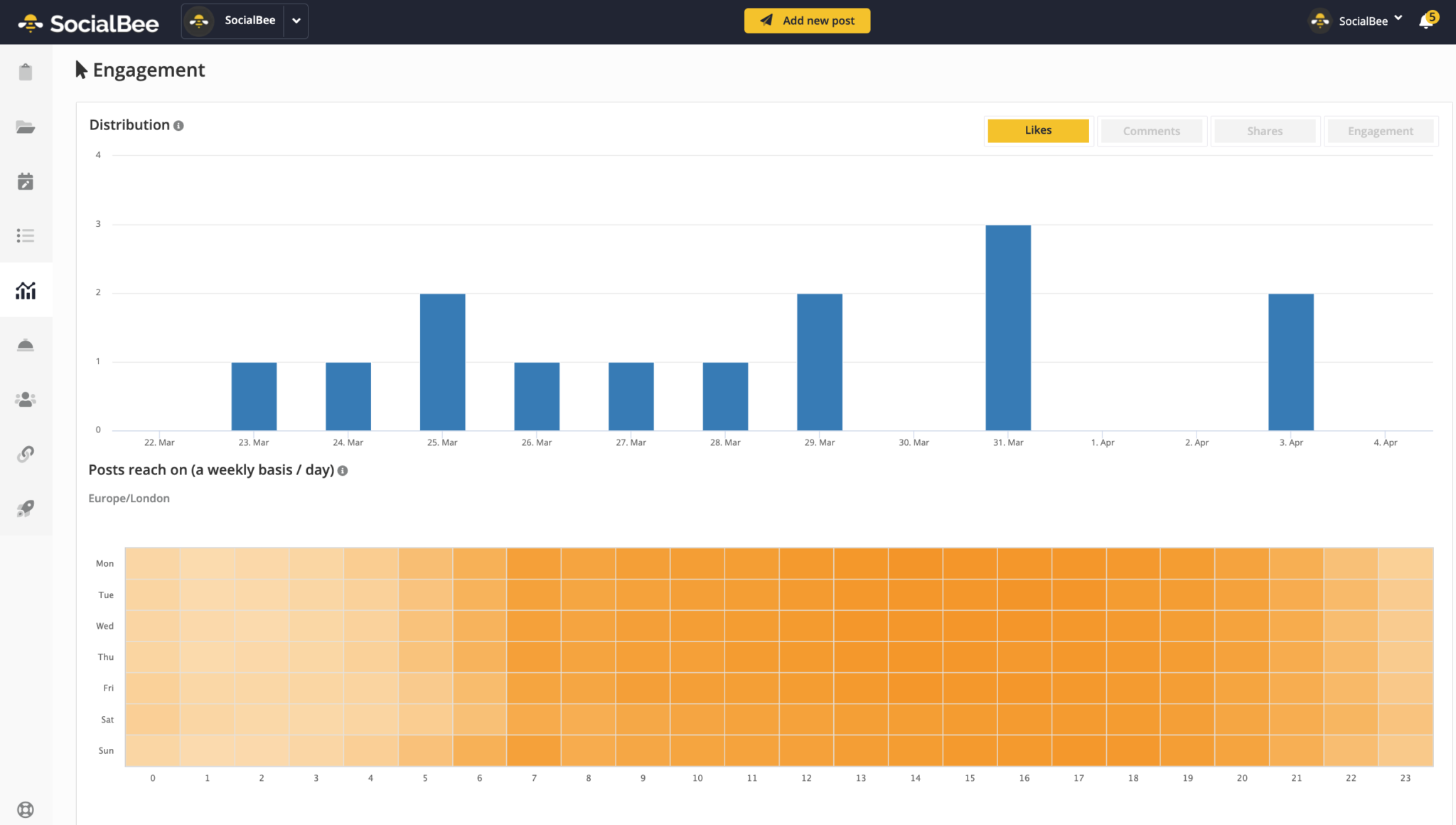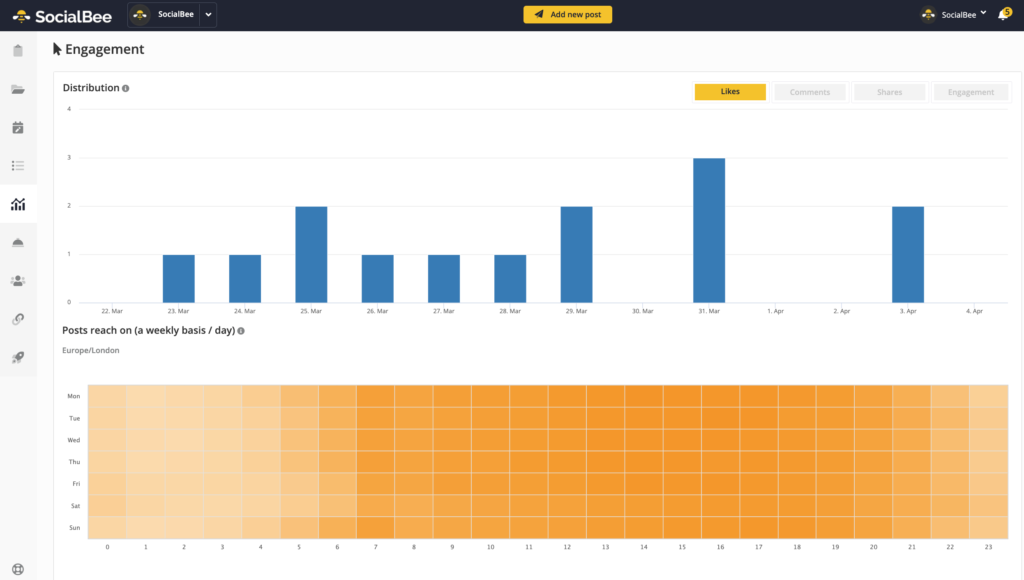 Monitor all your social media channels from SocialBee and learn how to improve your performance in real time.
Start your 14-day free SocialBee trial today!
With SocialBee you can gather data from every social media account you use:
Facebook insights
Instagram insights
Twitter insights
LinkedIn insights
Pinterest insights
Google Business Profile insights
TikTok insights
Looking for a Top-Rated Social Media Analytics Tool? Try SocialBee!
Google Analytics is also useful for your social media audit because it provides data about your website traffic brought by your social media outlets, such as:
The medium and source for your web traffic

Number of converted leads

Demographic data and audience insights about your visitors

The device your website visitors use
As a result, you will be able to find out whether your social media content redirects your audience to your website successfully.
#4: Evaluate Your Social Media Audience
To fully evaluate and improve your social media performance, you also have to understand your audience better. Social media allow you to see the location, age, and gender of your followers. 
By using this information and the insights you have discovered through your content research, you will be able to recognize what works specifically for your followers. As a result, you will improve your current social media efforts and provide better content for your audience.

The audience section from your social media audit should include:
Social media platform

Audience demographics

Number of followers

Monthly follower growth
Gather valuable audience data with SocialBee and discover how you can increase social media engagement based on your findings.
Start your 14-day free SocialBee trial today!
#5: Track Social Media Brand Sentiment
Do you want to learn what people on social media think about your business? Well, there is a simple way you can achieve this.
Social media sentiment can be evaluated with the help of listening tools. In addition to this, such tools also allow you to keep track of your mentions (by setting up alerts) and discover relevant hashtags and content topics. 
However, if you are not looking to invest in a new social media listening tool at the moment, you can go through your reviews, messages, and comments to form a general idea about how your audience perceives your business.
Another solution would be to start a free trial to learn how to use this type of software and get a glimpse at how your brand is perceived online. Check out our list of helpful social listening tools that have either free packages or limited trials.
#6: Calculate Your ROAS
It's time to crunch the numbers. After all, your main goal is to find new ways to improve profit.
You can start by analyzing your paid social media ads. So, gather all the data you have about the traffic, leads, and conversions gained through your paid efforts.
Feel free to add any other benefits that you have seen during or after the campaign. Maybe you've noticed an increase in followers or social media messages.
Next, you have to calculate your ROAS. To do so, you have to divide the revenue generated through your ads by the amount you spent in running the ads.
Based on this information, you can plan your next paid campaigns and determine if you want to invest more in paid advertising, which channels bring the best results, and how you can improve your ad strategy.
#7: Research Your Competitors
A successful social media audit wouldn't be complete without a competitor analysis. After all, you want to keep up with your competitors and, more importantly, exceed them. 
Moreover, evaluating your competitors is a great source of inspiration. You not only get a glimpse into their social strategy, but you also find new content ideas, post formats, and even new lead opportunities (from their follower list). 
By running a competitor analysis, you will get to recognize their strengths and weaknesses. With this knowledge, you will be able to transform their social media mistakes into your wins and their strengths into your lessons. 
In this section of the audit, you can include the following information:
Competitor name

Social media channels

Followers

Strengths

Weaknesses

Posting Frequency

Average Post Engagement

Most Popular Content 

Sentiment Notes
Free Competitive Analysis Template
Audit the social media performance of your competitors with this free template and stay ahead of the market.
#8: Set New Social Media Objectives
Now that you have a better understanding of your overall social media activity, you are ready to plan for the future. And what better way to do it if not by setting new marketing goals.
Setting objectives right after an audit is beneficial because you have a fresh and clear outlook on your social media strategy. You know your strengths and weaknesses and what you need to achieve to improve your results.
With this information in mind, start crafting between three and five social media marketing objectives. Moreover, make sure you follow the S.M.A.R.T. objective model:
Specific

– What exactly do you want to achieve?

Measurable

– How are you going to measure your progress?

Attainable

– Is this objective realistic?

Relevant

– Is this objective relevant to your business needs?

Time-based

– How much time is it going to take you to reach your goal?
If you want to learn more about this topic, we have prepared a list of 10 SMART objectives examples that can inspire you in developing your marketing strategy.
#9: Establish Key Metrics
After you write down your objectives, it's time to establish metrics that will help you monitor your progress. In this way, you will be able to know if your social media marketing plan is working or if it needs improvement. So, make sure you are constantly making progress and optimizing your social media strategy.
To know if you are running a successful social media marketing plan, you have to monitor your progress. How can you do that? Through trackable metrics that provide insightful information about your social media activity. These metrics are known as KPIs (key performance indicators).
There are three main KPI categories you should be tracking:
Reach – The number of people that have seen your social media content
Engagement – The number of likes/comments/shares
Conversions – The number of people that did a key action (ex: bought a product, signed up for the newsletter, booked a call, etc.)
#10: Repeat the Social Media Audit Periodically
Managing your social media presence is a constant work in progress. Marketers have to evolve at the same time as social media does to stay afloat.
Running a social media audit, again and again, is important in periods of success as well as in times of poor performance. Essentially, it's a practice that will both enhance your strengths and identify your weaknesses.
So, constantly check your reach, engagement, and conversion KPIs to monitor your social media performance. Experiment with new social media platforms, post types, and posting patterns, and find the best content mix for your audience.
Are You Ready for a Social Media Audit?
During this article, we went through all the step-by-step instructions for carrying out a social media audit.
Now it's your turn to put all this information into practice and start your evaluation process with the help of our free social media audit template.
The first social media audit you carry will be the most intimidating. After that, you will be an expert at analyzing social data. Lucky for you, with the help of our template, you can skip the hard part, and get it right from your first try. 

This editable document contains all the steps discussed in the article. So use it to get a better understanding of your current social media strategy and find out new ways to improve your results. All you have to do is make a copy and then edit it based on your needs to make it your own social media audit template. 
Don't forget that a social media management tool can make the process of gathering and analyzing social media data even more effortless. Start your 14-day free trial today and start monitoring your social media performance with ease!
[Free Download] Social Media Audit Template
Download the template below to get the step-by-step process of running a social media audit for your profiles.