As TikTok is a constantly developing social media platform, how can you make sure that you never run out of TikTok content ideas? Whether you're a content creator or a small business marketer, acquiring followers and driving engagement on TikTok is going to be high on your list of concerns. 
Although the platform did recently raise the maximum supported video length from three to ten minutes, TikTok's popularity has a lot to do with its focus on short-form videos, which are considered the most engaging kind of content nowadays. But, like for most social media platforms, grabbing a slice of these huge audiences can be easier said than done. 
So how do you stake your claim to a sizable TikTok audience? Googling will bring a slew of advice and guidance on how to get more followers, but one key and often overlooked factor is the need to diversify your content. In this article, we will introduce you to actionable tips and tricks to drive engagement on TikTok!
Social Media Strategy Template
Streamline your marketing with an efficient social media strategy template.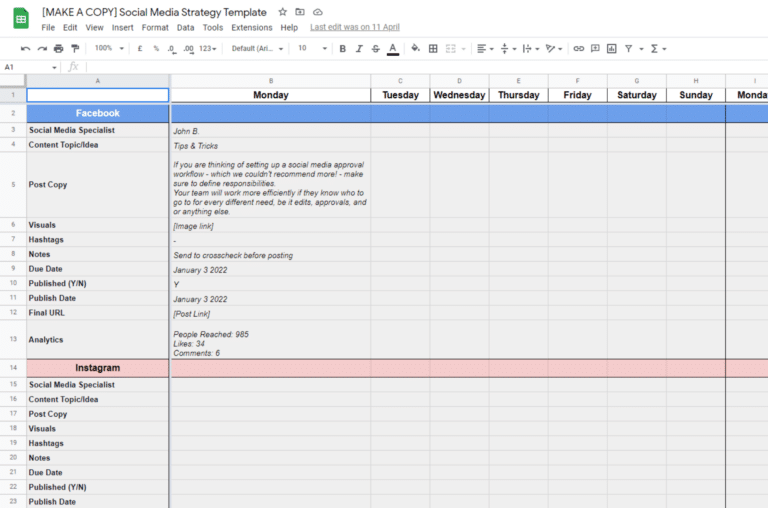 Why Is It Important to Diversify Your TikTok Video Content?
It's always easy — and tempting — to stick to what you know. Once you've hit a video style or strategy that works for TikTok, it's convenient to carry on in the same groove, especially if you got lucky and went viral. But while stepping out of your comfort zone may be tough, it also brings rewards. 
For example, diversifying your TikTok video content can help grab the attention of a wider audience and increase social media engagement. You'll get more followers when you produce content that can appeal to a broader section of TikTok users. Plus, a content strategy that contains a heterogeneous mix of TikTok video clips makes your brand stand out among the competition. 
Posting a range of TikTok videos helps keep your content looking fresh, and encourages your existing audience to check in regularly to see what's new. It's true that you can't please everyone all the time, but if you share a variety of content types, it's more likely that each person will find something that appeals to them. For you to better organize your TikTok posts, you can split them into separate categories for a better mix of content.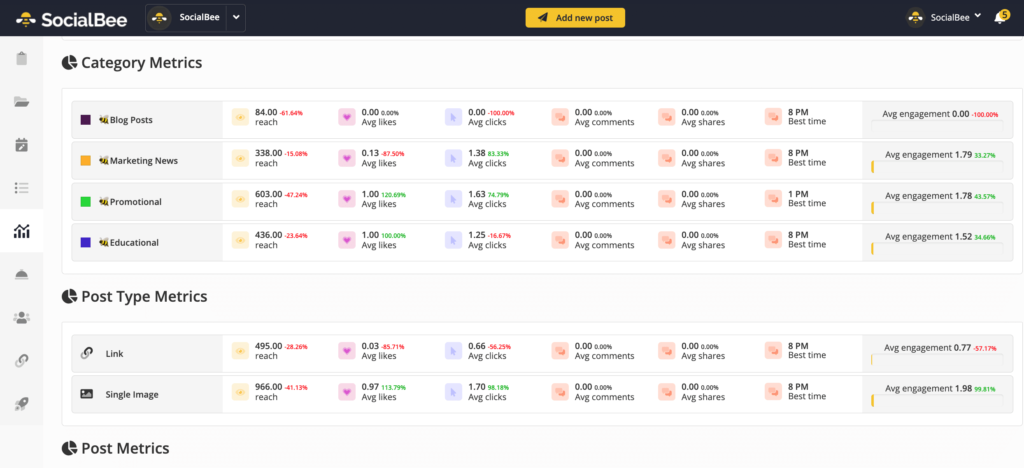 Connect your TikTok account to SocialBee and start scheduling your content on TikTok and other social media platforms while using our categories function!
Plan Your TikTok Content with SocialBee!
Create posts, publish, analyze, engage and collaborate, all from SocialBee.
10 TikTok Content Ideas to Make You Drive Better Engagement
Now that you know content diversification is important on TikTok, it is time to start adjusting your content marketing strategy. 
Are you ready to create some awesome TikTok content?
Here are 10 TikTok content ideas for more reach and engagement:
Organize TikTok live streams
 Include storytelling in your videos
Join or create social media challenges
Team up with TikTok influencers
Publish "How to" TikTok videos
Do a duet on the platform
Invest in filter creation
Turn on the Q&A feature
Run a product teaser campaign
Celebrate your milestones with your community
1. Organize TikTok Live Streams
In 2019, TikTok launched TikTok Live, which lets you livestream events, moments of your daily life, or anything you like. Live videos are a great opportunity to connect to your audience, because viewers can comment and react, and you, as a TikTok creator, can (and should) respond in real time. 
Whether your live videos are educational content or simply daily routine videos, your audience will be more personally engaged with your content.
The Aquarium of the Pacific in Los Angeles, California, uses TikTok Live every week to showcase different creatures in its collection, giving fans an intimate perspective on its sea animal community. Their animal videos have a unique style and many people find inspiration when watching their lives.
The marketing team there is also great at repurposing the sea animal videos as shorter replay clips that continue to attract views, likes, and comments.
2. Include Storytelling in Your Videos
No matter what social media platform you're using, storytelling is what it's all about, because stories are how we make sense of the world around us. 
A suggestion of tool to use is Videoleap, which aids your storytelling journey offering tools like a chroma key editor, masks, and an audio mixer. This way, you can share the story of your video through the minor edits.
One small business that turned itself around through storytelling is Izola's Country Cooking, a Southern comfort food restaurant that started using TikTok videos to tell its story during the COVID-19 lockdown.  Even everyday tasks can become great storytelling TikTok ideas! Owners Glenn and Lori Poole mix videos of delicious food with stories about their restaurant, and they share tips on their small business owners' life. This type of educational content is also an engaging one!
Or check out the way that Gilly Munoz is creating personal videos, presenting his entrepreneurial journey as a 26-year old small business owner. You can take advantage of your own story when creating engaging videos for TikTok.
3. Join or Create Social Media Challenges
If there's one thing TikTok users love, that would be the trending challenges. Whether we are talking about lip-syncing videos, or smaller everyday hashtag challenges, there are lots of people that engage with this type of content in creative ways.
Launching your own challenge is a great way to encourage user-generated content from your followers.
In fact, 59% of respondents to a recent Stackla poll said that they see UGC as the most authentic type of content, and it's also extremely effective at boosting your reach to new eyes.
Crocs kicked off their TikTok debut with a challenge — the #ThousandDollarCrocs challenge, which dared Crocs wearers to show how they'd customize their Crocs — and they haven't slowed down since. #CrocChallenge is still a popular hashtag, and people love the opportunity to show off what they can do with their Crocs. 
4. Team Up with TikTok Influencers
With the popularity of word-of-mouth marketing, influencers got their name for a reason — they influence the public opinion and have the power to consecrate brands, products, and other creators. 
Good influencers don't just bring their name and following; they also bring their own creative spark, helping you come up with new ways to present your brand in a relevant manner. Whether they include your product in dance videos or cooking videos, you gain access to a larger and already engaged audience.
A good example of how to raise brand awareness is Dunkin' Donuts product release in collaboration with the TikTok influencer Charli D'Amelio. 
Dunkin' joined forces with Charli to boost sales with a new drink called The Charli. To emphasize the need to celebrate special occasions, the drink was launched on Charli's 17th birthday and it was a huge success!
5. Publish "How To" TikTok Videos
TikTok might be a hub of entertainment and funny stories, but people also use it as a platform to look for educational videos.  
Videos that inform and educate people are highly popular, and plenty of brands are finding success with this approach in their video marketing strategies. 
When it comes to cooking videos, Golde built its brand around TikToks that guide people in the best ways to use their superfood items to make healthy foods and drinks at home. 
For example, this video sharing tips on how to make Blink-182 drummer Travis Barker's matcha tea recipe gathered thousands of views.
6. Do a Duet on the Platform
A simple and effective TikTok idea is to do a duet with another content creator. Duets helped many creators come up with content ideas and get noticed on the platform by dueting viral video. 
TikTokers use the Duet feature to make videos together with their favorite brand, influencer, or celebrity and simply to express their opinion and life experience, educate, and bring a different perspective to an argument. 
Here is a list of reasons why duets are used on TikTok:
People are feeling artistic and want to contribute

It's easier to get viral

It can generate more traffic to your profile
For example, rising footwear brand Vessi used the duet feature to encourage brand lovers to show off their footwear, and to make it even more effective, they ran it as a challenge and gave away free pairs of Vessis. It's a good example of creating and selling TikTok merch among loyal fans, which means more profit for both parties. 
This function can in fact be a game-changer, as you don't have to come up with a whole content idea from scratch, but rather with a reaction to an already viral video. Moreover, this way you can end up on the TikTok feed of users who are engaged with the author of the video you are dueting. 
7. Invest in Filter Creation
Filters are an excellent way to turn ordinary-looking video content into something that grabs people's attention and drives shares and engagement. 
TikTok is looking to encourage people to make better creative use of filters by launching Effect House, an augmented reality (AR) development platform for users to create advanced effects like adding textures, lighting effects, shadows, and more.
Ryanair didn't wait around for Effect House; it mastered the green screen from the getgo and used it to make funny videos that poke fun at the brand itself. Ryanair TikToks feature planes with superimposed faces, chatting about the airline and people's expectations of the brand. 
8. Turn on the Q&A Feature
Last year, TikTok updated the Q&A feature on the platform, so now it's available to all users. You can turn it on by going to the Creator Tools section of your profile. 
Once it's enabled, you can ask questions in video or text form, or find and answer questions on other accounts.
The TikTok Q&A feature lets you engage directly with your following to find out what they're thinking or ask what they'd like to see from your brand. 
This feature is especially useful when you want to include "behind the scenes " videos in your TikTok strategy. You can use it to find questions that other people ask that relate to your business or your niche, which helps you deliver valuable information to a wider audience. For example, Starface is occasionally organizing Q&As to better engage with their audience.
9. Run a Product Teaser Campaign
If you are looking for additional TikTok video ideas, have you considered running a teaser campaign? Gripping teaser videos are the best way to get people excited about a new product that you're getting ready to launch. It also helps you better understand why people watch videos, and what products or services they are seeking.
For example, check out makeup brand Glossier, which posted a teaser clip about its new eyeliner to encourage fans to get early access to its latest products. The video is super-short, but it gathered over 30k views in just a day, along with panicked comments asking how to buy the new product. 
10. Celebrate Your Milestones with Your Community
Everybody loves a reason to celebrate, so what better reason could you have to make a TikTok video? 
Maybe your small business got a boost from a celebrity, you reached a milestone number of orders or revenue, or it's your (or your brand's) birthday! No matter what the actual reason is, your community would love it if you celebrated along with them on your own channel! And you should not miss this opportunity to run promotions and boost sales.
For example, small business owner Emily Paige made a video celebrating the day that her glassware and apparel were sold in all 50 US states.
Create Videos and Make Better Use of Your TikTok Presence!
As you can see, there's no need to limit yourself to just one type of TikTok video. It's time to turn your ideas into valuable content!
You can broaden your TikTok content and boost your following by:
Sharing experiences about your milestones

Informing about product launches

Covering live events

Sharing stories about your brand

Encouraging viewer interaction with challenges, duets, and Q&As

Teaming up with influencers

Experimenting with filters and tutorials
You can stay on the right content creation path with the help of SocialBee. The app will aid you when you organize ideas and diversify your content strategy to make sure the transition is smoother. 
Start your 14-day free trial today and post videos on your TikTok account!
Plan Your TikTok Content with SocialBee!
Create posts, publish, analyze, engage and collaborate, all from SocialBee.
About the author: Val Razo is a freelance SMM consultant who helps SMBs establish a social media presence and interact with potential customers on social media platforms. Val also writes for digital marketing blogs like SocialMediaExaminer, Hubspot, and WordStream to share her tips and tricks.