Are you a restaurant owner looking to grow your business and reach new customers? If so, you need to start researching what are the best tips and tricks for social media marketing for restaurants!
Social media platforms like Facebook, Instagram, and Twitter have become essential tools for restaurants to connect with their target audience, showcase their menu items, and build brand loyalty. 
In this blog post, we'll cover everything you need to know to make your restaurant successful online. Are you ready to boost your restaurant's social media strategy?
Free Editable Social Media Strategy Template
Get the social media strategy template you need to audit and plan your marketing efforts for maximum results.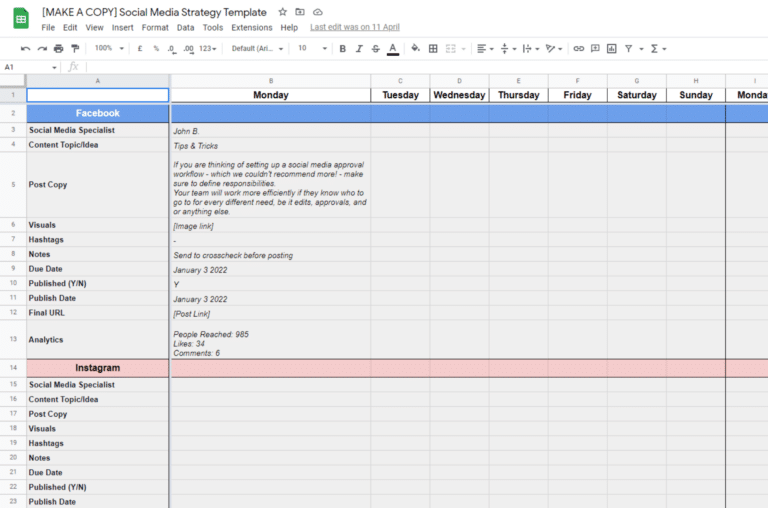 The Importance of Social Media Marketing for Restaurants
You may ask yourself why a restaurant even needs a social media presence. As we all know, restaurants rely heavily on word of mouth and in today's world, those conversations are happening online. 
Therefore, social media marketing can be your most important restaurant marketing channel.
A strong social media marketing strategy can bring a ton of benefits to restaurants. By regularly posting high-quality photos, interactive videos, and graphics, restaurants can attract new customers and engage with existing ones, ultimately leading to increased brand visibility and credibility. 
Restaurant social media marketing can also serve as a platform for customers to leave reviews, feedback, and recommendations, which can help restaurants to better understand their customers' preferences and improve their offerings. 
With the right strategies in place, a strong social media presence can help restaurants build a loyal following, increase customer retention, and ultimately drive more traffic through their doors.
Restaurant Social Media Marketing: What You Need to Know
If you want to discover everything you need to know to effectively market your restaurant on social media platforms, you are in the right place. 
We have put together a list of tips and tricks to help you boost your restaurant social media marketing:
Choose the social media platforms to focus on

Build a social media presence for your restaurant

Make use of relevant hashtags

Collaborate with local businesses & influencers

Stay on top of social media trends

Have a crisis social media strategy
1. Choose the Social Media Platforms to Focus On
The first step in restaurant social media marketing is choosing your platforms. There are a lot of different social media platforms out there. Each tends to serve a different target demographic and not every platform is suited for every business. 
Ultimately, the best social media platforms for restaurants will depend on their specific target audience, marketing objectives, and resources. 
However, the top 5 most suited social media sites for restaurants are:
Facebook

: With over

2.98 billion active users

, Facebook is one of the most popular social media platforms worldwide. Restaurants can use Facebook to create a business page, post updates, share photos of their dishes, and interact with customers through comments and messages.

Instagram

: Instagram is a highly visual platform that allows restaurants to showcase their dishes and establish a strong brand identity. With over 1 billion monthly active users, Instagram is a great platform for restaurants to

create business accounts

and reach younger audiences.

Twitter

: Twitter's fast-paced and real-time nature makes it a great platform for restaurants to engage with customers and respond to inquiries or complaints quickly. 

TikTok

: TikTok's short-form video format has become increasingly popular among younger audiences, making it a great platform for restaurants looking to reach a new audience. Restaurants can use TikTok to showcase their dishes, share cooking tips, and participate in viral trends to increase brand awareness.

Google Business: What is the place people first go to when looking for a place to eat? Google! Having a Google Business account will allow you to be found easily by your customers in the local area.
Once you choose the platform or platforms to focus on, the first step in the actual social media management process is to create a business profile on each one of them. Include your logo, a bio, and your Google Maps location. This restaurant social media marketing tip is valid whether you choose to create a Facebook Page or an Instagram account.
Now that you have all your social media accounts set up, there is only one thing left to do: create and maintain a strong social media presence.
Thankfully, there are social media management tools like SocialBee that will allow you to create, schedule and share all your posts from one place.
Manage all your restaurant social media marketing accounts from one place.
Start your 14-day free trial at SocialBee today!
If you don't know what to post about, we have got you covered. SocialBee's AI post generator is a game-changer for businesses and individuals looking to create compelling social media content.
With this tool, you can effortlessly craft copy that captures the essence of your brand's unique voice. This means that users can generate engaging and relevant content without having to spend hours brainstorming or researching.
Manage Your Social Media Accounts with SocialBee!
2. Build a Social Media Presence for Your Restaurant
There are several important steps to follow when building a social media presence. Each requires its own set of tools, time, and effort, but all are crucial for success.
These are the most important steps to follow when crafting a restaurant social media presence:
Create meaningful content

Engage with your audience

Measure your success
A. Create Meaningful Content 
Planning your social media content ahead of time is the starting point for social media marketing, but it's more than just creating a couple of posts and calling it a day. 
When creating content for social media sites, restaurants need to make sure that they're developing a consistent brand voice, visual style, tone, and message. They should also ensure that they are posting engaging content on a consistent and regular schedule, and that the content that they are posting is visually appealing & engaging.
B. Engage with Your Audience
There is more to social media marketing than creating and sharing content regularly. Restaurants need to be interacting with their audiences to have a successful social media marketing strategy. 
Engaging with audiences allows you to build and grow a loyal following by adding a human touch to your brand. 
Responding to questions and concerns and receiving valuable feedback on menu items and services allows a restaurant to better understand its customers' preferences and make improvements. 
It also gives you the ability to turn a bad review into a positive experience and allows for proactively reaching out to new customers.
Here are some tips on how to increase your restaurant social media engagement:
Know your audience:

Understanding your audience's interests, needs, and preferences is key to creating content that resonates with them.

Post consistently:

Regularly posting high-quality content helps keep your followers engaged and interested in your brand.

Respond to comments and messages:

Engage with your followers by responding to their comments and messages, which can help build stronger relationships with them.

Encourage user-generated content:

Encourage your followers to create and share content related to your brand, which can help increase engagement and promote your brand.

Run contests and giveaways:

Hosting contests and giveaways can help increase engagement and attract new followers to your social media accounts.
C. Measure Your Success
It's important to know what works and what doesn't. Taking the time to examine and understand how your strategy is fairing is key for any business, but particularly true for restaurants. 
You should be dedicating time to analyzing what posts tend to receive the most positive feedback, and what content performs extremely well or what performs poorly. Routinely examining how your marketing strategy is going allows you to pivot when necessary. 
SocialBee offers advanced analytics tools to track your social media performance, which can help you measure your reach, engagement, and audience demographics. By leveraging this data, you can optimize your strategy and improve your social media presence.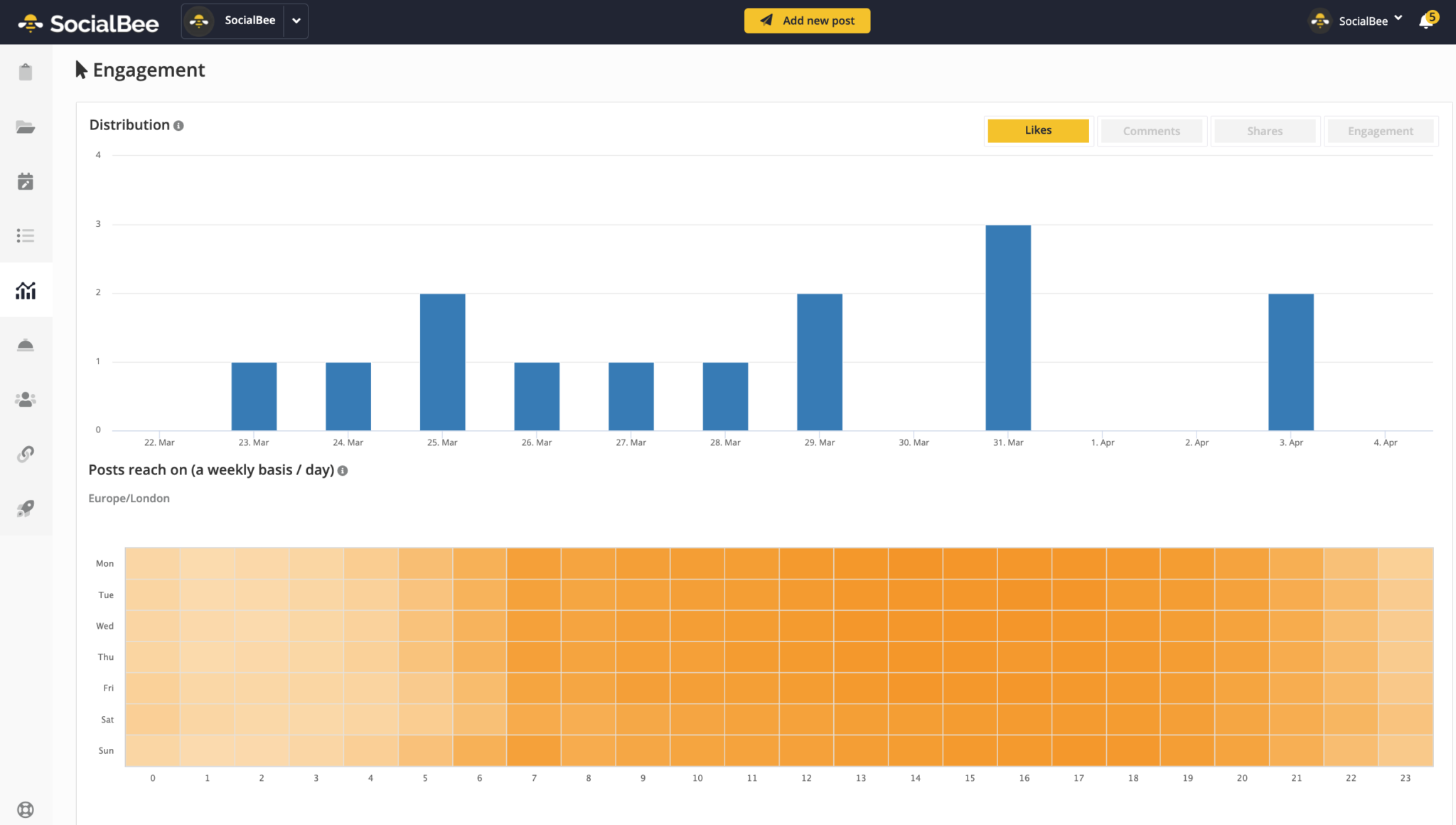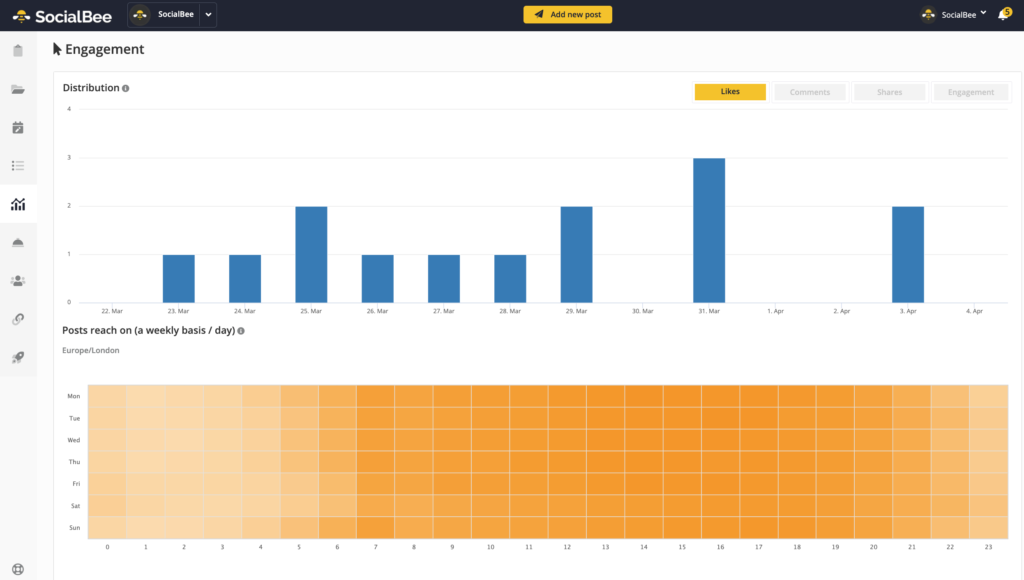 Monitor your social media performance with SocialBee. Document your progress in real time by generating PDF reports in seconds.
Start your 14-day free trial at SocialBee today!
Experiment with new content, try to involve relevant trends, and always be willing to adapt your strategy to focus on what drives the most business to your brand.
3. Make Use of Relevant Hashtags
One important tip for your restaurant's social strategy is to make use of relevant hashtags. 
When a word or phrase is preceded by the # symbol, it becomes a hashtag and can be searched for on social media sites.
Here are some pointers for using hashtags in your restaurant marketing strategy for social media:
Research popular hashtags:

Restaurants should examine popular hashtags and use those that are in line with their industry or niche. For example, a vegan restaurant might use the hashtags #veganfood, #plantbased, or #veganrestaurant.

Make use of location tags and hashtags

: Restaurants should also use location-based hashtags in order to engage with the local community and attract new potential customers. A New York City eatery might, for instance, utilize the hashtags #nycfoodie, #newyorkrestaurants, or #foodiegramnyc.

Develop branded hashtags

: To promote their establishments and promote user-generated content, restaurants can develop their own branded hashtags. To entice guests to post pictures of their meals on social media, a restaurant can come up with a hashtag like #myrestaurantnameeats or #restaurantnameyum. It's very important that the branded hashtags are in line with the brand guidelines.

Utilize hashtags in captions and comments

: Restaurants should use relevant and trending hashtags in the captions and comments of their social media postings to increase the visibility of their content to users who are looking for those particular words or phrases.

Don't go overboard

: Including too many hashtags in a post might appear spammy or desperate, even if they can be an effective technique for reaching a larger audience. Aim for using 2 to 6 pertinent hashtags in every post for restaurants.

Create hashtag collections: If you use similar hashtags on your Twitter or Instagram accounts, you can create hashtags collection in SocialBee and simply attach them whenever you post engaging content.
With a few clicks, you can save all your hashtags and add them to your posts.
Start your 14-day free trial at SocialBee today!
By always changing the hashtags you attach to your posts, you will avoid being shadowbanned by social media platforms.
4. Collaborate with Local Businesses & Influencers 
Another important avenue that restaurants should look into when creating a solid digital marketing strategy for their brand is collaboration. 
Collaborating with influencers and other local businesses is a great way for restaurants to reach new audiences and keep the foot traffic flowing. Let's learn more about each of them!
A. Collaboration with a Local Business
Restaurants should consider collaborating with complementary businesses, such as local breweries, bakeries, or farmers' markets. Doing so can help restaurants showcase their unique offerings and stand out from the competition. 
It also helps in creating a sense of community and shows support for the local economy. By working together, companies can increase awareness and drive more traffic to their respective businesses.
B. Collaboration with a Social Media Influencer or Blogger
Local influencers and food bloggers can be some of the strongest advocates for a restaurant's success, as they have a considerable social media influence and can drive immense traffic to your social media account. 
Here is an example of how Instagram posts would look like if you choose to use influencer marketing:
Influencers and bloggers can promote the restaurant's dishes, events, or special offers through social media posts or stories, providing authentic and relatable content that resonates with their followers. Investing in restaurant influencer marketing can do wonders for your brand.
5. Stay on Top of Social Media Trends
Like any brand, it's important for restaurants to keep up to date on what is trending on social media in order to go viral. 
Ask yourself the following questions:
Is there a new challenge going around on TikTok? 

What are some of the most popular audios for Instagram Reels?

Can the latest craze buzzing on Twitter be applied to your business? 
While it's essential for a brand to stay in the loop, it is equally critical to make sure that the trends they're partaking in are relevant to their brand and industry. Keeping a watchful eye in particular on what is currently popular on TikTok is a great way for a restaurant to have a chance at going viral. 
Over 1 billion TikTok users support their favorite influencers, offering a massive audience pool for restaurants to take advantage of. Whether they participate in a back-of-the-house dance-off or request that a popular food critic comes and makes a video reviewing their food, restaurants stand to gain a lot by focusing on relevant trends. 
6. Have a Crisis Social Media Strategy
We've talked a lot about the positives of social media, but of course, we have to take a moment to talk about the negatives too. Inevitably, at some point in time, a crisis will occur, and it's important for a brand to have a set of best practices to manage its social media during those times. 
Here are just a few key items a restaurant should consider when facing a crisis on social media:
Stay calm and be transparent

: Relax, stay calm, and avoid making any rash decisions. Be honest and transparent with your customers while acknowledging the situation. Keep your messaging clear and consistent across all channels.

Monitor the situation

: Stay up-to-date on the latest developments and information related to the crisis. Track what people are saying about your brand and address any negative comments or misinformation.

Respond quickly and with empathy

: Respond to unhappy customers' inquiries and concerns quickly and with empathy.

Provide accurate and timely information

: Keep your customers informed with accurate and timely information. Updating your audience on how the restaurant is responding to the crisis, changes to hours of operation, or updates to your menu offerings can go a long way.

Review your content and scheduled posts:

Review your social media content and scheduled posts to ensure that they are appropriate and do not come across as insensitive or tone-deaf given the current situation.

Use social media to provide support

: Use your social media platforms to offer support and resources to your customers during the crisis. This can include sharing relevant news and updates or promoting community initiatives and events.
By following these best practices, restaurants can effectively manage their social media during a crisis, maintain customer trust, and protect their brand reputation. It's never easy, but it's essential to run a business with an online presence.
Frequently Asked Questions
Ready to Boost Your Restaurant's Social Media Strategy? 
Social media is an essential tool for restaurants looking to increase their visibility and connect with customers. By following best practices and focusing on the right platforms, restaurants can create a strong social media presence that helps to drive traffic, build brand loyalty, and boost revenue. 
Trying to navigate it all can seem confusing in the beginning. Thankfully, you don't have to go at it alone. Whether you just simply want a platform that allows you to create and share content across platforms or you're looking for more white-glove concierge solutions, SocialBee has you covered. 
See for yourself and try SocialBee's 14-day free trial to bring your restaurant's social media to the next level.
Share Your Posts on Social Media with SocialBee!
About the author: ReBekah Smail is a Social Media Strategist at SmartSites, a full-service digital Marketing agency that specializes in SEO, PPC, Email marketing, and Social Media management. Since their start in 2011, they've managed $500M in paid search, won 30+ design awards, received 1k+ 5-star reviews, and have worked with almost every industry imaginable.