Have you ever considered becoming a real estate influencer? The social media content creation world isn't just for makeup gurus, nutrition experts, and aspiring models. The real estate industry is an area with a ton of potential in the influencer world.
Anyone with a passion for the housing market
can become a real estate influencer. Whether you've been in the agents business for decades or want to start out as a real estate investor, there's an eager audience out there to help you build your brand.
Becoming a key opinion leader is an excellent way to reach new audiences, boost your reputation, and sell more properties. You, too, can gain those advantages by turning yourself into a real estate influencer.
Let us take you through everything you need to become an influencer in your local community.
Social Media Strategy Template for Real Estate Influencers
Get the social media strategy template you need to audit and plan your marketing efforts for maximum results as real estate influencer.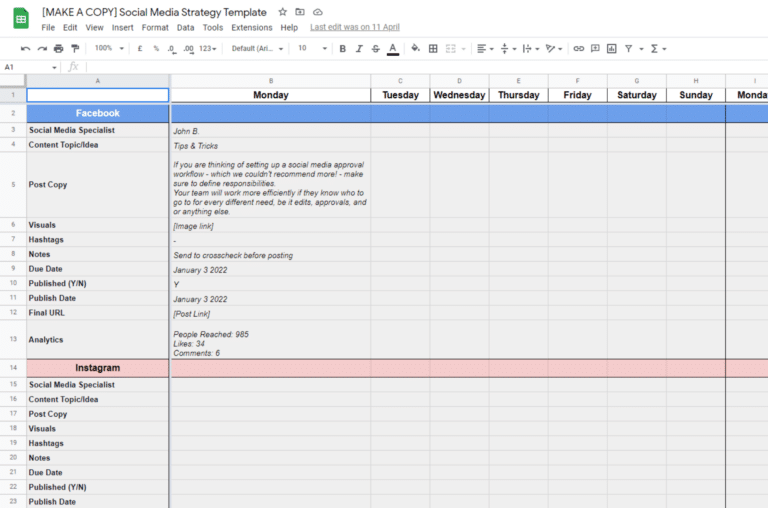 What Is a Real Estate Influencer?
At its simplest, a top real estate influencer is someone who is influential in the world of housing and properties. To become a local real estate influencer, you need to become a leader in your local community.
In modern terms, becoming influential means leveraging your knowledge, social media channels, and other networks to your advantage. These days, the term "influencer" is commonly used to refer to someone with a large social media following, using their platform to share their expertise and attract new opportunities. 
As a real estate influencer, you'll gain recognition, prestige, and a large following of potential clients and partners, all clamoring to work with you. Your market reach will increase, and you'll gain the trust of your consumers. 
Sounds good? It is! But it takes a bit of work to reach influencer status and all the perks that go with it. Let's take a look at what being a real estate influencer entails!
Understanding the Basics of the Real Estate Industry
"Fake it till you make it" is a popular saying, but we advise that you don't fake it with real estate. To become a true real estate influencer, you'll need to understand your business. 
Make sure you have a firm grasp on the basics of real estate:
Identifying a property

Analyzing a market

Comprehending real estate finances
1. Identifying a Property 
Being a successful real estate influencer means being able to bring a creative and humane touch to the often technical and transactional world of property valuation. It's not just about crunching numbers and analyzing market trends with the help of a SWOT analysis—it's about understanding the human element that underpins every real estate transaction.
One of the most important skills for a real estate influencer is the ability to identify and correctly value properties. Over time, you will develop a keen "eye" for properties with serious potential that you can use to showcase your business and attract buyers. But, if you're just starting out, it's a good idea to focus on the features and aspects that make a property appealing to buyers and audiences.
This requires a deep understanding of what people are looking for in a home, and the ability to anticipate and meet their needs. It means thinking beyond the surface level features of a property and considering the emotional and practical factors that influence a buyer's decision. In the end, they are spending hundreds or tens of thousands on that property. 
Does the property have good natural light? Is the neighborhood safe and welcoming? Is there enough space for a growing family? These are the kinds of questions that a real estate influencer must be able to answer with confidence and insight.
2. Analyzing a Market
As real estate influencers, it's crucial to navigate the ever-changing and often chaotic landscape of real estate markets. A key aspect of this is analyzing current market trends and forces, and keeping a finger on the pulse of the industry.
Analyzing the real estate market requires:
A deep understanding of local market dynamics

Identifying buyers and sellers in the market

Recognizing areas and properties that are increasing or decreasing in value

Keeping up with current property trends

Being aware of demographic shifts that can affect the market

Understanding geographical factors that impact the market
By staying up-to-date on market trends, you can provide valuable insights and guidance to your clients, and position yourself as a trusted source of information and advice. 
For example, you may notice that younger buyers are increasingly interested in urban properties with easy access to public transportation, or that families are prioritizing homes with outdoor space in light of the pandemic. By paying attention to these trends and factors, you can tailor your services to meet the needs of your clients and anticipate future market shifts.
3. Comprehending Real Estate Finances 
Real estate is expensive. For this reason, finance is a major concern for both buyers and sellers. Talking and negotiating finance will take up a lot of your time as a real estate influencer. So, familiarize yourself with everything from property values to common mortgage terms and more.
Finance can be complicated, and it is very important to get it right. To keep on top of your finances and make sure that all your figures are correct, it's worth investing in property accounting software.
Accounting software helps you organize things like property lists, maintenance costs, mortgage calculations, invoices, and more. 
All in all, the right software can save you a huge amount of time on admin, giving you more scope to focus on influencing.  
How to Become a Real Estate Influencer
Once you have a good understanding of the industry and your local market, you can set out on your journey to becoming a local real estate influencer. 
These are the steps real estate influencers need to take:
Focus on a niche

Choose a social media platform that speaks to your audience

Share informational and factual content

Know what goes around in your community

Engage constantly and create a database

Explore creative content ideas
1. Focus on a Niche
If you cast your net too wide, you'll struggle to differentiate yourself from other up-and-coming real estate influencers. So, find a niche to focus on.
For example, influencer Jake Leicht concentrates on house flipping and rental properties. His audience is interested in the flipping process. He plays into that with content that showcases the work he does to transform and pass on properties:
Perhaps you could appeal primarily to first-time buyers. Or run how-to videos on fixer-upper properties. Or even showcase some million-dollar listing on the luxury real estate market to your audience. Wherever there is an opening that you feel you could work with, consider stepping in and filling that niche.
2. Choose a Social Media Platform that Speaks to Your Audience
Now that you have chosen your niche, you must get your content out to the audience which will most appreciate it. This means finding the social media platform that speaks most to your audience.
This will depend a lot on the nature of your audience and your content. For example, if your audience is mainly older clients planning to sell up and downsize, Facebook might be your best bet as a real estate broker.
On the other hand, if your focus is wealthy Gen Z-ers, becoming an influencer on TikTok will be more effective for you as a real estate coach. No matter which platform you choose to focus on, you will be able to schedule your content with SocialBee.
Schedule and Share Content Across All Your Social Media Channels with SocialBee!
3. Share Informational and Factual Content
Presentation is important for influencers, but it's also vital to show that you know what you're talking about when it comes to real estate. By creating and sharing informational and factual content, you will showcase your expertise and prove that you can be trusted to handle real estate matters in your community.
For example, luxury real estate influencer Ryan Serhant doesn't just showcase mansions and penthouses. He also offers educational content on things like how skyscrapers. 
At SocialBee, we understand the value of content creation for real estate influencers, and that's why we offer a state-of-the-art AI post generator that can help streamline the content creation process.
Get Access to 1K+ AI prompts and generate top-quality content for your social channels with SocialBee's AI post generator.
Start your 14-day free trial now!
Additionally, we have a comprehensive list of AI prompts specifically tailored for the real estate industry that can be used to create engaging and informative content.
Discover AI Social Media Prompt Ideas for Real Estate
Get access to the full list of AI social media prompt ideas and start creating more content with less effort.
4. Know What Goes Around in Your Community
The best influencers are connected to their communities, and their communities feel connected to them. This means keeping your ear to the ground and being up-to-date with what's going on in your community.
Network hard and plug into local news sources to keep up with what goes around.
To network and drive organic growth to your social media accounts, you could:
Go to local conferences and expos to make contacts and keep up to date with the latest real estate news in your area.

Join real estate groups on social media.

Promote your own brand via your social media pages, and build up an engaged audience.

Find other real estate influencers on LinkedIn and join their networks.
If you, as a real estate expert, don't have the time to manually connect with other influential real estate agents, worry not! SocialBee is here to make your life easier. 
Do you want to get in touch with new connections on LinkedIn?
Get started with SocialBee's LinkedIn Lead Generation service!
With our LinkedIn Lead Generation service, we can help you network with other players in the local real estate industry, while you focus on promoting your property listings.
5. Engage Constantly and Create a Database
As a real estate mogul, your success depends on your ability to engage with your audience and build a strong and loyal following. This means creating content that is informative, interesting, and relevant to your followers, and actively engaging with them to build relationships and trust.
One of the most effective ways to boost engagement is to interact with your audience. This means asking them questions, responding to comments and messages, and showing that you value their input and feedback. By building a two-way conversation with your followers, you can create a more interactive and engaging experience that keeps them coming back for more.
In addition to engaging with your audience, it's also important to create a database of subscribers. This will help you track engagement patterns and tailor your content to the specific needs and interests of your followers. By understanding what your audience is looking for, you can create content that resonates with them and drives higher levels of engagement.
If you want to save time and build a thriving real estate investing community of engaged followers, consider giving SocialBee's Engage feature a try. With this powerful tool, you'll never miss a chance to interact with your audience, paving the way for stronger connections and increased brand loyalty.
Ensure your social media success by being responsive to every comment and mention.
Start your 14-day free SocialBee trial now!
Ultimately, being a successful real estate influencer is all about building relationships with your audience. 
By showing that you care about their needs and interests, and providing valuable insights and advice, you can establish yourself as a trusted authority in your local community. And by continually engaging with your followers and adapting your content to their needs, you can continue to grow your reach and influence over time.
6. Explore Creative Content Ideas
To grab the attention of your target audience, your content needs to be eye-catching, interesting, engaging, and valuable. 
Content creation is often a case of experimenting until you find something that works for your audience. Don't be afraid to get creative with your content ideas—but don't just launch content ideas at random. Try and build a social media content strategy with room for experimentation.
If you don't know where to start, you should consider using AI to help you create content. Real estate influencers should make the most out of available resources that can help them gain followers or even drive sales to their own real estate companies.
Frequently Asked Questions (FAQ)
Start Your Journey: From Real Estate Professionals to  Influencers
Learning how to become a real estate influencer could be the key to building both your reputation and your real estate firm. And, even if you don't want to become a full-on social media personality, it's worth learning some tricks of influencing to promote your real estate investor services in an increasingly digital world. 
At its core, being a real estate influencer means being knowledgeable, creative, and social—all of which will help your real estate business grow on the local market.
By following this guide, you can take your first steps toward becoming a real estate influencer and leader in your community. And with the help of tools like SocialBee, it's easier than ever to streamline your social media strategy and engage with your audience on a regular basis.
Create, Edit, and Schedule Your Real Estate Content with SocialBee!