AI for real estate is rapidly changing the way people search for, buy, and manage properties. With tools like automated property valuation models, virtual home tours, and post generators, agents can now offer more tailored services to their clients.
In this article, we'll explore how artificial intelligence is being used in the real estate industry and share with you some of the best tools for businesses looking to take advantage of this technology.
If you're ready to learn how AI tools can revamp your real estate business, make sure to read on!
1000 AI Prompts for Social Media Post Generation
Access the full list of AI prompt ideas and start creating content effortlessly.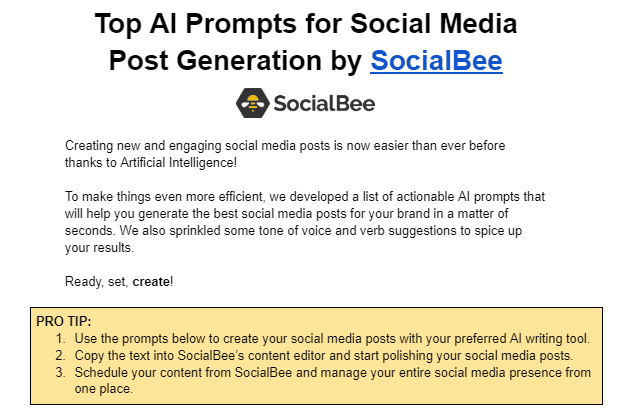 Short Summary
AI tools in real estate, such as virtual assistants and automated valuation models, revolutionize property research, marketing, and management.
Notable AI tools like SocialBee, Compass, Zillow, Jasper.ai, and Hyro.ai offer solutions from content generation to property transactions.
SocialBee's AI-driven platform helps the real estate industry professionals in consistent content creation, categorization, and scheduling for effective social media engagement.
Real estate agents leverage AI to refine marketing strategies with automated lead generation, personalized content creation, and predictive analytics.
Home buyers benefit from real estate AI-powered platforms that simplify the buying process with tailored property recommendations, virtual tours, and predictive insights.
What Are AI Real Estate Tools?
AI real estate tools are software applications that use artificial intelligence (AI) and machine learning (ML) technologies to help realtors simplify their daily work and get more done with less.
Examples of real estate tools include virtual assistants, post generators, chatbots, or automated valuation models (AVM) that can assess property values and increase sales. 
This technology can also help you research properties, generate new social media content, analyze relevant data points, manage documents, market homes, and more.
All in all, AI-driven tools have made it easier than ever for agents to manage their workloads effectively.
Top 5 AI Tools for Real Estate Companies
We know that AI for real estate is currently on the rise and that many professionals might not know exactly how or why they should use it. For this reason, we've searched for some tools that are guaranteed to change the way you do business.
Here are the top five AI tools for real estate companies:
SocialBee's AI social media post generator

Compass

Zillow

Jasper.ai

Hyro.ai
In the world of real estate, efficiency is key. Why not let AI do the heavy lifting? With SocialBee's AI social media post generator, you can rest assured that there won't be any time spent pondering new social media captions or ideas. You should focus on other tasks instead.
To make the content creation process even easier, SocialBee offers a collection of over 1K prompts you can choose from and personalize as you see fit. Additionally, you will also have access to AI prompts specifically designed for the real estate industry. The platform also integrates AI technology to automatically generate images tailored to the context of your post. 
As a result, you can create a variety of content, from how-tos, quizzes, and promotional posts to posts about important real estate data that will allow you to sell properties like hotcakes. Choose your desired tone of voice and generate as many posts or ideas as you like.
The innovation doesn't end there. SocialBee's Social Media Copilot and its AI social media post generator are designed to work in tandem. While  the Copilot structures your overall social media strategy, the post generator populates this strategy with engaging and timely content.
This synergy ensures that while your strategy remains consistent and robust, your content remains fresh, dynamic, and relevant.
Maintain a consistent social media presence effortlessly with SocialBee's free AI post generator.
Start Your 14-Day Free Trial Today!
You can now test SocialBee's AI post generator for free. However, if you want to schedule your AI-generated posts directly to social media, you should consider creating a SocialBee account. 
At its core, SocialBee is a social media management tool. Besides AI content generation, the platform also has a variety of other features that allows you to centralize all your tasks in one place.
Here are some important SocialBee capabilities you should know about: 
Content categories: SocialBee allows you to categorize your content based on topics, post types, and other important factors, making it easier for you to stay organized and mix up your content strategy.
Hashtag suggestions and collections:

SocialBee can suggest relevant hashtags based on the content of your post. Additionally, you can organize your best hashtags in collections and add them directly to your content with a few clicks.

Visual integrations:

Design and import your Canva graphics from SocialBee and use the Unsplash and GIPHY integrations to quickly curate visuals for your posts.

Scheduling:

Plan your social media posts in advance, and maintain a consistent posting schedule across all your social media accounts with ease.

Analytics:

SocialBee provides detailed social media performance analytics, helping you track and optimize your content strategy.

Team collaboration:

Invite your team to SocialBee, assign them roles, and provide feedback effortlessly by leaving notes and tagging specific users under your posts.

Enagement: Engage with your followers' comments or mentions directly from SocialBee.
Start your 14-day free trial today and experience the benefits of SocialBee's social media management features!
SocialBee: Your AI-powered social media management tool
Create posts, publish, analyze, engage and collaborate, all from SocialBee.
If you've been looking into real estate solutions for quite some time, chances are you know all about Compass. It's a comprehensive platform where users can buy, rent, and sell properties.
The Compass app uses AI technology, meaning that it makes personalized recommendations according to customer behavior data points.
This app is one of the best AI real estate solutions out there and it shows just how great AI is at learning user behavior and leveraging it to the full advantage of real estate companies.
Quite similarly to Compass, Zillow is yet another artificial intelligence-powered app that allows its users to buy, rent, and sell. It also connects prospects with real estate agents and helps them get a better understanding of home loans.
As for the AI side of things, Zillow leverages clicked ads and online searches to simplify qualified lead generation, literally determining which users are ready to make a purchase and which are just looking at the property prices for curiosity reasons.
Have you had a chance to check out Jasper.ai? Although it has nothing to do with real estate development, it's a tool that can help you convert would-be-buyers and improve your engagement and productivity levels.
You can now create new content for your blog or social media profiles by leveraging the infinite creative force of artificial intelligence. 
With Jasper, you can generate short or long-form blog posts in a matter of minutes. As for social media posts, CTAs, or ad copy, simply give it a prompt and watch the magic happen.
Did you know that Hyro.ai is the world's first Adaptive Communications Platform for real estate? In simple English, it's a scalable, artificial intelligence-powered tool that helps you with customer service.
With Hyro.ai, you can deploy AI virtual assistants and easily manage conversations with prospective customers, renters, or tenants. The purpose of AI-powered communication is to increase conversions and boost customer retention.
AI Use Cases for Real Estate Professionals
You might be wondering how other real estate professionals are currently choosing to use AI for their daily operations. Let's take a look.
Here are the top five AI use cases for real estate professionals:
Streamlining Social Media Marketing for Real Estate with AI
Optimize your real estate marketing strategy
Simplify the home-buying process
Keep up with housing market trends
Enhance the real estate transaction process
1. Streamlining Social Media Marketing for Real Estate with AI
Realtors can always use AI to generate social media posts for their businesses. This saves them plenty of time and resources while allowing them to maintain a coherent social media presence.
By keeping your social accounts fresh and updated, you can easily start connecting with qualified leads who are looking for what you're selling. The real estate market is famously competitive, so you'll need an AI tool you can rely on.
In today's fast-paced real estate market, maintaining an active social media presence is crucial. But it's not just about posting; it's about crafting messages that genuinely engage potential clients.
Here is what you need to know before using AI in your real estate social media strategy:
A. Understand Your Audience

B. Choose the Right Tools

C. Go Beyond Post Generation

D. Engage & Listen
A. Understand Your Audience
Before using AI-generated content, ensure you have a clear understanding of your target demographic. The best content speaks to clients' dreams, needs, and emotions. For instance, if you're selling urban apartments, your messaging should differ considerably from suburban family homes.
Once you have this settled, you can use this info when feeding information to your AI content generator. 
Expert Tips: 
Check your social media analytics (either directly from your social accounts or your

social media management software

) to discover your audience demographics and identify what content works best for them.

Conduct occasional surveys on your platforms asking followers about their property preferences, budget ranges, or neighborhoods of interest. This direct feedback can guide your content and listings.
B. Choose the Right Tools
The market offers various AI tools for content generation. Tools like SocialBee's AI post generator stand out due to their intuitive nature. 
Remember, It's not just about creating posts but fine-tuning them. Relevant hashtags, appropriate emojis, and detailed captions can make the difference between a post that's glanced over and one that engages.
Expert Tip: Consider using 'hyper-local' hashtags to reach potential clients in specific neighborhoods or communities. This can be as precise as using #[neighborhoodname]homes or #[cityname]realestate.
C. Go Beyond Post Generation
Visual appeal is crucial in real estate. Consider using drone photography or 360-degree virtual tours for property listings to give prospects an immersive experience.
Expert Tip: Stories, be it on Instagram or Facebook, are excellent tools for realtors. Use them for 'sneak peeks' of new listings, behind-the-scenes looks, or even quick testimonials from happy clients.
D. Engage & Listen
Engage with your audience regularly. Respond to comments, join local community groups, or host monthly Q&A sessions. This not only boosts your visibility but solidifies your position as a trusted local expert.
Expert Tip: Create an 'Ask Me Anything' (AMA) session related to real estate. As an expert, answer questions from first-time home buyers, sellers, or investors. This positions you as an authority in the field.
SocialBee
allows you to monitor and reply to all your mentions, comments, and DMs from one place so you can keep your audience happy with timely replies.
2. Optimize Your Real Estate Marketing Strategy
It's time to get strategic with the help of a reliable AI tool.
Here's how to optimize your real estate marketing strategy with AI:
Automate lead generation:

AI tools can help with lead generation by automating certain tasks, such as lead scoring or lead nurturing. For example, AI-powered chatbots can engage with potential leads and answer their questions, while also collecting data about their preferences and behavior.

Personalize content creation:

With the help of AI tools, real estate agents can generate personalized content that caters to the unique interests and preferences of each client. This can encompass tailored emails, social media posts, blog posts, website copy, and property listings that are more likely to engage clients and result in successful conversions.

Leverage predictive analytics:

AI can examine data from past sales and client interactions to optimize your marketing strategy and help you increase your sales.

Use chatbots:

Chatbots can work 24/7 for you, therefore ensuring that your prospects receive the information they need to make a safe property purchase.

Provide virtual and augmented reality:

AI technology can virtually take your prospects inside the property they're interested in. That way, they can closely analyze each room and make an informed purchase decision.
AI can provide real estate agents with valuable insights, improve customer engagement and experience, and help them make more informed decisions about marketing and selling properties.
3. Simplify the Home Buying Process
To make the home buying process more enjoyable, AI powered real estate platforms can aid home buyers in finding properties that meet their criteria, based on factors such as location, size, amenities, and budget.
By integrating AI strategies, real estate professionals can offer a seamless and efficient experience to their clients.
Here's a step-by-step guide to harnessing the power of real estate AI:
Distinguish between markets: AI tools can optimize real estate choices by analyzing vast datasets. For commercial properties, AI evaluates location visibility and specific business utilities. For residential listings, it matches homes to potential buyers based on their preferences, like family size and desired amenities. 
Harness real estate websites with AI: Implement machine learning algorithms on real estate websites to adaptively learn from user behavior, refining property searches and prioritizing properties based on factors like location, size, amenities, and budget.
Optimize property management: Utilize AI-powered tools to streamline property management tasks, ensuring prospective buyers receive timely responses and personalized property suggestions.
Leverage predictive analytics: Analyze past sales and client interactions to discern patterns and predict future market trends. This helps in anticipating the needs of potential clients and refining marketing outreach.
Human intelligence collaboration: While AI tools offer efficiency, integrating them with human intelligence ensures personalized touchpoints and makes clients feel understood and valued.
By adopting these strategies, real estate professionals can revolutionize the property buying experience, delivering precision, convenience, and a personal touch to their clientele.
4. Keep Up with Housing Market Trends
It's not always easy to keep up with the latest trends. However, tools powered by AI, such as Kuula, can generate virtual tours and 3D renderings of properties, enabling clients to view them from a distance and reducing the need for in-person showings.
This can save agents time and money while also boosting the effectiveness of the sales process.
In addition, AI algorithms can deliver tailored recommendations to home buyers based on their search history, behavior, and preferences. This may involve recommending comparable properties, neighborhoods, and amenities that match their interests.
5. Enhance the Real Estate Transaction Process
For a real estate agent aiming to provide exceptional service, it's essential to stay at the forefront of technological trends. With AI in real estate rapidly becoming a cornerstone for efficient operations, agents can dramatically enhance their transaction processes.
Below is an actionable guide to harness real estate AI for optimizing interactions and ensuring client satisfaction:
Implement chatbots for immediate client support: Use chatbots to automate customer service, promptly answering common queries, detailing property information, and handling appointment bookings. This allows real estate agents to free up their time for strategic tasks.
Efficiently match clients to desired properties: With AI in real estate tools, swiftly connect clients with properties that meet their preferences, from location to property value, ensuring their needs are met promptly.
Accurately evaluate property value: Integrate AI tools that can analyze current market dynamics, regional factors, and property specifics to produce precise property value estimates.
Commit to continuous AI integration: Stay abreast of advancements in AI in real estate and weave them into daily operations. This ensures that both agents and clients benefit from a seamless, modernized transaction experience.
Frequently Asked Questions
Stay Ahead of Future Market Trends with Real Estate AI Tools!
It's no secret that artificial intelligence can be used to revolutionize real estate. From automating mundane processes and compiling data to predicting real estate market trends and optimizing listings for marketing, AI has a range of applications that bolster the efficiency of any real estate organization.
Use SocialBee's AI post generator tool to streamline your social media marketing efforts and don't forget to take advantage of our 14-day free trial while you can!
SocialBee: Your AI-powered social media management tool
Create posts, publish, analyze, engage and collaborate, all from SocialBee.