Do you have doubts about whether to start creating your LinkedIn strategy in 2023?
With over 770 million users, LinkedIn cemented itself as the number one digital network for businesses and professionals. It's a powerful platform that offers many benefits like allowing you to connect with other professionals in your industry, together with potential clients. It's safe to say that LinkedIn opened a new horizon for B2B-focused companies.
If you're a B2B company, LinkedIn is the perfect place for you. Having a social media strategy today is quite necessary for B2B lead generation since the majority of internet users have social media profiles.
 In this material, we will talk about the reasons why you should use LinkedIn as a social media platform and we will show you the steps you need to take in order to shape an effective LinkedIn marketing strategy.
Social Media Strategy Template
Streamline your marketing with an efficient social media strategy template.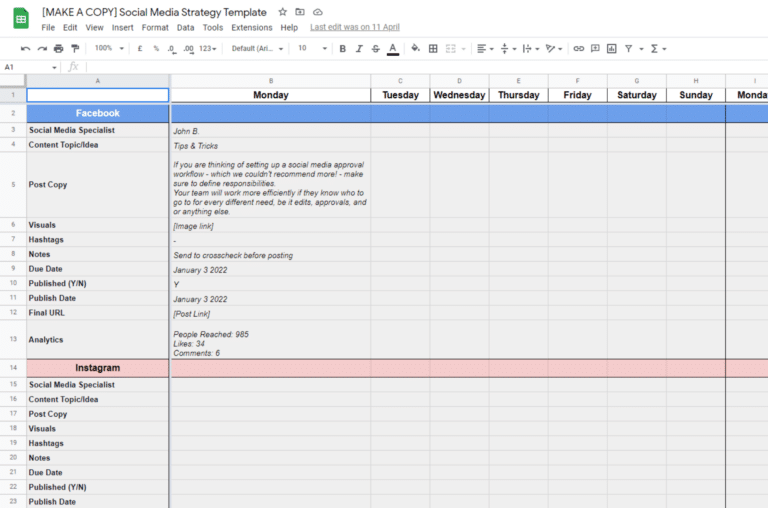 Why Should You Include LinkedIn Marketing into Your Social Media Strategy?
Social media are great tools for most businesses, helping them raise brand awareness, stay relevant and engage with users. You create a connection with your audience and nurture your relationships. But for B2B companies, that's not enough, you want to find the most relevant target audience to make the most of your opportunities.
With LinkedIn, that's what you can get. You'll be able to develop a relationship with your connections, advertise with great targeting precision and increase your revenue.
Here are some benefits of creating a LinkedIn strategy:
Relationship-building
Reaching a specific audience
Outperforming your competitors
Increasing ROI
Maintaining the brand image
1. Relationship-Building
The long-term view is essential in content marketing strategy. Sure, running one-time ads and campaigns can be beneficial, but nothing compares to the importance of cultivating genuine, long-lasting professional relationships outside of your own walls. 
LinkedIn is amazing for lead generation, as it connects you to prospects, colleagues, peers, influencers, and business leaders worldwide.
Do you want to get in touch with new connections on LinkedIn?
Learn more about our LinkedIn Lead Generation service!
2. Reaching a Specific Audience
LinkedIn has a global community of more than 700 million professionals. Your B2B customers, no matter who they are, are almost certainly on the platform. 
With the breadth of filters and targeting parameters available to orient campaigns, you have an unrivaled ability to refine the scope of your messaging.
3. Outperforming Your Competitors
Using social media to communicate with your customers is an excellent way to stay ahead of the competition. You can take that to the next level with a social media marketing strategy that evaluates what your competitors are doing and identifies gaps that you can exploit. 
You can determine which groups you should target in order to increase traffic and what you should do better than your competitors in order to steal their customers.
4. Increasing ROI
Posting on social media is great, but it's difficult to justify your efforts if you're not seeing any real results. 
Your strategic LinkedIn presence can assist you in determining which aspects of your company pages should be measured to determine success. If you are not meeting your objectives, you can improve your results by expanding or adapting parts of your strategy.
5. Maintaining the Brand Image
Being active on social media will help you establish yourself as a credible and authoritative figure online. However, if you're working across LinkedIn and other social media platforms and have multiple people posting, it's easy to lose sight of your brand voice. 
Because brand image is so important, a social media marketing strategy for your LinkedIn company profile can help to ensure that your image is consistent from one platform to the other.
How to Create a LinkedIn Marketing Strategy 
Social media strategies are important for company pages because they allow you to stay relevant and to remind users about your value and benefits. But, for best results as a B2B company, LinkedIn marketing is a must. In the following part of the material, we will show you how to use your LinkedIn page to the fullest.
These are a few tips you should follow in order to create your LinkedIn strategy:
Optimize your LinkedIn company page
Build a network of connections
Create and join LinkedIn groups

Create authentic LinkedIn content

Use LinkedIn ads

 Post frequently
Use hashtags
1. Optimize Your LinkedIn Company Page
One of the best LinkedIn marketing tips is to create a company page on LinkedIn.
With LinkedIn being so popular, it's viewed as the voice of your organization. You communicate with your audience through it, grow your followership and drive business results. Of course, if your brand is your personal one, you can stick to having personal LinkedIn profiles in that case.
So, having company pages properly set up is important. In your Linkedin page, you need to be direct about what you do, what you offer and introduce them to your product or service. Like with your brand on other channels, you need to have everything in order.
Here are some tips to take into consideration for optimizing your LinkedIn page:
Add a branded profile image and banner need to your LinkedIn page

Write a thorough "About Us" section, focusing on the company description

Use relevant keywords so that users can find you easier

Check the list of employees and encourage people to add your company and job titles to their profiles 

Fill in the basic info about your company such as the address, company size, niche, an adequate URL
Building a business page is also a great way to showcase your professionalism and company culture. You can use the company page to recruit the best talent, and you can even learn how to post jobs on LinkedIn for free.
An optimized profile helps you keep profile visitors. First impressions are important, and some users might bounce if they feel that your profile doesn't look very professional.
2. Build a Network of Connections
In the business world, meeting people and making connections are essential. It allows you to find new partners, generate new leads and acquire potential clients by asking for referrals. It's the same for LinkedIn, but easy and fast. 
You'll be surprised how many people you know have LinkedIn. Start by adding employees, partners, clients, etc. Follow industry influencers, send connection requests to all your peers, and always grow your connections.
The more connections you have, the larger the network, the bigger your reach. People also have a certain fondness for numbers, so having your company page have a large number of connections means that you are doing well.
When you build your network with a lot of connections, it boils down to you sending a lot of connection requests. However, there's a limit of presonalized messages that you can send in a single day. 
Remember, LinkedIn doesn't allow you to send a message to a large number of profiles, since they want to protect their users from bots and spammy messages. But, you can still avoid these rules; you just need to learn how to automate messages on LinkedIn. It can allow you to grow your network and increase your outbound sales prospecting, without getting banned.
3. Create and Join LinkedIn Groups
The best way to work on your LinkedIn marketing strategy is to try to use its organic benefits as much as you can. You do this by joining groups, making connections by being active in discussions, or by creating your group. You'll connect with a lot of potential customers to whom you can later send messages and propose your offer.
The important thing to know when creating your own is that it should be relevant for other users so they would join, and it should be related to your product. This way you can create open discussions about your offer, get crucial feedback and learn about your audience. On the other hand, they can share their opinions, suggestions, and concerns. Just remember, you can't just create a group without taking care of it, or it could disappear quickly.
If you join groups that are closely related to your product, you can get relevant info there too. Listen to the audience, what they like about the competition and what problems they are facing. You could join the discussion and maybe even provide a solution that your competition couldn't offer.
4. Create Authentic LinkedIn Content
You can't just drop links on business LinkedIn and expect engagement.
If possible, social platforms do not want you to bounce users off-site. This explains why content repurposing is such an important aspect of LinkedIn marketing. You need to create and share engaging content.
Many brands, for example, will divide or consolidate blog content into smaller, text-only LinkedIn posts. Others will make a slideshow or infographic instead of an external link.
If you want to create quality content, it is important to share various types of content. 
Here are some types of company content you can share on LinkedIn:
Reshares from your company's blog
Educational content about your industry
Engaging content about thought leadership
Quizzes & polls
Video content
Latest trends
To be able to catch the attention of multiple LinkedIn users and build brand awareness, it is important that each post you share has a call-to-action meant to drive your target audience from prospects to clients.
5. Use LinkedIn Ads
LinkedIn invites business professionals, which isn't the case with other social networks. This is a perfect environment for B2B companies to generate leads, increase traffic and get more conversions. 
It's important to understand that LinkedIn marketing is an integral part of your social media strategy. Additionally, LinkedIn offers advertisements so you can make sure your ads and offers are shown to your prospective clients.
While LinkedIn is a platform full of industry experts, it's still populated by a diverse demographic. To be effective, you should use the precise targeting that LinkedIn offers. 
If you include ads in your LinkedIn strategy, you can target users by:
Location

Experience

Company size

Groups

Interests

Gender

Age

Job title and function

Language

Industry
It's also pretty neat that you can retarget relevant visitors with ads after you've collected some data.
LinkedIn marketing is more expensive if compared to other channels in your social media strategy. But, the leads you get from other channels are often less relevant since you don't have the same targeting options as those that LinkedIn offers.
Based on your marketing objectives, these are the campaigns you can choose from:
Brand awareness

Consideration (traffic)

Conversions
After selecting the desired LinkedIn marketing campaign, choose the type of ad to use:
Sponsored content — it's an ordinary post that gets boosted so it gets more traction

Text ads — they are featured in the sidebar of the user's screen and have a compelling headline, subheadline, and logo

Single image ads — this is a type of ad to promote directly in the feed

Carousel image ads — with this type of post you can tell a short story through multiple image posts

Dynamic ads — these are personalized ads for each member based on LinkedIn profile data

Video ads — they are quickly becoming the favorite type of content for users and are among the best ways to promote your business
Video ads get the best results as far as to reach and impressions and social network platforms also seem to push this type of content. Popular amongst the B2B industries, social media testimonials can be a powerful tool for attracting new customers. We recommend you consider adding them to your LinkedIn marketing strategy.
Depending on factors such as targeting, audience group, and objectives, you can choose the right ad formats for the best possible results in your LinkedIn marketing strategy.
6. Post Frequently
On LinkedIn, as on any other platform, consistency and frequency are important. Therefore, they should also be an important part of your LinkedIn strategy.
We rarely see multiple posts per day on brand accounts (or even daily). Those who post on a regular basis receive the most engagement during the weekday mornings and early afternoons.
If you have a personal LinkedIn profile, however, posting multiple times per day is completely acceptable. 
Here are some recommendations for posting times from social media experts:
 It will take some testing to determine what is "optimal." For example, you can take a look at your LinkedIn analytics and understand when your network is most active before you create your LinkedIn marketing calendar. Thankfully, when you use a tool like SocialBee, you can both schedule your posts and keep track of the analytics of your LinkedIn account.
If you want to schedule your content on LinkedIn, SocialBee is a tool that can help you do that.
Start your 14-day free trial now!
The Best Social Media Posting Times Cheat Sheet
Find out what is the best time to post across all your favourite social platforms.
7. Use Hashtags
Hashtags are commonly used to emphasize your LinkedIn post, but they actually serve a purpose that can improve your marketing strategy. 
These simple phrases, followed by a hashtag symbol, are goldmines for reaching new audiences, industries, and niches. However, using too many, or worse, the wrong ones, can limit your reach.
That means conducting hashtag research on LinkedIn to strike a balance between relevant and popular hashtags. First, use the search bar to look for a broad hashtag. If you work in growth marketing, for example, start by searching #growthmarketing to see how many people are following the hashtag and how frequently it is used.
Are You Ready to Shape Your Own LinkedIn Strategy?
LinkedIn proved to be the best place for business professionals, so your B2B company needs to quickly design its LinkedIn strategy. Not only can you increase your brand awareness, but you can also make connections and build a network of potential clients.
You'll be able to create or join groups with them and be proactive in discussions so you can learn more about your target group. Listen to feedback and concerns from your audience, but also your competitors. It's a quick way to discover what your industry needs and how to provide a solution.
If you want to have a successful LinkedIn marketing strategy, don't forget how important it is to schedule your content. Thankfully, with SocialBee, you can schedule, edit, and publish all your LinkedIn posts from one dashboard. Start your 14-day free trial now!
SocialBee: Your AI-powered social media management tool
Create posts, publish, analyze, engage and collaborate, all from SocialBee.
About author: Stefan Smulders is a SaaS entrepreneur and a founder of the world's safest software for LinkedIn automation – Expandi.io. He's enjoying his family life in the Netherlands being a proud father of a lovely 4-year old son Steef.