Instagram tools come in many shapes and sizes—they are created to help businesses and Instagram influencers achieve specific marketing goals.   
So, in order to help you improve your Instagram marketing, we curated a list of seven tools for all your social media needs, from content scheduling to social listening and ad management.
Without further ado, let's find out what are the best Instagram tools you should include in your social media strategy.
Free Editable Social Media Strategy Template
Get the social media strategy template you need to audit and plan your marketing efforts for maximum results.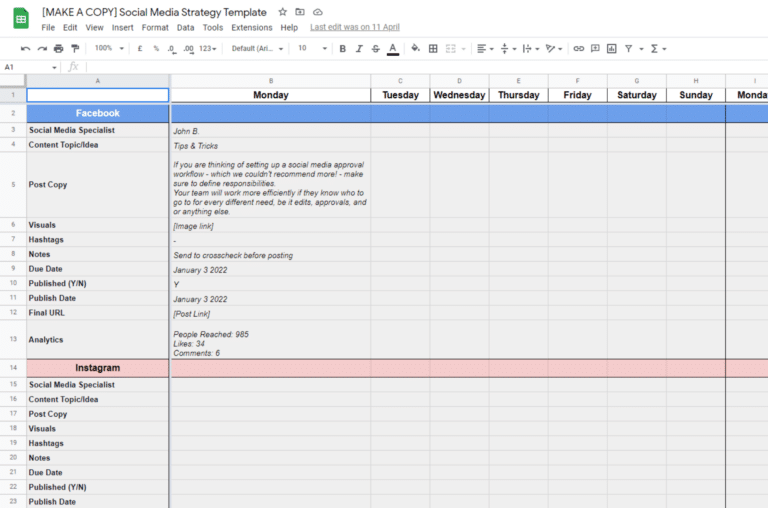 Top 9 Instagram Business Tools Every Brand Needs
Quality Instagram business tools can be hard to find.
Every social media marketer knows the struggle that comes with researching the right tools that will help them create effective social media campaigns without the hassle of having to deal with time-consuming tasks.
Well, get ready to kiss it all goodbye because we have created a list of Instagram management tools for every aspect of social media management from finding influencers to creating the perfect Instagram ads, and much more.
Here are the best Instagram tools for brands:
SocialBee
Woorise
SocialPilot
BrandCrowd
Awario
Analisa.io
Canva
Klear
Linktree
Instagram Ad Manager
Let's find out more about each one!
1. Instagram Scheduling Tool – SocialBee
If you are looking for Instagram scheduling tools that also allow you to create, edit and post your content from one place, then you are in luck. 
SocialBee is an all-in-one social media management platform equipped with all the features you need to post content directly to Instagram and save hours each month by automating your content creation and distribution tasks.
Create, edit and schedule posts, carousels, videos, and stories to Instagram easier than ever before from SocialBee.
Start your 14-day free trial today and maintain a consistent Instagram presence with less effort!
SocialBee is the best Instagram management tool for social media managers, agencies, and freelancers that manage multiple client Instagram accounts (or multiple social media accounts) at once.
Why? Because SocialBee allows users to create different workspaces for each one of their clients and invite team members to the platform for a more effective collaboration.
With SocialBee, you can create your Instagram posts from scratch, including visuals, thanks to the amazing Canva integration. All you have to do is click on the Canva button to open a pop-up where you can create visuals and import them to your content editor. 
Here are some more Instagram best practices you can make from SocialBee:
Schedule and post the first comment on your Instagram posts

Tag other user accounts

Include location tags

Add emojis & hashtags

Turn your social media analytics into insightful PDF reports 
And remember Instagram is not the limit for SocialBee. You can manage your other social media platforms with ease while making the most out of your Instagram strategy from the same dashboard.
Post on Instagram with SocialBee!
2. Instagram Tool for Lead Generation, Increase Following and Engagement – Woorise
Woorise is an all-in-one lead generation and marketing platform that allows you to create a wide range of interactive campaigns such as landing pages, forms, surveys, quizzes, viral giveaways & contests, accept payments and more to help you reach your goals from a single platform.
With Woorise, you've got everything you need to connect with your fans and find new ones. Engage and grow your audience using a wide range of pre-build social actions, follow buttons and embedded social widgets for Instagram and other social platforms such as TikTok, Facebook, YouTube, Twitter, LinkedIn and more.
Features include a modern landing page and form builder, 40+ field types and thousands of social actions, 100+ interactive templates, conditional logic, real-time email notifications, multi-language support and built-in analytics.
Woorise also integrates with popular marketing platforms such as Mailchimp, Hubspot, ActiveCampaign, Facebook, Google Analytics, Bitly, Zapier, PayPal, Stripe and many more allowing you to automatically send your new leads to the tools you already use.
3. Instagram Management Tool for Multiple Instagram Profiles – SocialPilot
Does managing multiple Instagram profiles give you panic attacks? Well, not anymore! We have an Instagram scheduling tool suggestion you don't want to miss out on.
With SocialPilot, you can brand all your Instagram accounts and schedule Instagram posts with just a few clicks. 
Edit images for your carousel posts from its in-app editor after importing them from your Canva, Box, or Dropbox library. Tag your business and relevant profiles in each post to elevate your engagement rates. 
With this Instagram management tool, you can even respond to comments, replies from your Instagram Stories, and direct messages from your Instagram Inbox. If you need additional helping hands, you can also onboard your team and clients with regulated access and permissions. 
Get away with the daily posting by simply bulk scheduling as many as 500 Instagram posts at once. You can also identify your best-performing posts (by accessing your analytics) and download monthly performance reports. 
4. Instagram Tool for Post Creation – BrandCrowd
Creating content is a very important part of Instagram marketing. But don't worry if you're a beginner to editing, as BrandCrowd is the perfect tool for you.
BrandCrowd is an online design tool where you can access premade customizable templates for Instagram, with its 
Instagram Post Maker
. Other templates to create Stories and Reels are also available. 
To get started, simply enter your business name or keyword to find related designs. Choose a template from the list then customize the color, icon, images, text, shape, and layout as you see fit. With this tool, it only takes a few clicks to create your perfect Instagram post.
5. Instagram Tool for Hashtag Research and Social Media Listening – Awario
Awario is a great listening tool designed specifically for Instagram. 
It allows you to monitor mentions from other Instagram accounts and find out how your brand is perceived online.
By enabling notifications you can be informed whenever a new post or comment mentions your business on Instagram. The best part is that you can also engage with your mentions straight from the platform.
Aside from monitoring brand mentions. Awario also makes it easy for you to discover relevant hashtags and monitor their performance to make sure they are helping you increase your reach and engagement levels.
Awario is also used by brands for tracking competitor mentions and hashtags. So, it's a great Instagram growth tool that enables you to keep up with your competition and stay ahead of the game.
6. Instagram Analytics Tool – Analisa.io
Analisa.io is one of the best Instagram analytics tools available right now that provides in-depth data you need to improve and evaluate your strategy.
Boost your content performance by discovering new and trending content topics, hashtags, and best posting times. Don't forget to monitor your posts by regularly checking your reach and engagement information.
With Analisa.io, you can also find out relevant details about your audience (age, gender, location) and your competition from the same platform.
Why rely only on Instagram Insights for limited data when you can access advanced analytics for a low price and increase your ROI through a powerful Instagram strategy?
7. Instagram Tool for Photo and Video Editing – Canva
100% of the content you post on your Instagram business account is visual. So, why not invest in a tool that will help you enhance your Instagram aesthetic?
Don't bother learning Photoshop. Canva is one of the best alternatives to Photoshop that has plenty of templates and graphic elements you can simply drag and drop onto your images to make them look professional and on-brand. 
The platform is very easy to use. In fact, it's designed for people with no design experience that want to create professional-looking marketing materials.
Canva has an impressive gallery that contains templates for Instagram stories, posts, and Reels videos—exactly what you need to enhance your Instagram content.
What if you could have the best out of both worlds and use two of your Instagram tools from the same dashboard?
The SocialBee-Canva integration allows you to create posts and visuals from SocialBee's content editor and share them on social media without even opening a second tab.
Go to SocialBee, open your content editor, click on the Canva icon and start designing and importing visuals to your Instagram posts with just a few clicks.
Start your free 14-day SocialBee trial today to create better content in less time!
Post on Instagram with SocialBee!
8. Instagram Tool for Finding Influencers – Klear
Do you need an instant Instagram account boost that will help you expose your brand to a larger audience? Then we have the Instagram tool for you.
Klear is an influencer marketing platform that helps brands start meaningful collaborations with Instagram influencers from their niche. 
By going on the platform, you can find the following influencer information: the location, follower count, audience information, and price intervals. In this way, you will choose the best influencer for your brand and business needs.
Not only will you see an increase in conversions and sales, but you will also gain free followers as a result of your influencer collaboration. 
9. Instagram Tool for Bio Links – Linktree
As we all know, Instagram allows users to add only one clickable link in their bio.
And since links are so important for brands to lead their audience to their shops and websites, many of them started using link tools that made it possible for them to add multiple clickable links to their bio.
This leads us to the next tool recommendation: Linktree.
Linktree is by far one of the most popular bio link tools on the market. Its integrations and analytics features help brands increase their website traffic and monitor their performance at the same time.
10. Instagram Ad Management Tool – Instagram Ad Manager‍
We can't talk about Instagram marketing without mentioning advertising tools.
The Ads Manager is a free tool for Instagram advertising that makes it easier for brands to create ad campaigns and monitor their progress in real time from within the Instagram app.
The main reason why the Ads Manager is so effective is that it allows you to target specific parts of your audience, not only based on demographics but also based on interests.
With the Ads Manager you can easily:
Track and control your budget

Keep an eye on your conversions

Gain leads 

Generate sales

Expand your audience 

Monitor and adjust your Instagram campaigns
Since growing your Instagram account naturally can take months, even years, advertising is a simple and effective practice you can use from time to time to generate instant results.
Improve Your Instagram Performance with the Right Instagram Tools
Are you ready to add some more Instagram marketing tools to your arsenal?
Start by evaluating your Instagram strategy and identify the areas you need help with the most. Then come back to our list and pick the tools that work best for your business needs.
Remember that a consistent Instagram posting schedule is one of the main ways you can consistently reach and engage with your audience. 
So, if you want to enjoy the business benefits Instagram has to offer without spending hours each week on time-consuming tasks, start using SocialBee to create, and publish Instagram posts while also monitoring your Instagram content from just one dashboard.
Begin your 14-day free trial today and discover how easy it is to manage your Instagram presence with SocialBee!
Post on Instagram with SocialBee!