Instagram Highlights are the first posts a user sees when checking your Instagram account. Considering this, it's quite obvious that curating and pinning quality Stories to your Instagram Highlights should be a priority.
Instagram is without a doubt one of the most popular social media platforms online. Millions of people use Instagram daily for communication, entertainment, and even shopping.
This is the main reason why so many companies have taken their business on this app. Now, it might seem easy to post on Instagram at the beginning, and once you get the hang of it, it becomes second nature.
Stay tuned as we dive deep into the topic of Instagram Highlights to discuss how to leverage this contact format in your Instagram Strategy.
500+ Social Media Content Ideas Document!
Diversify your social content strategy with over 500 engaging post ideas.
What Are Instagram Highlights?
Instagram Highlights are a conglomeration of saved Stories that will appear on your Instagram profile page. If you use Instagram on a regular basis, then you most definitely have seen those Stories on top of your Instagram feed. 
Unlike regular Instagram Stories, which disappear after 24 hours, your Highlight will stay on your Instagram profile until you choose to delete them.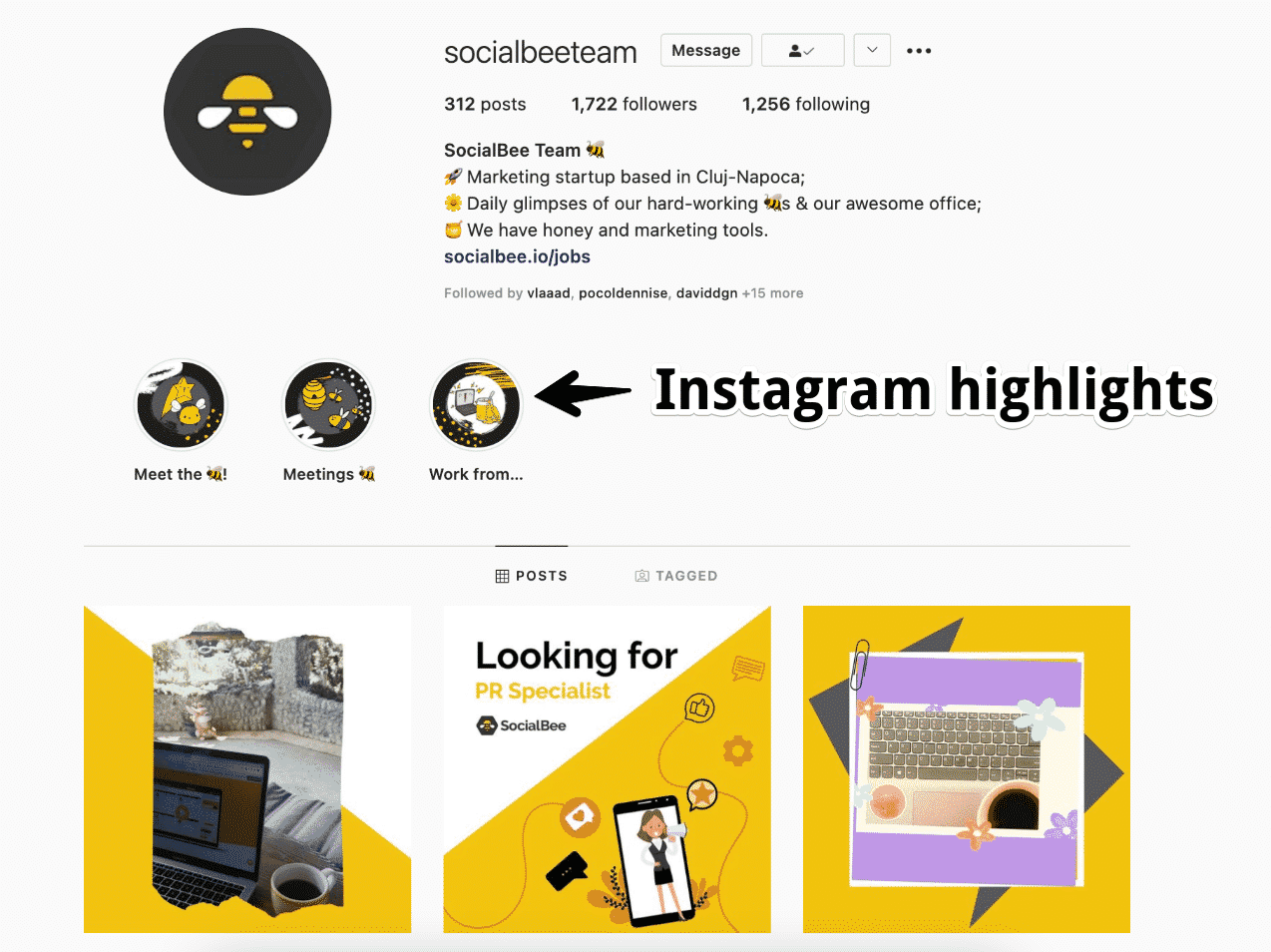 So Highlights work just like regular Stories. The only difference is that with your Highlights, you will no longer be able to see who watched your Story after the 24 hours pass. Instead, you will be able to see the total number of viewers on each individual Story Highlight. 
You can add 100 videos or photos in one highlighted category, but the great thing is that you can create as many Highlights as you'd like. 
Schedule Your Instagram Stories with SocialBee
Don't have time to post your Instagram content manually multiple times a week? Save time and effort by scheduling your Instagram content in advance.
Here is how you can share Instagram Stories with SocialBee:
Choose a content category 
Click on "Add post to this category" 
Once you have entered the Post Editor, make sure to have Instagram selected
Click the "Customize for each profile" button
Select the type of post you'd like to publish (Feed post, Reel, Story) 
Upload your Story content 
Save your post as "Approved"
Besides, you can use Canva directly from SocialBee, meaning that from only one dashboard you are able to access Story templates, edit your videos, and schedule your content with ease.
Design and import your social media graphics from Canva directly from SocialBee.
Schedule Your Instagram Stories with SocialBee!
Create posts, publish, analyze, engage and collaborate, all from SocialBee.
How to Create Highlights and Edit Them for More Views?
You can always add current or archived Stories to your Instagram Highlights. But before you can do this, you must first start from the beginning.
Here's how to create highlights on Instagram:
You add a new Story or go to an existing Story

Select the highlight icon
Go to "Add New Highlight" and tap it

Write out the name of your highlight collection, add an Instagram highlights cover, and create a new highlight
Note: When selecting the name of your Instagram highlight, beware that you will be able to use a total of 15 characters, out of which only 10 will be visible.
Adding Stories to Your Highlight 
Once you have your Highlight created, you can add your Stories to it. 
There are two ways you can add Instagram Stories to an existing Highlight:
Add the current picture or video to your Highlight by clicking the Highlight icon and selecting one of the existing categories.

Go to your profile, select your Highlight, and click 'Edit Highlight.' There, under the 'Selected' category, you will see all the Stories that have been already added to your highlight. Under the 'Stories' category, you will be able to see your Story archive. You can simply start selecting Stories from your Stories archive and adding them to your highlight. 
Change Your Instagram Highlight Cover
Now, generally speaking, your Instagram Highlight will grab one of your Stories as a cover. If you want to have personalized Instagram Highlight covers that include brand colors or logos, then you can take matters into your own hands.
Here is how to add a customized cover to your Instagram Highlights:
Hold on to the Highlight that you want to edit OR click on it and go to

'More'

Select '

Edit Highlight

'

Go to

'Edit Cover

'

Select the picture that you have prepared for your cover
Instagram Highlight Cover Ideas
Creating highlight covers is a small aspect of content creation with a high impact.
Although it seems like an insignificant task, it will actually help you make your Instagram profile look professional and visually consistent. Not to mention that you will reinforce your brand identity through your visual staples (colors, logo, imagery, etc.).
You can use a variety of graphics, images, and designs to create an Instagram highlight cover. These could include your own artwork or photography, custom designs created using amazing tools such as Canva, stock photos, or other visuals found online.
Remember that the highlight cover photo should represent your content—so use colors and visuals that reflect this. Finally, when creating your Highlight or Story covers, be sure to check that they are of the same size as your content.
Here are some Story cover ideas you can use for your Instagram Highlights:
Quotes: Create covers with positive and motivational quotes, or lines from books or movies that inspire you.
Bold text: Feature large, eye-catching text to communicate the topic of your Instagram Highlight.
Colorful patterns: Add some color and texture to your Instagram Highlights with vibrant patterns and designs.
Geometric shapes: These covers are perfect for adding a modern touch to your Highlights.
Gradient effects: Create a harmonious look by using subtle gradients of color.
Photos: Use a high-quality cover image to generate visual interest.
Holiday-inspired visuals: Get in the mood for celebrations with holiday-themed covers that feature festive elements and colors.
Business-related graphics: Design covers that stay true to your business for any highlight dedicated to your company. Showcase your logo, tagline, products, brand color palette, and other graphics that are representative of your brand.
Removing Stories from Highlights
If you want to remove Stories from your highlight, you can do it in one of two ways:
Here's how to through your Stories and remove each other individually:

Press the 'More' icon 
Choose the 'Remove from Highlight' option

Here's how to remove a batch of Stories:

Select your Highlight of choice
Tap 'Edit Highlight'
Select all the Stories you want to delete
Deleting a Highlight 
Sometimes, you need to clean up your Instagram account in order to start anew. This means deleting older Instagram Story Highlights and creating some new ones instead. 
To delete the Highlight you no longer want, you should go to your Instagram page, and hold down your finger on that specific Highlight until the menu appears. Then you can simply select 'Delete Highlight.'
Benefits of Using Instagram Stories Highlights
Now that you know your way around Instagram Highlights, it's time to see why so many businesses use them as part of their social media marketing strategy. 
Here are the benefits of using Instagram Highlights:
Instagram Highlights catch the attention of your audience

Instagram Highlights have no time limit

Instagram Highlights are great for promotional purposes

Instagram Highlights are easy to navigate and organize

Instagram Highlights show off your brand 

Instagram Highlights showcase client reviews and testimonials

Instagram Highlights are effective for generating traffic
1. Instagram Highlights Catch the Attention of Your Audience
As you noticed, Highlights are situated right under your bio and above your posts. This makes them easy to reach and more importantly, noticeable. 
So if you have a great selection of Highlights, you will be able to make a great impression on your visitors. 
Not only that, but your customers and leads won't have to scroll through your page to find interesting posts, such as promotional offers or giveaways. Instead, they will have everything within reach.  
2. Instagram Highlights Have No Time Limit
As we all know, Stories on Instagram last only 24 hours, which doesn't give all of your followers the opportunity to watch your Story. 
This problem is avoided when you create an Instagram Story Highlight. As long as a Story is relevant enough to be saved on your profile as a Highlight, you can keep it saved for as much time as you need it.
A good tip here is to make sure to turn on your auto-archiving feature so you don't lose the Stories that you have posted in the past. 
Here is how to auto-archive your Instagram Stories:
Opwn the Instagram app
Access your 'Settings'

Got to

'Privacy'

Go to

'Story'

Activate the '

Save Story to Archive

' option 
3. Instagram Highlights Are Great for Promotional Purposes
No matter if you are selling products or offering services, you can promote them by using your Highlights.
For example, let's say that you own a small clothing brand and you want to promote a new collection on Instagram. 
Here is how to promote a new launch through Instagram Highlights:
| | | | |
| --- | --- | --- | --- |
| Creating Instagram Highlights dedicated to your new collection | 2. Naming it 'New Collection' | 3. Posting pictures of the clothes on your Story | 4. Saving the Stories in your new Highlight  |
If you're offering a service, you can post more details about the specific service, like the features of the service, the pricing, the benefits, or your USP (unique selling point). 
4. Instagram Highlights Are Easy to Navigate and Organize
The format of Highlights makes your Stories easy to find and navigate. If your Highlights are organized well, your lead can instantly find a Highlight that they are interested in and start tapping through the Stories within. 
Here are a few ways to organize your highlight:
Add descriptive names to each Highlight category

Add a cover for each Instagram highlight

Create Instagram Stories Highlights for everything you find relevant to your business 
Although you can add a total of 100 Stories to each highlight, don't overdo it and get close to that number. A huge number of Stories will make it harder to find a specific picture or video and it will end up being frustrating for the viewer. In this case, it is better to have multiple Highlights with fewer Stories. 
5. Instagram Highlights Show Off Your Brand
Another great use of Highlights is brand exposure. Use Instagram Highlights covers to show your brand colors and your creativity. 
You can create a Highlight and personalize it with your company's motto, values, or background. Not only that but you can introduce your team to make your company seem more approachable and humane. 
Another great idea is to make a FAQ with some of the most common questions asked by leads and customers alike. These can be questions that you have gathered from your research, or inquiries coming through the question feature of an Instagram Story. 
6. Instagram Highlights Showcase Client Reviews and Testimonials
If your clients are satisfied with your products or services, then make use of those smashing reviews and post them in your highlight.
You can get DMs from your Instagram, comments, reviews from Google Business Profile, and even testimonials from your website. If you have plenty of reviews from each source, you can create Instagram Highlights for each type of review in part. 
7. Instagram Highlights Are Effective for Generating Traffic
Generally speaking, links are not clickable on Instagram, but there are a few exceptions. You can add a link in your bio and you can add actual clickable links in your Stories. 
There is a catch though. In order for the links to be clickable, you need to have over 10,000 followers. 
Gaining new followers on Instagram is not necessarily easy. You must have dedication and pay attention to detail, as you need to craft your visuals and copies carefully and post consistently. Not only that, but you need to interact with your followers and make sure you engage with the right hashtags. 
Now, if there's one thing that can help you with social media posting, then it's a social media automatization tool. This way, you will be able to post not only on Instagram but on any other social media platform as well in half the time.
And one of the best social media tools on the market is SocialBee. 
Create, schedule, and post your Instagram content with SocialBee.
Start your 14-day free trial today!
Not only will SocialBee help you post and customize your content for Instagram (and for every other social media platforms you use) but it will also help you post Instagram Stories, and offer you the possibility of creating hashtag collections, among many other things. 
And the best thing is that you can try SocialBee for free by signing up for a 14-day trial!
Best Instagram Highlight Ideas
Essentially, you can highlight anything you post to your Story, but a few things will help you enhance your Instagram profile. 
Here are a few ideas that you can add to your own Instagram Stories Highlights:
Reviews and customer testimonials

Your latest posts and Insta stories with an evergreen quality to them

Job openings

Clips from past events 

Holiday content

Tips and tricks regarding your field or products 

Partnerships with influencers 

Regular moments from the office (like employees playing ping pong in the game room or eating in the cafeteria)

A sneak peek or a behind-the-scenes look into your office life
Frequently Asked Questions
1. Can You Add Highlights Without a Story?
Yes, you can add highlights to your profile without a story. To do so, click the "Highlights" option in the menu bar at the top of your profile. From there, you will be able to select existing photos or videos from your library and post them as Highlights.
2. Can You See Who Views Your Instagram Highlights After 24 Hours?
No, you cannot see who views your Instagram Highlights after 24 hours. Once a Highlight has been posted and viewed by your followers, it is no longer tracked or monitored by Instagram.
3. Can People See If You Screenshot a Highlight?
No, Instagram doesn't notify users when you screenshot a Highlight.
Highlight the Best Parts of Your Content
Instagram Highlights are incredibly versatile and useful when it comes to content creation. You can make your business stand out from the crows if you have an organized set of Highlights that people can scroll through when checking out your profile. 
So make sure you invest plenty of time in perfecting your highlight game and you will definitely notice a difference when it comes to your social media marketing. 
Take the first step towards effortless Instagram scheduling and sign up for SocialBee's 14-day free trial now! With our intuitive tool, you can easily plan, manage, and optimize your content in no time. 
Post Stories, Reels, Carousels and More with SocialBee!
Create posts, publish, analyze, engage and collaborate, all from SocialBee.