If you want to grow your exposure, increase your engagement rate, and ultimately sell more, Instagram is the place to be. Starting small can be challenging and even frustrating when so many influencers and brands have already made a name for themselves on Instagram. 
Instagram for small businesses is a must in today's world, where most of our interactions happen online and 83% of its users state that the platform helps them research new products. However, with the right strategy and a consistent posting schedule, you too can turn your local business into a social media success story. 
Stick around to discover the 10 ways to grow your following on Instagram!
Short Summary:
Over 1.21 billion active users make it a valuable platform for small businesses looking to expand their audience and sales.

Consistent, high-quality posts combined with understanding the community's preferences can elevate a brand's Instagram business profile.

Leveraging geotags, Instagram Reels, Instagram Story Highlights, and collaborations with influencers can significantly boost follower count and engagement.

Instagram serves as a versatile marketing tool, with opportunities for both organic growth and paid advertisements.

SocialBee facilitates automatic content scheduling across various social platforms, streamlining content management and offering access to your Instagram insights.
Free Editable Social Media Strategy Template
Get the social media strategy template you need to audit and plan your marketing efforts for maximum results.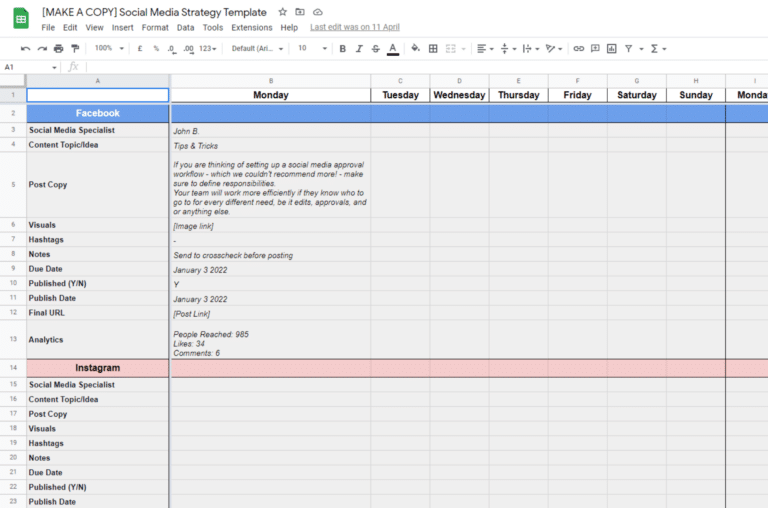 Why Should You Use Instagram as a Small Business?
Instagram is a great place to promote products and services for any business that wants to boost sales and conversions. With over 1.21 billion active users on the platform as of today, Instagram has become a pillar for any small business looking to reach a wider audience. 
Essentially, here are the main benefits of having a small business Instagram account:
You can expose your business to a larger audience

You can boost your sales and conversions
When you display your offerings to your Instagram community, it doesn't necessarily mean that you'll automatically see your sales level skyrocket. Building an audience takes time and commitment. You'll have to start with high-quality content, then increase audience engagement, and only after you've managed to drive traffic to your local business you can expect higher conversion rates and sales. 
How to Improve Your Instagram Marketing Strategy
Managing an Instagram account for your small business can be challenging, especially since you're running its day-to-day operations and have other professional and personal responsibilities on top. 
We get it! Your Instagram marketing strategy becomes the last thing on your mind at times.
Still, if you bring your A-game posting schedule for your high-quality content, everything becomes automated in the long run. 
You'll have to take into account other small business owners and competitors, the preferences of your online community, and some Instagram marketing tips to maximize engagement. 
Other than that, managing your Instagram business profiles is not difficult. 
Here are the 10 ways to grow your following on Instagram:
Make sure your content strategy is perfect

Start a weekly challenge

Geotag your Instagram posts

Collaborate with other small business Instagram accounts

Host a giveaway 

Don't shy away from Instagram reels

Share multiple Instagram stories a day

Go live and answer customer questions

Keep the interaction flowing

Collaborate with influencers
Now, let's explore each strategy in detail and reveal the behind-the-scenes of running a successful Instagram account. Don't sneak peek or jump to the last point – there's plenty of useful information in here that could serve your goals in the long run and teach you the main aspects of Instagram marketing! 
1. Make Sure Your Content Strategy Is Perfect
Don't feel pressured, but  your content strategy has to be perfect on Instagram. With so many accounts and Instagram business profiles in place, you'll need an air-tight strategy to direct your marketing efforts properly and engage with your Instagram audience.  
Here are the main components of a solid Instagram marketing strategy:
Find your target audience.

Create a brand voice that resonates with your Instagram community.

Post consistently to build a valuable Instagram feed.

Maximize engagement by interacting with your followers and other creators.

Include relevant hashtags and keywords in your Instagram captions.

Diversify your content (Instagram Reels, Instagram carousels, IG TV, photos, Instagram highlights, etc.).

Write a compelling Instagram bio and choose a high-quality profile picture.
With SocialBee, you can create and schedule the right content for multiple social platforms from one intuitive dashboard with plenty of integrated features. Using this app can help you successfully market your business accounts on multiple social platforms at once. Say hello to cross-promotion and various active communication channels!
Create, schedule, share and monitor your Instagram content performance from SocialBee.
Start your 14-day free trial today!
In case you are wondering what else can you do with SocialBee, here are all the features we are offering:
We support these social media platforms: Facebook, Twitter, LinkedIn, Instagram, Pinterest, Google Business Profile, TikTok, and YouTube.
Design your Instagram posts within SocialBee using our Canva, Unsplash, and GIPHY integrations.
Use our AI Post Generator to create captions and images for your posts.
Organize your content into categories for a consistent and well-balanced mix.
Easily connect to any blog's RSS Feed to automatically pull in content.
Tailor the posts specifically for each social media platform.
Generate hashtags automatically from your images or captions.
Easily recycle long-lasting posts and set expiration for timely content.
Establish a calendar-based posting routine for all your social profiles.
View an overview of the next 100 social media posts you have lined up.
Benefit from the feature of having several workspaces and team collaboration tools.
Schedule Instagram posts in a matter of clicks.
Monitor the performance of your links with integrations from over 5 URL shorteners.
Review and analyze the growth of your profiles and the effectiveness of individual posts by analyzing your Instagram statistics.
Directly engage with comments or mentions from your followers on SocialBee.
Post Content on Your Instagram Business Account in Less Time with SocialBee!
2. Start a Weekly Challenge
Weekly challenges on Instagram are so much fun! To keep your content engaging for your prospective customers, you'll have to get creative. If you are wondering how to grow your business on Instagram, weekly challenges can indeed be a shortcut to achieving your goal.
Let's say you're a yoga studio that wants to connect with other users and maximize engagement. 
Your weekly challenge posts can look something like this:
A weekly series of

Motivation Mondays

where you start the morning with a stretch

A weekly challenge that encourages your followers to exercise more

Weekly sessions where you explain certain exercises
Whatever you choose to turn into a weekly challenge, make sure that it fits your target audience, it peaks at your prospective customers and revolves around your main content pillars.
You can nurture your community by featuring users who participate in your challenge. This way, you'll also introduce user-generated content into your Instagram feed. 
3. Geotag Your Instagram Posts
Geotagging and sharing location, in general, can benefit your Instagram performance greatly. People often search for a location on Instagram or click on a geolocation tag on their followers' feed to see where they can find it on the map. 
When they do so, an entire page of people who shared content from those places pops up. If your post ranks well, chances are visitors will stumble upon it and discover your profile in the process. 
Therefore, posts tagged with a location mark usually perform better. In fact, geotagged Instagram posts can have up to 79% more engagement than those without a location tag. Keep that in mind the next time you post something on your Instagram account. 
4. Collaborate with Other Small Business Instagram Accounts
Sharing is caring – literally. When it comes to your Instagram strategy, engaging with your peers and other small businesses can take your marketing efforts to a whole new level. 
Cross-promotional posts between small businesses can help you and your collaborator's account stand out and grow Instagram performance in the process. 
Collaborating with other Instagram business accounts offers numerous advantages, especially for those using Instagram for business growth.
Here are the key benefits of collaborating on Instagram for your business:
Expanding your reach: By teaming up, you can tap into a broader audience, exposing your brand to more potential Instagram followers.
Discovering potential clients: Such collaborations can lead you to new customers who may be interested in your Instagram offers or Instagram shop products.
Gaining industry insights: Sharing insights and knowledge becomes effortless, enriching both accounts with the latest in social media marketing trends.
Boosted cross-promotion: You can leverage each other's platform to amplify your offerings, maximizing the reach of any promotions or campaigns.
Idea exchange: Sharing and borrowing innovative ideas can lead to fresh, engaging content that resonates with your audience.
Networking and team growth: By working together, both accounts can flourish in the Instagram for business ecosystem, strengthening ties within the community.
To connect with like-minded small business owners eager to collaborate, explore relevant industry hashtags, seek out profiles that align with your niche, or make a shout-out inviting industry experts to engage. Utilizing the vast tools and features Instagram offers, from its shop features to Instagram free promotional tools, can truly elevate your social media marketing game
5. Host a Giveaway
Giveaways are a great way to stand out on Instagram, as everyone is excited to hear about free offerings and new companies reaching out to other users.
A successful giveaway has the following characteristics:
It offers a sought-after product or service relevant to the company's profile

It's bound by a time frame

It clearly states the rules of the game (mentions, comments, sharing to one's story, etc.)

It actually gives away the prize, preferably publicly on their story and asks the winning contestant to vouch for the legitimacy of the Instagram account
6. Don't Shy Away from Instagram Reels
Instagram Reels, Instagram's answer to TikTok, allows users to post short-form videos as a fresh way to engage with the platform's vast audience. These captivating clips can range from informative to entertaining, making them versatile tools for any content creator, especially those maintaining their own Instagram account for business purposes.
If you want to learn how to use Instagram for business endeavors, here's how to include Reels in your strategy:
Product showcases: Highlight your products in action, giving potential customers an in-depth look.
Tutorials: Illustrate to viewers how they can maximize the benefits of your products, enhancing user experience.
Engagement with content pillars: Craft relatable videos that align with your brand's core messaging or themes, reinforcing your Instagram strategy.
Entertainment: Light-hearted, amusing videos can resonate deeply with an audience, helping to retain current followers and attract new ones.
By consistently creating content through Reels, businesses can harness Instagram analytics to gauge the effectiveness of their posts, refine their strategies, and understand their audience better. As more Instagram followers interact with your Reels, especially if paired with a unique branded hashtag, it boosts the visibility of your professional account. This can be a game-changer for Instagram businesses, as increased engagement often translates to Instagram success.
Remember, as with any tool on Instagram for business, consistency, authenticity, and understanding your audience are keys to attracting new followers and establishing a lasting digital footprint.
If you want to use Instagram for your small business, you'll have to find all the ways to use the platform for your benefit and get creative with its features to get the most of it. Consider transcribing audio files and adding subtitles to your reels to enhance their quality and make them more engaging and accessible to a wider audience.
7. Share Multiple Instagram Stories a Day
Utilizing Instagram stories is more than just broadcasting content; it's about providing a curated stream of updates that keeps Instagram users captivated and informed about your journey. These stories, when utilized strategically, can significantly enhance your brand's connection with its followers.
Here are a few ways to make the most out of your Instagram stories:
Behind-the-scenes content: Share multiple photos or short videos that give viewers a sneak peek into the behind-the-scenes action of your business.

Daily check-ins: Engage by asking your followers about their experiences or thoughts throughout the day, making them feel included in your brand's narrative.

Leverage Instagram features: For those with professional accounts, tap into advanced story features. Use polls, questions, or quizzes to foster direct engagement and gather audience insights. People love to tap sometimes from their personal Instagram account!

Content calendar: Even with stories, which are ephemeral by nature, having a content calendar can help you plan strategically. Decide what content goes live when, ensuring variety and consistency.
Remember, the key is to remain present in the minds of your followers. If certain stories truly resonate, pin them using the Instagram highlights feature. This ensures that pivotal content finds a permanent home on your profile, easily accessible for revisits by followers and newcomers alike.
8. Go Live and Answer Customer Questions
Don't be shy and go live on your Instagram page at times. Instagram live can help you connect with your audience and establish a friendlier tone with them once they can put a face on the brand. 
Live videos allow your audience to ask questions, clear their concerns, interact with you and see your reactions in real-time, all of which help build your brand's voice. 
Here are some topic ideas for your next Instagram live video:
A live Q&A session

An explanatory session about your business, how you started it, or what it takes to run it

A behind-the-scenes of your business

A simple update & check-up on your followers
9. Keep the Interaction Flowing
A successful Instagram strategy is all about keeping yourself on the map, visible, and in the eyes of your audience. Therefore, you'll want to make sure that you interact with other small business owners and other Instagram accounts at all times.
You can do so by replying to comments, encouraging your audience to express their opinion in the comment section, leaving a significant remark on other profile's posts, and overall being present online.
When someone comments on your post, make sure to reply to them professionally. Always be careful with your words on social media, as they are a staple of your Instagram account and business overall. 
If you want to be a professional in the online environment, ConciergeBee can help you grow organically by interacting with other profiles for you. It's as simple as 1-2-3! All you have to do is choose your plan and watch your page grow month by month.
Grow your Instagram following organically with ConciergeBee's IG Community Service.
10. Collaborate with Influencers
Influencers are a huge part of the Instagram culture and they have become a landmark for the Instagram community in time. They dictate what's new and hot on the markets, help small businesses grow online, inspire others to live up to their dreams, and set the pace for upcoming trends.
Collaborating with influencers is one of the most clever strategies you can opt for in your Instagram strategy, as they already have your prospective customers in the same place. 
Essentially, influencer marketing is all about reaching out to famous online users in your area of interest to ask them to feature your offerings on their page.
This way, you'll instantly reach a wider audience and connect with more users at once, without having to own a notorious page beforehand. The aim of the deal you're closing with your choice of influencers will be worth it in time, as it'll help you grow as well and ultimately increase revenue. 
Frequently Asked Questions (FAQ)
Take Your Instagram Strategy to the Next Level
Building a successful Instagram marketing strategy is a challenging process, considering the aspects you have to keep in mind when running marketing campaigns. Regardless of your goals, knowing your target audience and your marketing objectives are the key to an Instagram strategy that works.  
If you want to add value to the platform, build successful networks, and create a successful Instagram account for your small business without having to create and implement your strategy from A-Z, we've got you covered!
Start your free 14-day trial today with SocialBee to create, schedule, and share content on all your platforms from one intuitive dashboard!
Use a Top-Rated Instagram Scheduler: SocialBee!