In the fast-evolving digital landscape of 2023, Instagram branding holds significant importance for businesses looking to capture the attention of a diverse audience.
From fine-tuning your buyer personas and analyzing your competitors to perfecting your themes and mastering the art of content calendars, every element of your Instagram strategy is discussed in-depth. 
But it doesn't stop there! You'll explore intriguing concepts like 'snackable' content and discover the importance of high-quality posts to attract and retain your audience.
Instagram is more than just a visual platform—it's a brand-building powerhouse. And with this blog post, you'll be armed with the tools and insights needed for your own brand to not just survive, but thrive. 
Embark on your branding journey with us and watch your brand story unfold beautifully, one Instagram post at a time. Let's dive in!
Get Access to a Pack of 30 Free Instagram Story Templates
Get access to a collection of free and editable Instagram Story templates which you can adapt to your own Instagram branding!
How to Create Your Instagram Brand Identity
Creating a solid brand identity on Instagram is no small task. It's a process that requires careful thought, strategic planning, and a deep understanding of your target audience. 
Therefore, it's essential to break down the integral elements that contribute to establishing a compelling Instagram brand identity:
Buyer personas

Competitors

Instagram feed themes

Posting schedules

High-quality posts and

Instagram stories
1. Buyer Personas
Developing your brand aesthetic on Instagram should be underpinned by an in-depth understanding of your buyer personas. These personas represent the characteristics of your ideal customers and should guide the content you create. 
Here's how to construct your buyer personas while developing your brand aesthetic:
Demographics

: Start with basic demographics of your audience such as age, gender, location, and profession. These factors can inform the type of content that would resonate with your audience. For instance, if your audience is primarily young adults, you might lean towards a vibrant, dynamic aesthetic. On the other hand, a professional audience might appreciate a more refined, polished look.

B2B or B2C

: Your target market will also shape your Instagram branding.

Business-to-business

(B2B) audiences may respond better to industry insights, thought leadership content, and testimonials from other businesses. Business-to-consumer (B2C) audiences, however, may be more interested in behind-the-scenes content, product highlights, and user-generated content.

Interests

: Delving into your audience's interests will help you understand what type of content can engage them. Are they avid travelers, technology enthusiasts, fitness buffs, or gourmet food lovers? Aligning your content with their interests can increase its appeal and relevance.

Behavior:

Examine your audience's behavior on Instagram. What type of content do they engage with the most? Are they more interested in static images, videos, or

interactive content

such as polls and quizzes? Understanding these preferences can help you craft content that they're more likely to interact with.

Values and Aspirations:

Consider your audience's values and aspirations. Are they environmentally conscious? Do they value innovation and creativity? Are they aspirational, seeking luxury and exclusivity? Your brand aesthetic and content should reflect and resonate with these values and aspirations.
[Free Template] Buyer Personas in Social Media
Discover all there is to know about creating your very own buyer persona and learn how to do it like a pro by downloading our free template.
2. Competitors
Competitor analysis is a key strategy when it comes to Instagram branding. It involves observing and analyzing how successful brands in your space are presenting themselves on the platform. 
Ask yourself:
What stands out in their visual aesthetic? 

How do they unify their posts and reels?

Are there specific fonts, filters, or colors that they consistently use to reinforce their brand image? 
All these details should be part of your SWOT analysis.
Beyond the visual aspect, you should also pay attention to their content style, tone, and voice. A brand's voice is its consistent, unique personality that's evident in all its communications, while tone is a subset of that voice and can change depending on various factors. For instance, the tone could be more casual in an Instagram Story and more formal in a promotional post.
Examining their tone and voice can offer valuable insights:
How do they communicate with their audience? 

What kind of language do they use? Are they formal, casual, humorous, or inspirational? 

Do they address their audience directly, or do they maintain a third-person perspective?
To figure out the right tone for your own brand, consider your audience, the message you want to convey, and the purpose of your post. Different messages will require different tones. For example, a promotional post for a product may need a more enthusiastic tone, while an educational post may require a more serious and informative tone.
To streamline your content creation process and ensure consistency across your posts, consider leveraging innovative tools like SocialBee's AI Post Generator. It can help you create engaging, on-brand content with minimal effort, allowing you to focus more on strategizing and less on the nitty-gritty of content creation. 
Not only does the AI Post Generator save you time, but it also provides control over the tone of voice used in the generated content. This ensures that the content aligns perfectly with your brand's identity and resonates with your target audience.
Need a cutting-edge AI-powered social media tool? Try SocialBee's AI post generator!
Ultimately, your goal is not to mimic your competitors but to learn from them and utilize that knowledge to create an authentic and impactful Instagram presence. Crafting a unique tone, voice, and visual style requires time, research, and continuous refinement.
3. Instagram Feed Themes
Instagram is a visual platform and leveraging this can significantly boost your brand's impact. Creating a visually appealing and consistent theme can help your brand stand out in the crowd, encouraging more users to follow and engage with your content.
As noted by Sue B. Zimmerman, a recognized Instagram expert, the importance of visual cohesion cannot be overstated:

"Creating a visual theme, a visual story, a visual brand, on Instagram is where you need to start. That is number one, hands down. If you don't have a cohesive look and feel that captures someone's attention and keeps your business top of mind in your niche, you're kind of losing out on what Instagram's all about. And I always go back to that magazine look and feel; it's the promise that you make in your bio, does it match up to your feed? And if your feed is confusing and it doesn't have an overarching look, feel, or theme, then people are going to be confused and most likely not follow you."

Take a cue from some of the best influencers on Instagram and consider theming your content. 
To create a cohesive Instagram grid, consider theming your content around color, subject matter, fonts, and more. Experiment with various Instagram filters, specific borders on every image, or grouping by specific shots. 
Developing this creative aesthetic will require planning and consistency. To ensure this, create guidelines for your team to follow when planning your Instagram posts.
However, be mindful of the potential pitfalls. Puzzle layouts, while visually striking, can be challenging to achieve or maintain. Also, as most users view individual photos in their feed, partial images might be confusing without the rest of the series.
Numerous tutorials and tools are available to assist you in planning your Instagram aesthetic, equipping you with the necessary skills to make your feed visually compelling.
4. Content Calendars
Content calendars offer two primary benefits: they help you post consistently and keep your team on the same page.
You can use calendars to plan when, where, and why you will post the content. That empowers you and your team to stay organized and aware of holidays or events that can help theme your brand posts. 
For instance, if your goal is to create three Instagram posts per week, you can decide and jot down what each post should cover and the posting schedule in the calendar. That'll save you time, streamline your content creation, and make it easier for team members to work together and get those posts out the door. 
Just make sure the posting schedule aligns with the times readers expect to read your posts, but more on that below. 
5. Posting Schedules
What are the best times to post on Instagram? You'll want to plan your posts for the time when your audience is most active.
If you're just starting, Our recommendations would be Monday, Tuesday, and Wednesday between 11:00 AM and 02:00 PM, and Saturday at 10:00 AM (EST). However, that doesn't mean people won't catch your posts any other day of the week or that you should limit your weekly posting schedule to one post.
Optimize Your Social Media Posting Schedule!
Download the Best Times to Post on Social Media sheet and start adjusting your content calendar for maximum engagement.
If you've been on Instagram for a while, you can also dig into the "Audience" section of your insights to see when your audience is most engaged with your brand. You might also want to consider using a third-party tool to schedule your content automatically. There are several companies that offer this, including SocialBee, Hootsuite, Loomly, and HubSpot.
With SocialBee's advanced scheduling features, you can effortlessly schedule your Instagram content. Plan and organize your posts, stories, and highlights in advance, enjoying the convenience of automated posting that saves you valuable time and effort.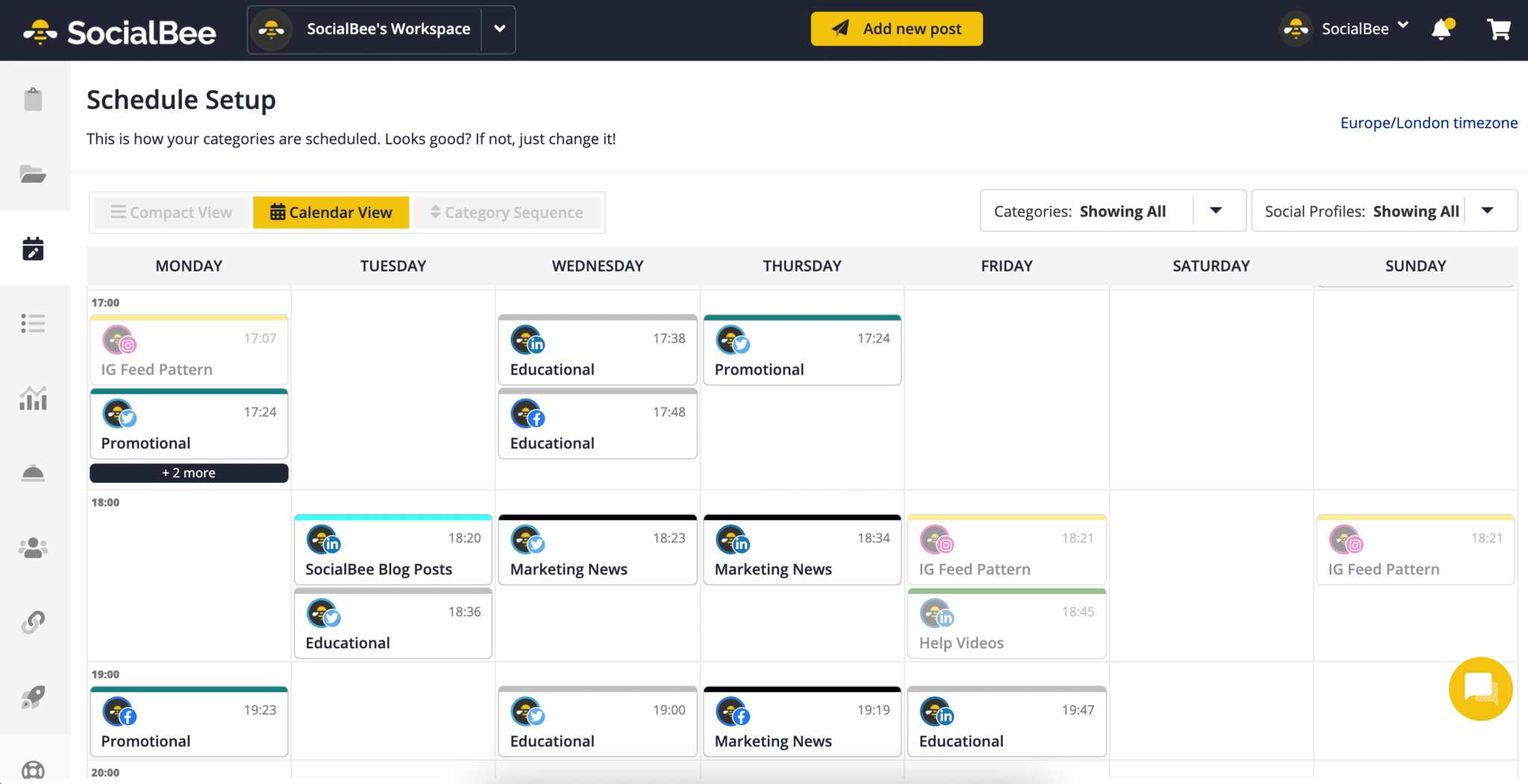 With SocialBee's content calendar, you can optimize your posting strategy. 
What's more, SocialBee's analytics dashboard provides valuable insights into your audience's engagement patterns, allowing you to discover the optimal posting times. 
6. High-Quality Posts and Instagram Stories
High-quality content is the linchpin in maximizing the reach and engagement potential of your Instagram posting schedule. Whether you're crafting posts or stories, your content must stand out and resonate with your audience.
Consider four primary purposes of posts and stories to engage your followers: educating, entertaining, problem-solving, and motivating. Try to align your content with at least one of these categories.
Your posts and stories should aim to be:
Timely:

Align your content with upcoming holidays or events that are relevant to your followers.

Trending:

Connect with what's currently trending on Instagram.

Original

: Stand out by sharing unique, compelling content exclusive to your brand.

Snackable

: Keep content concise and easily consumable during feed scrolling.

Actionable:

Add a call-to-action, encouraging followers to engage with your content.
However, the ultimate key is storytelling. Use your Instagram images, videos, and stories to weave a captivating narrative that immerses your followers in your brand's journey.
In search of content inspiration? Here are some ideas that work great both as posts and stories:
Behind-the-scenes:

Share glimpses of events, video shoots, or the processes behind your products or services. This humanizes your brand and fosters a deeper connection with your audience.

Employee reposts:

Showcase what your employees love about working at your company. This not only

personalizes

your business, but also promotes its positive aspects.

User-generated content (UGC):

Curate and share images and video content created by your fans and followers that aligns with your Instagram branding guide.

Educational content:

Share quick tips or how-to guides with easy-to-follow instructions that can lead to brand recognition.

Influencer posts:

Collaborate with

influencers

or well-known public figures to draw attention to your brand.

Motivational posts:

Share visuals with uplifting text or quotes overlaid on top, but use them sparingly to maintain authenticity.

Newsjacking:

Create Instagram content based on local, national, or global trends or by joining in on other trending conversations.
Frequently Asked Questions (FAQ)
Elevate Your Instagram Branding with SocialBee!
Indeed, Instagram branding entails numerous elements, but that doesn't detract from the excitement it brings! 
By embracing these guidelines—theming your content, timing your posts to align with your audience's peak activity, and curating original, snackable content—you'll be well-positioned to carve out your unique brand, boost engagement, and nurture a satisfied follower base.
With these content strategy insights at your fingertips, you're ready to embark on creating captivating posts and videos that will bolster your business's growth on Instagram! 
But, why stop there? Leverage the power of SocialBee to streamline your social media activities and ensure you're always on top of your game. Ready to explore how SocialBee can elevate your Instagram branding strategy? Start your 14-day free trial!
Monitor Your Instagram Branding Performance with SocialBee!
About the author: Crystal King is a Principal Inbound Professor for HubSpot Academy with a focus on social media strategy. Crystal has led global social media and community programs for companies such as Pegasystems, Keurig Green Mountain, CA Technologies, and Sybase. She has taught classes in writing, creativity, and social media at Harvard Extension School, Boston University, Mass College of Art, UMass Boston, and GrubStreet, one of the leading creative writing centers in the US. Crystal received her masters in critical and creative thinking from the University of Massachusetts Boston. She is also a novelist, with her first book, FEAST OF SORROW, available at bookstores on and offline.