If you're a business-to-business brand looking to improve your content calendar, then you're probably on the lookout for social media content ideas for B2B — a task that in the long run, means researching for unique concepts. 
According to a study conducted by the Content Marketing Institute, B2B brands have achieved the following goals through content marketing during a 12 month period:
Created brand awareness (86%)

Educated their social media audience (79%)

Gained trust and reliability (75%)
So, there's no doubt that implementing social media content ideas is one of the most powerful ways to increase the visibility of a B2B brand. 
Now, let's find the best social platforms for B2B brands and see which content ideas can improve the engagement and overall sales of your organization. 
Which Social Media Platforms Are The Best for B2B Brands?
You can't ignore the importance of choosing social media platforms for the content you plan to share. Thus, it is required to learn about the best platform that has the right audience for your business. 
The most popular social media platforms for B2B brands you can choose from are:
Facebook
Facebook is one of the largest social media channels in the world with 2.89 billion active users. 
Using Facebook, you can create brand awareness and better engagement with your prospects thanks to its huge audience, powerful tools, and features. 
Also, B2B marketers can access a wider demographic on the platform. Statistics showed that business decision-makers spend 74% more time on Facebook than others. 
Twitter
Twitter is another powerful way to reach B2B customers. The platform is expected to reach 340 million users by 2024 from 235 million in 2014. 
The limited character content creation of this microblogging platform makes it suitable for many users to consume content. 
The audience of this social platform mostly consumes real-time or breaking news, celebrity gossip, and trending topics. This is why B2B companies can quickly connect to their target audience through buzzworthy posts.
LinkedIn
With a user base of 775 million, LinkedIn targets a different audience — brands, business professionals, and people looking for employment and business opportunities. This is why 97% of B2B marketers love to use LinkedIn for content marketing. 
Unlike Twitter, businesses can create long-form content on this platform and engage with professionals. As a result, content marketers recommend LinkedIn for brands that want to improve their social media strategy.
Post on Social Media with SocialBee!
The Best B2B Social Media Post Ideas  
Create Short Videos on Stories

Turn FAQ into Social Media Content 

Share Branded Images

Post Your Lead Magnets on Social Media

Follow Trends that Provide B2B Solutions

Differentiate Yourself from the Competition

Generate Social Conversations

Show Who's Working Behind the Scenes

Use Animations or GIFs 

Create Employee Advocacy Programs
After selecting a social platform of your choice then you can start searching for content ideas. 
According to WordStream, you can start by creating a quality social media marketing plan for your desired platform. This marketing plan needs to include winning content ideas that will help you achieve your marketing goals. 
Some of the great content ideas you can try for your business are:
1. Create Short Videos on Stories
Social media experts say that high-quality videos can increase visibility and sales much faster. 
More than 60% of B2B marketers saw growth in sales after using video content. People seem to love watching entertaining or educational videos over text-based stories. 
When businesses post videos on their social media channels the audiences can connect better. Brands like Cisco utilized short 60 to 90-second videos to grab the attention of the audience. 
Another tech giant, Intel, took a similar approach by creating story-based videos for their customers. Both the companies achieved better results.
Robinhood actively creates short videos on stories that matter to their audience, like the following below: 
One of the benefits of creating videos is that it can increase conversion rates by 80%. 
Also, short videos tell a story about what you are selling or how the business works which improves reliability. Thus, you are creating endless possibilities for business when you are making a video for your audiences.
To create catchy short videos here are a few things to keep in mind:
Create a content plan with clear objectives.

Develop a specific message.

Write the production plan for the videos.

Clearly explain the message you're trying to convey.

Include a story that grabs the viewer's attention.

Make it both entertaining and informative.
Also, here are several tools you can use to create video content for your B2B business: 
Renderforest's video maker:

With this tool, you can create educational, memorable, and entertaining videos without having any technical skills. All that is required is browsing through a large variety of templates, choosing your favorite, and editing it in minutes.

RendrFX:

RendrFx is a handy tool for quick social media video creation. It has 350 templates that you can use to create short videos. 

Wideo:

Wideo allows you to make video content easily. Users can drag and drop elements in the video editing tool to create videos easily.

Biteable

: Biteable is an online animation tool that beginners can use for creating animated content. Besides, you can use their templates, animated elements from their resources to create your unique videos.

Powtoon:

With this tool, you can create animated content for your business. You can simply drag and drop their elements and customize them in your way to create videos.

Livestream:

Host live events and convert them into webinars using the

webinar platforms

. Livestream can be a great option to start your webinar journey.
2. Share Branded Images
88% of marketing professionals use visuals in their content — and for a good reason. Images catch the attention of your audience and increase social media reach and engagement.
To make the most out of your visuals, you should go the extra step and create branded images that contain your logo and your brand colors. 
In this way, you will reinforce your brand and make it easier for your customer to associate you with these elements, which will make your business more memorable.
Here is a SocialBee social media post visual you can use as inspiration:
For example, you could share a motivational quote by adding it to a background that has nice graphics, imagery, and colors that represent your business.
Don't forget to also add your logo so people can recognize that you own the visual. This will provide a sense of professionalism and authenticity.
You don't have to be a photoshop expert to make branded visuals. You can use Canva to create your designs. This visual platform has thousands of templates you can edit and customize for your brand.
Save time while creating the visuals for your social media posts by using all the design features Canva has to offer directly from SocialBee's content editor.
Start your 14-day SocialBee free trial today to make the most out of this Canva integration!
And the best news is that you can use them directly from SocialBee's content editor. Now you can do more than create and share your content from SocialBee. You can also import and design your visuals from Canva without opening a second tab. How convenient!
3. Post Your Lead Magnets on Social Media
An easy and effective way to generate leads on social media is to create and share lead magnets.
The purpose of a lead magnet is to collect as many contact details as possible from your potential clients.
Why? So you can use them to nurture your relationship with your audience, stay top-of-mind and encourage them to purchase from your business by sending different offers and resources they might find useful. 
A lead magnet can be anything from a template, a guide, to a free appointment, or a discount.
4. Turn FAQ into Social Media Content 
Answering Frequently Asked Questions (FAQ) helps your customers to understand the ins and outs of your products or services.
What about using FAQ as social media content? Surprisingly, it is highly effective to keep your social media audiences aware of your brand through repurposing FAQ. 
According to Social Report, repurposing old content can boost your reach. So, you can utilize the content repurposing strategy and create social media infographics, images, GIFs, and video posts based on the FAQ topics. 
Furthermore, you can create videos about those topics that answer the buyer's queries and help them to make decisions. Mailbird's Youtube channel is an example. Mailbird collects Frequently Asked Questions and transforms them into engaging social media videos for the users.
5. Follow Trends that Provide B2B Solutions
The scope of social media is changing very fast. Forbes explained that changing consumer expectations means that you need to ramp up your marketing efforts. 
For the B2B industry, trends are helpful since you can understand where you should focus to grab the attention of your audience. This could mean putting a corporate twist on a challenge, using hashtags, or even joining a social media platform like Tiktok, for example.
Utilizing the trend data your marketing team can easily switch gears when it is necessary. So, we suggest you focus on adopting social media trends. 
Here're some of the ways how to stay on top of the social media trends:
Check Competitor Posts
Try to study what your competitors are posting or promoting. Social monitoring can help you to understand your competitors better. Next, try creating better content for the audience. This will significantly boost your social media visibility.
Learn Industry Specific Trends
Social media trends can vary depending on the industry. 
Try to read industry-specific magazines, journals, insights, and reports. This will help you to create compelling posts that your customers will love.
Study Social Groups 
Both Facebook and LinkedIn offer group services. 
Most of the time, group participants talk about trendy topics. So, studying the conversations will help you to construct a strong content plan that ultimately leads to more sales.
SocialBee supports posting on Facebook profiles, Facebook pages, and Facebook groups.
Start your free 14-day trial today
to share content with ease to all your social media platforms from one user-friendly dashboard!
Try Posting Stories
Posting daily stories on Facebook, and Instagram is a part of a new trend now. 
According to stats, around 800 million people engage with stories every day. Stories give your B2B customers a feeling of exclusivity. So, try posting regular behind the scene stories of your company. 
Once you understand the pulse of the conversations, the next step is to target the trendy topics and create relevant content on your social media platforms.
Post on Social Media with SocialBee!
6. Differentiate Yourself from the Competition
To connect better with your customers, think about how you can differentiate your social posts from the competitors. 
To start the differentiation process, you can perform a competitive analysis. First, identify the presence of your competitors on social media. 
Then, collect relevant data like the number of followers, types of content, and engagement from their channels. Finally, use the data to design an improved social media post that your audience will love.
Learning more about the competitor content strategies is important to stay relevant and generate new ideas for your own social media success. 
One report on competitive intelligence reported that competitor social media accounts are valuable sources of information according to 96% of the businesses.
So, when you use the competitor information and publish unique content you might see better results. 
For example, companies taking social responsibility can post their activities on their social media campaigns to differentiate from the competitors. This will not only boost up their revenue but also improve their social media presence. 
Audit Your Competition with This Competitive Analysis Template
Stay ahead of the competition by constantly monitoring their online presence.
Social Media Do's
While researching your competitors, keep in mind the following best practices:
Start investing in competitor social media presence data analysis

now as 85% of the business executives predicted that social media will be the primary source of business analysis in the future. The analysis will help you to understand what type of post works better on which platform. 

See if your competitors missed any trending news.

When you see such opportunities create Instagram stories, Twitter polls, or a video on the topic. 

Create a list of hashtags your competitors are using.

Hashtags don't directly increase followers but improve post engagement. So mix up hashtags by keeping the trendy hashtags from the competitors and a few brand-related hashtags for your niche. This is how your content will be visible to both competitor audiences and your brand followers.
Social Media Don'ts
Now that you are aware of the best practices, let's have a look at the ones you need to avoid:
Never create a content campaign without a proper plan.

Even if you are targeting your competitors' social media accounts to create improved content, try keeping your own business goals and social media goals aligned. Otherwise, your social media campaigns will see success. 

Don't use a strategy that can betray the trust of your audiences.

Some marketers buy followers or fake engagements to show their brand above the competition. This strategy can potentially lead to a problem in the future as social media platforms can drop the reach of your business page. 
7. Generate Social Conversations
There are many ways to push social conversations for more engagement that will help you understand more about your customers. One creative way to start a conversation across your social channels is through polls.
You can now do a poll on almost all the social media platforms like Facebook, Instagram, and Twitter.
Mailbird, one of the popular email programs, regularly uses polls to engage customers, for example, Linkedin ones. 
The strategy helps them to know their customers better in an effective way. Mailbird consistently pushes the open-ended sales questions which keep their engagement high. 
Another way to push conversations is to give natural human-like responses to your audiences, like Mailbird on Twitter. Try to thank your customer for their comments with very few salesy words, you can even add some emojis. 
8. Show Who's Working Behind the Scenes
Your B2B business can have some awesome people behind the brand. So, try to show off your employees on social media to humanize the brand. 
Start by showing off your amazing leaders. As an example, Mailbird promotes its departments and leaders in social posts as brand stories by sharing recent news, blogs, and other content. 
The other option is to feature top performers. These star employees can be highlighted each month so that your audiences can relate and appreciate the hard work your brand is putting on for them. 
And what about creating stories about your work culture? Showing off your office culture can be another powerful way to engage target customers. 
9. Use Animations or GIFs 
We know animations or GIFs (Graphics Interchange Format) can be very powerful ways to entertain your audiences. But you can also use them to solve your customers' pain points.
To qualify a GIF as a great weapon for your B2B brand you can use the following examples:
Use GIFs as a get started guide for your Facebook, Twitter, or LinkedIn audiences.

GIFs can be used to give gratitude to your customers or employees.

Incorporate the product features and demonstrate them in a GIF post.
Don't overthink your GIF design. It's simply playing around with a 1-5 second video that displays a message or highlights information you want your audience to see creatively. 
Here are some of the tools that you can use to create compelling GIFs and animations for your brand:
Giphy:

Giphy is a well-known name for creating great GIFs for your B2B brand. You can start GIFs from scratch using the platform.

GIMP:

GIMP is a desktop tool for creating GIFs. The tool comes with animation packages for better GIF creation.  
10. Create Employee Advocacy Programs
Starting a brand ambassador program for your employees is great for increasing your reach and credibility online.
Such a program works by having your employees post about your products and services on their social media accounts. As a result, you reach a larger audience and gain the trust of new potential clients.
How? Well, customers are more inclined to trust the recommendations of their friends and family, and even influencers, rather than the ones coming straight from the brand.
Not only this, but your brand ambassadors are also an amazing source of content. You can always reshare their content on your business pages and show your potential customers examples of happy clients.
BONUS: How to Share Your Winning Moments on Social Media?
Next, you can focus on sharing your B2B brands' winning moments. Mailbird specifically shares its rewards in the industry to the readers by creating eye-catching social media posts. 
In most cases, these highlighted posts are created to thank the users and customers. As a result, both the readers and the users of the platform heavily engage with the B2B brand. 
Start Managing Your B2B Content Strategies
If you are thinking about implementing the above social media content strategies for your B2B business, you can try a social media management service or tool.
SocialBee can be an option for your B2B brand since it makes executing all the latest social media strategies simple.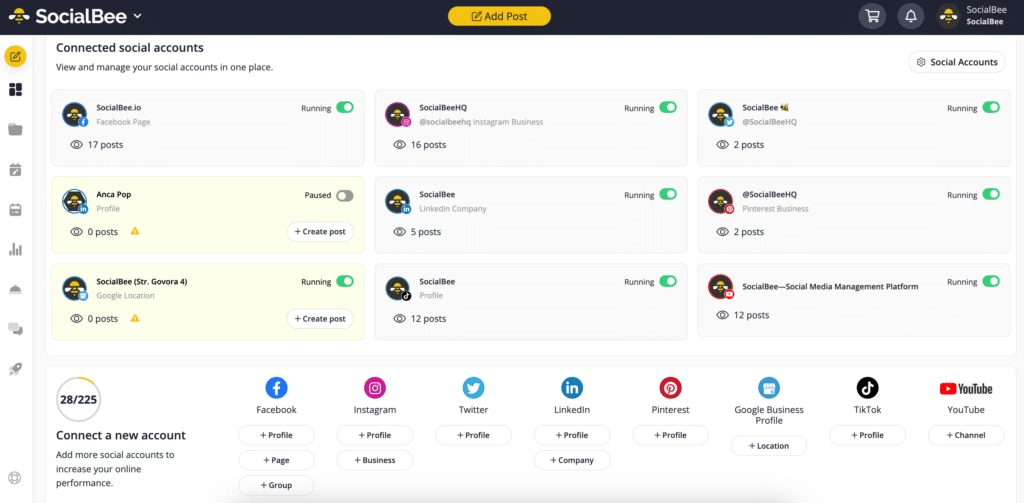 Connect all your social media accounts to SocialBee to create and post content on all your platforms from just one dashboard. Adjust your posts and content schedules to fit the requirements of each platform from SocialBee.
Start your 14-day free trial today to test all the amazing features!
The tool comes with a good number of features. Here are just a few of them:
Post your video content seamlessly on Facebook, Twitter, LinkedIn, Instagram, Pinterest, Google Business Profile, TikTok, and YouTube.

Design, edit and import your visuals from Canva directly from SocialBee's content editor.

Monitor your social media performance by looking at your analytics. SocialBee offers information about your top-performing posts, activity status and offers data about your post reach and engagement.

You can use the tool to customize your posts for each social media channel and create different variations of your evergreen content. 

The social media management tool has the option of receiving email notifications and internal commenting. With email notifications, you can stay on top of your social media content creation process. On the other hand, the internal commenting feature helps you to provide feedback easily to your team.
Start your free 14-day trial today and discover all the amazing features SocialBee has to offer!
Get Ready to Improve Your B2B Social Media Content
Create a long-term social media game plan by trying out the ten social media content ideas for your B2B business.
And since many B2B brands found success on Facebook, LinkedIn, and Twitter, make sure you give these social networks a chance besides the other platforms that work well for your specific niche. 
To get the best results, try publishing short videos or stories. Then, repurposing frequently asked questions and differentiating content from competitors based on the recent trends will grow your accounts significantly. Moreover, creating polls and showing off your work culture will enhance your brand image. 
When you combine all these content strategies with a tool like SocialBee, the results are guaranteed.
So start your 14-day free trial today and share all your new content ideas with your audience easier than ever before!
Post on Social Media with SocialBee!
Mailbird  offers unified email management and communications apps services to help mitigate the stressors and numerous frustrations associated with workflows.