In order for you to manage multiple social media accounts, you must think like a social media manager. When you're a small business owner, juggling so many networks simultaneously can easily become overwhelming. 
How can you get organized when different audiences have different expectations? Thankfully, a social media management tool is the answer to all your concerns. Productivity goes hand in hand with streamlining your daily processes.  
But try not to worry about it too much – we've got you covered! We've created this article to help you manage multiple social media profiles with ease and become a master of multitasking with minimal effort.
Free Editable Social Media Strategy Template
Get the social media strategy template you need to audit and plan your marketing efforts for maximum results.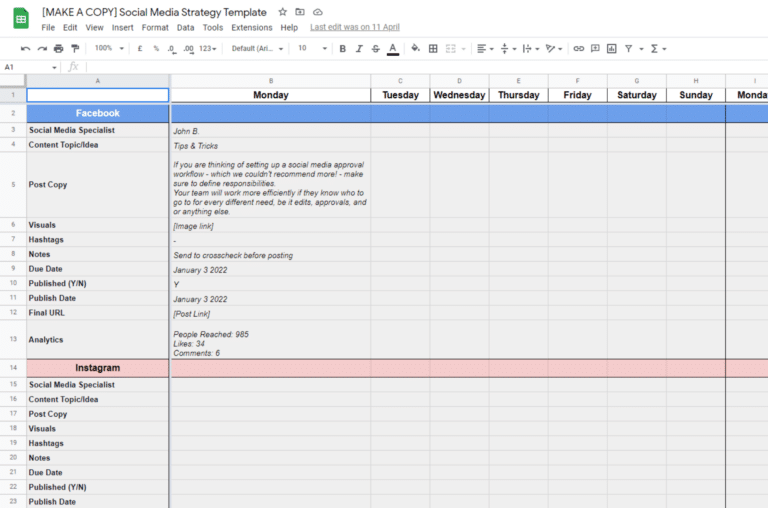 Why Do Brands Need Multiple Social Media Platforms?
When you choose to manage multiple social media accounts, you have the opportunity to spread the word about your products and services, reach more prospective customers, and boost conversions. 
However, running multiple social media accounts comes with great responsibility. You must regularly track the performance of your pages and gain insights from data collected from each platform. 
By doing this, you'll have a much easier time tailoring your content and campaigns for specific audiences.
Also, having an impressive presence across various social media networks allows you to keep up with your competitors and even surpass them. You can easily do this by building strong relationships with your followers and by having a trademark aesthetic and tone of voice. 
Ultimately, having multiple social media accounts gives brands a competitive edge in today's hectic digital market.
Here are the benefits of using multiple social media channels:
Gain better reach

Promote your products and services with ease

Connect with more prospective customers

Build strong relationships with your followers

Boost conversions

Surpass your competition

Have a competitive edge
How to Manage Multiple Accounts Like a Pro
Time is a valuable and non-refundable resource. That makes it incredibly precious, right? As expected, social media can be a very time-consuming endeavor. 
To counteract this, you'll need to develop the right strategy and do your best to improve it along the way. With the proper analytics and content planning, you'll find it much easier to manage multiple accounts and get great results.
Here are the seven best ways to manage multiple accounts like a pro:
Start with a social media strategy

Use a social media management tool

Do cross-posting responsibly

Use templates for your social media posts

Curate relevant content

Share user-generated content

Focus on creating evergreen posts
1. Start with a Social Media Strategy
Having a robust social media strategy as your secret weapon is more than necessary. If you want to maximize the effectiveness and impact of your content, make sure to come up with a well-thought-out strategy. 
In turn, this allows you to target specific audiences and create tailored content that will offer them the value they seek. A solid social media strategy also ensures that all of your messages are consistent and on-brand.
Here are three easy steps that will help you build a social media strategy:
Research your target audience

━

Before they start to create great content, social media marketers take the time to know their target audience. Researching your target audience will give you a head start on the social media race. For precise targeting, develop buyer personas and determine the best ways to connect with your audience. 

Define your goals

━

First, decide on what you would like to achieve with your content strategy. Is it brand awareness you wish to boost? Are sales on the low side lately? Provide valuable information to potential customers and decide on what you're trying to accomplish before you plan out your strategy.

Analyze your competitors

━

Keep a close and vigilant eye on your competitors' social media presence. Inspect their successes and take note of their failures in order to inform your own social media strategy and determine the best way to go forward.
Follow these basic guidelines and watch your social media strategy start to take shape. Another important aspect is managing to keep up with the requirements of having a social media strategy.
Here are three ways to upkeep a social media strategy:
A. Collect social media post ideas

B. Try content batching

C. Use a content calendar
A. Collect Social Media Post Ideas
Make it your main mission to always diversify your social media content. Why? Because it engages different audience segments and encourages engagement.
Additionally, having a fresh mix of diverse content categories keeps your followers coming back for more. Why not get creative with some fun post ideas? 
Make it informative, and fun, and don't be afraid to post promotional content once for every six posts you create. Then, go for a soft-sell post, followed by four posts that are either entertaining or educational.
You can find awesome content ideas from a variety of sources when managing social media platforms. 
Here's how you can collect social media post ideas:
Take a look at what's currently trending in your industry 

Observe what influencers and competitors in your niche are posting

Check the latest news to discover stories worth sharing

Ask your followers about which types of content they would like to see from you
Discover 500+ Social Media Post Ideas
Get access to the full list of engaging social media post ideas and start diversifying your entire content strategy.
B. Try Content Batching
Content batching is a helpful strategy for managing multiple social media accounts at once. Batching includes creating and scheduling posts ahead of time, so that you stay on top of your priorities at all times.
Batching your social media content saves you plenty of time and energy in the long run. Plus, it's a great way to keep your messages consistent across multiple social accounts.
Here are some quick tips for efficient content batching:
Break down the types of content you want to post into categories such as educational content, funny content, inspirational quotes, video testimonials, new product/service promotions, etc.

Research relevant content that your followers would be interested in, such as news stories and industry insights.

Take the time to curate eye-catching visuals for each post — whether it's a photo, an infographic, or a video.

Schedule your content ahead of time and stick to the plan. Content batching is all about consistency. It helps you manage social media accounts with much more ease.
C. Use a Content Calendar
Content calendars are invaluable social media tools that allow you to stay organized at all times. Schedule your social media posts and watch the benefits pour in.
Ideally, a content calendar should queue all of the posts you plan on publishing and feature the exact date and time they should be posted. It should also contain other highly important details such as post descriptions, links, and hashtags.
Once you decide to create a content calendar, you must remind yourself of your main social media goals. 
What are your main content marketing goals? It could be a boost in engagement, generating qualified leads, or providing valuable resources to prospective customers. This might differ from business to business.
Free Social Media Calendar Template
Get access to our template and create your own social media content calendar the right way in half the time.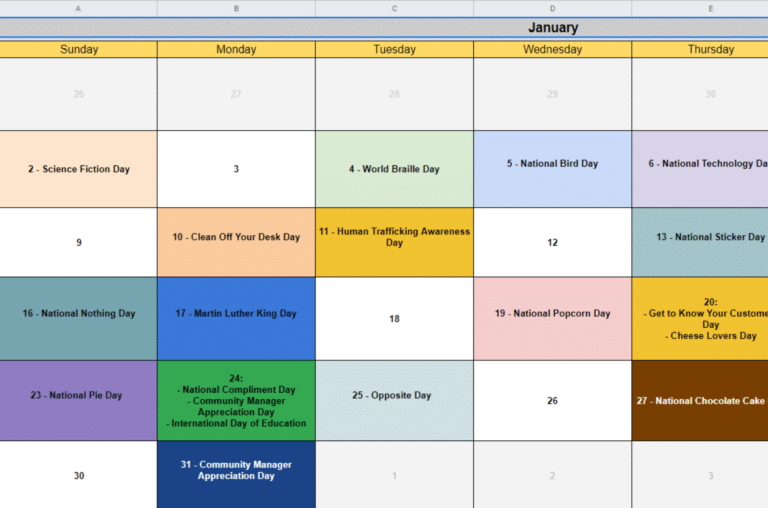 2. Use a Social Media Management Tool
Managing multiple social media accounts can become exhausting after a while, especially when you insist on doing things manually. 
However, with the right tools, you can manage different social media platforms with much more ease. 
Automation tools can help you streamline multiple processes. Content creation, scheduling, and publishing should be well taken care of. 
By doing this, you'll direct most of your focus to what matters most, which is engaging with your audience. After all, that's what social media is all about.
Here are three benefits of using a social media management tool:
A. Cut out repetitive work

B. Schedule posts ahead of time strategically

C. Centralize your work in one place
A. Cut out Repetitive Work
Social media management tools are perfect for eliminating mundane and time-consuming tasks that come with managing multiple social media accounts. 
By using a social media management tool, you can easily set up automated posts, schedule content in advance, track engagement on posts, and analyze data to get a clearer understanding of how your audience interacts with your content and what you should fix. 
Wave goodbye to spending countless hours manually repeating the same tasks over and over again.
B. Schedule Posts Ahead of Time Strategically
Social media management tools simplify the planning and scheduling of future posts. You can easily queue up content months in advance or just get a few weeks of content ready. In any case, these tools allow you to set exact dates and times for when your posts should go live.
Here are three ways to schedule posts for your social accounts:
Be ahead of the curve

━

Choosing to schedule your posts ahead of time ensures that you're always one step ahead in terms of content creation and publishing. With automated posting, you can ensure that your content reaches people at the right time, so you don't have to be glued to your phone or computer all day long.

Be consistent

━

Scheduling your posts allows you to be consistent in the frequency of your content. That way, the followers become aware of a predictable posting pattern and know when to expect it. This can increase engagement levels.

Save time

━

Social media scheduling tools are designed to streamline your workflow by automating basic tasks and allowing you to manage multiple accounts from one platform.
A great social media management tool worth trying out is SocialBee. The app helps you create, schedule, and automatically publish your content across several social media accounts. No need for multiple apps when you have SocialBee to do all the hard work for you.
Create and schedule your posts ahead of time from one social media management software.
Start your 14-day free trial today!
C. Centralize Your Work in One Place
Great social media management tools are an all-in-one resource all for your social media needs. They help you with managing multiple accounts from one place and enable you to create engaging content and schedule it as you see fit. 
Tracking your analytics is an important feature as well since it reveals multiple insights about your post performance and audience engagement levels. 
When you start managing multiple social media accounts with such a tool, you can say confidently goodbye to wasting time switching between different platforms. It's time to centralize your efforts in one place.
Manage All Your Social Media Accounts with SocialBee!
3. Do Cross-Posting Responsibly
Cross-posting is an effective way for social media managers to promote their content across several social media platforms. This technique allows them to share the same post simultaneously on different platforms, such as Facebook, Instagram, Twitter, LinkedIn, and more.
Cross-promoting your posts can be beneficial as it allows multiple social media users to see your content. As a result, this boosts your engagement and reach.
The SocialBee app can simplify your cross-posting efforts. How? The app allows you to customize your posts for each social channel. This quick solution is going to revolutionize the way you cross-post.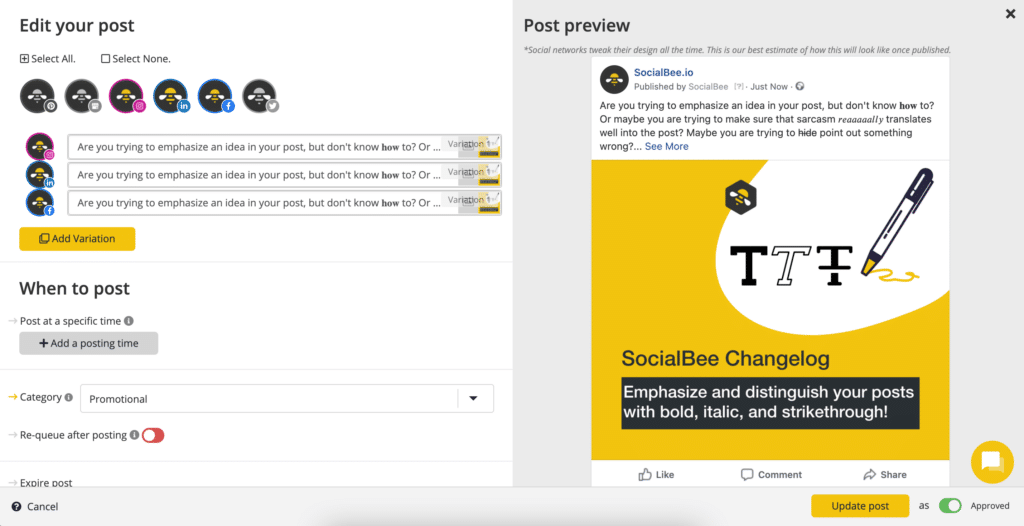 Cross-post efficiently by customizing your social media posts for each platform you use, directly from the SocialBee app.
Start your 14-day free trial today!
No two platforms are quite the same. Ideally, your cross-promotion strategy should also consider the main differences between each social media platform. To maximize the effectiveness of your efforts, you'll need to tailor each post for each social media account. 
For example, share differently sized images on Instagram than you would on Twitter or promote your latest meme on Facebook rather than LinkedIn. Try to think of the expectation for each social network, and use the insights from your analytics for further optimization.
When you do this, you make sure that each post is tailored to all your accounts and that it will reach multiple clients. With a great cross-promotion strategy, you can unlock the full potential of your content creation strategy.
4. Use Templates for Your Social Media Posts
Using social media templates is a great way to save time and maintain coherence across your go-to social media channels. 
Templates are adjustable and can be easily resized to fit the requirements of multiple social platforms. 
Whether you're promoting an event, sharing a photo, or just providing an update, this social media tool can streamline your toughest creation processes. Don't be shy to get creative and use social media templates — it just might end up saving you more time than you think.
Social media managers around the globe use Canva to create aesthetically pleasing social media templates with its drag-and-drop design tools. 
SocialBee's Canva integration allows you to save time by automating and scheduling posts in advance. The integration also helps you create and import stunning Canva visuals directly from SocialBee for a quick posting process.
Design and import your Canva visuals directly from SocialBee!
Start your 14-day free trial today!
5. Curate Relevant Content
Curating relevant social media content starts with identifying the right news sources. From there, your curation efforts will be smooth sailing.

Here's how you can curate relevant content:

Search for industry news and current trends that may be of interest to multiple clients

Look for websites that feature topics within your niche

Check out popular conversations on social media platforms 

Stay up-to-date with the best hashtags related to your industry
It's equally important for you to decide on the post types you want to share. This could include articles, blog posts, infographics, photos, videos, and more. Don't forget to also create polls and surveys to further engage your audience.
Here are four examples of curated social media content:

Links to relevant articles, blog posts, and infographics

Quotes from industry experts

Relevant stats and research findings

Reposts of leaders and influencers within your niche
6. Share User-Generated Content
User-generated content (UGC) is the type of content that is created and published by online users, such as social media posts, reviews on a shopping website, or lists that feature your products or services. 

It's basically crowdsourced content that is incredibly valuable for businesses that want to understand and engage their audience. Whether you're creating an ad campaign or designing a new product, UGC can reveal important brand sentiment insights that will ultimately inform your strategies.
You can also use UGC as part of your marketing efforts by featuring user testimonials, quotes, or images in social media posts, ads, and more. UGC is also a powerful form of social proof. In fact, did you know that 93% of marketers noticed that UGC performed better than branded content?
People are more likely to take action if they know others experienced customer satisfaction. This same concept holds true when it comes to online reviews, comments, and ratings.
7. Focus on Creating Evergreen Posts
Evergreen posts are that rare type of content that never goes out of style and is always relevant, regardless of the passing time and latest trends. 
This type of timeless content focuses on topics such as brand history, philosophy, client testimonials, and other educational or informative topics. All in all, evergreen social media posts are a great way to add value to your followers' feeds.
SocialBee helps you create, schedule, share, and re-queue your evergreen content. You can create a collection of evergreen content ideas and schedule them ahead of time so they are released at the right times. 
To do this, use SocialBee's content categories. This will allow you to organize content based on specific topics. If not, you can simply re-queue a specific post from the in-built editor.
Add your evergreen social media posts in content categories (folders where you can organize your posts) and set them all to republish regularly on your accounts.
Start your 14-day free trial at SocialBee today and maintain a consistent publishing schedule with ease!
Choose the best times to schedule your evergreen posts by either taking a look at your previous post analytics or by simply following the reliable advice of social media experts. 
Scheduling ensures that you don't have to manually publish posts on a regular basis. This limits content creation and posting time.
Frequently Asked Questions
1. How Can I Manage All My Social Media in One Place?
The best way to manage all your social media accounts in one place is to use a social media management tool. An all-in-one tool will allow you to create, schedule, and publish your content across multiple social networks. 
This can save you time and resources, increase your reach, and give you an overall better understanding of how each account performs, thanks to the provided metrics.
2. What Are the Best Social Media Management Tools?
It depends on your particular needs. The best social media management tools include SocialBee, Hootsuite, Sprout Social, Buffer, and Later. Each of these platforms provides a comprehensive suite of features that allow you to streamline and automate the managing of your social media accounts.
3. How Many Social Media Accounts Should a Business Have?
The number of social media accounts ideal for a business depends on how much time you are willing to invest. A minimum of two or three accounts should do the trick. Start with the must-haves, like Facebook and Twitter, then branch out depending on where your audience hangs out. 
Ready to Become a Skilled Social Media Manager?
Engaging your audience across several channels can be difficult, especially when you have other tasks to take care of. To make it easier, you should use the right tools and strategies to create a solid online presence. 
Making full use of UGC, creating evergreen content, and using a social media management tool to help you out allow you to become a social media pro.
It's time to take the reins of your social media presence. Try SocialBee, one of the best social media management tools, for free. Upgrade your social media marketing strategy by starting your 14-day free trial today!
Manage All Your Social Media Accounts with SocialBee!