Have you been wondering what you can do to increase your Instagram engagement rate?
There are a few methods to do that, and even though it might seem overwhelming in the beginning, fear not, as most engagement secrets we have to share with you are easy to apply. 
This blog post will let you know exactly what you need to do to increase Instagram engagement in no time. Whether you're a business looking to boost sales or an individual looking to grow your Instagram followers base, this guide will help you achieve your goals.
So buckle up, and let's see what we can do about your engagement rate!
Social Media Strategy Template
Streamline your marketing with an efficient social media strategy template.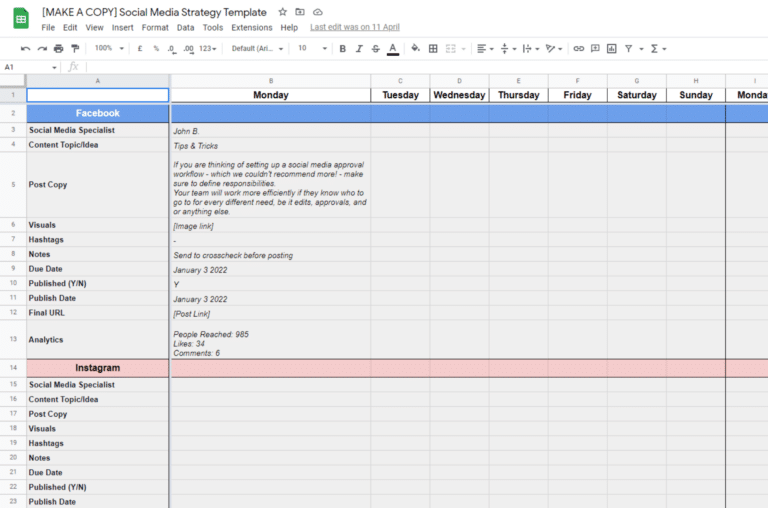 What Is Instagram Engagement?
Instagram engagement refers to how users interact with the content you post on your page.
It's a mixture between the follower count, and the actions taken by your audience when they see your content. In other words, these actions involve likes, comments, shares, saves, mentions, or DMs.
A high engagement rate on Instagram can indicate a strong connection between the account owner and their followers, and can be an important metric for measuring the success of brands or Instagram influencers on the platform.
What Is a Good Instagram Engagement Rate?
There's no absolute value for what a good Instagram engagement rate looks like. However, studies have shown that a good Instagram engagement rate stands between 1% and 5%.
It's important to mention that the follower count also has an influence – the more followers you have, the less Instagram engagement there is.
Why Is Instagram Engagement Important?
Instagram engagement is important for several reasons:
Visibility: If an Instagram user engages with a specific account, e.g. comments and shares, the Instagram algorithm will be more prone to show the page on another user's feed and thus, it adds more visibility to your posts. 
Audience engagement: Instagram engagement measures the level of interaction and connection between an account owner and their followers. High engagement rates indicate that the account owner has a strong connection with their audience, which is essential for building and maintaining a loyal following.
Trust: As it demonstrates that other people are interested in and involved with your business, high engagement rates can assist to establish trust and credibility with potential consumers.
Brand awareness: A high engagement rate can help your brand become more well-known since more people will probably notice and interact with your content, which could result in increased website traffic, sales, and conversions.
How to Measure Engagement on Instagram
To calculate your Instagram engagement, you can go for the follower median engagement rate formula.
The follower engagement rate formula is: the total number of engagements (likes, shares, and comments), divided by the number of followers and multiplied by 100. 
Let's take an example: your post has 100 engagements, and your page has 1150 followers. This would bring your average engagement rate to 8.69%.
15 Tactics to Increase Instagram Engagement 
Next, we will go over the list of steps you have to follow if you are wondering how to get more Instagram engagement:
A good engagement rate on social media is good for exposure, but if you're not sure where to start, you might find yourself at a crossroads.
Getting more comments, or more impressions, won't happen overnight – you need engaging and quality content to make things work.
So, here's what you can do to increase engagement on Instagram:
Share Content at the Right Time
Understand Your Target Audience
Post Instagram Carousel Posts
Share Video Content
Write Engaging Captions for Your Instagram Posts
Craft "Saveable" Content
Share User-Generated Content on Your Instagram Account
Create Your Own Stickers and Filters
Focus on Community Management
Create and Share Relatable Memes
Post Instagram Stories & Instagram Reels
Host Giveaways
Boost Your Instagram Posts
Use Relevant Hashtags & Geotags
Tag Other Accounts
1. Share Content at the Right Time
Posting at the right time is vital for your Instagram page, as this decides the level of peak engagement. Depending on the social media platform, the best times for posting will depend.
In the case of Instagram, there are a few days and hours that are considered the best for posting.
Best day to post on Instagram 
Worst day to post on Instagram 
Best time to post on Instagram

Monday

Tuesday

Wednesday

Saturdays (for the weekends)

Sunday

Between 11 AM – 2 PM

10 AM for weekends
Posting at the best time can get tricky, especially when you have to juggle multiple accounts at once. Manually publishing your posts is not the answer as it's inconvenient and time-consuming. Not to mention the different time zones dillema that will totally disrupt your daily schedule if you want to stick to the best times for Instagram posting.
Not to worry, though, as you can share content at the right time, without the need to keep an eye on the clock and your Instagram page non-stop. 
You can do that with the help of a social media scheduling tool, such as SocialBee.
With SocialBee, users can create customized posting schedules for Instagram and other popular platforms.
Start your 14-day free trial today to share content at the best times and increase your Instagram engagement rate.
Schedule Your Posts at the Right Time with SocialBee!
Create posts, publish, analyze, engage and collaborate, all from SocialBee.
2. Understand Your Target Audience
Your audience is one of the most important factors that will determine your businesses' engagement on Instagram. The content that you create needs to be optimized for your audience, as there will be different elements to consider when creating your posts. But, how do you get to know your audience?
One of the first ways to get around is by creating a buyer persona. Knowing the profile of your ideal customer can give you a strong idea of what content you should tailor.
You will need to take into consideration the demographics of your audience too. This will help you with posting hours, the type of content, and even your brand's tone.
Customer behavior will also be a good element to consider – elements such as their schedule or interests will give you a good idea of the best time to post on Instagram.
Grab the free template, fill it out, and swiftly craft your buyer persona.
3. Post Instagram Carousel Posts
A carousel post can bring your page more engagement, as a recent study has shown. An Instagram post that includes a carousel can spike the curiosity of users and thus, keep them interacting with your post. So, to boost your engagement, make sure to create and schedule more carousels from now on. And what better way to do it than with SocialBee.
SocialBee allows users to share images, carousels, videos, and stories to Instagram from one place.
Start your 14-day free trial today and tell your story through a carousel post!
However, a carousel post alone won't work wonders for your Instagram engagement. You'll need to make sure that you have quality content that's been tailored specifically for your target audience. You can use Instagram carousel posts for different purposes – sharing educational content, how-to's, different new products, or even drawing attention to a social cause.
Carousel posts can also keep your feed more organized and aesthetically pleasing.
4. Share Video Content
A video post on Instagram can help your audience engage in no time, and that is because videos are eye-catching and can bring more exposure.
The Instagram algorithm prioritizes video content too, and there are plenty of ways to incorporate videos in your Instagram page. IGTV, Instagram Reels, or even Live Videos can be used for your strategy.
Video content can be used on other social media platforms – repurposing your video content can also bring your business more exposure. This type of content is suitable if you want to better connect with your audience – videos showcasing your products, team, or services can capture the attention of your audience and lead to a better engagement.
Make sure you don't forget about the Instagram video size specifications – details such as the resolution, aspect ratio, and format are important for providing the best user experience.
5. Write Engaging Captions for Your Instagram Posts
Your posts tell the story through images and videos – but sometimes, there's a need for more. And this is where Instagram captions come into place, as they can grab the attention and better tell the story.
Regular posts can be changed in an instant with the help of a good Instagram caption. You can use up to 2200 characters to spice up your Instagram post. Compelling content can be backed up by a compelling caption – and you can do just about anything with it.
From a one-word caption to one with a timeless call to action – you can go around it any way you like. Don't forget to include the hashtags in your caption, as they can provide more visibility to your posts.
6. Craft "Saveable" Content
Saveable content is another aid for a higher engagement rate, and that is because a saved post is a post that your audience can return to and even share with other users.
This means that it can include guides, different answers to questions that your followers (and not only) might have, or any kind of content that the users relate to and has a specific purpose. Even funny and relatable memes can make it to the  "Saved" list of a user.
A CTA encouraging followers to save your post for later can work wonders – so don't forget about it.
7. Share User-Generated Content on Your Instagram Account
Sharing user-generated content (UGC) can have an impact on how your brand is generally perceived. Think of it as the social media equivalent for word-of-mouth.
User-generated content can involve anything from product reviews, testimonials, people using your products or services, or pictures based on a hashtag or trend you've started. Thus, you can easily showcase genuine reviews of your products and build loyalty and authenticity around your brand at the same time.
You can share UGC on Instagram stories, or your page. However, make sure you always credit the source.
8. Create Your Own Stickers and Filters
Think of one element that makes your business unique and turn it into a filter or sticker. Different effects have taken social media platforms by storm and businesses have become aware of that.
Even if we're talking about a specific color, catchphrase, or AR filter, you can allow your audience in this way to add a little of your business to their Instagram Stories.
AR filters are a good starting point, and they can be used during a specific season, or to better showcase your product or the usage of your product.
9. Focus on Community Management
When talking about your presence on social media, it's more than just what you post on different platforms. It's true, you need to be consistent and active on social media, but that's not enough.
That double tap on your posts also comes from the interaction with your followers, and engagement stems from how much you concentrate on their needs. Building relationships with your audience will keep them engaged and loyal to your brand.
SocialBee can help you out with that, through the Community Management service.
Our social media specialists are ready to interact and drive meaningful interactions with your Instagram audience by initiating interactions and replying to any comments and messages you receive.
Grow your follower base in time with SocialBee's Community Management service!
By having a strong and engaged community on Instagram, a brand can strengthen its online presence, build brand loyalty and ultimately drive more sales.
10. Create and Share Relatable Memes
Sharing memes has become a common practice among millennials and Gen Z. Memes appeal to humor, and the various situations they expose make them relatable. And when there's room for that, users feel like they're a part of something.
Creating and sharing relatable memes can simply help with your engagement rate. Relatable content encourages users to like, comment, and share the posts with their friends. Not to mention, it can also bring your brand one step closer to going viral. And the more Instagram users see your post, the better.
11. Post Instagram Stories & Instagram Reels
Instagram Stories and Instagram Reels are known for boosting engagement, and you can use them to their full advantage in very creative ways.
Through Instagram Stories, you can start a conversation with your followers. You can share on your Stories different parts of your working day, ask your followers a question or just showcase a new exciting offer you want to share with them.
Reels are videos similar to what you see on TikTok and are available on the Explore page. The short audio and video files can quickly catch the attention of users and thus, get shared in an instant.
Do you want to know a little secret? You can make the process faster and easier with Instagram templates, and post your Instagram Stories with the help of SocialBee. Find out how by starting your 14-day free trial now.
Access 30 Free Instagram Story Templates!
Access free, customizable Instagram Story templates for quicker content creation.
12. Host Giveaways
Wondering what other posts could help you out and bring more engagement? Giveaway posts are a good start, since we all like a little treat from time to time, especially when it's for free.
Giveaways are a fast way to spike your engagement rates, especially if you add some simple rules. These rules can include liking, commenting, tagging other friends, or sharing the post on an Instagram story.
However, make sure you take into consideration all the rules and offer a service or a product that is relevant to your audience.
13. Boost Your Instagram Posts
You must've seen those "Sponsored" posts at least once on your Instagram feed. Getting your posts in front of your audience is also great for your engagement rates. They can boost your number of followers, and thus help you with the engagement on your page.
So, how do you go around boosting your posts? With the help of Instagram ads. 
Here are a few types of Instagram ads you can use:
Image ads
Video ads
Carousel ads
Stories ads
Explore ads
Shopping ads
Of course, you can also opt for ads tailored for reels, or collections, depending on your business needs. Advertising your products or services on Instagram can reach exactly the followers you wish, which is why allocating some money for this is advisable.
14. Use Relevant Hashtags & Geotags
Hashtags and geotags can also bring a high engagement rate to your account. However, using just about any hashtag won't do the trick – you need to use those that are relevant to your community. Reaching niche communities is not a bad idea either, so make sure you research your hashtags properly.
If you're not too keen on the idea of typing each hashtag whenever you make a post, we've got you covered.
SocialBee offers a hashtag collection feature that allows you to save your most used hashtags into collections.
Start your 14-day free trial now!
15. Tag Other Accounts
Tagging other accounts and other businesses can bring more credibility to your brand, and not only. Building brand and user relationships is an important step in your social media strategy, as it gives your business more exposure and recognition.
A tag can also bring more transparency in the case of a partnership – if you're working with a specific brand, make sure to tag them and let your audience know about them. Tags can also work as online elements of "word-of-mouth", so don't hesitate to use them.
Tag other accounts through SocialBee's tag feature by starting your 14-day free trial today.
Bonus: Monitor Your Instagram Strategy
Wondering how to get Instagram insights? Good social media tools will provide you with in-depth analytics.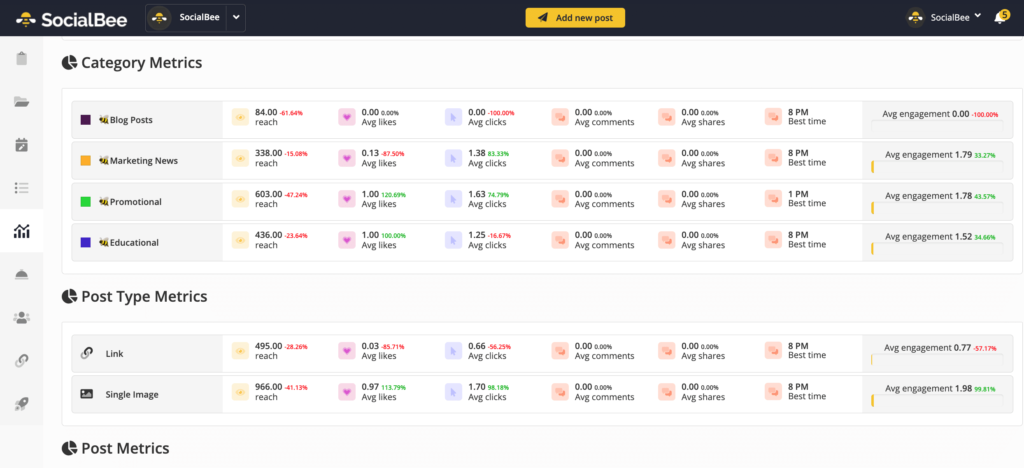 Have access to your reach and engagement data, look at your activity and audience status, and discover your best-performing Instagram posts from one place.
Start your 14-day SocialBee free trial!
Knowing how your posts perform gives you a good idea of where your engagement rate stands and what you can do to improve it.
You can check details such as:
Audience status

Activity status

Top-performing posts
Frequently Asked Questions (FAQ)
1. Why Don't People Interact with My Instagram Content?
People may not be engaging with your Instagram content for a variety of reasons. 
Several potential factos for low engagement metrics include:
Your target audience does not find your information engaging or relevant
Your content is not well-crafted, aesthetically appealing, or of high quality
You are posting at a bad time since your audience is not available
You don't use location tags or hashtags that are relevant
You need to enhance your account by adding a concise bio, profile photo, and contact details
You are not engaging with your audience or other accounts on the platform, which can make it difficult to build a following
Your account is private which limits the visibility of your content
Your account is brand-new, and you don't yet have a sizable followed base
It's crucial to take these things into consideration and, if necessary, change your content, publishing schedule, and account optimization. It may also be helpful to analyze your competitors and see what they are doing differently and to always keep a close look on the changes in the Instagram algorithm.
2. What Is the Best Time to Post on Instagram for Higher Engagement?
Depending on your target audience and their habits, certain times of the day might be the best for posting on Instagram to increase interaction.
However, these are some of the periods on Instagram that often see the highest engagement: Monday, Tuesday and Wednesday between 11:00 AM and 02:00 PM, and Saturday at 10:00 AM (EST).
It's crucial to remember that these are only general recommendations, and it's better to try various publishing times to see when your particular audience is most engaged. You can plan your posts for the most interaction by using SocialBee's built-in Insights function to check when your followers are online.
3. Is 10% a Good Instagram Engagement Rate?
On Instagram, a 10% interaction rate is seen as very good. It indicates that out of every 100 individuals who view your content, 10 respond to it in some form (e.g. liking, commenting, sharing, etc.). A greater engagement rate shows that your audience is responding favorably to your material and that you are connected to them on an emotional level.
The engagement rate might vary based on the industry, specialty, and the kind of material you upload, so it's vital to keep that in mind. Compared to other sectors or niches, some have greater engagement rates. Additionally, an engagement rate of 10% is seen as favorable, although there are other metrics for success on Instagram, including likes, comments, shares, direct messages, and website traffic.
Increase Instagram Engagement with SocialBee
Increasing your Instagram engagement rate shouldn't be a daunting task. It can be quite a fun task, as long as you respect some simple rules and let the creativity flow.
Not to mention that social media management tools allow you to achieve your Instagram engagement goals with features that make it easier for you to create a diverse mix of posts and schedule them at the best times. With SocialBee you can create, schedule, and share single-image posts, multiple images (carousels), videos, and stories to Instagram from one place.
Start your free 14-day trial today and use SocialBee's features to boost your Instagram engagement!
SocialBee: Your AI-powered Instagram management tool
Create posts, publish, analyze, engage and collaborate, all from SocialBee.