Social media sites are no longer limited to networking, marketing, and advertising. Today, they have evolved into important customer support channels, enabling brands to meet their customers where they are and answer their questions swiftly. 
Unfortunately, while many brands have adopted social media customer service, they struggle to provide an omnichannel experience, leading to confusion and frustration. 
The Importance of Good Customer Service
Customer service is vital because it helps you retain customers and increase their lifetime value to your business. By providing outstanding customer service, you can make good your acquisition costs, build a loyal user base that will also refer new customers, and provide testimonials and reviews to create social proof.
The power of good customer service has been reiterated in various surveys. According to Salesforce Research, 78% of consumers will give you repeat business even after a mistake if your customer service is good. HubSpot Research adds that 93% of customers are likely to make a repeat purchase if your customer service is excellent. On the flip side, a customer is four times more likely to switch brands if they're having service-based issues with a company.
Clearly, all customers want an outstanding customer service experience, but how do you go about meeting your customers' evolving expectations? Typically, speed and reliability are the two cornerstones of good customer service. However, you need to go beyond these two factors to deliver an outstanding experience. Therefore, it is crucial to develop a customer-centric culture across the organization, urging employees to provide fast support and curate memorable conversations with customers.  
It is also vital to empower your customer service teams with the right technology. For instance, an advanced live chat software with co-browsing and video chatting options can help provide real-time support and humanize your customer service. Some important customer service tips to improve the level of your customer service include treating your customers respectfully, without wasting their time, and training your employees in skills like empathy and active listening to ensure positive user interactions.  
Benefits of Using Social Media for Customer Service
In today's fast-paced world, it is critical to meet your customers where they are and cater to their needs proactively to give them a reason to stick with your brand. The growing popularity of social media has turned it into an important platform for support, which, when done well, also improves your social media marketing ROI. Yes, customer support on social media serves as a marketing tool while ensuring speedy query resolution, too. But that's not all. There are several other benefits of customer service on social media, such as:
1. Social Media is Fast 
Social media is the perfect place to engage your customers directly. It makes it possible to ask questions and receive answers swiftly, without jumping through unnecessary hoops. Consumers can instantly connect with the members of your team using social media. Besides, an empathetic approach by your service agents will win your company a lot of praise, as most issues are resolved publicly.
Unfortunately, companies often avoid answering queries on social media, thinking it would lead to a bad rep. On the contrary, when handled correctly, such issue resolution can be a real win for your brand. By responding publicly to a customer's complaint, you show that you care for them. 
Simple things like reacting quickly and trying to resolve the issue genuinely, putting your customers first, and dealing with the worst of comments positively show genuine concern, something your consumers will surely appreciate. 
2. Reduced Customer Support Calls
Customer service on social media is in the public domain. Thus, an exchange between a company and a customer can be seen by anyone visiting the page. This means any information shared on social media is widely broadcasted and may reduce the number of repeat queries received by your team. 
 3. Word of Mouth Publicity
When customers are happy with your service, they talk about your brand, adding to your customer acquisition efforts organically. Naturally, when you treat customers with respect on social media, they talk about it, and your efforts are noticed by other users visiting your site. This improves your customer experience, brand image, boosts loyalty, and even adds to your company's bottom-line through increased sales.
4. Increased Opportunities for Social Listening 
Proactively listening to what consumers are talking about your brand can help you engage them better. With AI-based tools, you can filter thousands of comments, reviews, and social media mentions to gauge the general opinion about your brand, figure out the common problems and resolve them by posting relevant content your social media handles.  
5 Mistakes to Avoid While Using Social Media for Customer Service
Social media customer service is undoubtedly faster, efficient, and more convenient than traditional modes of customer service like phone or email. Consequently, most brands provide customer support on social media, but many find it challenging to grapple with the speed and sheer volume of requests on social media.
For instance, there was an incident when a frustrated customer tweeted about his poor experience and lost luggage on a British Airways flight. However, BA did not dignify his Tweet with a response, which caused him enough anguish to use Twitter's paid services to promote his Tweets to BA's followers. He also started retweeting the poor customer service experiences of other BA users. 
Subsequently, BA responded to the promoted Tweets, but it took them 8 hours to do so. Furthermore, after the long delay, BA sent a response to the customer saying they couldn't send him a personal Twitter message because he did not follow them on Twitter. The response further irritated the customers who claimed it wasn't true and asked if BA had bothered to check. 
The result of this exchange was that thousands of BA customers were made aware of the poor experiences of several customers, and they also realized the callous attitude of the company towards its customers, leading to negative brand image and perhaps loss of trust from some previously loyal customers.
In this section, we have rounded up some common social media mistakes that you can easily avoid to give your customers an outstanding service experience:
1. Jack of All Trades; Master of None
Do you have a thriving presence on multiple social media channels? That's great. But what are the chances your marketing and support teams are listening to people?
When it comes to marketing, it is easy to manage multiple handles because a single person can use a digital marketing tool to schedule posts across various platforms. 
But when it comes to responding to customers, it requires an expert team to man each channel and personally respond to individual comments to solve issues effectively. Therefore, it is often a better approach to pick one or two popular social media platforms, like Twitter and Facebook, and concentrate on providing speedy and efficient support rather than providing multiple channels that are left unattended. Or, investing in a multichannel solution for customer service teams could seamlessly let you handle queries that you get across multiple channels, without the burden of losing out on important customer queries.
2. Ignoring Negative Mentions
According to a Twitter Marketing Report, "When a customer Tweets at a business and receives a response, they are willing to spend 3–20% more on an average priced item from that business in the future."
Responding to user queries and comments – whether negative or positive – is essential. However, the way you deal with complaints and negative mentions speaks volumes about you as a company. A simple apology, requesting more feedback, or offering help to make things better can quickly turn around a negative experience into a positive one.
The customer is always right – this is the golden rule of customer service. Yet, you don't have to promise a freebie or discount each time a customer posts a problem. Rather, you need to delve deeper into the issue and resolve the problem from its root.
Sometimes, there may not be a solution to the problem. Still, the customer is visibly agitated due to some action, and your customer support team can make things better by posting an empathic response like Starbucks did in the below example to diffuse the customer's anger and frustration.
3. Impersonal or Automated Responses
Using automated responses to handle customer queries on social media isn't a great idea. It is okay to use a chatbot to respond to users who connect with you during off-hours on other support channels. However, using a bot or responding to customers in an automated, impersonal voice on social media is a mistake you don't want to commit. Remember, every social media interaction is public, and writing a well-thought-out response to user queries can help improve your brand image.
4. Responding Privately to Comments
Whether a customer reaches out to you privately or publicly, it is often best to resolve their issues publicly. This helps in two ways. First, it allows customers with similar queries to read the exchange, reducing repetitive complaints. Second, it shows you take every comment or inquiry seriously, ensuring a solution is found to every question on your page.
5. Not setting Up a Separate Channel for Customer Support
Some businesses use a separate social media account for customer service. For instance, Nike uses @NikeService, a dedicated Twitter page for answering customer queries. The advantage of such an approach is that it helps customer service teams by organizing and flagging the issues on a single handle. To increase the reach of your account, you may include a link to it on your company's main page, directing users where to head for filing a complaint or sharing feedback.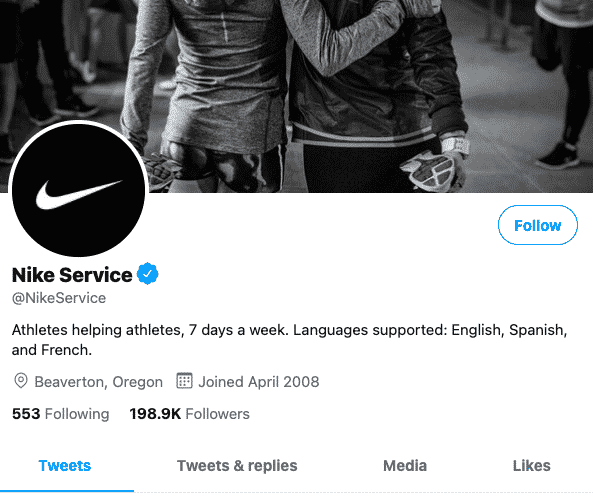 Final Thoughts
Social media customer service is all about providing users with speedy and efficient responses to their queries. However, that doesn't necessarily mean you'd have a solution to every question posted on your page. Instead of being pompous, you need to be humble and understanding, which is what consumers expect from the brands they love – a human connection. 
If you don't have a solution, request the customer for more time and promise to respond as soon as possible. However, make sure you don't keep the users hanging by not responding to their comments or failing to close the loop on ongoing conversations. 
Overall, it is essential to have a clear strategy to prioritize what's important and how to deal with customer complaints to succeed on social media. Instead of creating too many channels, create a clear SOP and focus on one or two channels to prevent user frustration and anger. 
Surya R. Pandita is a digital marketer at Acquire. He is always on the lookout for new optimization strategies and loves to create actionable content. Ping him at surya.pandita@acquire.io or on LinkedIn.