Social media is the fastest-developing corner of the Internet. According to statistics, Youtube and Facebook are firmly in the top 10 of most visited websites worldwide. As for Instagram, it has a user base of over 1 billion people. 
These platforms offer business owners opportunities worth leveraging. Creating brand pages, running ads, and posting engaging content is crucial for increasing brand awareness and keeping the level of customer satisfaction high. 
On the other hand, there are tried-and-true marketing channels that don't get a lot of hype lately – such as email marketing. As a social media marketing manager, you might wonder whether email campaigns are still worth running. 
The short answer is – yes. Other than that, email campaigns can strengthen your social media management strategy. In this post, we will take a look at how marketers can turn email subscribers into social media followers and how social can help teams increase their email deliverability rate. Let's get to it!
Social Media Strategy Template
Streamline your marketing with an efficient social media strategy template.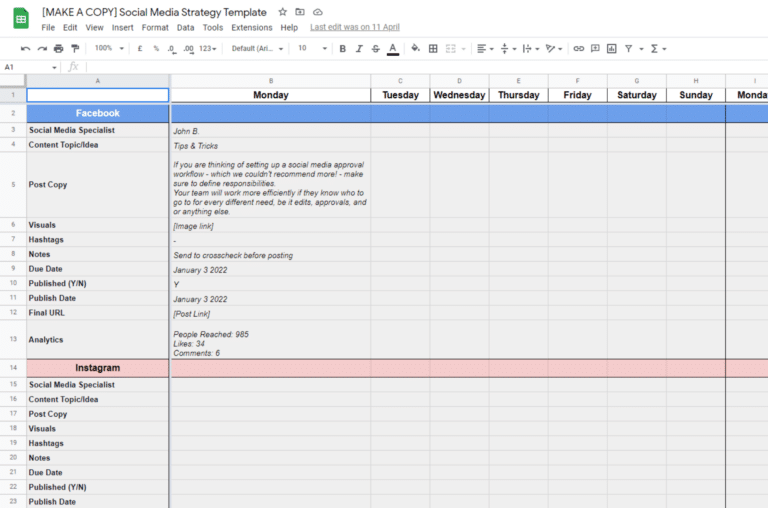 Email Marketing Effectiveness in 2022: Statistics
Compared to social media, the marketing toolset emails offer might seem limited. Indeed, there's no way to handle email list segmentation with the precision allowed by Facebook Ad Manager or Youtube Advertising – however, does it mean that email marketing has nothing to offer? 
To demonstrate the value of email marketing for B2C and B2B marketing teams, we collected a few eye-opening statistics on emails:
73% of Internet users

among millennials prefer to use email for business communication and getting promotions over social media. 

80% of marketers and business owners

have firsthand experienced the impact of email marketing on customer retention. 

Email marketing engagement is growing exponentially – over the last year, people interacted with business emails 72% more than they used to. 

The number of email users worldwide is

nearing 4 billion

– by 2022, the number is expected to surpass 4.3 billion.

The average return for each dollar spent in an email marketing campaign is

$42

. 
These data points prove that email is as relevant in 2022 as it used to be in 2012. If marketers take their time to create a relevant, well-researched email list, nothing is standing in a way of a successful campaign. 
How can we get in touch with people who would be happy to get emails from the company? The good news is – social media can help. 
5 Ways to Use Social Media to Build Email Lists
As a social media manager, you have a lot of powerful tools at your fingertips. Make sure to use these resources to attract as many people as possible not just to the company's Facebook or Instagram page but to the email list as well. 
Here are 5 straightforward list-building tactics social media managers can use to encourage prospective clients to sign up for newsletters as well. 
1. Run ad campaigns that encourage signing up for the newsletter
When asked about newsletters, most people reply that they hate them and send these messages straight to spam. 
However, marketers remark that there are businesses whose letters catch their eye (e.g. Coursera or Hubspot) – all because they are value-driven. 
Source: Social Media Today
If your email marketing team is running an engaging email campaign like a value-based newsletter, make sure to spread the word about it on social media. Running a campaign advertising the most relevant posts from your blog is a smart way to introduce the brand as an industry expert. 
Make sure there's a "Sign up" button on the page where a user lands – this way, after reading valuable content types, a website visitor will be more likely to sign up for a newsletter. 
2. Speak up about the newsletter directly
If going the roundabout way is not your team's approach to marketing, consider being as direct as possible about newsletter promotion on social media. Publish a post (or run an ad) describing the benefits of getting your company's emails. 
There are several ways to promote a newsletter on social media:
Convenience – following a corporate newsletter is a way to not miss out on the latest updates.

Exclusive insights – the emails sent on the brand's behalf will feature insights the company doesn't share on the website or social media. 

Visibility – using brand identity consistently helps to

differentiate yourself from competitors

.

Bonuses and perks – social media users who follow a newsletter will get access to coupons,

proactive support

, and other convenient upgrades. 
Here's an example of how Campaigns & Elections promoted a newsletter on Facebook – the company promised subscribers an inside, exclusive look at the election. 
Source: Facebook Ads Library
3. Run contests to get emails
"We make a living by what we get, we make a life by what we give" a saying goes. It's an important point for marketers to keep in mind – sharing knowledge, value, even product samples for free helps prolong the brand's longevity and connect with more prospective clients. 
Hosting giveaway contests on social media is a smart way for business owners to get ahold of prospective clients' email addresses. However, adding email addresses will do no good unless you validate them, which is possible through Google Sheets email verification.
Before you start promoting a giveaway, make sure it respects the following rules:
Ease of entry – there are no specific requirements for joining the competition. To get people's emails, you can ask participants to fill in a short sign-up form created with Google Forms or Typeform. You can also use a Google Forms alternative.
A prize that appeals to

what the audience wants

. It can be a product, a free one-on-one consultation (excellent for education businesses), or a chance for a winner to get exposure and recognition. 

The element of luck. Although throwing a fully randomized contest isn't the greatest idea (this trend peaked in 2015-2016 and, since there was a lot of fraud associated with these contests, people are wary of participating), giving two-three small rewards to random participants is still worth considering as it levels the playground for entries. 
4. Use social media to promote lead magnets
Sharing e-books, white papers, or other forms of long-form content are one of the most efficient ways to build email lists. If you want to give a lead magnet an extra exposure boost, how about generating buzz via social media? 
Create an ad post and share it with prospective clients via Facebook, Instagram, or Youtube. Here are a few lead magnet ideas social media users love interacting with:
Free online courses

Cheatsheets and checklists. 

Ebooks and white papers.

Free reviews and consults.

Podcasts or exclusive video content. 
Take a look at how Shopify leveraged the power of Facebook Ads to promote its lead magnet – a chance to get a store reviewed by an e-commerce expert. 
Source: Social Media Today
5. Add a sign-up button directly to the Facebook page
Last but not least, there are hassle-free strategies for integrating email marketing and social media promotion. If you don't want to lose the trust of your followers and don't have a budget big enough to run targeted ads, how about adding a "Subscribe" button to the Facebook Page. 
Here's a brief guide on how you can set this up:
Choose the

button with the 3 horizontal, parallel lines on Facebook;

Go to Pages and choose the page of the brand. 

Click on Add a Button. 

Enter a call to action and put a link to the subscription form. 

Choose "Save". 
Source: Nail Patel
When you revisit the page, you should see a brand-new CTA button next to the cover photo. 
3 Strategies For Using Email to Increase Social Media Follower Count
You already found out how social media marketers can use their platform to fuel successful email marketing campaigns. The good news is, the time you invest in attracting newsletter or promotion email subscribers will eventually pay off as new social media subscribers. 
Here are three easy-to-implement ways to convert email readers into social media followers: 
1. Send emails that encourage staying in touch on social media
Chances are, the majority of your email subscribers wouldn't mind staying in touch with the company via social media as well. 
Use email as a chance to remind readers to join the company's active community on Facebook or other platforms. 
Don't beat around the bush – be straightforward and clear in your copy, just as Fruit Loops is in this lovely email.
Source: Campaign Monitor
2. Upload the emails of your subscribers to social media and run targeted ads
Having a robust email marketing list allows marketers to fully leverage the power of Facebook or Instagram retargeting. By creating a separate audience comprised fully of email subscribers, marketers will be setting the ground for a high-return social media marketing campaign. 
Other than that, social media managers can use Facebook Custom Audiences to find users similar to the brand's email subscribers by interests and online behavior. 
3. Add social media accounts to the signature
Sharing your socials with prospects, clients, and partners by linking them to the signature is a subtle yet efficient way to create a connection between two marketing channels. 
Source: MailSignatures
You can either put social media links directly to the signature or place them in the footer of the letter. 
Conclusion
Instead of putting social media and emails at rivalry, marketers should make the most out of both and enjoy the fruits of marketing synergy. Using Facebook and other platforms to gather email addresses helps teams create and segment reader lists. Similarly, email marketing is a powerful source of engaged social media followers. 
Make sure to create a link between emails and social media – this way, there will be more opportunities for prospective users to connect and stay in touch with the brand. 
Andriy Zapisotskyi, Growth Manager at Mailtrap
Andriy is a Growth Manager at Mailtrap, a product that helps people inspect and debug emails before sending them to real users. He has over 5 years of experience in the field of marketing & product. Andriy loves to network with people. Running is his hobby and he enjoys discovering new places. You can connect with Andriy via Linkedin or Facebook and share your feedback on the article directly there.