If you want to use your LinkedIn profile to generate more business leads and find better business opportunities, there is one thing you should consider first—LinkedIn endorsements.
Don't make the mistake of overlooking this feature. Even though it looks like a small detail on your LinkedIn profile, it carries a lot of weight and value. After all, details make the difference.
So, keep reading to find out how a simple practice can help you generate more LinkedIn leads, optimize your business profile, and boost your overall LinkedIn social media strategy.
Genereate More Leads with Less Effort—Post on LinkedIn with SocialBee!
What Is LinkedIn?
LinkedIn is a social media platform for businesses and professionals across the globe. It allows users to find business opportunities, network with potential partners and clients, recruit new talent and build authority within their industry.
How LinkedIn Benefits Your Social Media Strategy
As of 2022, LinkedIn has more than 774+ million members. Moreover, 58 million businesses have LinkedIn profiles. So, it's safe to say that here you can find an audience for any niche on the market.
Here are the main benefits of having a LinkedIn account:
LinkedIn is the perfect platform

to find business opportunities and connect with users that are a part of the same industry.

It's a social media channel where you can gain credibility and establish yourself as an industry leader.
LinkedIn is a great way to generate more leads for your products and services. In fact, 52 percent of consumers recognize LinkedIn as the social media platform with the most influence in their research process.
Now that you know how important LinkedIn is for your social media strategy, it's time to get to the real reason why you are here—LinkedIn endorsements.
So, let's start with the basics of skill endorsement!
What Is a LinkedIn Endorsement?
The LinkedIn endorsement feature allows users to advocate for the professional skills and knowledge you presented on your profile.
To endorse someone on LinkedIn, all you have to do is go to their profile, scroll down to the "Skills & Endorsements" section and click the sign next to the most relevant skills you want to vouch for. 
The number you see next to each specific skill shows how many times a specific ability has been endorsed by other users.
However, you have full control over your LinkedIn endorsements. You can even decide if you want to have this LinkedIn feature at all. All you have to do is go to your endorsement settings and make the appropriate changes.
Moreover, you can also pick and choose which endorsements appear on your profile.
The Importance of a LinkedIn Endorsement
The truth is that there is no real reason for you not to use endorsements in your LinkedIn marketing strategy. After all, they provide credibility and create a strong profile that can make a great impression on employers and potential clients.
It goes without saying that your skills are not determined by how many endorsements you receive, but it's proof that you have demonstrated your knowledge and abilities throughout your career.
What makes endorsements so impactful is that they come from people that have nothing to gain from validating your professional experience. So, when someone goes to see your LinkedIn profile and top skills, endorsements matter. 
While knowing how to promote yourself on LinkedIn is important, what you write won't carry the same weight as having the approval of other professionals with an objective point of view. 
So, it's essential for you to learn how to get more endorsements.
Just think about the way you choose the people or businesses that you plan to collaborate with. You probably check their website and social media profiles first.
However, no matter how much you like their online presence, you probably still check reviews and testimonials to ensure that you are making the right decision.
Key Takeaways:
LinkedIn endorsements act as any other reviews or testimonials
LinkedIn endorsements are social proof elements that validate your skills and professional experiences
LinkedIn endorsements happen organically which gives them more credibility
LinkedIn Endorsements vs LinkedIn Recommendations 
While giving endorsements on LinkedIn only requires users to click a button, offering recommendations to other LinkedIn users involves writing a statement that briefly summarizes your experience with them. 
Moreover, for it to be a meaningful recommendation, you also have to emphasize their strong points and mention the benefits they can offer to future business partners.
Therefore, it takes more time and effort than using the LinkedIn endorsements feature. So, it's easier to get endorsements on LinkedIn than it is to obtain recommendations.

How to Get Skill Endorsements on LinkedIn
When it comes to gaining LinkedIn endorsements, there is no secret recipe. It's more like a combination of practices that will get the attention and appreciation of other LinkedIn users and fellow professionals. 
It's not enough to know how to ask for skill endorsements, you also have to know how to present and promote yourself on the platform.
Let's explore the five practices that will help you get LinkedIn endorsements:
Display your most critical skills on LinkedIn

Maintain a consistent LinkedIn presence 

Ask for LinkedIn endorsements

Promote your LinkedIn account

Give other users LinkedIn endorsements in return
1. Display Your Most Relevant Skills on LinkedIn
The obvious first step in getting LinkedIn endorsements is to list your top skills on LinkedIn. Make sure you add at least five skills that are important to the business opportunities you are looking for in the future.
You can add up to 50 LinkedIn skills, so if you have them, flaunt them.
It's always essential to be honest, as you will have to prove your skills and knowledge at some point in time.
If you are having trouble identifying your greatest abilities, try to think about times in your career when people from your job showed their appreciation for your work. And remember, include only skills that will emphasize your work experience—too many random choices will raise red flags.
2. Maintain a Consistent LinkedIn Presence (On Top of LinkedIn Endorsements)
A great way to showcase your knowledge is through social media content. From sharing industry-related articles to promoting your webinars or events—the opportunities are endless.
There are so many ways you can prove your skills on LinkedIn, you are not limited to your profile or LinkedIn endorsements. 
Rather than telling your audience what you are good at, you can show them through your content. As a result, you will also provide your LinkedIn connections with valuable information.
To get endorsements on LinkedIn, you need to prove yourself as a valuable source of information. To do this, you must research your target audience, find out their challenges and desires and give them the information they need.
In this way, you will not only help them, but you will also demonstrate your abilities and give them a reason to endorse specific skills.
A. Post Regularly on LinkedIn
Aside from the quality of your content, you also have to pay attention to your posting schedule. More exactly, the frequency and timing of your posts.
The ideal posting frequency for LinkedIn is three times a week. You can also post every working day from Monday to Friday, but more than that would be too much for the platform. After all, you don't want to spam your LinkedIn connections.
When it comes to scheduling posts, the best time intervals for sharing content on LinkedIn are between 8 – 9 AM and 2 – 3 PM — during working hours and lunch breaks.
Optimize Your LinkedIn Posting Schedule!
Download the Best Times to Post on Social Media sheet and start adjusting your content calendar for maximum engagement.
B. Use a Social Media Management Tool like SocialBee
With a social media management tool, you can maintain a consistent posting schedule on LinkedIn that will help you reach and engage with more people than ever before.
Remember that, LinkedIn users that post regularly get 5x more page views, 7x more impressions, and 11x more clicks per follower.
So, if you want to optimize your LinkedIn marketing strategy in a time-effective way, use SocialBee to create, edit and post content from one place.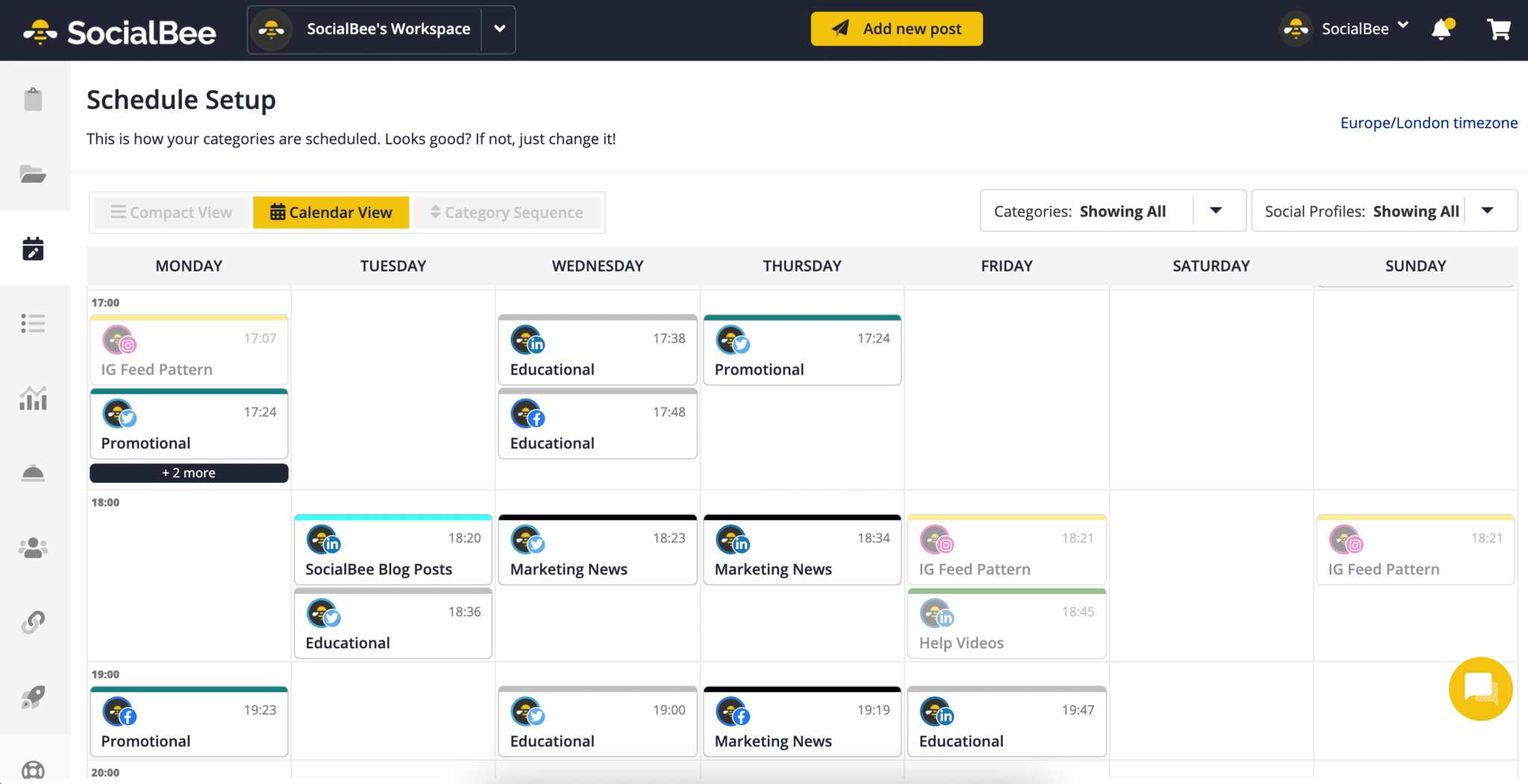 Personalize your content and posting schedule specifically for LinkedIn with no effort.
Start your 14-day free SocialBee trail today!
Also, with SocialBee, you can create post categories to organize your social media content by topic—this will allow you to schedule posts based on their categories. As a result, you will maintain a consistent LinkedIn social media presence while diversifying the content you share for your audience.
Here are some more SocialBee features you might find useful:
Canva integration: Design and import your social media visuals directly from SocialBee's content editor.
Unsplash and GIPHY integration: Curate stock-free images and interactive GIFs without leaving the SocialBee platform.
Hashtag generator and hashtag collections: Let SocialBee generate relevant hashtag suggestions based on your content. Stay organized by grouping all your hashtags in collections dedicated to your LinkedIn posts.
RSS import: Share your insightful blog content with your LinkedIn audience. SocialBee can automatically generate a social media post for every new article published on your blog.
Evergreen posting: Recycle your best performing posts by requeuing them in a continuous loop.
Post variations: Do you have an important post you would like to share on all your socials? Use SocialBee's post variation features to customize your content for every social media platform with ease.
Social media analytics: Keep track of your social media performance from SocialBee.
Post on LinkedIn with SocialBee!
3. Ask for LinkedIn Endorsements
Another simple way to obtain skill endorsements is to, well, ask.
And if you are not sure about the best way to go about it, we are here to teach you how to ask for endorsements on LinkedIn in a polite and effective manner.
Start by writing a short and customized message to your LinkedIn connections. The key is to show that you value their opinion by personalizing the text to fit the nature of your relationship.
For example, if you collaborated with one of your LinkedIn connections, you could briefly mention that experience.
On the other hand, if you are writing to a connection that you haven't worked with before, you can start by asking them if they enjoy your content. Then you can shift the conversation and mention that it would be a pleasure to receive an endorsement from them. 
In this way, you will show that you value their opinion specifically and motivate them to act upon your request.
Remember to avoid generic messages at all costs, as it would make you look opportunistic and ungenuine. 
4. Promote Your LinkedIn Account
If you want to gain more endorsements, you also need to focus on connecting with more LinkedIn members.
Here are three simple ways to promote your LinkedIn account:
Start by featuring your LinkedIn on your website by adding visible social media buttons.

Use your other social media platforms to add links to your LinkedIn profile through posts or your account bio.

Initiate connections on LinkedIn. Send requests every week until you are happy with the size of your platform. 
In case you don't have enough time to create new LinkedIn connections, you can always invest in a LinkedIn Lead Generation service. 
Get started with SocialBee's LinkedIn Lead Generation service and grow your LinkedIn network faster than ever before!
SocialBee's social media specialists can do the work for you, from initiating connections to sending out connection messages and follow-ups—everything will be taken care of.
5. Give Other Users LinkedIn Endorsements in Return
You don't have to wait for people to endorse you—be the one that initiates the process.
Look through your LinkedIn connections and pick the ones that you are most familiar with. Then, go to their  LinkedIn profiles and endorse the skills that, in your opinion, represent them the most. This unexpected and kind gesture might encourage them to do the same for you.
Just because they didn't endorse you first, it doesn't take away from the value of their act. Maybe they didn't even pay attention to the endorsing feature before that moment. 
Endorsing other users has only benefits. Not every person you endorse will do the same in exchange, but it will certainly help you raise your numbers. And who knows, as a result of this small act, you might start a conversation with potential clients and find new business opportunities.
Get More Endorsements for Your LinkedIn Skills 
LinkedIn can offer great opportunities to connect with customers and business partners across the globe and it also helps to find your prospect leads by using an email finder tool. It would be a shame not to optimize your profile, especially when it involves such a simple but impactful strategy.
Through LinkedIn endorsements, you make sure you put your best foot forward and establish yourself as a trustworthy business professional with a lot to offer.
So, don't waste any more time, and get ready to elevate your LinkedIn marketing strategy.
Don't forget to use SocialBee to create, schedule, and post your content with ease. Take advantage of SocialBee's 14-day free trial to generate more leads with less effort through your insightful content.
Post on LinkedIn with SocialBee!