Getting to know how to get verified on TikTok account has become a big goal for many. The blue checkmark is more than just something to brag about; it can open many doors to larger opportunities. 
Obtaining TikTok verification requires dedication and hard work, but it can deliver tremendous benefits to those who strive for it.
In this article, we'll explore what TikTok verification is, the requirements, the potential benefits, and the steps one can take to obtain it. You will also find tips to increase your chances of gaining that sought-after verification, along with answers to frequently asked questions about the process.
So, let's get started!
Short Summary
TikTok verification is a process that verifies the identity of an account and grants it a verified badge to benefit from increased visibility.

Being verified on TikTok can provide many benefits such as enhanced trustworthiness, reach, and engagement.

Creators can request verification on TikTok by navigating to their profile settings and following the provided steps while meeting certain requirements.
Free Editable Social Media Strategy Template
Get the social media strategy template you need to audit and plan your marketing efforts for maximum results.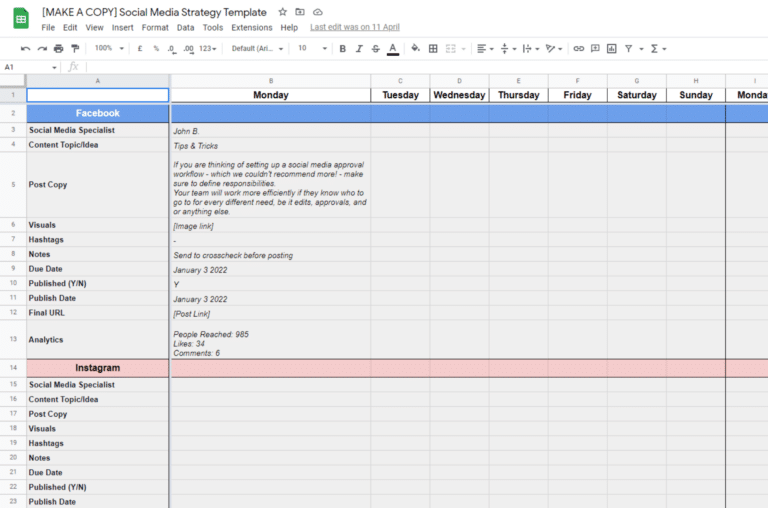 What is TikTok Verification?
TikTok verification is a process by which the platform verifies the identity of an account and grants it a verified badge. This badge serves as a public signifier that the account is authentic, ensuring that followers can trust the account's content and that it belongs to the person or entity it represents.
To obtain TikTok verification, users must submit an application, although the platform reserves the right to decide who receives a verification badge. This badge is represented by a blue check mark symbol next to the username in search results and on the profile, and obtaining the badge is free of cost.
What Are the Benefits of Being Verified on TikTok?
Certifying that your account belongs to you can mark the start of a great adventure on TikTok. Have you ever wondered why so many wish to be the owners of verified badges? 
Here are three benefits of being verified on TikTok:
Increased authenticity

Better engagement

Less impersonation
1. Increased Authenticity
A verified badge on TikTok indicates that an account is authentic and belongs to a notable public figure, celebrity, brand, or organization. This is important as it serves as a validation of a brand's reputation and trustworthiness. 
Having a verified badge on TikTok can enhance authority and authenticity.
2. Better Engagement
Having a verified badge on your TikTok account can increase reach and engagement as the algorithm is more likely to prioritize the account, thus increasing the probability of organic engagement and potentially gaining new followers.
Here are some tips to increase the chances of getting verified on the TikTok app:
Achieve virality

Gain media attention

Create unique content that resonates with an engaged audience

Attain verification badges from other social media platforms 

Generate videos that

sustain viewership

over an extended period
3. Less Impersonation
A verified badge means that you set your account apart from fraudulent or impersonator accounts that try to mimic your identity or brand. With a verified badge, you establish clarity for your audience, reducing the likelihood of confusion or deceptive actions.
How Many Followers Do You Need to Get Verified on TikTok?
There is no specific follower or view criteria for TikTok account verification. Creators can request verification within the app and provide evidence of why they should be granted a badge.
When verifying accounts, TikTok's primary objective is to ensure their authenticity. Having a substantial following and engagement can improve the prospects of being verified. 
Going viral on TikTok can also generate heightened activity and engagement, which are important metrics that TikTok evaluates when verifying accounts.
Adhering to the social media platform community guidelines and terms of service is imperative when attempting to become verified, as not doing so can adversely affect your chances of being verified. 
Verification status is most commonly given to celebrities, brands, and influencers. Other users may not generally be granted this opportunity. It is not recommended to acquire verification from a third-party site.
How to Get Verified on TikTok
Gaining verification on your TikTok account is a great way to increase your presence and credibility on the platform, but it's important to remember that it takes more than just having followers. 
In order to get verified on TikTok, one must demonstrate consistent follower growth and create content regularly. It is also recommended to start the verification process on other social media platforms before attempting to gain verification on TikTok.
Here's how to send a TikTok account verification request:
Open the TikTok app

Select your profile

Tap the menu button

Select "Settings and privacy"

Select "Account" and then "Verification"

Follow the provided steps in the app to submit a verification request
It is also imperative to remain patient when attempting to gain verification on TikTok as it is not guaranteed and may necessitate multiple attempts before a verification request is successful.
In addition, it is necessary to be able to demonstrate that the requirements for verification have been met. 
🐝
Pro tip:
To obtain verification on TikTok, you should secure media coverage for your brand, possess a verified badge on other social media websites, and incorporate links to other social media channels in your
TikTok bio
.
The verification team at TikTok can assist you in reviewing your request. You can expect to receive an update on the results within a few days.
Creators have the ability to request verification within the app, and if you are registered as a Personal Account, then you are eligible to apply for both Personal and Institutional Verifications.
5 Tips to Get Verified on TikTok
You've just learned how to get verified on TikTok. Kudos! Now it's time to take the necessary steps before you request TikTok verification. We're rooting for you!
Here are the five tips to get verified on TikTok: 
Upload high-quality TikTok videos

Be consistent

Never buy TikTok verification

Be aware of TikTok's right to revoke verification

Reach more TikTok users
1. Upload High-Quality TikTok Videos
Exploring different types of content can help to identify what resonates best with your target audience and assist in creating a unique presence on TikTok. Identifying a specialty can also help to draw, sustain, and increase your audience. 
However, creating high-quality content is easier said than done. How many times did you struggle to come up with an engaging idea for a video? If you can relate, you'll surely enjoy streamlining your content creation with SocialBee's AI post generator.
Generate awesome TikTok post ideas with SocialBee's AI post generator!
Start your 14-day free trial today!
Endowed with over 1,000 AI prompts, this generator is going to singlehandedly revolutionize the way you create content. Simply select the TikTok category, choose a prompt, or write one of your own, and be sure to take some notes. You'll be surprised to learn just how tirelessly creative artificial intelligence is!
With SocialBee's Canva integration, you can now create stunning video content for your TikTok account. Just select a template, customize it so that it reflects your brand identity, and add it to the SocialBee post creator once you're finished.
Create stunning videos for your TikTok account with SocialBee's Canva integration!
Start your 14-day free trial now!
To maximize the potential of a video to go viral on TikTok, it is recommended to consistently produce high-quality and engaging content. 
Here are three tips on how to make your TikTok videos stand out:
Engaging hooks:

Begin your video with an attention-grabbing opening that hooks viewers within the first few seconds. This could be an intriguing question, visually captivating scene, or surprising element. By captivating your audience from the start, you encourage them to keep watching and increase the likelihood of your video being shared.

Enhancing visual appeal:

Pay attention to the visual aesthetics of your video. Utilize proper lighting, clear visuals, and attractive colors to make your content visually engaging. 

Compelling storytelling:

Incorporate storytelling or present a distinctive viewpoint in your videos. Use your content to evoke emotions, share personal experiences, or offer valuable insights.
Create and Schedule Your TikTok Video Content with SocialBee!
2. Be Consistent
Furthermore, the most effective approach for acquiring media attention for your TikTok account is to concentrate on content production and remain active on the platform. 
By using SocialBee, creators can take advantage of its features that allow them to plan and schedule their TikTok videos ahead of time. This enables creators to have a consistent and regular posting schedule, ensuring a steady stream of content for their audience. 
Having a larger following can further increase your chances of receiving a verified badge, as verified accounts are required to have a minimum number of followers. Additionally, having a verified account can increase your brand's credibility and provide an incentive to engage with your content.
3. Never Buy TikTok Verification
It is not possible to purchase a TikTok verification. Any website or service claiming to provide verification in exchange for a fee should be avoided.
The process of getting verified on TikTok involves submitting a verification request, which can be done through the app. It is important to note that buying verification is not allowed on the platform. 
Once the request has been submitted, you must wait for the verification badge to appear on your profile. This badge indicates that the account has been successfully verified and will serve as a sign of trustworthiness to viewers.
4. Be Aware of TikTok's Right to Revoke Verification
TikTok verification can be revoked if the user breaches the platform's community guidelines or terms of service. Always check the official page with the guidelines and make sure that you don't break any of TikTok's rules. 
5. Reach More TikTok Users
By expanding your reach to a greater number of TikTok users, you can establish a robust and actively engaged audience. 
This leads to increased exposure to your content, a higher follower count, and greater interaction with your videos. A substantial audience showcases your influence and popularity, strengthening the case for your verification request.
Here's how to reach more TikTok users:
Embrace TikTok trends:

Stay up-to-date with the latest TikTok trends and challenges, and actively participate in them. Keep an eye on the "Discover" or "For You" page to identify trending hashtags or challenges relevant to your content. 

Collaborate with influencers: Seek out popular TikTok influencers or creators within your niche and explore collaboration opportunities. Partnering with influencers allows you to tap into their existing follower base and expand your reach. 
Engage and interact:

Actively engage with the TikTok community to build connections and attract more users to your profile. Comment, like, and share content from other users to show your support and create a sense of reciprocity. 
Frequently Asked Questions
Get Your TikTok Verified Badge!
In conclusion, getting verified on TikTok can provide many benefits and give users an advantage when it comes to visibility and trustworthiness. However, successfully obtaining the coveted verified badge is not always easy, as gaining a substantial following and adhering to the platform's community guidelines are critical factors. 
Fortunately, by following the appropriate steps, as outlined in this guide, creators can significantly improve their chances of achieving verification. Did you know that most verified accounts have a precise content marketing plan that they follow?
To start creating high-quality content consistently and post it at the best times possible, use SocialBee, one of the best AI-powered social media management tools out there. Try our 14-day free trial and see the benefits for yourself. We're keeping our fingers crossed for your monetization journey!
Create and Schedule Your TikTok Video Content with SocialBee!