"Content marketing is a commitment, not a campaign." — Jon Buscall      
The biggest mistake you can make when it comes to promoting your start-up is not having a "content marketing for small business" plan. 
How so? Well, let's just think about it for a second. 
Seeing that 82% of marketers are actively investing their resources in content marketing, it comes as no surprise that companies are choosing content marketing as one of their main marketing techniques. 
In this material, we will walk you through the steps you need to take to design a content marketing strategy for your small business.
Download the Social Media Marketing Plan!
Get the guide for creating a social media marketing plan for your business.
Why Do You Need Content Marketing for Small Business?
Before we deep dive into the concrete content marketing strategy steps, it is essential to understand why small business owners should create content in the first place.
When a business starts investing more in content marketing, one of two things can happen: it gets or it doesn't get the results it wants.
This is when some small businesses make a huge mistake and stop creating and distributing content because they think either:
They reached their goals, and investing time and resources in the content strategy is no longer needed

Content marketing doesn't work, so they might as well stop trying to implement any further content marketing ideas
In neither of these cases, you should stop making content. If you reached your goal, then congratulations. Now you can start setting new marketing goals for your business and achieve even more than you have while creating even more high-quality content.
If your content marketing campaigns aren't working, remember that most often than not, it takes time to reap the benefits of your content marketing strategy, especially when you are a small business owner.  But what are those benefits?
These are some of the benefits of focusing on content marketing:
Brand recognition
Brand trust
Becoming an authority in the field
Attracting new leads
How to Create a Content Marketing Strategy
Even though you have decided to focus your marketing efforts on creating content, there are a few things that you need to know.
Before you start building your small business content marketing strategy, you need to be aware of the following:
What kind of content should you invest your resources in

How to create and distribute your content 

What content does your target audience consume most often

How much can you invest in your content marketing strategy

What do you want to accomplish through your content creation process
To know all these details, and essential to have a successful content marketing experience that will grow your business, you need a well-thought plan. And that's where the content marketing strategy comes in handy.
These are the elements a small business should include in the content marketing strategy:
Set goals

Understand your target audience

Set your marketing metrics and KPIs 

Create your content

Decide upon your tools

Focus on search engine optimization
Let's deep dive in each one of these elements!
1. Set Goals 
The first thing you have to ask yourself when thinking about small business content marketing is: What do you want to accomplish with your content marketing strategy?
When we talk about your goals, we don't only mention business-related possible accomplishments, but also audience-related ones.
What does that mean? For example, here are some goals that strictly refer to your business: 
Gain brand exposure

Improve your social media presence

Increase the number of followers and interactions online

Increase sales and revenue 

Generate more leads with the help of online marketing

Get better website traffic

Gain authority in your field through quality content
Then, you have to think about how your content influences your audience.
Do you want your audience to be informed about certain aspects of your business, or do you want to educate them about the field? Maybe you want to entertain them, or maybe you just want to convince them to buy your products.
Either way, you should know the purpose of your content when it comes to your audience. 
For example, as your business goals, you want to increase website traffic, sales, and the number of followers you have on social media. As your audience-related goals, you want your audience to be informed, entertained, and open to buying your products. 
Knowing your goals will let you know what kind of content you need to create. But how do you set your goals? By following the SMART objectives formula! SMART is an acronym for Specific, Measurable, Attainable, Relevant, and Timely.
An example of a SMART business goal can look like this: Increase the organic search by 10% until the end of the month, while focusing the marketing efforts on creating relevant content designed based on keyword research.
2. Understand Your Target Audience 
To create valuable content, you need to have a clearly defined audience for your small business. Knowing who you're making content for is one of the most important things in content marketing and business in general. 
To identify your target audience, ask yourself: Who am I targeting with my products or services?
This will help you identify the demographics of your target audience, their needs, wants, pain points, and even their habits. Once you have a general understanding of your target audience, you should go one step further and create a buyer persona.
Let's say you're offering a time management app, and your target audience has the following characteristics:
| | |
| --- | --- |
| Name | Busy Betty |
| Location | USA |
| Age | 41 |
| Profession | Business Owner |
| Need | To organize time more effectively |
| Pain Point | Doesn't know how to prioritize her tasks |
This is where your product comes into the picture to save the day. You have a fantastic tool that can help Betty manage her time.
When you're building your marketing strategy, you should market your product with Betty's pain points and needs in mind. And that also applies to your content marketing.
Here are a few examples of content marketing ideas you can create to attract potential customers like Betty: 
Create blog posts with tips on saving time

Create social media posts and distribute them to social media channels most used by your audience

Write an e-book on time management
With SocialBee, you can better understand the demographics of your target audience.
Start your 14-day free trial and analyze metrics from all social media channels!
3. Set Your Marketing Metrics and KPIs 
To assess the success of your content strategy, you need more than good content marketing ideas: you need to set some metrics. 
However, marketing metrics and KPIs don't only assist you in reaching your goals. 
On a smaller scale, marketing metrics fulfill many roles and can show you:
Which content marketing distribution channels need more attention

Which content marketing ideas lead to generating new customers

What kind of content scores best in terms of Google search

What kind of content should you stop investing your resources in 
Depending on the metrics you choose to follow, you can see how well your content performs. A few content marketing metrics that you should consider are social media metrics, email marketing metrics, and other digital marketing metrics such as website analytics.
Social Media Metrics
They allow you to measure things such as the number of followers, number of likes and comments, and social shares, and of course, you have the paid advertising metrics of each platform in part. 
Email Marketing Metrics
These can tell you the CTRs (click-through rates), the bounce rate, the number of new subscribers, etc. 
Website Analytics
They can show you organic traffic, conversions, monthly visitors, average time on the page, etc.
This essentially means that the moment a measure becomes your target, then that specific measure stops being good. No matter what target you set for your business, external or internal factors can and will render your target useless.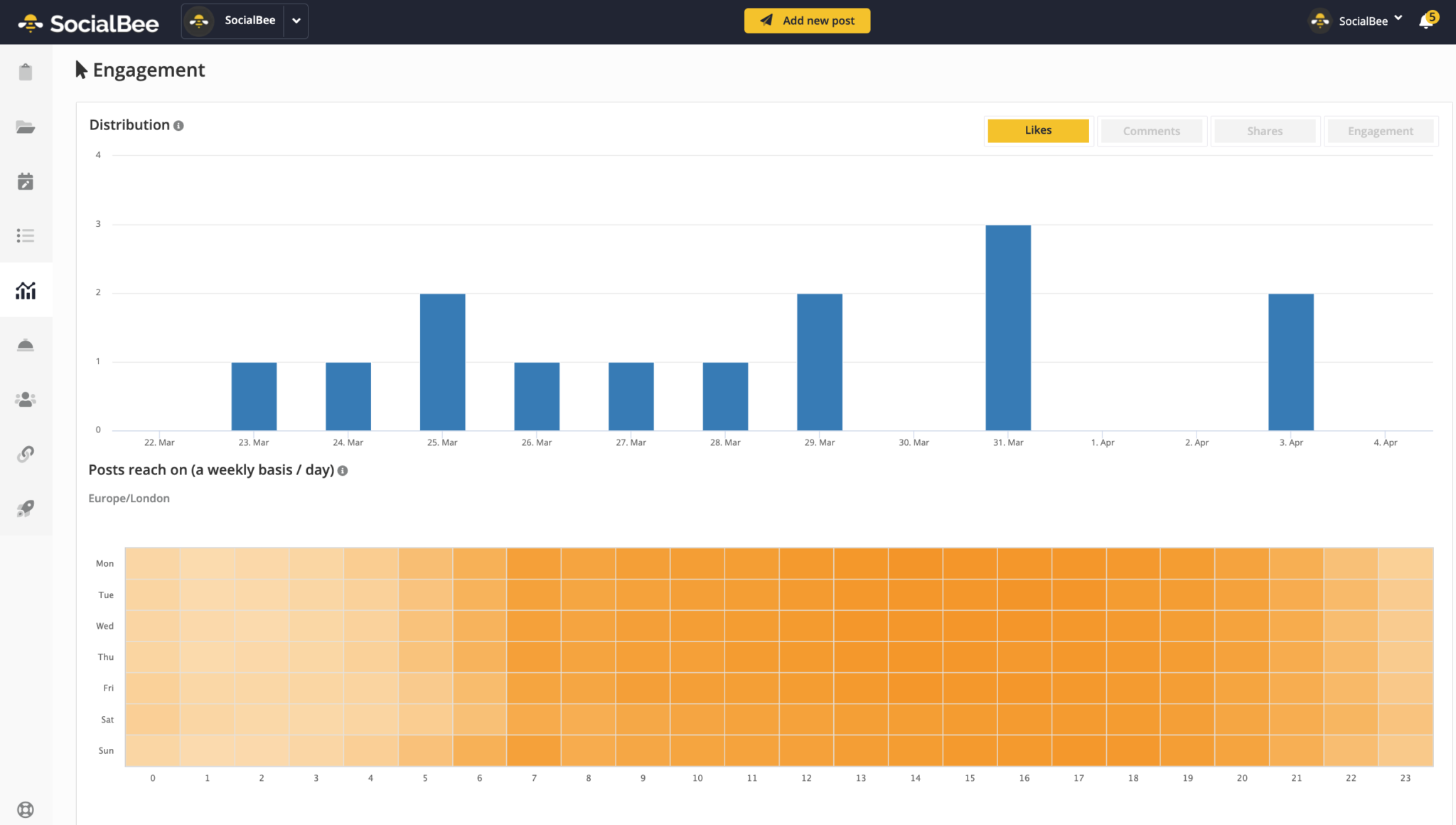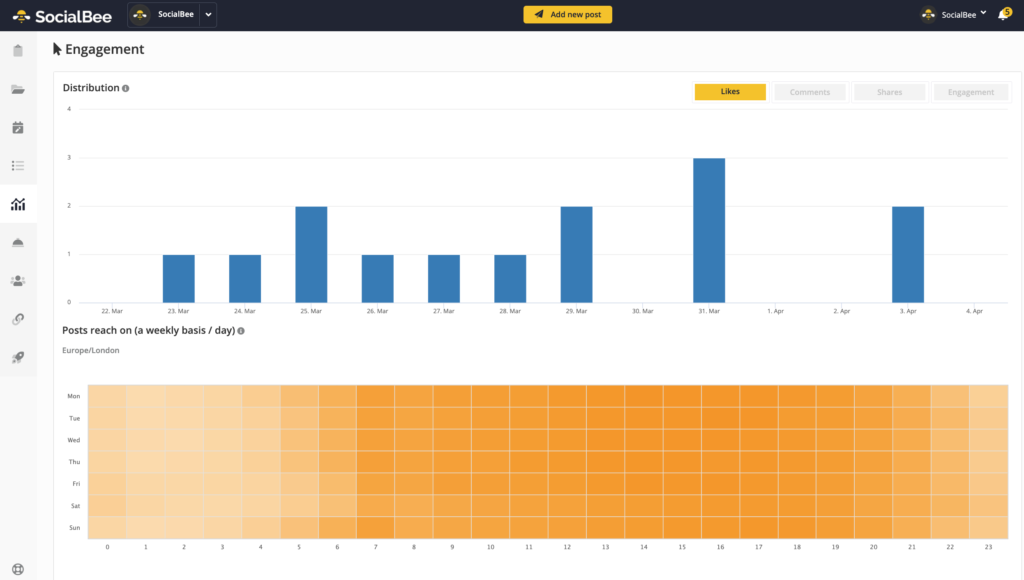 With SocialBee, you can assess your social media marketing metrics right from your dashboard.
Start your 14-day free trial now!
4. Create Your Content 
It would be great if you could try out all kinds of content, but the truth is that resources are limited, and you can only do so much in a specific timeframe while also being cost-effective.
What does that mean? It means that you need to pick your battles to achieve content marketing success.
Try selecting the type of content that you think will perform best with your audience. For example, if your audience reads blog posts, then you should try blogging. Maybe your audience prefers audio materials over visual ones. In that case, you should try out a podcast or a YouTube channel with video content instead of blog posts. 
Here are a few types of content that you can choose to focus on as a small business:
Blog posts

Social media posts

Videos

Podcasts 

Infographics 

E-Books 

Case Studies

Webinars

Email newsletters

Polls, quizzes, and studies
Now, some type of content needs constant attention, while others can be a one-time thing. For example, you won't write an e-book every week, but you will have to create social media posts weekly to see results coming from that type of content. 
Ideally, it would be great if you can provide content regularly. Regularly doesn't have to mean weekly or daily. It can also mean monthly, quarterly, or yearly. 
To split content ideas throughout a longer period of time, you can post on social media daily, write a blog article every week, release a webinar once a month, make a video quarterly, and write an e-book yearly.
Our specialists can help you create multiple industry-specific items, from articles, guides, landing pages, social media posts or email newsletters to product descriptions.
Learn more about our concierge services!
To have a clear picture of what needs to be done and when it needs to be done, you can create a content calendar and fill it in with various content marketing ideas for small businesses.
5. Decide Upon Your Tools
Content marketing can't be done on your own. You will need an array of tools that you can make use of if you want to:
Create great quality content 

Distribute your content 
Luckily, plenty of websites and apps provide inexpensive and even free tools that small businesses can take advantage of. For example, you can create visuals with Canva, Xara, Animaker, etc. 
Create your stunning visuals directly in Canva with SocialBee!
When writing a blog post, you can use tools such as Grammarly and Frase.
When it comes to social media though, SocialBee is a must-try. Used to automate your social media posting, you will be able to save up time and money with our tool. 
But that's not the only thing that comes with the platform. 
With SocialBee, you can also:
Create a posting schedule 

Create hashtag collections

Customize your posts

Import multiple files and links

Get audience statistics
6. Focus on Search Engine Optimization
Once your content is created, you need to let your audience know about it. Now, if the content is on your website, then search engine optimization (SEO) plays a vital role.  
Good SEO will drive traffic and bring leads to your content with the help of search engines, but it's up to your website to keep the leads on it. So keep your website fast and up-to-date if you want people to buy from you.
These are the actions you need to take, depending on your website's loading time: 
Over five seconds:

Optimize your website's loading time to be somewhere between 3-4 seconds, ideally under 3 seconds.

4-5 seconds:

No urgent action needs to be taken when it comes to your website speed, your website is slightly optimized in this regard. However, try going below 4 seconds. You can also start working on other pillars of SEO, such as content (blog posts, resources) and your users' experience.

Under four seconds:

No action needs to be taken when it comes to your website speed, your website is highly optimized in this regard. Instead, work on other pillars of SEO such as content (creating a new blog post and optimizing already existing ones, adding new resources to the blog, etc.) and your users' experience.
Besides search engine results, you can also help distribute your content by making use of social media. You can make specific social media posts to promote your content and share them with your social media following. 
For example, if you have an e-book about marketing that you have just released, and your main social media platform is Twitter, then you can promote your Ebook with a tweet:
Bear in mind that each social media platform has different best practices. The best alternative is to use a social media tool that can be connected to all your social media profiles and customize your content for each particular platform.
Are You Ready to Shape Your Content Marketing Plan?
Creating and maintaining a content marketing program is not easy. Although you know the basics of creating a content marketing plan, there is still more to be learned about content creation and distribution.
Luckily, not only are there tools that can help you fulfill your goals but there are also specialized marketers ready to make the entire process of promoting a business online a lot easier. If you're looking for help in the social media and blogging departments, then our content writers can lend you a hand. 
In the meantime, you can quickly share your content on social media by starting your 14-day free trial!
SocialBee: Your AI-powered social media management tool
Create posts, publish, analyze, engage and collaborate, all from SocialBee.