Do you need some heartwarming inspiration for your next Thanksgiving social media posts? Worry not, we got you covered!
Your 2023 social media holiday calendar will soon reach its end, but not before that much-anticipated Thanksgiving dinner! You too must make the most of this special event, especially across your social media accounts. 
Celebrated on the fourth Thursday of each November, Thanksgiving Day is a time for family gatherings and yummy meals. Apparently, 62% of Americans have pumpkin pie around this time of the year. Cool, huh? We're not so sure about the mashed potato statistic though…
In any case, let the celebrations begin! 
[Free Template] Social Media Holiday Calendar
Download the calendar template below and use it to plan your social media holiday posts with ease.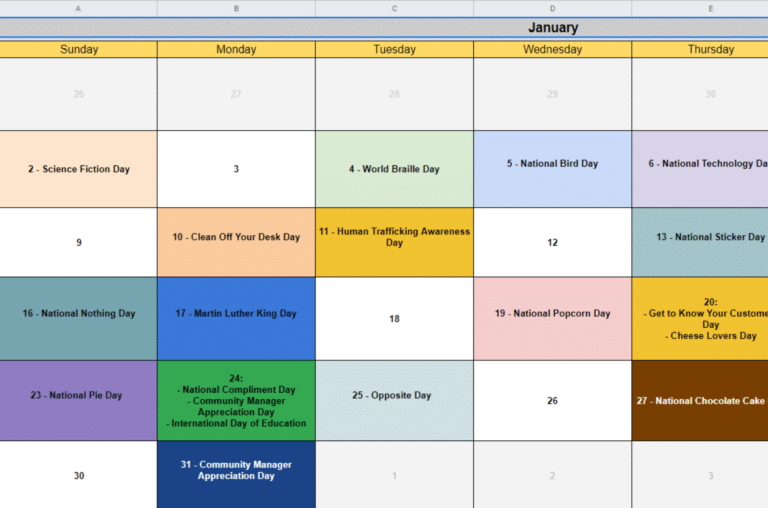 10 Effective Thanksgiving Social Media Post Ideas
Let's take a look at some awe-inspiring Thanksgiving posts that will act as inspiration. Your target audience is guaranteed to get in the mood for the holiday season!
Here are our top 10 Thanksgiving social media post ideas:
Talk about Thanksgiving traditions

Share how you are celebrating Thanksgiving this year

Wish your audience a Happy Thanksgiving

Share your special recipes for Thanksgiving dinner

Spice up your content with Thanksgiving Day puns and jokes

Ask your audience how they celebrate this holiday season

Host a Thanksgiving social media contest

Run a Thanksgiving sale

Create a social media campaign to give back to your community

Thank your customers
1. Talk About Thanksgiving Traditions
For those who love to go by the book in terms of Thanksgiving traditions, here's Target's TikTok repost of how to host the 'best Friendsgiving'.
The TikTok video was originally created by a Target superfan who enjoyed Thanksgiving alongside a few friends. They show us how to set a table and also how to set the mood for an unforgettable celebration.
Remember, not everyone has a family to celebrate Thanksgiving festivities with, so make sure to be mindful of that.
It's not exactly safe to offer followers strictly family-oriented content. In any case, don't be afraid to reshare the magic of Thanksgiving as seen through your followers' lens. 
A social media video that has just the right length can encourage customers to get creative and share some user-generated content (UGC) of their own.
2. Share How You Are Celebrating Thanksgiving This Year
As a brand, you too can show people that the Thanksgiving event matters.
Take the example of Nordic Ware. They subtly acknowledge the Thanksgiving holiday while shedding some awareness on the importance of U.S. manufacturing. Basically, the brand takes a more socially conscious approach and encourages its followers to choose American-made products for the holidays. 
Since they too are an American brand, this could also be seen as a unique Thanksgiving marketing campaign. 
Here is what any small business can do to celebrate Thanksgiving:
Showcase a noble cause that they're contributing to

Post a carrot cake-sweet social media post with their employees

Offer a glimpse into office Thanksgiving preparations 

Get up-close and personal with a 'What does Thanksgiving mean to you?' video
3. Wish Your Audience a Happy Thanksgiving
Take a moment each year to show your target audience that you care. In theory, it sounds pretty easy. The execution should sprinkle the pumpkin spice.
Take the example of Best Buy. Their Instagram post is simply awesome. Why? It's an exciting IG Carousel of nothing but striking visuals. The large font conveys the festive message with total clarity and it never beats around the bush.
Again, the concept of Friendsgiving takes over. Best Buy is aware that everyone needs to feel part of the celebrations. They do this with an inclusive and touching copy that is both modern and timeless. This could very easily be an evergreen post that audiences could come back to for years to come.
4. Share Your Special Recipes for Thanksgiving Dinner
Let's talk turkey, there's no one who doesn't love to stare at visually delicious side dishes and pumpkin pie photos. In fact, most audiences expect their social media platforms to be flooded with yummy visuals around this time of year.
That is why Ninja Kitchen showcases a stunning Thanksgiving recipe on their TikTok. How do they prepare such scrumptious deliciousness? With their very own pressure cooker, of course. Talk about effective yet not in-your-face holiday marketing.
Here's how you can share your favorite Thanksgiving recipes with your foodie followers:
Post a series of Instagram Stories (which you can then add to your

Instagram Highlights

) that feature a top 3, top 5, or top 10 list of recipes

Go in-depth with a step-by-step Reel, Carousel, YouTube, or TikTok video of your special recipes

Ask your audiences to share their preferred holiday recipes in the comment section
5. Spice Up Your Content with Thanksgiving Day Puns and Jokes
Nothing drives social media engagement like a good ol' joke. That's probably the only thing that makes Turkey Day bearable for Gen-Z. Social media videos are the perfect way to make your audience laugh out loud at the dinner table.
Walmart's tongue-in-cheek Instagram Reel is unafraid to let the Thanksgiving jokes roll. The effortlessly hilarious video features a 'complicated' family gathering.
One family member is a vegetarian, while another hates vegetables. In order to please everyone, the narrator of the Reel closes the joke with a purchase incentive for Walmart's disposable cutting boards. A pretty bold product placement move for such a family-oriented brand. 
Also, notice how the video can be easily watched without sound. According to Facebook, 85% of videos are watched without sound. 
Thanks to the colorful captions, Walmart's audiences can now literally laugh on mute. Also, don't hesitate to use some fitting emojis, they are loved by audiences of all ages. 
6. Ask Your Audience How They Celebrate This Holiday Season
'Pumpkin or pecan?' Walmart's colorful Instagram Reel is certain to stir a serious debate.
Use bold and easily readable captions to ask questions, it's the safest way to awesome engagement levels. Also, notice that they used the turkey emoji in their description, bonus points for that. 
The essential part? The killer visuals! Walmart uses the right images and consequently drives more engagement to their post.
Here's more inspiration for quirky Thanksgiving questions:
Who are you celebrating the holidays with?

What is your favorite Thanksgiving side dish?

Any secret ingredient for the perfect mashed potatoes?

What or who are you thankful for this week?

What's a cute name for a pardoned turkey?
7. Host a Thanksgiving Social Media Contest
Giveaways are a fan favorite for very valid reasons. How about a free Thanksgiving dinner?
Locally-owned Grocery Outlet does it perfectly. This small business gives its customers an offer they surely cannot refuse. The power of free goes beyond holiday marketing. Apparently, it's been questioned by theorists since 450 B.C.!
Do make sure that the contest compliments your brand image. Social media marketing is different for everybody, so it makes sense to adapt each contest accordingly.
Here are some ideas for your next Thanksgiving social media contest:
Photo contest

Cooking contest

Giveaway contest

Hashtag contest
8. Run a Thanksgiving Sale
Everyone's guilty of doing last-minute shopping around the holiday season. You should definitely capitalize on this and invite people to join your sale.
A creator of handmade products on Instagram decided to reward her customers with a 25% off sale on her products. If a small business can pull this off, so can you.
Make sure to post the sale photo across all your social media accounts and do a countdown on your Instagram stories for some old-fashioned FOMO. 
Fall sales are simply irresistible ever since Black Friday hit the scene. Now, it's your moment to create some jaw-dropping social media posts for your next Thanksgiving sale.
9. Create a Social Media Campaign to Give Back to Your Community
The famous turkey dinner may be quite aesthetically pleasing. Still, what if some of your followers can't afford a warm meal? In that case, you'll have to forget about marketing for just a second and actually roll up your sleeves.
This small business is eager to help its followers distribute meals to families in need. Notice how they made perfect use of the typical design elements (pumpkin pie, autumn leaves, orange undertones) to convey the warmth and coziness that one feels after enjoying a nourishing meal. 
The QR code is also a clever touch that makes the application process quick and easy to share. You can make your own QR code using this QR code generator.
You too can encourage your followers to provide help and direct them to a charity that is close to your heart. How about organizing a local parade or a giveaway? Whatever you do, make sure that it's authentic, selfless, and generous.
10. Thank Your Customers
Gratitude, that's what the Thanksgiving meal is all about, right? Starbucks takes over its Facebook social media platform with a post that is nothing short of brilliant. No hidden agenda, no marketing goals, just thankfulness.
Their description says it all, they are grateful for everyone who chooses Starbucks as their go-to brand. You too can make the most of Thanksgiving week by thanking your social media followers for their loyalty and support.
Psst, are you running out of holiday post ideas? Here's a handy resource to help you out. 👇
Discover 500+ Social Media Post Ideas
Elevate your content creation game with our all-in-one package, featuring hundreds of content ideas, editable social media post templates, and inspiring examples.
Thanksgiving Hashtags Ideas for More Social Media Reach
An epic post without the appropriate hashtags is more or less similar to a roast turkey that lacks seasoning. You need to spread the joy far and wide. 
Here are the best Thanksgiving hashtag ideas for 2023:
#Thanksgiving

#ThanksgivingVibes

#Thanksgiving🦃

#ThanksgivingDinner

#ThanksgivingDecor

#Thanksgiving2023

#ThanksgivingDay

#ThanksgivingTable

#ThanksgivingRecipes

#ThanksgivingDesserts

#ThanksgivingWithBlackFamilies

#ThanksgivingFood

#ThanksgivingEve

#ThanksgivingWeek

#ThanksgivingWeekend

#ThanksgivingPrep

#ThanksgivingGiveaway

#ThanksgivingMemes

#ThanksgivingTurkey

#ThanksgivingFeast
Did you know that you can effortlessly organize your hashtags? How about a festive hashtag collection to help your holiday message go viral? 
With SocialBee, you can easily select your saved hashtag collection whenever you need to post something that is Thanksgiving-related. Our app will automatically add the hashtags to your post, ensuring optimal engagement and reach!
Organize your social media hashtags in categories and add them to your posts with just a few clicks.
Manage Your Social Media Accounts with SocialBee!
Enhance Your Thanksgiving Marketing Campaign with The Best Content
It's so important to express gratitude, at least once a year. It's the surest way to build a loyal online community and humanize your brand without too much effort on your part.
The 10 social media posts above are the perfect example of how crucial it is to mark this date in your social media calendar. Both large and small businesses have a duty to give back to the communities that nurtured their growth, right? 
Create stunning and impactful social media posts with SocialBee! Make use of our Canva integration to create your social media visuals from scratch directly from the SocialBee app.
Utilize our advanced scheduling features to ensure you schedule your holiday content in time for Thanksgiving. Start your free 14-day trial at SocialBee today!