Digital marketing tools for agencies are currently taking the world by storm. Why? Because they're the ultimate solution for finally becoming productive and successful as an organization. 
With the ongoing changes in consumer behavior, using a social media strategy and a comprehensive toolset is now imperative for any marketing agency that wants to make a long-lasting impact.
In this article, we'll take a closer look at the top 30 tools for digital marketing agencies and discuss the importance of streamlining tedious work. Read on!
Free Editable Social Media Strategy Template
Get the social media strategy template you need to audit and plan your marketing efforts for maximum results.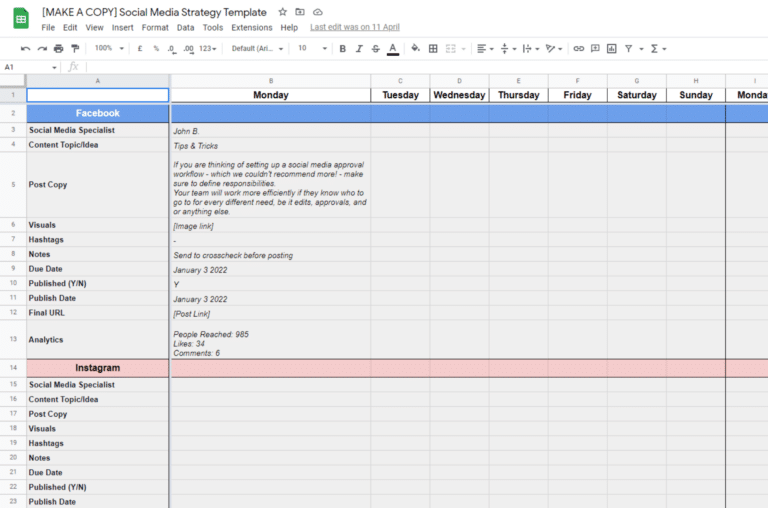 What Makes a Digital Marketing Tool Great for Agencies?
Powerful tools are must-haves for any modern digital marketing agency. They help automate complex tasks, integrate with other tools, facilitate team collaboration, save time, and improve marketing results. 
Here are five benefits of marketing tools for agencies:
Automates tedious tasks and processes

Integrates with multiple other marketing tools

Facilitates team collaboration

Saves time and improves marketing results

Has an intuitive interface
1. Automates Tedious Tasks and Processes
It would be safe to say that there is not one marketing agency out there that doesn't wish to save time and automate any tedious tasks and processes. With the right marketing strategy and tools, productivity can become a piece of cake.
Here is how marketing agency tools can increase productivity:
They can automate repetitive yet important digital marketing tasks, such as

email campaigns

or social media scheduling and posting

They can streamline the usual

workflows

and make it easier to collaborate across different departments and teams

They can automate customer segmentation, data analysis, demographics, and more
2. Integrates with Multiple Other Marketing Tools
The best digital marketing tools can effortlessly integrate with other platforms. This detail is essential for agencies looking to streamline their processes, increase efficiency, and maximize productivity. Teams can collaborate more easily, work faster, and get better results by integrating various tools.
To function optimally, every agency needs an arsenal of marketing tools that possess the capacity to seamlessly integrate with one another. This offers agencies the flexibility they need to stay on top of multiple tasks and run high-quality marketing campaigns.
With multiple integrations in place, it's easier than ever to sync data between tools and make sure that everyone has access to fresh information. This helps teams save time by avoiding the manual entry of data into each platform or app.
3. Facilitates Team Collaboration
Marketing agency tools can offer great opportunities for better team collaboration. Ideally, they should enable various departments and levels of your team to work together on projects in real-time. 
This can instantly eliminate the need for manual processes, such as emailing documents back and forth or making lengthy phone calls in regard to various feedback points that need to be implemented. 
Let's take SocialBee as an example. It provides an organized space where you can collaborate with your social media team as well as your clients in a transparent and efficient manner.
Collaborate with your team members and streamline your workflow processes with SocialBee!
Try our 14-day free trial now!
Unlock the full power of team collaboration with SocialBee. Its content approval feature and workspaces will allow you to quickly invite users to each of your workspaces, assign roles, and add insightful comments under posts at any time.
4. Saves Time and Improves Marketing Results
It's understandable that any marketing agency wishes to save time and improve its overall results. For that, they'll need to leverage the best tools available. 
Marketing tools can automate repetitive tasks, allowing marketers to focus on more strategic activities. They can also centralize and streamline processes, such as project management and collaboration.
5. Has an Intuitive Interface
If you wish to maximize your efficiency, you'll need to use marketing agency tools with a user-friendly interface. An intuitive user design allows users to quickly access helpful features without having to undergo a steep learning curve.
Here are some things that make an interface intuitive:
Simple and clear navigation

– Menus and buttons should be clearly visible and easy to find, making it easy for the user to navigate.

Visual aids

– Charts, graphs, and images can assist users in understanding data and insights by providing visual aids.

Customization options

– Allowing users to customize the interface to their preferences, such as changing color schemes or selecting dark mode can give the tool a more personal and intuitive feel.
Top 30 Digital Marketing Tools Every Agency Needs
The wait is finally over for marketing agencies. We've searched the internet far and wide and found the best digital marketing agency tools out there. 
Here are the top 30 digital marketing tools for agencies:
SocialBee

Hootsuite

Sprout Social

ACE Meetings

Calendly

HubSpot Meetings

Airtable

Trello

Teamwork

Microsoft Teams

Slack

Chanty

Canva

Adobe Creative Cloud Express

Pixlr

Figma

Webflow

Axure

Ahrefs

SEMrush

Moz

Google Analytics

Mixpanel

Hotjar

Sendinblue

Drip

Mailchimp

DoubleClick

MediaMath

AdRoll
I. Best Social Media Management Software for Agencies
Social media management software is an essential tool for marketing agencies to manage and optimize their clients' social media presence effectively and efficiently. It can save time and resources.
SocialBee is one of the best social media management tools out there. The platform was designed for managing multiple social media channels from one dashboard and it assists companies and organizations in automating their social media operations. 
The platform provides a number of functionalities, such as creating and scheduling posts, managing multiple social media accounts, analyzing results, and leveraging team collaboration. 
Manage all your social media platforms from one place—create, schedule, and share all your content with SocialBee.
Start your 14-day free trial at SocialBee today!

SocialBee also includes an intuitive content schedule and collaboration tools for teams, making it possible for multiple users to collaborate on social media strategies. 

The goal of the platform is to simplify social media management, enabling agencies to effectively establish and sustain the online presence of their clients.

Here are some SocialBee features that are especially important for agencies:

Social media content creation – For creating engaging content from scratch, directly from SocialBee and with the help of our Canva, Unsplash, and GIPHY integrations
Social media scheduling – For scheduling your content at the best times from our intuitive social media calendar
Social media publishing – For automatically publishing your content, from regular posts to Stories or Reels
Social media analytics – For leveraging analytics and insights and informing your current content and marketing strategy
Team collaboration

– For managing multiple social media accounts for different brands, having separate workflows for each client, and streamlining your team collaboration efforts with the content approval feature 

PDF analytics reports

– For better client reporting 

AI social media post generation

– For creating content with ease

RSS feeds

– For keeping your audiences up-to-date with the latest news
Manage All Your Social Media Accounts with SocialBee!
Hootsuite makes it easy for teams to work together on social media campaigns and track progress. 
The platform aims to provide an all-in-one solution for social media management, helping agencies to effectively engage with multiple clients and reach their marketing goals.
Sprout Social is a social media management platform that allows agencies, businesses, and organizations to streamline their social media activities.
The platform provides multiple features such as scheduling and publishing posts, managing multiple social media accounts, monitoring impressions, and analyzing competitors.
II. Best Meeting Scheduling Tools for Agencies
Agencies rely on meeting scheduling tools to streamline the process of scheduling and conducting meetings, allowing them to use time and resources more efficiently.
ACE Meetings is an outstanding virtual calendar that finally puts an end to confusing scheduling. The all-in-one platform allows you to connect various calendars, such as Google Calendar, Office 365, or iCloud.
You can also invite users to ACE or create a variety of meeting types.
Here are the meeting types available on ACE Meetings:
One-on-ones

One-time (coming soon)

Round Robin that cycles between multiple hosts

Group Session

Collective/Panel that allows invitees to pick an appropriate time for all involved.
With this meeting scheduling tool, you can limit the number of no-shows and increase your conversions like never before by setting reminders before meetings and scheduling follow-up emails after the calls.

Another exciting detail about ACE Meetings is that it allows its users to earn $ACE coins. The crypto-token can be collected each time you use ACE Meetings, through referral, or through payments. Start for free and help your agency grow today!
With Calendly, you can schedule appointments, events, and meetings easily, eliminating the need for back-and-forth emails to find a suitable time.
Calendly integrates with calendars such as Zoom and Microsoft Teams and it allows users to get a look at their schedule and book appointments without having to leave the platform.
HubSpot Meetings is a virtual meeting platform integrated with the HubSpot CRM. The platform provides helpful features for marketing agencies, such as a calendar widget for your website, integrations with Google Calendar, Outlook and Office 365, and trigger emails.
HubSpot Meetings uses an appointment scheduler to keep your agency organized. Say goodbye to back-and-forth meeting scheduling, HubSpot Meetings will automate your day-to-day processes.
III. Best Project Management Tools for Agencies
The use of project management tools is critical for agencies that wish to keep their projects on schedule, within budget, and organized.
Airtable is a cloud-based platform that merges the features of a database, spreadsheet, and project management tool into one intuitive solution. It offers a user-friendly way to manage and track data, enabling users to design custom interfaces, use pre-made templates, and easily collaborate with team members.
Airtable also offers robust collaboration features such as content approval, deep integrations, and real-time updates, making it easy for teams to work together. Using integrations, you can connect Airtable to Google Sheets or visualization tools to create live dashboards with team performance and project progress. 
Trello is a great project management and collaboration platform that helps teams get organized by prioritizing their tasks and projects. The platform provides an interactive visual interface that allows users to create boards, lists, and cards that stand for tasks, projects, and assignments.
Trello also offers a series of awesome collaboration features, such as comments, file attachments, and real-time updates, making it easy for teams to work together and communicate on projects. Their Google Drive, Slack, and Zapier integrations are also handy additions.
Teamwork is a project management and collaboration platform that can help your digital marketing agency plan, organize, and manage its work.
Furthermore, the platform offers project management features such as Gantt charts, instant chat, and capacity planning, which help teams stay on track and meet their goals.
IV. Best Communication Tools for Agencies
Tools that facilitate seamless and effective communication among team members and with clients are crucial for agencies.
Your digital marketing agency has probably used this tool before. We're talking about Microsoft Teams, a collaboration and communication platform developed by Microsoft that helps teams stay connected and productive.
The platform also integrates with Microsoft 365, providing features such as video and audio conferencing, screen sharing, file sharing, and instant messaging. 
Ready to connect your marketing teams? If so, use Slack. It's a team communication and collaboration platform that helps everyone stay connected and organized. The platform provides instant messaging, file sharing, and audio and video calls.
Slack also offers robust collaboration features, such as channels for organizing conversations, and integrations with Google Drive, Trello, and Zapier.
Chanty is another great team communication and collaboration platform. It helps teams stay connected and organized while providing instant messaging, audio and video calls, task management, and file-sharing features.
Chanty also offers an impressive range of customization options, including the ability to turn a message into a task, use Kanban view, and enjoy 4K video and audio. 
V. Best Graphic Design Tools for Agencies
A reliable graphic design tool is essential for agencies as it allows them to create visually appealing and impactful designs.
Canva targets individuals and organizations who require creating visually appealing designs for social media, presentations, flyers, and other marketing materials but lack access to advanced design software or expertise.
In addition, the SocialBee app has a Canva integration available that allows you to create stunning visuals on the go. With just a single click, open Canva in SocialBee and begin creating your social media graphics. When you're done polishing them off, import the visuals directly into SocialBee's content editor to assign them to the right category.
Create your social media posts from scratch with SocialBee. Thanks to the Canva integration, you can now design and import your visuals without opening a second tab.
Design and Import Your Social Media Graphics with Canva from SocialBee!
Adobe Creative Cloud Express is a subset of the full Adobe Creative Cloud suite of creative tools. It is perfect for basic photo editing. 
Its free plan offers basic editing and photo effects, over 2,000 Adobe Fonts, a royalty-free photo collection, and up to 2GB of storage.
Pixlr is a cloud-based, AI-powered image editing platform that provides a range of tools for creating animations and design. It offers a great variety of features, including basic image editing tools such as cropping, resizing, and color correction, as well as more advanced tools like layers, filters, and effects.
Pixlr is also very user-friendly, with a simplified interface and intuitive controls, making it accessible to all users, regardless of skills. 
VI. Best Web Design Tools for Agencies
In order for agencies to create high-quality and professional websites, they need web design tools. We've researched them and came up with the best 3 web design tools for agencies.
Figma is a collaborative web design platform that allows users to create and work together on design process, design systems, and prototyping. 
It offers great features, such as plugins, widgets, auto layout, and a modern pen tool.
Webflow is a web design platform that allows users to design, develop, and launch powerful websites without having to know how to write code.
It provides an engaging visual interface for creating website layouts, helps teams collaborate, and allows users to build websites with the help of HTML, CSS, and Javascript in a visual way.
Axure is a prototyping tool for creating interactive and functional website and mobile app designs. Its visual interface is perfect for creating UX prototypes without the need to know how to code.
The platform is aimed at UX designers, product managers, and developers who need to create and communicate design concepts and functionality.
VII. Best SEO Tools for Agencies
Search engine optimization tools are a necessary addition for agencies as they improve the visibility and ranking of their clients' websites on Google, Bing, and Yahoo.
If you're looking for great social media marketing tools, Ahrefs should be at the top of your list. It provides data and insights for search engine optimization (SEO) and backlink analysis. Its wide range of features includes keyword research, backlink analysis, website audit, and competitor analysis.
Ahrefs supports website owners and digital marketers in monitoring and enhancing their search engine rankings and comprehending the performance of their main competitors.
SEMrush is a digital marketing tool that provides data and insights for search engine optimization (SEO), content marketing, market research, and advertising. It offers agencies the chance to generate leads regularly and automate both client pitching and reporting.
SEMrush can also generate white-label client portals and help agencies manage an entire client workflow with CRM. 
Moz helps marketing agencies track and improve their search engine rankings, understand the performance of their website and their competitors, and plan and execute effective SEO campaigns.
The platform offers a vast array of data and insights, such as keyword research, crawler digs, rank tracking, and powerful analytics.
VIII. Best Analytics Tools for Agencies
A digital marketing agency's analytics tools are important for measuring and analyzing the performance of their clients' websites.
Google Analytics is a free web analytics service offered by Google that tracks and reports website traffic. It provides marketing agencies with detailed information about website visitors, including demographics, geographic location, and behavior on the website. In addition to its web analytics capabilities, Google also offers Google Analytics for mobile apps, which enables developers to measure user engagement and behavior within their mobile applications. 
Google Analytics also provides insights into how users interact with a website, including the pages they visit, the amount of time they spend on the site, and how they ended up browsing your site.
Mixpanel is a powerful tool for marketing agencies that allows them to track user interactions with their website and mobile applications.
It provides insights into user behaviors, such as which pages are being viewed the most and where and why users drop off.
Hotjar is a tool that allows digital agencies to gain a deeper understanding of their target audience's online behavior.
With this powerful platform, users can set up Heatmaps and recordings to monitor user behavior on websites, analyze feedback surveys, and measure user engagement.
IX. Best Email Marketing Tools for Agencies
The use of email marketing tools is extremely important for agencies, enabling them to craft, handle, and send targeted and successful email marketing initiatives for their clients.
Sendinblue is a marketing platform that enables agencies to effortlessly create and oversee email campaigns, SMS messages, and additional marketing efforts. It offers robust automation capabilities to simplify and enhance marketing processes.
Agencies can use Sendinblue for their impressive Marketing Platform and to create landing pages, signup forms, and Facebook Ads.
Drip is worth adding to your agency tools list. This powerful marketing automation tool helps agencies optimize their lead generation and engagement strategies, giving them the tools they need to reach their customers in an effective way.
With Drip, agencies can easily create automated customer journeys, segment their audience, personalize marketing campaigns, and measure results.
Mailchimp is an email marketing automation platform that will offer you a competitive advantage. It enables agencies to easily create, send, and manage their email campaigns.
It is a user-friendly platform that offers a wide range of features and options including drag-and-drop editing, customizable templates, automated segmentation, and detailed analytics.
X. Best Ad Management Tools for Agencies
Ad marketing tools play a powerful role for agencies as they provide the ability to efficiently manage and enhance their clients' online advertising efforts.
DataFeedWatch by Cart.com is a feed management software that helps large and small businesses manage, automate, optimize, and distribute product feeds across 2000+ ad platforms worldwide. The list includes Google Shopping, Facebook or eBay.
With its assistance marketers can easily drive multichannel & in-store sales, optimize the performance of their PPC campaigns, and edit product catalogs at scale.
DoubleClick is a Google-powered, integrated ad technology which enables agencies to measure, manage and optimize digital ad campaigns.
The platform is widely used by major advertisers and agencies in the industry to track their online advertising performance, view insights into their audiences, and access an array of custom tools.
Mediamath is a leading omnichannel DSP platform that provides agencies with powerful tools to manage, analyze, and optimize campaigns across multiple channels.
The platform offers a full suite of marketing tools including campaign management, media management, targeting, consumer segmentation, and much more.
AdRoll is a trusted marketing platform for advertising agencies. It provides a suite of tools and services to help agencies reach customers across the web, mobile, and social media.
Ideal for new entrepreneurs and eCommerce owners, or agencies, it enables you to create highly targeted campaigns quickly and cost-effectively with its brand awareness and retargeting ads.
Frequently Asked Questions
Enhance Your Agency's Digital Marketing Strategy
Starting off the new year with a comprehensive list of marketing tools for agencies is an excellent way to get ahead of your competitors.
Marketing strategies can quickly become outdated and it's important to stay on top of the latest trends and technologies. With these 30 marketing tools, agencies will have access to a variety of solutions that are effective and reliable.
Thinking of giving SocialBee a try? This all-in-one social media management tool is guaranteed to make your agency stand out from its main competitors. Luckily for you, we have a 14-day free trial available. Try it now!
Looking for Top-Rated Social Media Marketing Tools? Try SocialBee!