Instagram automated messages are a fast and simple way to engage with your prospects and keep them interested in what you have to offer.
Posting regularly on Instagram is not the only practice that will help you grow your brand and generate conversions. Besides, you need to know the exact best times to post on Instagram.
The community management aspect of Instagram is also a detrimental part of how businesses interact with their customers and provide a pleasant experience that will gain their loyalty.
With this being said, let's find out how you can grow your Instagram using automatic messages.
Free Editable Social Media Strategy Template
Get the social media strategy template you need to audit and plan your marketing efforts for maximum results.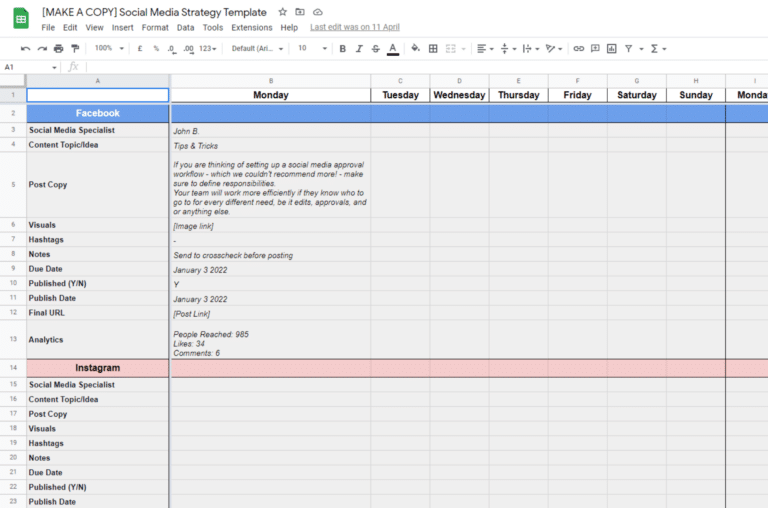 What Are Automated Instagram Messages?
Automated Instagram messages allow you to send messages to your Instagram followers or non-followers, in a fast, immediate way, without any manual work from you. This ensures that you build a solid presence on Instagram which according to research from Solitaired shows that Instagram features among the top 10 apps used in America, underscoring the staying power of these apps. In the comment section, you can send those messages either as an Instagram direct message in their DM inbox or publicly.
You'll find all your direct messages in the top right corner of your screen, and this applies to both web and mobile devices.
It is enough to check your Instagram notifications to see any new comments, or go to your latest Instagram post and look at the comments.
Types of Automated Instagram Messages
Now that you know what Instagram auto messages are, let's take a look at the top five types of messages and how you can use them to better engage with your potential customers.
Here are five types of automated Instagram DMs:
Thank you messages
Welcome messages for new followers
Acknowledge new messages
Customer orders support
Outreach to new accounts
1. Thank You Messages
Sending "Thank you messages" can work wonders for your Instagram.
You can use "Thank you messages" in the following situations: 
Example: Thank you for mentioning us in your story!
2. Welcome Messages for New Followers
There is also the possibility to send automated messages to new Instagram followers. In this case, instead of sending a "Thank you for following" message, you can rely on a "Welcome" message.
The first message you send to your new followers helps create a powerful one-on-one interaction with the people who are getting to know your business better.
Example: Hi! Welcome to our Instagram page. We are happy to meet you!
3. Acknowledge New Messages
DM automation is useful for acknowledging new messages.
Being in touch with your audience 24/7 and providing fast replies sounds like a dream, but it might be a bit complicated to apply in real life.
With an around-the-clock automated messaging system, you can acknowledge new messages and assure your audience that they'll receive a reply soon. This is reassuring and also gives off a great first impression.
Example: Thank you for your message. We'll reach out to you in the next few hours. Kind regards, [business name] 
4. Customer Orders Support
Another case where you can use Instagram automation is for customer support messages. These messages can send an instant reply to any question a user might have and keep the conversation quick and straight to the point.
This can happen by integrating a question such as "Was this answer useful?", for which users can choose between the "Yes" or "No" options. If the support case requires further handling, you can step in and help the users solve their problems.
Example: Hi there! Thank you for getting in touch. We'll do our best to answer your question in the next 4 hours.
5. Outreach to New Accounts
How about using messages on Instagram to outreach to new followers? You can start by sending your new followers 'Welcome' messages, and you can get creative by adding a link to your website, or a purchase link that contains a discount. 
As you can already tell, doing this will increase your conversion rate and lead to an increase in sales. 
Example: Hi! Happy to meet you. Buckle up, because we offer a 10% discount on all our products! You can use this discount code: XXXXX on our website. 
Instagram DM Automation vs. Messenger Bots
Here are a few differences between an automated direct message and messenger bots:
The audience
The messaging process
The follow-up process
1. The Audience 
Instagram has an audience that is half a billion smaller than the Messenger one. Because of that, direct messages on Instagram have a simpler format. While you might share GIFs on Messenger or add different integrations, Instagram automated messages offer fewer options.
2. The Messaging Process
Messenger gives you a unique link to visit in case you want to start a conversation with someone.
However, if you want to send direct messages on Instagram, you'll have to navigate to the person's profile or reply to their story.
3. The Follow-Up Process
If your business has received an Instagram direct message, you have a 24-hour window to reply to it. If you don't follow up with your followers during that time frame, you'll have to wait for them to engage with you again.
The same rules apply to Messenger, the difference being that you can use other options that allow you to start the conversation with your followers again.
How to Use Instagram Automated Messages
So, we talked about Instagram automated message types, now all we have to do is focus on the practical side of things.
Here is how to use Instagram automated messages for better results:
Auto-reply to comments on feed posts

Auto-reply to mentions on Instagram Stories

Move Instagram users from the comments section to your DMs

Offer customer support directly in their inboxes

Follow up on pending conversations with automated messages

Acknowledge when a new message has been received

Strive for lead generation and lead qualification

Improve content visibility in front of your current followers

Check-in with existing followers and customers

Reach out to influencers for brand exposure
1. Auto-reply to Comments on Feed Posts
A comment auto-responder is one of the best ways to increase Instagram engagement. Send automated messages and watch the engagement increase.
You can ask your target audience to comment on your posts using a specific keyword. When people add comments containing that keyword, it can trigger an Instagram DM that can then increase the Instagram traffic to your website.
Not to mention, this is also a fast way to add visibility to your posts and increase your current engagement levels. Instagram auto-replies are the way to go.
2. Auto-Reply to Mentions on Instagram Stories
Stories are a great starting point for an Instagram direct message. They can effortlessly kickstart a conversation.
You can set your direct messages on Instagram to be instantly sent whenever a user mentions you in their Instagram Story. Instagram auto-replies should become your secret tool.
It can be either a simple "Thank you" message, or you can take advantage and provide the users with a link that will drive traffic to your website.
3. Move Instagram Users from the Comments Section to Your DMs
There might be comments that could be better addressed through an Instagram DM, especially when we're talking about orders or different issues your users might experience.
Depending on the rules you set, you could respond to certain comments with a simple "Thank you for your inquiry, we've sent you an Instagram DM to further discuss this" message.
4. Offer Customer Support through DMs
You can send automated direct messages for social media customer support too. Furthermore, you can use clickable links via messages on Instagram and in this way, provide users with different articles or help sections from your website.
5. Follow Up on Pending Conversations with Automated Messages
Another way to use Instagram direct messages is to launch a drip campaign.
You can also use a general template in your Instagram auto message to follow up on any pending conversation. In the end, we all get busy sometimes and forget to reply to that message we read, said we'd reply to, and then never got around to it.
6. Acknowledge When a New Message Has Been Received
Direct messages are a great way to set expectations in terms of how soon users can get a reply. It can be any time frame you choose, as long as you never fail to consider the 24-hour window for sending back any Instagram direct messages.
You can also take advantage of Instagram auto DM tool and offer answers to the common questions you know your users have.
7. Strive for Lead Generation and Lead Qualification
Instagram DMs have the power to help you out with lead generation too. That is because you can send automatic messages as a response to a trigger, such as a keyword.
For example, you want to offer a certain discount code to users who send you a specific word. When they take this action, they'll be asked for their email address.
By doing this, you can instantly grow your email list and use email marketing to nurture and guide your new leads through your sales funnel.
8. Improve Content Visibility in Front of Your Current Followers
"Psst, have you missed our newest post?"
An automated DM is a great way to increase content visibility. How? By promoting your newest posts you increase the chances of your content being liked and shared.
Also, the different time zones might play a role in the visibility of your post, so make sure you pay attention to timing. You can also thank your followers for mentioning your profile on their Stories.
Having fresh content to promote on your feed is important, and the good news is that you can use a tool like SocialBee to post on Instagram.
Post on Instagram with SocialBee and Keep Your Audience Engaged!
9. Check-In With Existing Followers and Customers
Short and sweet "Hello, just checking in with you" Instagram DMs hold a lot of power, as they give your brand communication a more personal touch.
Humanizing your brand can give you a substantial advantage in the face of your competitors. Also, checking in is a great opportunity to have a conversation with your existing followers. Soon enough, your fans will become customers. All it needs is persistence and a good communication strategy.
10. Reach Out to Influencers for Brand Exposure
Reaching out to influencers for brand exposure through messages on Instagram is another great way to connect and take advantage of DM automation.
Make sure you include in your message the reason why you reached out to them, why they'd be the best person for your brand, and what to expect in exchange for working with your brand.
It's safe to say that a short and clear Instagram message can go a long way, especially when it comes to your brand's exposure. Don't be afraid to reach out to influencers, their high exposure levels will surely benefit your brand, both in the short and long run.
Community Management Handled by Real Social Media Specialists
Do you want to engage with your audience and drive meaningful interactions without losing your human touch? Well, we have the perfect service for you.
Our IG Community Specialists know how to keep the conversation flowing and approach your audience with customized Instagram DMs guaranteed to catch their attention.
Start working with real social media specialists that will initiate interactions, reply to messages and comments and provide your prospects with a positive brand experience.
Try SocialBee's IG Community Service today!
This community management service will allow you to stay active on Instagram at all times, establish meaningful relationships with your customers and grow your business without taking away from your daily schedule.
How to Set Up Automated Instagram DMs
Instagram doesn't have a built-in way to enable you to send a direct message that's automated. However, there are third-party apps that can help you out with that.
InstaChamp by MobileMonkey is one of those apps since it's an Instagram auto DM tool. All accounts that have 1k to 100k Instagram followers are eligible to use InstaChamp by MobileMonkey.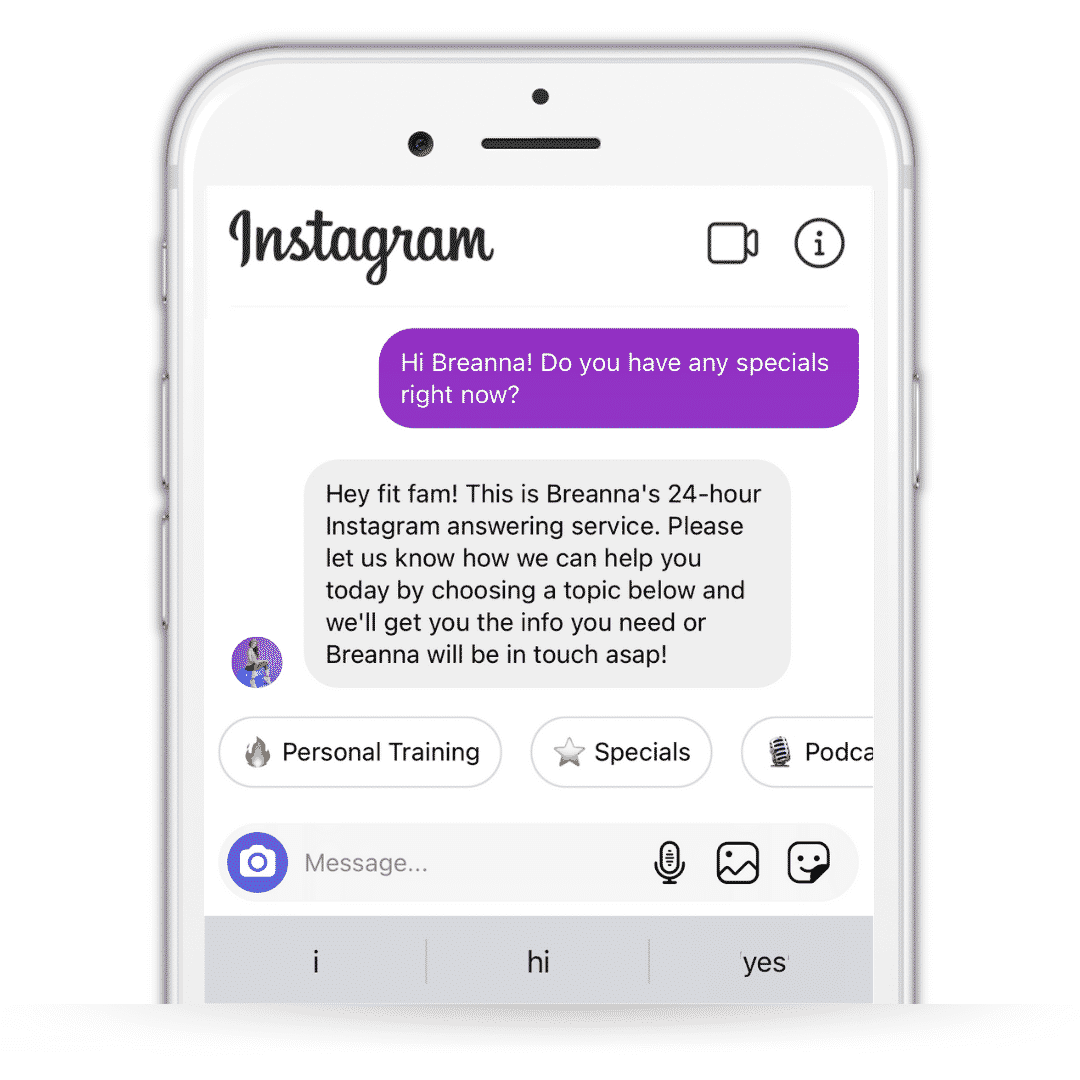 Image credit: Mobilemonkey
Here's how to set up an automated message using the MobileMonkey tool:
Connect your Instagram account to the app through a

Facebook Business Page

.

Allow the app to use automated Instagram messages. 

Create engaging Instagram replies with InstaChamp by MobileMonkey for story mentions, post comments, and Instagram DMs replies.
Instagram DMs are great, but first, you need to make sure that you have an active profile. To have an active Instagram profile, you need to post content, and we've got a good tip we'd like to share with you in that regard.
Bonus: Posting Content on Instagram with SocialBee
Messages on Instagram go hand in hand with posting content. For example, there are very few chances that people will start a conversation with you if you don't have any content. After all, getting a reply to an Instagram story that doesn't exist just won't happen.
Due to this, posting on Instagram should be at the top of your list when it comes to your Instagram marketing strategy.
The good news is that SocialBee can help you maintain a consistent Instagram posting strategy while allowing you to manage your other social media platforms from the same place.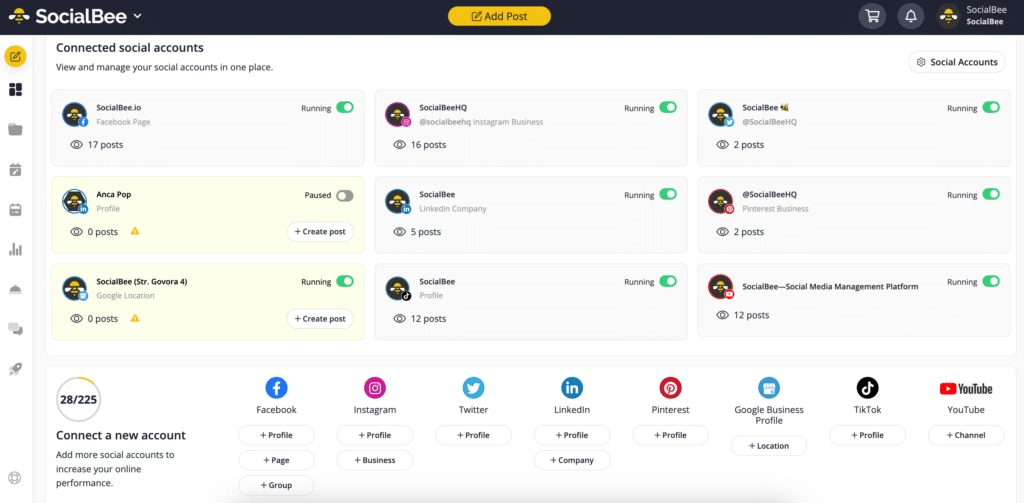 Connect your Instagram account to SocialBee and start creating, scheduling, and posting content directly to your feed. Design your visuals directly from SocialBee with the Canva integration and evaluate your post performance in real-time.
Start your free 14-day SocialBee trial today!
Here's what you can do on Instagram with the help of SocialBee:
Post Instagram content
Schedule Instagram first comment
Add Instagram hashtags
Use Instagram tags and mentions
Grid preview
Location tags
Emoji collections
Design your Instagram graphics
1. Post Instagram Content
With SocialBee you can post single images, carousels, and videos directly to Instagram. Instagram Stories and Reels are not an exception, as they too can be posted directly from the SocialBee app.
2. Schedule Instagram First Comment
You can schedule and then automatically post the first comment on any of your Instagram posts.
By doing this, you can prompt your followers to tap the link in bio. Furthermore, you can add some hashtags to your first comment.
3. Add Instagram Hashtags
Save your collection of hashtags and then add them directly to your posts. You can then find the best mix of hashtags to maximize your reach.
The SocialBee hashtag generator is a perfect resource for awesome ideas. Your content will help us generate the best hashtags. Put it to the test!
Also, make sure that you don't post more than ten hashtags per post. Why? Lately, the Instagram algorithm has been shadowbanning those who use a multitude of hashtags repeatedly. Mix and match!
4. Use Instagram Tags and Mentions
You can tag different accounts on your Instagram posts, to boost your content's reach. You can also mention any account on your Instagram posts, for a shout-out or give credits.
Tags and mentions offer you a solid chance of increasing your current following. Make sure that you don't do it all the time though.
5. Grid Preview
If you're curious about how your next post will fit in your existing Instagram aesthetic, you find out how it will look on your feed even before posting it.
6. Location Tags
Our feature for Instagram Business Profiles will allow you to add a location to all your posts.
It's well-known that connecting with locals can increase your engagement rate by a mile.
7. Emoji Collections
Make sure your posts stand out with the help of our in-app emoji feature. First, make sure that you know how to use emojis in a way that is effective rather than chaotic.
8. Design Your Instagram Graphics
SocialBee integrates with Canva, allowing users to design their Instagram graphics straight from its content editor.
Open your SocialBee content editor and click on the Canva button to access all its design functionalities without even opening a second tab.
Start your free 14-day SocialBee trial to test the Canva integration yourself!
Once you've got the content, you can start setting the Instagram Auto Message for better outreach.
Instagram Automated Messages FAQ
Find the answers to the most asked questions about Instagram direct messages.
1. What Does Instagram Automation Mean?
Instagram automation refers to using software to streamline common tasks on Instagram, such as posting content, liking posts, following accounts, and sending direct messages. 
Automation saves time and energy so that users can focus on other aspects of their social media marketing strategy.
2. How Do You Set Up Auto Messages on Instagram for New Followers?
Here is how to automate direct messages for new followers:
Open the Instagram app

Go to "Settings" 

Tap on "Business Settings" and then select "Messages."

Tap the toggle switch next to "Send an automatic welcome message when someone sends a message request." 

Create a customized message and tap on "Save Changes"
3. How Do Instagram Automated Messages Work?
Instagram automated messages are bots programmed to respond to messages. The bots recognize keywords and reply with pre-written text or images. 
This enables businesses to offer quick responses without having to manually respond each time. 
4. What Are the Benefits of Using an Instagram Automated Message?
Automated messages can help businesses increase engagement, build stronger relationships with their followers, and provide customer service quickly and efficiently without manual work. 
5. What Are Some Tips for Using Instagram Automated Messages?
Here are some best practices for sending automated messages on Instagram:
Keep the message short and straight to the point. 

Make sure you're using the right Instagram auto dm tools.

Personalize your automated dms as much as possible (this will help you increase conversions).
Automate Your Instagram Communication Like a Pro
Instagram DMs help improve the way any business communicates. Great Instagram tools focus on the audience and aim to send out efficient and rapid messages on Instagram. In the long run, this will help you take care of all your tasks.
What is important to remember is that Instagram doesn't have a built-in way for a business to send an automated Instagram message.
However, this can be achieved with the help of third-party apps. Another important aspect to keep in mind is that you need Instagram content to reap the benefits of automated messages. 
For example, in the case of the MobileMonkey tool, there is an eligibility rule. Essentially, you need a specific number of followers to start using the Instagram auto DM tool, which means that your profile needs to be active. And an active profile needs quality content.
Not to worry, though, as SocialBee has got your back when it comes to Instagram content. The best part is that you can benefit from a 14-day free trial today! 
Take advantage of all the other features related to Instagram. Share content on Instagram with the help of SocialBee and create new opportunities to interact with your audience under your posts.
Post on Instagram with SocialBee and Keep Your Audience Engaged!