Currently looking for guides on how to post on YouTube? If so, this one right here might be the perfect choice for you! With the ongoing rise of the digital age, YouTube has rightfully become the most popular platform for sharing and discovering new videos.
Boasting over 2 billion monthly active users and millions of hours of video content uploaded daily, it's no surprise that more and more people are eager to start their own YouTube channels. However, for beginners, the whole process of posting a video on YouTube can seem rather overwhelming.
For this reason alone, we decided to come up with this awesome, complete beginner's guide on how to upload a video to YouTube. It's about time you learned how to become a renowned YouTube creator who can effortlessly grow their channel. If you can relate to this, stick around!
Social Media Strategy Template
Streamline your marketing with an efficient social media strategy template.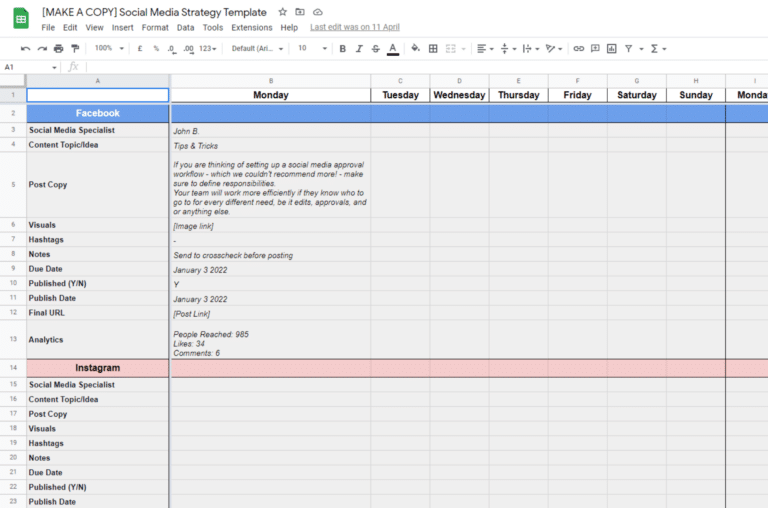 How to Post YouTube Videos: A Step-by-Step Process
Figuring out how to upload a video to YouTube shouldn't be too difficult or time-consuming. In fact, it should be a quick and easy process that will ultimately help you share your creativity with your subscribers. That's why we put together this simple guide to help you get started.
How to Upload a YouTube Video from a Desktop
First things first – we'll teach you how to upload videos on YouTube the old-fashioned way. Since most YouTube creators use laptops to edit and publish their latest videos, we'll show you just how you can do it.
Here's how to upload a video on YouTube from a desktop:
Log in to your YouTube account

Click on the camera icon with a plus sign in the top-right corner of the screen

Select the "Upload video" option

Choose the video file from your computer by dragging and dropping or clicking the "Select Files" button to select it manually

Add details such as the title, description, subtitles, and tags to help users find your video

Select or upload a thumbnail image for your video

Select or create a playlist for your video

Choose the correct audience for your video (made for kids or not)

Add video elements, such as an end screen or cards

Choose the privacy settings for your video, making it public, unlisted, or private

If you wish, schedule your video at a specific date and time and set it as a Premiere

Click "Publish", "Save", or "Schedule" to make your video live on YouTube
How to Upload a YouTube Video with the YouTube App
Next, we'll show you just how easy the upload process is from a mobile device. Not everyone has access to a laptop and that's alright. You'll still be able to upload a video to YouTube.
Here's how to upload a YouTube video with the YouTube mobile app:
Open the YouTube app

Tap the plus symbol at the bottom of the screen

Tap "Upload Video" button and choose the video file from your gallery

Crop the video or leave it as it is

Add sounds, text, a voiceover, or filter

Add a title, description, location, paid promotion label, and audience

Select your desired video visibility (public, unlisted, private, or schedule)

Tap the "Upload" button to publish your video
How to Upload a YouTube Video Using SocialBee
Scheduling your videos in advance is the best way to stay consistent with your posting and ensure you have a reliable safety net of content to fall on in times of need. 
Additionally, scheduling your content limits the manual work of posting the content yourself. You can make sure you upload videos to YouTube at the best times engagement-wise, without even being near your laptop.
SocialBee is the ultimate social media management tool that will help you plan your content easier than ever before.
Upload your upcoming YouTube video with SocialBee – an impressive, all-in-one social media management tool.
Start your 14-day free trial today!
Here's how to upload a YouTube video using SocialBee:
Open the

SocialBee app

Connect your YouTube channel to the SocialBee platform

Click the "Add Post" button at the top of the page

Select your YouTube channel icon

Click the "Add a photo or video" button and select the video from your computer

Add the video's title and description and choose your desired video visibility setting (public, private, unlisted)

Choose the correct

content category

Click the "+Save post" button
Schedule and Publish Your YouTube Videos with SocialBee!
Create posts, publish, analyze, engage and collaborate, all from SocialBee.
10 Useful Tips to Grow Your YouTube Channel
Now that you know exactly how to upload a video to YouTube, it's time to become aware of the ways in which you can make your channel reach the top.
Here are 10 useful tips to grow your YouTube channel:
Brainstorm a video title and video description

Create high-quality video content

Use custom thumbnails

Add subtitles

Be mindful of video SEO

Add video elements and end screens

Upload YouTube videos at the best times

Leverage YouTube Studio

Promote your videos on your social media channels

Track your YouTube analytics
1. Brainstorm a Video Title and Video Description
Coming up with an engaging title and description holds significant influence over the discoverability of your content. 
When users search for particular topics or keywords on YouTube, the platform's algorithm considers the title and description to assess the relevance and ranking of your video in search results.
Start relying on the creative abilities of SocialBee's AI content generator to inspire your next YouTube videos!
To enhance the probability of your video being discovered by your intended audience, you should start using AI content creation tools to get the job done a lot quicker. 
With SocialBee's AI post generator, you can now generate YouTube video titles, descriptions, and even scripts you can follow for a more engaging experience.
2. Create High-Quality Video Content
Create high-quality videos consistently and make sure that they can effectively capture and hold your audience's attention. 
Whenever you upload a video that is visually appealing, well-produced, and professionally executed, viewers are more inclined to watch the entire video, actively engage with it, and even subscribe to your channel. 
High-quality videos are crucial in keeping viewers engaged and committed for longer durations. YouTube's algorithm considers audience retention metrics, including watch time and average view duration, when determining the visibility and ranking of your videos. 
So, try to invest in a video camera and in editing software that makes your content stand out from the rest.
3. Use Custom Thumbnails
Using a custom video thumbnail whenever you upload a video to YouTube can pique the interest of potential viewers. It can also convince them to choose your video over the multitude of content available on the platform.
It serves as a visual representation of your video's essence and significantly influences the decision-making process of whether someone will watch it or not.
They're also great for maintaining a consistent visual presence throughout your channel. 
Elements such as brand colors, logos, or recognizable features in your thumbnails help you establish a unified visual identity that aids viewers in recognizing your videos amidst others. Consistent branding fosters trust and cultivates loyalty among your audience. To achieve this, use thumbnail design tools such as Canva or Microsoft Designer.
4. Add Subtitles
Subtitles enable a broader audience to access and comprehend your videos, particularly individuals who are deaf or hard of hearing. By incorporating captions, you ensure that those with hearing impairments can fully enjoy and understand the content you create. 
In order to improve viewer engagement and retention, it's great to consider adding subtitles to your videos. Even individuals without hearing impairments often prefer watching videos with subtitles.
By providing subtitles, viewers can follow the content without relying solely on audio, reducing the risk of losing interest or missing essential information. 
5. Be Mindful of Video SEO
Effective video SEO techniques amplify the visibility of your videos in search engine results. This, in turn, increases the visibility of your videos to potential viewers who are actively searching for content related to your video's topic.
Furthermore, video SEO empowers you to target specific keywords and phrases that are relevant to your content. As a result, your titles, tags, and descriptions always contain relevant keywords. Align your video's optimization with popular search queries and you'll end up attracting a focused audience that is genuinely interested in your topic. 
6. Add Video Elements and End Screens
Video elements, such as promoting other channels, videos, or playlists, elevate the level of engagement in your videos. These elements also provide an opportunity to showcase and bring attention to content that might have otherwise been overlooked.
End screens, on the other hand, play a vital role in guiding viewers to take action after watching your video. Utilizing end screens, you can prompt viewers to subscribe to your channel, watch another video, or check out a playlist you have in store for them.
As for navigating longer videos with ease, adding chapters to videos should do the trick. That way, your viewers can easily select the exact part of the video they would like to watch or browse the others.
7. Upload YouTube Videos at the Best Times
Optimizing the timing of your video uploads allows you to increase visibility and expand your audience reach. The timing of your posts is key in catching the attention of viewers when they are actively engaged in browsing and consuming content.
By strategically posting your videos at the best times, meaning when your target audience is most active online, you enhance the likelihood of your videos appearing in their feeds and search results. This, in turn, maximizes the number of views and potential engagement your videos can receive.
Here are the best times to post on YouTube:
Friday: 6 PM, 7 PM, 8 PM. 9 PM
Saturday: 3 PM, 4 PM, 5 PM, 6 PM
Sunday: 12 PM, 1 PM, 2 PM, 3 PM
8. Leverage YouTube Studio
YouTube Studio offers comprehensive analytics and effective tools that allow you to directly communicate with your viewers through comments. It also allows you to optimize your existing content in a way that increases your chances of attracting new subscribers.
For creators eligible for monetization, YouTube Studio also provides specialized tools to manage and track your revenue. You can keep tabs on your earnings, assess ad performance, and gain valuable insights into your monetization strategy.
This enables you to grasp the financial aspects of your channel and make calculated choices to optimize your revenue generation, ensuring you are maximizing the potential of your content to generate income.
9. Promote Your Videos on Your Social Media Channels
When you distribute your latest videos across your social media channels, you expand your reach to a wider audience that extends beyond your YouTube subscriber base. 
By leveraging platforms such as Facebook, Instagram, Twitter, or LinkedIn, you enable your existing followers to discover and engage with your videos, amplifying your content's visibility and potential viewership.
Promote your published YouTube video across all your socials with SocialBee!
SocialBee helps YouTube creators make the most of their content by allowing them to cross-share their content across several social platforms. All you have to do is connect your go-to profiles and start scheduling promotional content that prompts followers to go check out your latest YouTube drop.
10. Track Your YouTube Analytics
If you wish to improve your YouTube content performance, you should regularly monitor your analytics to get more insight into how your audience interacts with your videos.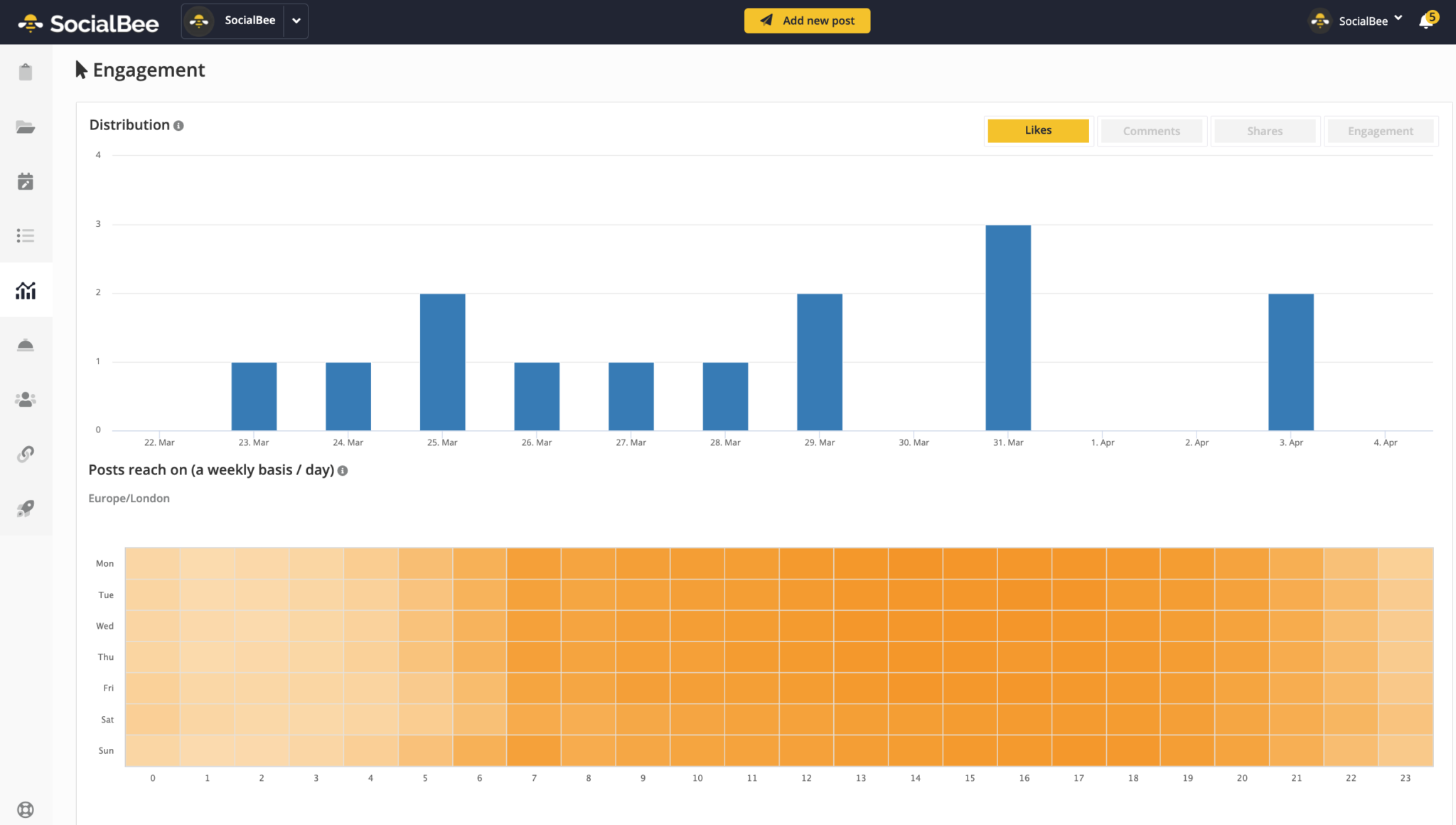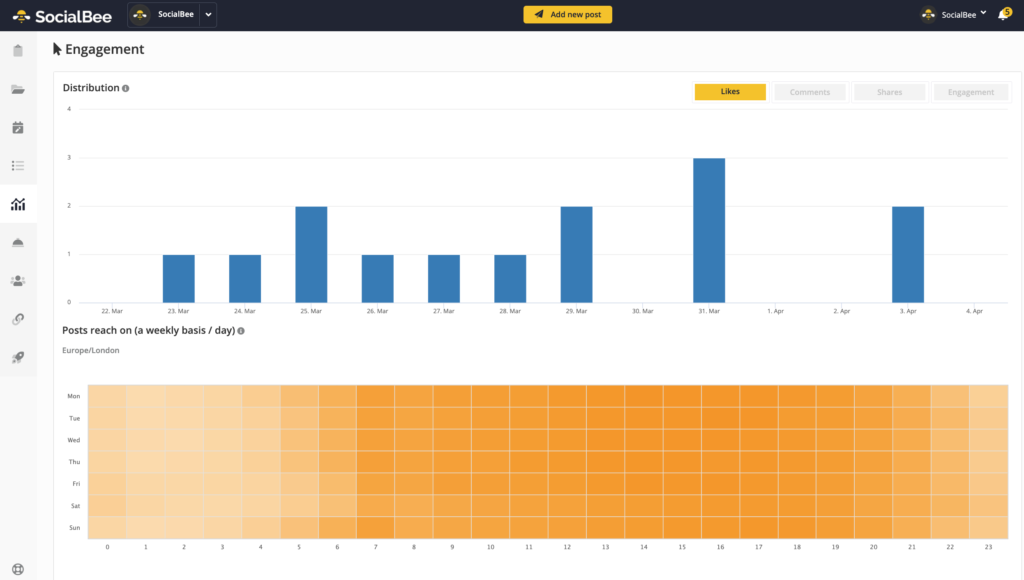 Keep a close eye on how well your YouTube content is performing with SocialBee's analytics.
Start your 14-day free trial now!
Monitoring your YouTube analytics is essential to understanding your channel's performance as well as the reception of each one of your videos.
By keeping an eye on key metrics like views, watch time, and engagement (likes, comments, shares), you obtain valuable insights into viewer response. 
SocialBee provides this valuable information and empowers you to make informed decisions. Furthermore, it allows you to generate PDF reports that are easy to share among team members and stakeholders.
Frequently Asked Questions
Boost Your Video Marketing Efforts on YouTube with SocialBee!
We hope that this article has provided some comprehensive and easy-to-follow steps on how to upload a video to YouTube. From uploading videos and optimizing content to leveraging SEO techniques and tracking analytics, you now have the knowledge and tools to navigate the platform effectively.
It's also time to take your social media presence to the next level and start boosting your video marketing efforts with the help of SocialBee. How about a 14-day free trial to get started? Seems like it's about time you unleashed your creativity and shared your passions with the world. Happy posting!
Schedule and Publish Your YouTube Videos with SocialBee!
Create posts, publish, analyze, engage and collaborate, all from SocialBee.