If you want your customers to find you easily, you need a superb content strategy. In addition to bringing more leads, a well-oiled content marketing system has a number of benefits – most notably, consistently great content helps you position yourself as an authority in your niche, while also increasing your brand's visibility and organically boosting inbound links.
While it's easy to find systems that help you scale your content production, the publishing and promotion processes often create unforeseen bottlenecks.
Copy and paste. Click and drag. Copy and paste. Click and drag. 
Wait for the upload… Computer crashes. You know the story.
The problem is that with consistent content delivery you can boost your conversions by 23%. 
In this sense, you're going to need highly organized content publishing and promotion systems to keep on track.
Read on to discover the most effective ways to streamline your content publishing and promotion to keep your content campaigns consistent. 
How Does Streamlining Content Publishing and Promotion Help?
Your digital marketing strategy should aim to boost your E-A-T (expertise-authority-trust) rating to push you up the search engine rankings. This improves your visibility and in turn, sales.
You may be excellent at producing high-quality content that showcases expertise, establishes authority, and builds trust in your given industry. That's how Brian Meiggs of My Millennial Guide, a personal finance blog for millennials, has built a loyal following of readers whom all want to achieve financial freedom. You can see how he boosts his E-A-T rating by listing his press mentions on the website's about page.
However, if that digital content isn't released in a coherent, consistent fashion, your visitor counts will be sporadic.
As you aren't consistently showing your relevance to your subject area, Google won't put your articles at the top of search engine results pages (SERP).
With structured content delivery mechanisms, you can standardize, automate, and accelerate content publishing and promotion.
That means faster delivery, better consistency, and more coherence. All these benefits work to optimize your SEO (search engine optimization) for better visibility on Google and increase your brand trust with your customers. 
Better still, there's a trick to the balancing act. 
Using a stack of comprehensive content marketing tools, you can check, upload, and schedule content automatically. This saves time, reduces errors, and makes it easier to analyze content performance. 
+10 Top Tips for Streamlining Content Publishing and Promotion
Your content could be killer, but it's useless if it's sitting in a Google drive folder and not getting any air time.
Content publishing and promotion scheduling can be tough. You need to release content at the right times for maximum visibility and consistency to improve SERP rankings.
Try these 11 content publishing tactics to help you upload and promote your content without hassle.
#1 – Standardize Publishing Protocols
From the outset, you want to make sure you and your content team know the standards for finished content and the process to get it published.
Before even hiring a team or starting out on digital marketing campaigns, you need to work out your content distribution strategy. These are the end-to-end steps that each piece of content goes through. 
This is strictly internal, to help your team execute planned operations. To do so, you'll want to invest in business process automation software that allows you to standardize and scale procedures. 
That content distribution strategy is likely to look something like this:
Research

Brief

Plan

Create

Edit

Check quality

Publish

Promote

Analyze performance
Establish what happens at each stage and the actions that each member is responsible for performing to ensure all digital content is delivered in a consistent way. Even if you work with an outside agency for Facebook ads, run the process through them, and notify them of each step they should take.
For example, imagine you're focusing your content strategy on link-building. 
Since over half of all marketers say that link building directly impacts organic traffic, it's important that you ensure all published articles contain internal links.
Image Source
Establish a protocol where every writer and editor knows that each blog article needs to contain a certain number of anchor links and where they should be placed.
If everyone's on the same page, it means that editors don't have to keep sending work back as internal links are missing.
#2 – Solidify a Content Calendar
Once you've got a content strategy in place, you need to ensure that you solidify a content calendar.
Your editorial calendar will tell you when content needs to be completed, published, and promoted. 
Research the most effective times and days to publish content on different platforms. This will increase visibility and encourage clicks.
For example, email campaigns are best sent on Tuesdays and Thursdays. If you're sending one email, do it on a Tuesday. If you send a second, plan it for a Thursday. 
Equally, podcast listeners listen to eight different shows a week. In this regard, you need to post a weekly podcast to keep listeners returning each week. 
Use a tool like Trello, Pipefy, or Google Calendar to create an editorial schedule of your content publishing dates and times.
#3 – Define Content Team Roles
To move content quickly through the publishing and promotion phases, you'll need to ensure your whole team knows what their roles are.
Your writers should know exactly how to outline, draft, and write a piece. Your graphic designers should know exactly when to turn in hero images. Your content translators should know exactly which blog content to translate. Your social media managers should know exactly what to post and when. Look to your editorial calendar to guide you. 
If you know you need articles, videos, and an eBook, you know you need to hire planners, content creators, editors, managers, and administrators to handle the creation and delivery of this content.
Image Source
That's how LFA Capsule Fillers gets 2.5K+ monthly visitors to its website. 
By building a team of content creators with the expertise to handle the various content types, LFA is able to release different types of content on a regular basis. This enhances its website and increases lead.
Using this strategy, the capsule company's website now has 2300+ organic keywords and a Domain Authority (DA) score of 69.
Want to optimize task assignments? Use a content planning tool like monday.com, Asana, or Trello to assign tasks to your content team. 
Your content team can digitally record the progress they're making so bottlenecks can be dealt with instantly.
#4 – Optimize Content Creation Processes
If you want to publish content on time, it needs to be produced on time.
Your content library should be filled with pillar and cluster content that creates a web of interlinked related topics. 
Each piece should be complemented with a high-quality header image. Custom-illustrated hero images are excellent for this. 
Image Source
To ensure this process runs smoothly, you should have templates and detailed briefs to help your content team produce content with coherent messaging, branding, and formatting.
That's how sleep guide, sleepjunkie, has built an empire of over 43,000 keywords and over 15,000 backlinks on its website.
Combining high-quality solution-focused content with consistent brand imaging, sleepjunkie creates a sophisticated content library for its target audience.
Posting content at least once a week, the sleep guide provides a relevant source of sleep-based information viewed by over 18,000 monthly visitors.
By outsourcing content to a team of dedicated graphic designers, writers, and editors, the content creation process is optimized to deliver every time.
#5 – Don't Be Afraid to Repurpose
Over time you'll build a comprehensive library of content. Unfortunately, old content won't feature so highly on search engine rankings.
However, if the content is relevant, don't be afraid to recycle previous blog articles.
Do this by updating statistics, quotes, and case studies to bring your articles up-to-date. Try adding new theories or showing how trends have changed over time.
Alternatively, use the content from your old articles to reword as new sections in your upcoming blog content and link back.
Image Source
That's how Joy Organics gets nearly 7000 monthly visitors and has over 8000 ranking keywords. 
By recycling and summarizing old content, Joy Organics links in past content to increase relevance and speed up content publishing. 
#6 – Implement quality controls
Don't forget to make sure your content is top-notch before you publish it. There's nothing worse than a typo to undermine your credibility. 
Implement strong quality control procedures in your content process. 
Top content quality control tools include:
Grammarly or Writer to check spelling and grammar

Hemingway to check readability

Easybib or Plagiarism Detector to check for plagiarism
You should also make sure you have a dedicated content editor, video editor, audio editor, and image editor, depending on the content you produce. 
With tools like Hemingway, you can even list the amount of reading time on each article you publish, like Take Spruce does: 
#7 – Check Content SEO
You could have written the next Catcher in the Rye.
If your SEO isn't up to scratch, nobody is going to see it.
Make sure you run an SEO audit to ensure that your content SEO and technical SEO meet the grade.
It's easier to use technology to do this, rather than trying to find keywords and check meta-data manually. 
Try using the Yoast plugin for real-time content analysis on WordPress. You can check your articles to optimize for Google before you publish them.
Image Source
Once the pages are live, analyze content SEO and technical SEO with SEO Tester Online. You can see the overall performance of each web page and how to improve the content.
As you can see, Amazon analytics firm, Aurora, could improve its article title coherency to boost SEO.
While Aurora has over 1100 visitors a month, fixing its title tags will help content soar up the SERP rankings.
#8 – Streamline Uploads to Your Content Library
The content publishing process can be a true nightmare if you don't streamline the upload procedures.
For example, moving content from Google Docs to WordPress can take ages. It's fiddly and it's easy to miss inputting key SEO data.
Use a tool like Wordable to streamline the content upload process so there's no holdup between Google Docs and WordPress. 
#9 – Schedule Content to Publish Automatically
Take advantage of scheduling tools in your content management system (CMS). 
You can often batch produce content and schedule it to release automatically over a given period.
By doing this, you can front-load content production so your team is working ahead of itself. 
That way you'll have time to address any unforeseen issues without worrying about immediate content production. 
#10 – Schedule Your Social Media Content
When it comes to content promotion, social media is a hotbed of customer engagement. 
To increase visibility on social channels, you want to prioritize shareable content such as entertaining graphics and engaging videos.
Consider that 88% of marketers plan to post YouTube videos, 76% plan to post Facebook videos, and 65% plan to post Instagram videos.
Since 87% of marketers agree that videos increase web traffic, it's important to schedule social media campaigns to reach the right audiences at the right time.
For example, if you're posting on a Facebook Business Page, you'll get optimal engagement if you post five times a week.
You'll find it easier to create content for Facebook campaigns in bulk. That way, you can schedule this content to release automatically in line with your content calendar. You can use a social media scheduling tool to do this.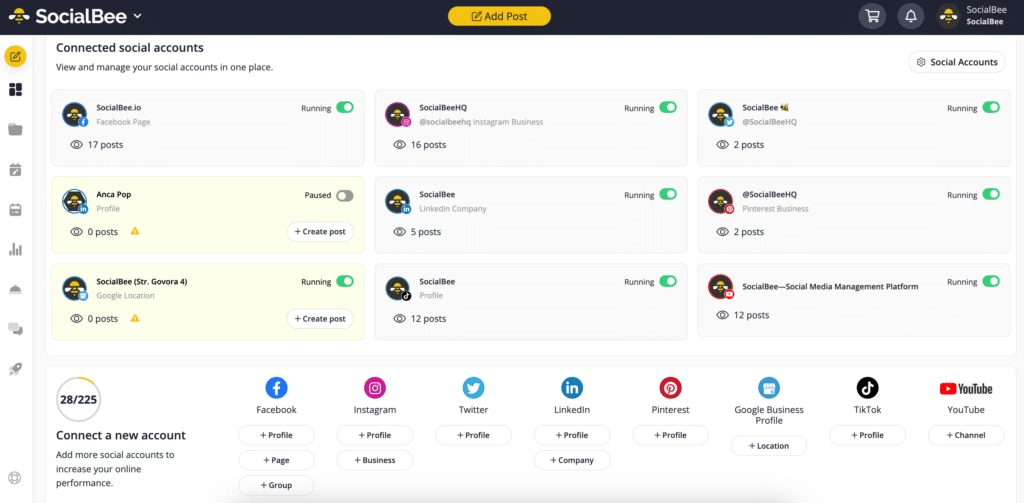 #11 – Analyze Your Content Performance Regularly 
To continually create engaging content on time, you need to make sure the ideas keep flowing.
If you're constantly scratching around for content ideas or creating content that misses the target, you'll waste time and money. You'll also see a dip in the team's morale.
Combat this by regularly analyzing the content that you put out to find what works. 
Use tools like Google Analytics to understand what content gets the most traffic on your website and where this content comes from.
You'll also get an idea of the trends cropping up in your industry and you'll be able to better profile your target audience.
Leverage the analytics on your social channels to understand what content gets the highest engagement levels.
Monitor which articles share the most, which Facebook posts get the most clicks, which Twitter tweet gets retweeted most, which products LinkedIn users buy, and so on.
Conclusion
Now you can see the benefits of streamlining digital content publishing and promotion, it's time to put these optimization tactics into action.
Boost SEO with SEO audit tools. Improve content quality with quality assurance apps. Schedule content using content management systems. Line up your social media posts and analyze them using social media publishing tools.
Kevin Kessler is a content specialist at Wordable, a tool that helps you export Google Docs to WordPress, formatting, and all.