Having a spotless online presence has become an essential part of any social media strategy. Still, managing multiple accounts remains time-consuming.
To make it easier, many companies have developed social media management platforms such as Buffer and Hootsuite that provide features to help you manage your social media channels with ease. But which is better?
In this article, we compare Buffer vs Hootsuite to help you decide which platform is right for your business. We'll also look at SocialBee as a buffer and Later alternative. By the end of this article, you'll know which platform provides the features and capabilities best suited to your needs. Let's get started!
Buffer vs Hootsuite: A Feature Comparison
Discover how SocialBee compares to Later, Hootsuite and other popular social media management tools.
SocialBee vs Buffer & Hootsuite: Side-by-Side Comparison Table
Features

Hootsuite

Buffer

SocialBee

Social Media Profiles

 

Post On

Twitter, Facebook, LinkedIn, Instagram, Pinterest, YouTube, TikTok

Facebook, Google Business Profile, Instagram, LinkedIn, Mastodon, Pinterest, Shopify, TikTok, and Twitter

Facebook pages, groups, and profiles, Twitter, Instagram, LinkedIn, Pinterest, Google Business Profiles, TikTok, and YouTube

Import Content

 

CSV Upload

✅

❌

✅

RSS Feeds

✅

❌

✅

Social Media Management

 

AI Content Generation

✅

✅

✅

Content Scheduling

✅

✅

✅

Bulk Scheduling

✅

❌

✅

Content Publishing

✅

✅

✅

Evergreen Posting

✅

❌

✅

List View

✅

❌

✅

Social Media Calendar

✅

✅

✅

Social Media Inbox

✅

✅

Coming Soon

Content Categories

✅

❌

✅

Hashtag Collections

❌

✅

✅

Hashtag Generator

✅

❌

✅

Team Collaboration

 

Client Workspaces

❌

❌

✅

Content Approval

✅

✅

✅

Analytics

 

Social Media Analytics

✅

✅

✅

Analytics On Schedule Set Up

❌

❌

✅

Content Category Analytics

❌

❌

✅

Export PDF Reports

✅

✅

✅

Integrations

 

Canva Integration

✅

✅

✅

Unsplash Integration

❌

❌

✅

GIPHY Integration

✅

✅

✅

Multiple Shortlink Tools

❌

✅

✅

Pocket Integration

✅

✅

✅

QUUU Content Curation

✅

✅

✅

Customer Support

 

Help Documentation

✅

✅

✅

Email Support

✅

✅

✅

Chat Support

✅

✅

✅

Support Calls

✅

❌

✅

UTM Customization

 

Category Based UTM Settings

❌

❌

✅

Custom URL and Tracking

✅

❌

✅

Additional Tools

 

Mobile App

✅

✅

✅

Chrome Extenstion

❌

✅

✅

Additional Services

 

Concierge Services

❌

❌

✅

Migration / Onboarding

❌

❌

✅

Pricing Plans

 

Monthly Plans

✅

✅

✅

Yearly Plans

❌

✅

✅
Buffer vs Hootsuite: How to Choose the Best Social Media Management Software
Selecting the appropriate tool is critical for any business, yet with such an abundance of options it can be difficult to discern which one best fits your company's objectives. Choose the one that compliments your social media strategy best.
Here is what to look for in social media management software:
Supported social media platforms

Content creation features

Social media planning and scheduling

Social media analytics

Social inbox and engagement tools

Team collaboration features

User experience and ease of use

Integrations

Pricing

Customer support
1. Supported Social Media Platforms
To truly maximize the potential of your social campaigns, a management tool that seamlessly integrates with all your favorite channels is necessary.
Hootsuite

Buffer

Facebook

Instagram

Twitter

LinkedIn

TikTok

Pinterest

YouTube

Facebook

Instagram

Twitter

LinkedIn

TikTok

Pinterest

Google Business Profile

Mastodon

Shopify
Later has the upper hand here as it also supports Google Business Profiles, Mastodon, and Shopify. However, it's important to note that it doesn't support YouTube like Hootsuite does.
2. Content Creation Features
Crafting captivating content is the backbone of successful social media marketing, therefore, it's critical that you are aware of the content creation features in your chosen tool before you proceed. Do some research and ensure that everything necessary to create awesome posts is available.
Both Hootsuite and Buffer help you create content via their Canva integration and AI assistant. With the Buffer AI Assistant, you can quickly generate fresh ideas and repurpose your existing content for use across all social media platforms. It helps you repurpose posts for various social channels. It also gives you ideas for upcoming posts.
Hootsuite boasts several impressive features for content creation, including the post composer which enables users to create, schedule, and publish content from one place. Additionally, the platform offers content library templates that simplify the publishing process by providing pre-approved templates from your organization's content library.
3. Social Media Planning and Scheduling
Buffer offers marketers the chance to plan and schedule their future content from a clean and simple dashboard. You'll be able to create a publishing schedule and tailor your posts for each platform you plan to post to. Keep in mind that TikTok videos and stories cannot be published automatically but only via mobile reminders.
Manage multiple social networks and schedule posts with Hootsuite's social media calendar and planner. It will allow you to manage your online presence more efficiently. This tool helps you plan and publish new content, as well as map out new campaigns, all from one centralized dashboard. 
4. Social Media Analytics
In-depth insights and comprehensive reports are mandatory, especially when you want to see exactly what works and what doesn't. Buffer's analytics dashboard will help you get a quick look at how your current content strategy is performing. Access boosted post insights, audience demographics, and profile analytics for Instagram, Facebook, Twitter, and LinkedIn.
With Hootsuite, you have access to a range of robust reporting tools that provide valuable insights into your social media performance. These tools can provide data on engagement, impressions, likes, shares, website clicks, top-performing posts, and much more. Additionally, Hootsuite's pre-made report templates enable you to quickly generate visually compelling reports based on this data.
5. Social Inbox and Engagement Tools
Seeing all of your social media conversations in one place can help you interact with your audience in a much more meaningful way. With Buffer, you can reply to your comments directly from your desktop. If you're an Instagram user, you'll find their grid comment feature most helpful.
Alternatively, Hootsuite's social inbox helps you stay connected to your audience, allowing for instantaneous and on-brand replies with automated messages. Additionally, the platform provides insight into edifying conversations about your brand and industry by providing users a means of monitoring mentions across all platforms.
6. Team Collaboration Features
Make sure that your next social media campaign is top-notch with Buffer's collaboration feature. You'll be able to leave and receive feedback points on any drafted posts, review posts with the help of a content approval workflow, and share access to accounts with multiple users.
Meanwhile, Hootsuite helps you with managing social networks. Send your team members messages whenever something comes up, share your feedback with them, and allow them to stay on top of all social media networks without having to share passwords.
7. User Experience and Ease of Use
User experience is important when deciding between two softwares. Most Hootsuite reviews praise the platform as being user-friendly and easy to use. Rather similarly, Buffer is also an example of a social management platform that relies on simplicity more than anything else.
8. Integrations
Curious to get a comparative look of Hootsuite and Buffer's integrations?
Hootsuite Integrations

Buffer Integrations

MailChimp

Canva

Hubspot

Shopify

Dropbox

Slack & more

Canva

Zapier

WordPress

Pocket & more
9. Pricing
Let's explore the associated costs of both platforms and determine which one is the most cost-effective for your business goals.
Hootsuite is currently offering a 30-day free trial for their Professional and Team subscriptions. Buffer also offers a free subscription for up to three social channels connected. Also, keep in mind that Buffer's prices are per each social media account.
Hootsuite Prices

Buffer Prices

Professional

: $99/month, $1.188/year

Team

: $249/month, $2.988/year

Business

: $739/month, $8.868/year

Enterprise

: Custom

Essentials

: $6/month per channel, $60/year per channel

Team

: $12/month per channel, $120/year per channel

Agency

: $120/month for 10 channels, $1.200/year for 10 channels
10. Customer Support
Hootsuite's customer service has been met with a rather polarizing reaction; many are pleased while far too many feel let down by the slow email support they have faced. As for Buffer, some customers were let down by the lack of customer service.
When to Choose Buffer
Buffer can help you schedule and publish posts on various social media platforms, analyze the performance of your posts, and engage with your audience.
Here's when you should choose Buffer:
If you are managing several social media accounts for either your business or personal brand

If you would like to save time by scheduling your posts in advance

If you want a customizable and affordable price

If you prefer to create and publish your social media content from a single, centralized platform

If you work with a team and need to collaborate on social media content creation and publishing
When to Choose Hootsuite
From managing multiple social media accounts to scheduling posts in advance, Hootsuite is one of the most versatile social media tools that can help you stay connected and organized.
Here's when you should choose Hootsuite:
If you manage multiple social media accounts

If you want to schedule posts ahead of time

If you want to monitor social media mentions and engagement

If you collaborate with a team on social media

If you want to analyze your social media performance
What Is a Good Buffer and Hootsuite Alternative?
Chances are that you're still confused about which tool would complement your social media marketing strategy. Guess what? That's perfectly fine. It means that you're looking for the best tool out there.
If so, you'll be pleased to find out more about SocialBee, an outstanding social media management solution and scheduling tool for entrepreneurs, content creators, agencies, and businesses of all sizes.
Here are the features SocialBee has over Buffer and Hootsuite:
AI post generator

More social networks supported

Evergreen posting

Content categories

Content category analytics

Affordable pricing

Hashtag collections

Hashtag generator

Client workspaces

First-class customer support
1. AI Post Generator
Enhance your content creation process with SocialBee's AI post generator. Through its state-of-the-art AI technology, SocialBee's social media post generator tool can support you in creating top-quality posts in less time and with less effort.
Generate high-converting social media captions and ideas with SocialBee's free AI post generator!
Start your 14-day free trial now!
Unlock the potential of AI to craft a virtually limitless amount of post descriptions with just one compelling prompt.
In the beginning, you can take advantage of our ready-made templates for your go-to platforms, such as LinkedIn or Instagram, and very specific prompts for various industries, such as marketing agencies or lifestyle coaches. With this power in your hands, you can create high-converting content faster than ever before.
Start Using an AI-Powered Social Media Tool Alternative for Buffer and Hootsuite!
2. More Social Networks Supported
With SocialBee, you can post your awesome content to the following social media platforms:
Facebook (Pages, Profiles, Groups)

Twitter

Instagram 

(Business Profiles, Personal Profiles) 

LinkedIn 

(Personal Profiles, Company Pages)

Pinterest

Google Business Profiles

TikTok 

(Personal, Pro)

YouTube
Note:
Hootsuite is currently missing Facebook groups and Google Business Profiles, while Buffer, doesn't support YouTube.
3. Evergreen Posting
You might already be aware of the importance of evergreen content. This relevant type of content never goes out of style. Some examples of evergreen posts can feature client testimonials, educational content, or product tutorials.
Create evergreen content categories and requeue content that stays true to your brand with SocialBee.
As of now, Buffer does not have the capability to recycle evergreen content. However, SocialBee is here to make things easier: it helps with social media planning, as well as generating, organizing, sharing and reusing evergreen material. You can even designate a special category for your everlasting ideas so you always know when will be the best time for them to appear on your page.
4. Content Categories
Users should always categorize their social media posts based on different topics and relevant criteria using content categories. Unfortunately, this feature is currently unavailable in Buffer.
Organize your upcoming content into easily accessible content categories directly from the SocialBee app.
Start our 14-day free trial today!
With SocialBee, you can organize all your posts and develop a hassle-free content strategy. Categorizing your content can assist you in better organizing and diversifying it, which is a fundamental practice if you want to make it to the top.
5. Content Category Analytics
While Hootsuite and Buffer offer valuable analytics, it is important to note that they lack content category analytics. This means that you cannot determine how well specific content categories, such as educational posts versus memes, are performing.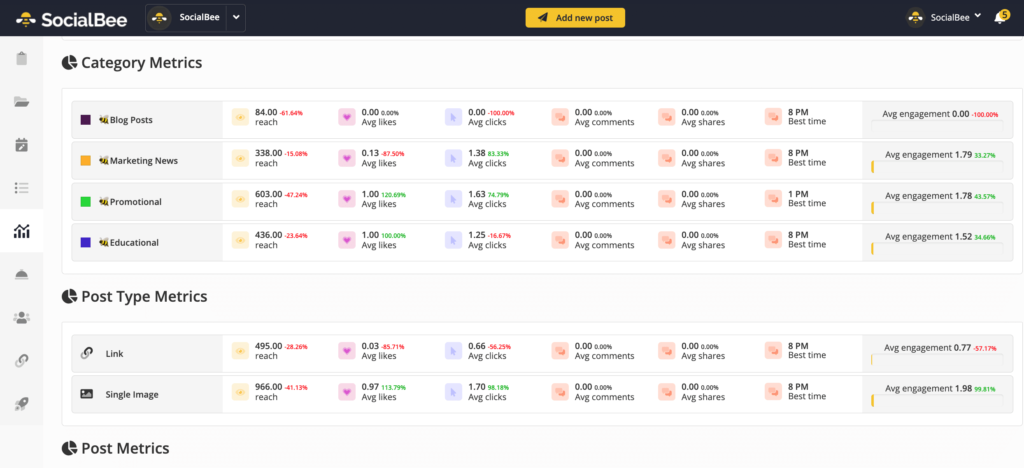 Analyze your category metrics and see which content your followers love with SocialBee.
Start your 14-day free trial now!
SocialBee offers a solution by providing comprehensive content category metrics, which can help you understand how well different content types are resonating with your audience. By leveraging this feature, you can gain insights into what your followers enjoy seeing from you and optimize your content strategy accordingly.
6. Affordable Pricing
SocialBee is a much more affordable solution compared to Hootsuite and Buffer. Manage your social media channels without breaking the bank.
SocialBee

Hootsuite

Buffer

14-day free trial

Starts at $19/month

30-day free trial

Starts at $99/month

Free account for up to three channels

Starts at $6/month per channel
7. Hashtag Collections 
SocialBee empowers you to save time effectively by creating collections of frequently used hashtags directly within your account. Moreover, you can develop multiple collections tailored to your social profiles and platforms, allowing you to manage your tasks efficiently.
Set up hashtag collections you can easily select for your upcoming posts with SocialBee.
Start your 14-day free trial now!
It's important to note that Hootsuite doesn't currently offer the ability to create hashtag collections.
8. Hashtag Generator
Without a generator, coming up with hashtags can be a difficult task. Although Hootsuite does feature a hashtag generator, Buffer lacks one. SocialBee, on the other hand, provides its customers with an efficient hashtag generator that makes recommendations based on the content you intend to publish. 
9. Client Workspaces
Separately managing the social media accounts of each client or business is essential for staying organized and accurately monitoring their progress.
However, Buffer and Hootsuite lack the capability to provide users with separate workspaces for each of their clients, which may negatively impact their social media strategy.
With SocialBee, you can experience the effectiveness of client workspaces firsthand. You can effortlessly switch between each client's workspace, invite users, and assign roles as necessary. This feature enables you to manage multiple clients simultaneously without the need for excessive multitasking or difficulties in sharing feedback with team members.
10. First-Class Customer Support
If you thought a social management and scheduling tool couldn't offer swift and professional customer support, think again. From guidance for migrating content from another platform to ensuring your satisfaction after setup, SocialBee's customer success team will be with you every step of the way.
Switch to SocialBee to Simplify Your Social Media Planning
If you're looking to switch to SocialBee and enhance your planning efforts, our Migration service is the perfect solution for you. It's a straightforward process.
During the migration, we'll transfer all of your profile content, including your posting schedule, RSS feeds, and shortlink provider settings. You'll receive an email report that details everything that was successfully migrated. So why not give it a try?
Frequently Asked Questions
Choose the Best Social Media Marketing Solution for You
In conclusion, both Buffer and Hootsuite are great social media management tools that serve different purposes.
If you need a simple yet effective platform to schedule and buffer your posts, then Buffer is the perfect choice. However, if you want more features such as social analytics, team collaboration and an upgraded content library, then Hootsuite is the way to go.
Additionally, SocialBee is a viable alternative for those who are looking for a combination of Later and Hootsuite's features in one platform. Give it a try by taking advantage of the 14-day free trial that's currently available. We hope to see you there!
Looking for a Top-Rated Social Media Management Tool? Try SocialBee!