Social media management is more than just creating content. Sure, that's an important part of the social media management process, but it's not the only one. When managing social media, you also have to:
Distribute the content 

Analyze the content's performance 

Improve future content based on the reviews and past performance
Today, we'd like to discuss content distribution, a step that we believe is just as important as content creation. Now, you might not believe us when we say this, but let's take an example to see just how much content distribution matters in social media management. 
Sharing Content Is Like Sharing Cupcakes at a Party 
Let's say you go to a party and you bring with you some cupcakes. You know for a fact that your cupcakes look and taste good, so obviously, you want as many people to try them out. 
But the thing is, the other people at the party don't know how delicious your cupcakes are and they have a lot of options to choose from. So if you just leave your cupcakes randomly on the table, you might risk finding them in the same place by the end of the night. 
That's not something that you want. Not after you've worked so hard to bake your cupcakes. 
So then what can you do to make sure that your cupcakes are going to be a success at the party?
For starters, you can put them on a different table, one that doesn't have any cupcakes on it. That way, you eliminate competition. The time when you put your cupcakes on the table is also important. 
If you put them on the table after people have eaten, then nobody is going to want to eat your cupcakes anymore. But if you put them on the table before people eat, then the chances of people eating the cupcakes will increase. 
You'll see a great difference just by changing the location and the time of delivery. 
How Are Cupcakes and Content the Same?
Sharing content is exactly the same. Social media feeds are oversaturated with businesses trying to market their products and services. It's only natural that people will be sick of seeing the same thing time and time again, only from different businesses. 
But the issue is not the content you produce. After all, you know that your content is good, you've created it yourself. The true issue is the delivery method, or better said, the way you distribute your content. 
So if the distribution of your content matters just as much as the creation part, how can you make sure that you are acing your content delivery? 
There are some practices that will ensure effective content distribution, and today, we'd like to share those practices and some extra tips with you.
1. Research Thoroughly 
When it comes to marketing, everything needs to be researched. And we mean everything. Now you might think that this is a sinuous process, and you're right. It is. But it is a necessity that your marketing strategy needs in order to work efficiently. 
In the case of social media content distribution, what needs to be researched? 
1.1 Your Competitors
This usually needs to be done regardless of the marketing strategy you decide to pursue. You need to see who your biggest competitors are and who is dominating the market that you want to enter into. 
When checking out your competitions, you need to perform a meticulous analysis of:
What your competitors are doing

right

in terms of marketing

What your competitors are doing

wrong

in terms of marketing

What brings them the most traffic, followers, new subscriptions, etc.

How many resources they have and how are they using their resources

What their product differentiation is

How they are presenting their brand 
These are of course just a few things that you need to pay attention to when it comes to analyzing your competition. Generally, you can use techniques such as Porter's five forces or the SWOT analysis to get more information about your competitors. 
1.2 Keywords and Hashtags 
When creating content, finding and using the right keywords is vital. Not only will keywords help you in the SEO (search engine optimization) and PPC (pay-per-click) processes, but they will also offer you more insight into what your target market is interested in. 
If you want to promote your content on social media, you need to bear in mind that some social media platforms, such as Instagram and Twitter, extensively use hashtags. This means that if you don't use the correct hashtags, or if you don't use hashtags at all, your intended public will not see and interact with your posts. 
1.3 Distribution Options 
You can't just distribute your content anywhere and expect it to get the clout that it deserves. Just like in the cupcake example, you need to know where to put your cupcakes so that as many people as possible reach out to them. 
It's the same with content. To get traffic from content marketing, you need to know where to post your content. And when it comes to content distribution, we have several options available:
Owned media

(such as emails, newsletters, ebooks, podcasts, websites)

Shared media

(such as social media)

Paid media

(such as influencer collaborations or guest posts) 
Once your business is established, you will need to have a combination of distribution mediums. But for starters, you can test out just a few and see what works best for your business. 
1.4 The Social Media Platforms 
Social media platforms can be very different from one another. Each platform has different requirements that people need to meet in order to post on them.
For example, just because you gained success with your Facebook posts doesn't mean that you will have the same results on Twitter. There are significant differences between the two platforms, which means that you need to adopt a new social media marketing strategy. 
So while on Facebook you can make use of 63,206 characters to write a post, on Twitter you only have access to 280 characters. The difference is staggering. Another discrepancy is the use of hashtags. Facebook hashtags don't really work but your Twitter posts depend on hashtags to be seen. 
Checking out the requirements for each social media platform is something that should be done before creating content that goes on social media. Sure, you can learn as you go, but it's better to do your homework beforehand. 
2. Plan the Distribution of Content 
This should be a given. If you want to deliver your content in more than one way or on more than one social media platform, then you will have to plan your steps carefully. 
The Difference between Distributing Owned Media and Shared Media on Social Media 
The great thing about social media is its versatility. You can share any kind of content, which means that you can either post:
Content specifically made for social media

Content made for your website and other marketing channels (blog posts, emails, e-books, etc)
Now, of course, there will be a noticeable difference in the way these posts are created. When creating content for social media, you create it with the social media platform's requirements in mind. 
This means that if you create an Instagram post, you will design a picture that has a sizing of 1080 x 1080 (1:1 ratio), write out an attractive copy, and use corresponding hashtags. 
But if you are to share a blog post on Twitter, you will just need the link, a short copy, and a few hashtags. The requirements for sharing content that was made for other marketing channels are not nearly as strict. 
The reason behind this is quite straightforward. When making content for social media, your main goal is to promote the business. But when you're distributing content that was made for other marketing channels, the main goal is to promote the content that was already created. 
So the difference doesn't only stand in the way social media posts are created for owned and shared media, but it stands in the purpose of the distribution. 
How to Plan Your Content Distribution on Social Media
In the example above we kept mentioning the importance of time and location. By now, we believe it's obvious why the time when you post and where you post your content matters. 
But how do you decide where to post your content and when? And more importantly, how do you make a solid, long-term posting schedule that will be sustainable and successful?
Let's tackle these questions one by one. 
Deciding the location depends on your target audience. Different age categories prefer different social media platforms, so you need to be mindful of the age category of your target audience. Developing a buyer persona is something that could be very useful in this instance. 
About 40% of Gen Z prefers using mostly three platforms:
Similarly, about 40% of Millennials mostly use six platforms at least once a week:
Baby Boomers and older generations prefer Facebook to any other social media platform. 
But of course, age is not the only factor. Profession and education are also two elements that influence your target audience, and depending on these, the platform of choice might change. 
Unlike the posting location, time relies on social media traffic. Think of it like normal traffic. There are rush hours when the traffic is absolutely horrible and it takes forever to get to your destination. Usually, mornings and evenings are prone to becoming rush hours. 
The same can be said with social media. There are certain hours during the day in which people are more prone to check out their feeds. 
Here are the best times when you can post on social media platforms: 
Instagram

-Wednesdays at 11 AM and Fridays from 10 AM to 11 AM

Facebook

-Wednesdays at 11 AM  and between 1 PM and 2 PM

LinkedIn

-Wednesdays between 8 AM and 10 AM and at noon, Thursdays at 9 AM and between 1 PM and 2 PM, and Friday mornings at 9 AM

Twitter

-Wednesdays at 9 AM and Friday mornings, between 7 AM and 9 AM

TikTok

-daily, between 6 AM and 10 AM and the evening, from 7 PM to 11 PM

Pinterest

– Fridays, and Saturdays, from 8 PM and 11 PM (with a peak at 9 PM) and in the middle of the night from 2 AM to 4 AM

Snapchat

-late at night between 10 PM and 1 AM

Youtube

-Thursdays and Fridays
Or choose to illustrate visually what the posting times look like
How To Make a Stable Posting Strategy
Once you know when to post your content and where to post it, you need to make a schedule and respect it. Here's how that should work:
Example: Your target audience is mostly made out of teenagers. You decide to post owned and shared media on Instagram and Youtube. Every single Wednesday at 11 AM you deliver a post on Instagram and every single Friday your post a video on YouTube. 
This might not seem like a lot, but if you are posting on multiple platforms, the distribution process can get pretty complex. Luckily, there are many tools that can help you post your content constantly on social media. SocialBee is one of those tools.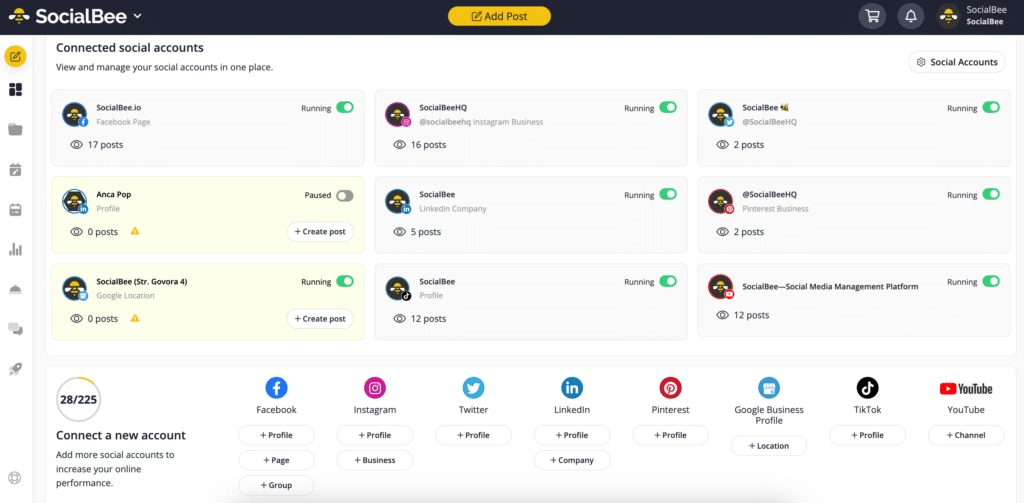 If you are considering a marketing strategy that seriously involves the usage of social media, then a tool like SocialBee is a must. What does this tool do?
In short, SocialBee will help you:
Create a posting schedule

Automate the posting process

Design posts for different platforms at the same time
These are just the main features that SocialBee has, but there are many more features that users can play around with. And all you need to do is connect your social media profiles and then start creating. 
3. Optimize Your Content 
If you want to remain successful for long periods of time, then your content constantly needs to be updated and optimized. This means that you must analyze your posts and your content, see how they perform, and then see what you can improve. 
Optimization comes in many forms. For example, you can optimize content for organic searches by paying extra attention to metadata, CTAs (call to action), keywords, and backlinking. 
Analyzing social media can be one example of optimization. Generally, doing this can be quite easy. But only if you have the right tool that will give you clear and easy-to-understand analytics. SocialBee is definitely a tool that can provide the analytics that you need to get a better understanding of how your content performs on social media and how you can optimize it. 
Evergreen Content 
You can also optimize content by turning it evergreen. As the name suggests, evergreen content is high-performing content that you can reuse time and time again. This is because the content stays relevant and "fresh" for consumers over a long period of time.
Many make the mistake of thinking that all online content is evergreen, purely because the content doesn't disappear from your social media accounts or website (unless you decide to delete it, of course). But this is not true. Posts can lose some of their relevance in time, bringing fewer interactions and search traffic. 
Evergreen content is different. Generally, it is going to be relevant long past its publication date, bringing in more search traffic over time.
Here are some examples of evergreen content:
Product reviews

How-To content 

Industry guides 

Listicles

Videos 
But writing in these formats might not be enough to create evergreen content that continuously attracts leads and converts them to clients. This means that you will have to combine your evergreen content with your social media strategy. 
What does this mean?
This means that you will have to constantly promote your evergreen content on your social media outlets. This way you can drive traffic to your evergreen content through SEO and through social media marketing, effectively doubling your efforts to bring leads to your page. 
If you want to reuse evergreen content, you can simply republish it as it is or repackage it to offer a sense of excitement. 
Bottom Line 
There are many factors that influence the success of a business, and content distribution on social media is definitely one of these factors. While creating good content is important, the way you share that content with your audience is equally important. As a marketer, you should know exactly how to present your content and where and when you should post it. Only then will you be able to call your social media marketing campaign successful.