Social Media Marketing Glossary
Having trouble understanding a new social media marketing concept? The next step: expanding your knowledge and becoming a marketing connoisseur.
Keep up with the latest social media terms, concepts, and trends thanks to our comprehensive glossary. 
What Is a Social Media Follower?
A social media follower is a person who subscribes to the opinions, ideas, beliefs, and teachings of another. On social media, followers like, subscribe and follow accounts and pages in order to receive notifications and see the content those creators post on their news feeds.
It is useful to know that follows are not the same as likes or shares. People actively engage by liking, sharing, or retweeting a post when they find value in that individual post, but a follow is much more than that. It indicates that a user is interested in getting constant updates.
A follow basically shows that there is a higher level of engagement and a long-term interest in a creator's content.
Why Are Social Media Followers Important?
Having a strong social media presence is an important part of any successful marketing strategy. After all, there is no value in posting content if you don't have a social media audience, or if you don't focus on building one. We all have to start somewhere.
Here are the benefits that stem from gaining a greater social media following:
Reach more potential customers
Increase brand visibility
Boost your credibility and establish trust with potential customers
Gain access to different demographics and niches
Drive engagement on your social media pages
However, getting more social followers is not the end goal of your social media strategy. The real value comes from creating a meaningful connection with potential and existing customers, generating more conversions, and increasing brand loyalty over time.
Don't take your social media audience for granted. If you stop sharing relevant posts that cater to their needs and preferences, you will see the follower count drop and move on to other creators.
How to Gain More Social Media Followers
Building a social following is for sure a great way to promote online businesses. However, if you want to get quality followers, you need to implement several permanent practices.
Tips for attracting and maintaining an engaged audience:
Choose the right social media platforms: Decide on the best social platforms for your brand by considering your target audience, marketing goals, and the type of content you want to share online.
Be consistent with your posting schedule: Create a social media content calendar that contains an abundance of content ideas and posts. Remember to plan social media posts that complement your marketing campaigns and help you achieve your goals.
Use social media tools: Automate recurring tasks, such as publishing content and responding to comments, with the help of social media monitoring tools. Use social listening tools to monitor conversations, track your brand mentions, and find brand advocates. Lastly, utilize social media analytics tools to gather more data about your followers.
Cater to your audience: Make sure you speak to your target market. In social media marketing, it is important to post about topics that are relevant to your followers. Use social media listening and your own insights to pinpoint the most relevant post types and talking points.
Interact consistently with your followers: Respond to comments, mentions, and DMs in a timely manner. The more engagement you will have on your social media accounts, the more your next posts will appear on the feeds of the followers you interacted with in the past.
Tag other accounts: Tag influencers, industry leaders, and other relevant accounts in your posts.
Share interactive content: Ask questions, run competitions, and giveaways, or share polls followers can engage with on every social network you use.
Engage in trending conversations: Leverage the popularity of trending debates and conversations to put the spotlight on your brand and attract like-minded people through your opinions and unique takes.
Use hashtags to break into niche online groups: Add relevant hashtags to your content to reach out to your target audience, join conversations, and increase brand visibility.
Frequently Asked Questions
Start planning your marketing activities ahead of time for each social media platform.
Keep track of all the best times to post on all your social channels.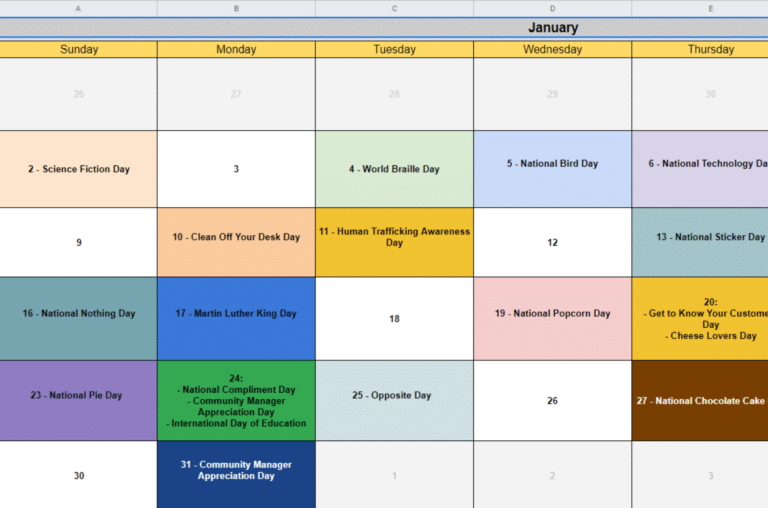 Discover all the holidays you can start creating content about throughout the year.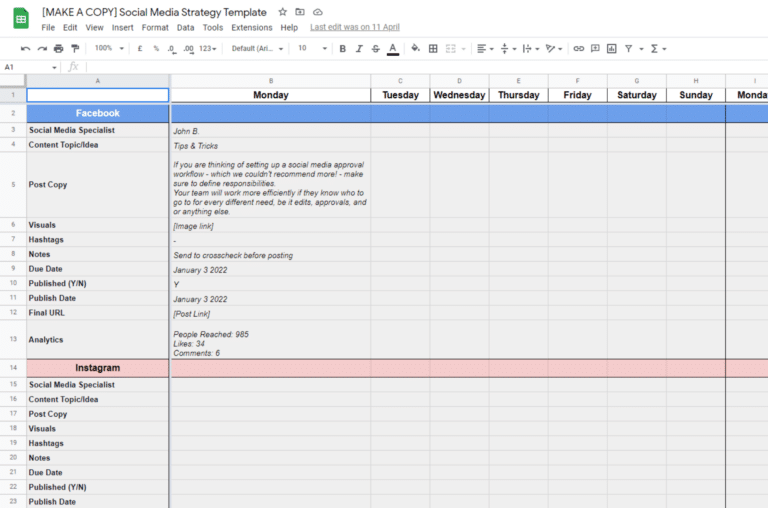 Develop a comprehensive social media strategy with the help of one document.
Evaluate your social media performance and find out how to improve your strategy.
Plan all your content ahead of time for all your social media platforms.
Small Businesses Love SocialBee!
Small businesses like yours use SocialBee to share content across multiple platforms from one place.
14-day free trial, no credit card required