Travel back in time with me for a second:
It's the year 2000, and you're unplugging your landline phone to connect your dial-up internet cable into your computer, hoping your parents wouldn't notice—my fellow Millennials would know exactly what I'm talking about here!
You hop online to check your emails, browse the web, and check AOL Instant Messenger (AIM) to see what your friends were up to, or maybe check to see if your crush was online, too. 😉
Remember Friendster? Or what about MySpace and when Tom made us pick our Top 8's that stirred the pot amongst our friends?! 😂
Yep, those were the simple (yet tech-complicated) days.
Looking back, I've realized that the internet was just ramping up ways to connect with people online, and it was a pretty cool experience seeing social media as a newborn baby.
Fast forward to the year 2023; we now have lightning-speed internet, portable laptops, and smartphones with internet that we can take with us virtually anywhere!
These phenomenal advancements in tech resulted in the creation of new and improved social media apps, including Instagram, Twitter, and Facebook that we could access all day, every day.
In this new digitalized world, sharing stories, thoughts, experiences, and connecting to anyone at any time on the globe in an instant has never been easier.
This is exactly why social media has become one of the most powerful tools on the planet. 🌎
We'll talk about what other tools could also rule the world later in the article… 😉
While social media began as a way to connect with people, it has now become the most effective and the most commonly used tool for brands to attract and connect with customers.
But because practically anyone can post online nowadays, content has saturated everyone's social feeds, making the space more competitive than ever!
So if you own or run a business, stepping up your social media game is a MUST on your to-do list, and we'll tell you why!
Why a Social Media Game Plan Is a #MUST-HAVE for Your Business
According to the latest social media usage statistics in 2022, the number of social media users has now surpassed the 3.8 billion mark. The average person has 9 different social media networks and spends about a little over 2 hours on them daily!
Social media opens so many opportunities for your brand, including:
Getting a chance to tell YOUR story & build rapport with your target audience

Direct communication with your target audience

Increase brand awareness and ROI

Growing your audience through effective & engaging content

Getting feedback from users & data through social listening
If you're a Millennials like I am, then my guess is you probably check social media more than you even realize.
…and if you're a Gen Z-er, well, then you probably eat, sleep, and breathe social media! 😜
The point is, with an audience this large, it's definitely a no-brainer to make social media part of your business strategy!
Social Media #Basics
To be successful in social media marketing, you must first understand some of the basics including knowing your target audience's age range and the differences between social media platforms that they are most active on and what they use each of them for.
Once you've understood the ins and out of each platform and identified which ones your target audience uses, then it's time for the fun part: creating content! 👩🏻‍🎨🎨
Let me tell you; I've learned SO much from my time working in Content Marketing so far. It takes a lot of creative juices and witty brainpower to come up with purposeful, tasteful, engaging, and effective content! (Just like this blog post I'm writing about right now 😜)
I've found a new appreciation for captivating social posts, well-crafted blog articles, and other creatives online, and I know how much time it takes to finish each masterpiece.
This is exactly why understanding your target audience, brand voice, and everything about your social media strategy is super important.
Don't waste precious time and creative energy all because of a poor social media strategy and management. #Aintbodygottimeforthat
Why Some Businesses #Fail at Social Media
According to the Statistica Research Department, about 92% of US marketers in companies that have more than 100 employees were expected to implement social media in their marketing mix.
While the majority of businesses use social media nowadays, a good number of them end up failing at creating a strong online presence due to many factors.
Let's talk about some of them.
1) Ineffective strategy design: AKA "forgettable content," is when the design of the content is not useful to followers and there aren't enough types of designs in your content mix.
Many businesses post frequently thinking that's how to win followers online, but they become missed efforts because some of them lack a brand voice, as well as quality and uniqueness in their design.
Imagine spending so much time creating a post just to have users scroll through them without giving it a thought…not even a courtesy "like."
2) Poor promotion: Creating content but not promoting enough or effectively could lead to poor visibility and less engagement. I mean, content can't be successful unless people actually see it right?
3) Capturing and analyzing social data: Ignoring the data and not having access to or misreading analytics could lead to missed opportunities, wasted efforts, and could even cost a business a hefty chunk of their marketing budget.
4) Misunderstanding target audience needs: Do you really understand what your audience wants? This is one of the most common errors in social media marketing because some focus on getting the business' message out before they've fully understood their audience's pain points and other preferences.
5) Focused on the wrong platform: Many people use multiple social media platforms for different purposes. Knowing which platform to target and what information you present on each platform is crucial to the effectiveness of your posts.
So if you're trying to reach the Boomer generation, you probably won't have much luck promoting on TikTok (well, unless you're targeting the hip Boomers like Kris Jenner?!)
6) Poor customer or user experience: Imagine seeing an awesome post you loved so much that you wanted to see and learn more about it or the brand. Then, you go on their social media profile only to see a random assortment of posts that you get confused about what the brand is about.
My guess is you'll probably lose interest immediately.
This is why it is crucial to lead your potential followers through a journey and having a unified voice and branding would help create an engaging user experience that will have them wanting for more. The problem is, a lot of brands still struggle with creating a social media profile that contains content that is not only engaging but also ties seamlessly with all the other posts.
If any of these are relatable to you, or if you simply just want to avoid these roadblocks, then you're going to need some helpful tools to keep your social media management free of super preventable problems!
SocialBee & ClickUp to the Rescue!
Familiarizing yourself with the basics of social media, understanding your audience, and creating amazing content is great, but knowing when to publish your refreshing and viral-worthy content is another important part of a social media strategy.
So as promised, here are the tools that can guarantee your content shines with all of its glory!
Powerful Tool # 1: SocialBee
Your social media calendar should always be polished and strategic. Just as you and your team carefully craft your social content, knowing when to schedule your posts to your target audience is key.
Ever heard of the saying "Luck is what happens when preparation meets opportunity?" Well, it applies here too. Don't let the perfect time to share your content pass you by!
Luckily, there is another way to beat the system and ensure you don't snooze when it's time.
It's called automation!
SocialBee allows you to schedule and automates your social media posts so that you could "set it & forget it," giving you more time to focus on creating your next viral post.
Aside from the magic of automation, SocialBee also offers a wide variety of features to help your social media perform at its best, helping your business thrive:
Easy import and editing features:

Make changes to several posts from one category at once: assign, approve, un-approve, delete, and more

Custom URL and tracking features:

Shorten and customize any link you'll be sharing on your social media profiles

Collaborative features:

Option to work in separate workspaces, invite multiple users to your workspace, assign different roles, add comments for your team, and see all the latest posts that need approval

Analytics and performance reports:

Get an overview of audience status, activity status, and top-performing posts

Customer Support:

Get amazing support from Help Documentation to live chat and email support to 1-on-1 calls
Set your posts and your business up for success with this powerful and data-driven tool, and let it help you get more leads with less effort.
And if you're looking for even more social media assistance, SocialBee offers Concierge Services that give you access to your own dedicated specialist. Get help from social content creation, content marketing, acquisition and amplification, and engaged growth. They'll help you build strong relationships with your customers, generate traffic to your website, and create a solid presence on social media!
SocialBee empowers you to use Social Media at its maximum potential, so you can grow your business online – faster and easier. Keep buzzing!", Ovi & Vlad, Co-Founders of SocialBee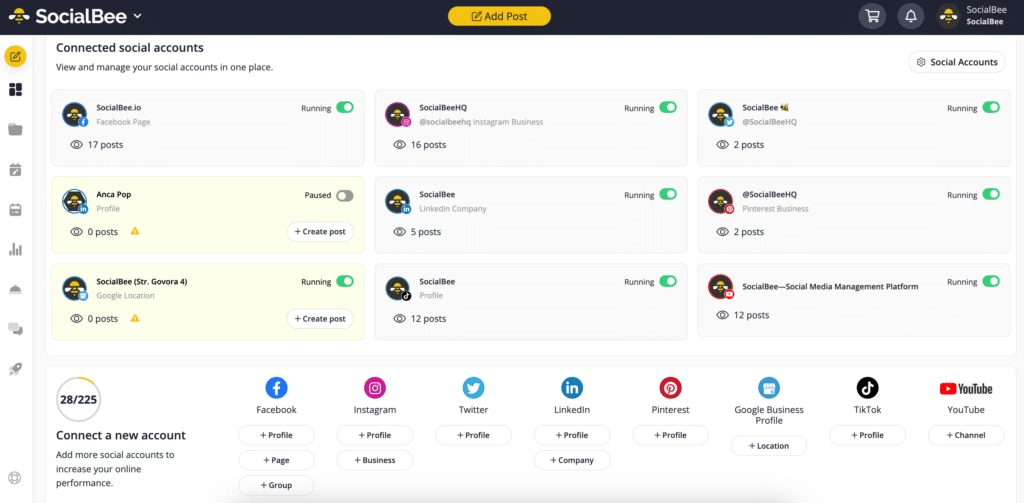 Powerful Tool # 2: ClickUp
Now that you've seen a preview of what SocialBee could do for your social media game let's take it up a notch and add another super tool to your tool belt!
ClickUp is one of the top-rated project management tools used by highly productive teams worldwide. It's built to save you time, manage projects, people, and everything in between!
And when it comes to social media management, we know it's no easy task especially when you're managing posts (and community outreach) across Facebook, Instagram, LinkedIn, Reddit, and Twitter—all at once. Thankfully, you can bring everything into a single field of view with ClickUp to make management easier and save time.
We'll show you how you can use ClickUp for content creation and management with its highly customizable features. Are you ready?!
Custom Statuses:

Content creating involves a lot of moving parts, so simple task statuses may not be as efficient for your workflow. Use Custom Statuses to customize the stages to fit your business' content creation process and identify stages faster for smoother content planning and better task visibility

Proofing:

Seamless collaboration is an essential part of completing any new piece of content. Use the Proofing feature to create and assign comments directly in task attachments so updates are clearly defined, assigned, and completed
Ready to Level Up Your Social Media Game?
Social media can be extremely helpful and incredibly effective if managed properly.
To be successful in the social media game, businesses must focus on creating valuable content that caters to their target audience's needs. And while those needs are constantly changing, businesses need to leverage the help of powerful tools to manage everything from content creation to promotion to accessing the effectiveness of each campaign.
That's why SocialBee and ClickUp exist—to help businesses like yours align their vision to their goals by giving them the resources, data, and tools to ensure success.
We're just beginning to scratch the surface of how ClickUp and SocialBee can help streamline your content creation process and social media management!
ClickUp's mission is to make the world more productive and save people time by giving them a powerful and reliable project management tool that can handle all their work needs in one place.
Combined with all of what SocialBee has to offer, expect to save hours each week on social media, level up your content creation process, and become the most productive bee in your industry!