Investing in efficient social media management for agencies can be critical for the success of your marketing strategy. Agencies need the right social media tools in order to manage their clients' presence on various social networks and drive positive performance.
Social media management doesn't have to be a stressful chore once you start relying on the right tools. However, due to the common challenges that marketing agencies face, most of them have already found the best social media tools for their needs.
In this article, we'll take a look at the most common challenges that agencies face, discuss the top five things to look for in a tool, and present the top 10 social media management tools for agencies. Let's get started!
Free Editable Social Media Strategy Template
Get the social media strategy template you need to audit and plan your marketing efforts for maximum results.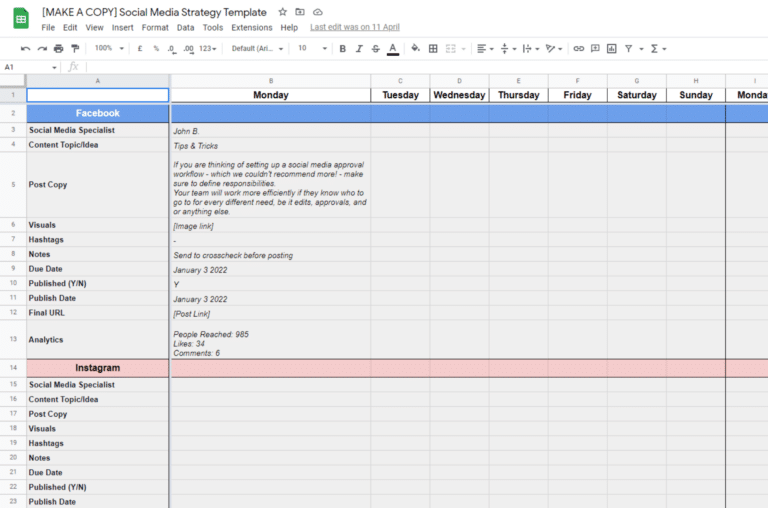 Common Challenges for Marketing Agencies
Digital marketing agencies are widely known for facing a unique set of challenges when it comes to managing their social media presence.
Here are the top three challenges for marketing agencies:
Poor team & client communication

Lack of automation

Insubstantial client performance reporting
A. Poor Team & Client Communication
Social media marketers often struggle with poor team and client communication. Truth be told, it can be difficult at times for teams to stay organized and be on the same page when managing multiple social accounts and campaigns.
Without proper communication and collaboration, clients are at risk of not receiving timely updates. As a consequence, their social media posts and campaigns may experience a decline in reach and engagement due to delays or miscommunication. 
A lack of communication can seriously disrupt the success of an agency's marketing efforts. To avoid this, agencies will need an all-in-one social media management tool that allows clients and team members to provide feedback and optimize their social media workflow. 
B. Lack of Automation
As agencies conduct their social media campaigns, the need for task automation continues to grow. Without proper automation, social media managers may find themselves spending hours on repetitive activities and processes, such as manually publishing social media posts or engaging with customers in a timely manner. 
A great social media tool is vital for streamlining these tedious processes and ensuring that social media managers have more time to focus on researching the clients' industries and refining content strategies. 
Without automation, agencies risk miscommunication with clients and burnout caused by the ever-changing customer preferences. 
Finally, automation minimizes errors and allows you to have more time to create content and maintain a consistent social media presence. When selecting a tool for your agency, make sure to evaluate its capabilities for automating daily social media marketing tasks.
C. Insubstantial Client Performance Reporting
When doing social media management, agencies must provide substantial client performance reporting to ensure that they're achieving their desired marketing goals. 
In the absence of proper client performance reports, marketing agencies cannot measure the impact and effectiveness of their campaigns, which can affect their credibility and relationships with their customers.
Furthermore, campaign and strategy optimization become increasingly difficult without accurate client performance data. It's time to maximize your clients' return on investment (ROI) with substantial client performance reporting. 
Use a social media management tool that provides valuable insights into customer engagement levels and ROI. That way, your agency will always continue to refine its tactics and adjust investments accordingly. Building trust between your agency and customers is the key to success.
What to Look for in a Social Media Management Tool
Social media has become an integral part of digital marketing. Agencies have adjusted and are now offering a wide variety of social media marketing services worth investing in.
Here are the top five things to look for in a social media management tool:
Effective social media planning and scheduling features

Advanced social media performance analytics

A centralized workspace

Easy client account management

Team collaboration features
1. Effective Social Media Planning and Scheduling Features
Social media planning and scheduling features are both must-haves for agencies that should be provided by the social media management tool of your choice. 
Social media planning involves researching the best times to post content, analyzing past performance, creating a solid content strategy, building a marketing calendar, and organizing campaigns. A social media management tool like SocialBee can help you streamline these important processes with the help of interactive content calendars and analytics.
On the other hand, social media scheduling allows you to post content ahead of time according to your insights and social media content calendar.
Plan and schedule your content with SocialBee, an easy to use, all-in-one social media management tool.
Start our 14-day free trial now!
A great tool should also allow you to schedule social media posts in bulk for increased efficiency. SocialBee is an all-in-one social media management tool that provides easy-to-use planning and scheduling features. 
It also allows teams to map out content ahead of time, adjust it as needed, and leverage analytics in a way that can inform their content strategy. You can rest assured that SocialBee keeps a close eye on your engagement levels, demographic info, and best performing content types.
Plan and Schedule Your Content with SocialBee!
2. Advanced Social Media Performance Analytics
Social media performance analytics are an essential feature for marketing agencies that wish to measure the impact of their campaigns. Luckily, you won't need to invest in social media analytics tools separately. 
An all-in-one platform should do the trick. Start gaining insights into how customers are engaging with your clients' content and optimize campaigns for maximum ROI with the help of a social media management tool. 
Furthermore, a great tool should allow any social media manager to do social media monitoring and discover the overall customer sentiment across platforms. This can help you anticipate any PR crises. Finally, it's equally important to find a tool that can monitor valuable metrics, such as likes, comments, shares, views, and audience demographics. 
3. A Centralized Workspace
Having a centralized workspace is essential if you wish to efficiently manage your social media efforts. In fact, a social media tool can help agencies streamline content creation and publishing tasks, collaborate on campaigns, and track KPIs from a central location.
Communication between team members and clients can thrive in the presence of a centralized workspace. That way, all stakeholders are aware of the latest updates and are able to leave feedback as needed. Automation features also allow agencies to quickly publish content across different social media platforms and monitor engagement more accurately.
4. Easy Client Account Management
A client management feature can easily unlock the success of any marketing agency. 
SocialBee's client account management feature allows agencies to easily switch between workspaces when dealing with different clients. Each of your clients can have their own dedicated workspace. That way, the analytics don't get mixed up and you can easily stay organized and on top of all your tasks.
Social media management tools are known to help agencies with this process by allowing them to do client account management from one place. In time, this will bring efficiency when it comes to communication between teams, various workflow processes, and routine tasks.
5. Team Collaboration Features
Team collaboration features are an absolute must for any marketing agency, as it helps to ensure that everyone is working together and communicating clearly. 
Social media management tools that offer collaboration features can allow team members to promptly communicate with clients in real time, thus preventing any misunderstandings. With SocialBee, you can invite users to your workspace, assign roles, leave comments under posts, and therefore leverage the full power of content approval.
In addition, these tools simplify the task assignment process instead of relying on spreadsheets or manual processes, not to mention that a solid team collaboration feature lets managers track progress in real-time and ensure that deadlines are being met. 
Top 10 Social Media Management Tools
We can only imagine how tough it can be to select the right social media management tool for your agency. Too many, right? Well, we're here to make your work easier.
Here are the top 10 social media management tools:
SocialBee

Brand24

HopperHQ

Social Champ

NapoleonCat

Sendible

Planable

ContentStudio

Zoho Social

Sprout Social
If you're looking to save time and effort and create social media posts while simultaneously delivering quality to your clients, SocialBee is the perfect tool for you! 
This powerful yet user-friendly social media automation platform simplifies tedious tasks like content creation, post scheduling, team collaboration, and performance monitoring. 
Manage all your client's social media tasks from one place, from content creation to publishing and monitoring content performance.
Start your 14-day free trial at SocialBee today!
With SocialBee's team collaboration feature, managing multiple accounts has never been easier. It's the perfect tool for agencies that want to keep their clients satisfied with less effort. No need to use separate social media analytics tools, our in-depth analytics are insightful and powerful. 

With our app, you can take account management into your own hands and stop multitasking. Also, our AI content generation feature is guaranteed to limit the time you spend creating new posts. Take care of your clients' needs from a single place. 

Pros: 
An all-in-one tool

Great quality-price ratio

Solid analytics

Awesome for social media managers of multiple social media accounts

Impressive customer support

AI content generation feature
Cons: 
A slight learning curve at the beginning
Pricing: 
Pro25:

$79/month or $789.6/year

Pro50:

$149/month or $1489.2/year

Pro100:

$279/month or $2790/year

Pro150:

$379/month or $3789.6
Manage All Your Client's Social Media Accounts with SocialBee!
Brand24 provides media monitoring and social listening for agencies that wish to take brand management to the next level. 
Their customizable, white-label reports and analytics will help your teams keep up with your clients' competitors.
Pros: 
Intuitive tool

Good for long-term market planning

Great for monitoring

Fair price
Cons: 
No "pause account" option

Needs more detailed filters for reports
Pricing: 
14-day free trial

Individual:

$59/month or $588/year

Team:

$149/month or $1548/year

Pro:

$199/month or $2136/year

Enterprise:

$399/month or $4176/year
HopperHQ helps agencies manage multiple social accounts from one place while offering them unlimited users and teams for efficient collaboration. 
Their Instagram grid planner and content calendar are great for planning ahead. Also, they offer great analytics that provide valuable insight into various target audiences.
Pros: 
Clean interface

Great workflow

Helpful bulk scheduling

Unlimited media library
Cons: 
No drag-and-drop feature in the calendar

No social inbox to manage messages and comments
Pricing: 
Hopper HQ:

$19/month or $228/year for one social set

Pro:

$39/month or $468/year for one social set
Social Champ is a social media management tool for agencies that provides them with an auto RSS feature, a streamlined workflow, powerful analytics, and a great content calendar.
They also offer instant replies to comments from the Social Inbox and allow you to publish to multiple socials at once.
Pros: 
Very intuitive interface

Easy scheduling

Great pricepoint

Responsive technical support team
Cons: 
Analytics can be confusing at first

Limited in scheduling videos
Pricing: 
7-day free trial

Champion:

$29/month or $312/year

Business:

$99/month or $1068/year

Agency:

Custom
With NapoleonCat, agencies can do social media without effort. This tool allows you to service multiple brands from one place and collaborate both internally and externally.
Also, NapoleonCat automates client reporting by scheduling automated weekly and monthly reports that get sent by mail. It also offers solid competitive analysis and social media performance tracking.
Pros: 
Versatile tool

Comprehensive and intuitive design

In-depth analytics

Helpful customer support
Cons: 
Occasionally buggy interface

Struggles during API updates
Pricing: 
14-day free trial

Standard:

$25.82/month or $309.84/year for 3 profiles and 1 user

Pro:

$63.31/month or $759.72/year for 3 profiles and 1 user

Custom
Sendible is one of the most popular social media tools for agencies out there. Their white-label dashboard keeps all your clients organized and helps your team work smarter, not harder.
Also, Sendible offers agencies a bird's eye view of the content created by your teams. Their content suggestion tools are great for an inflow of fresh content.
Pros: 
Flexible posting tools

Great quality-price ratio

User-friendly interface

Great metrics and hashtags
Cons: 
The platform does not handle large photos

Lacks TikTok integration

Disconnects social media accounts without warning
Pricing: 
14-day free trial

Creator:

$29/month or $300/year

Traction:

$89/month or $912/year

Scale:

$199/month or $2040/year
Planable is a social media management tool that can easily scale your agency and streamline your work. Their intuitive social media calendar and easy-to-use scheduler will change your way of doing business.
Finally, Planable helps you streamline workflow approvals and helps your team members collaborate in a way that is stress-free.
Pros: 
Great for small businesses

Efficient workflow approvals

Ideal for remote work

Intuitive interface
Cons: 
Slightly pricey

No analytics reporting
Pricing: 
Free trial for 50 posts

Basic:

$13/month or $132/year

Pro:

$26/month or $264/year

Enterprise:

Custom
In the wide variety of social media management tools, ContentStudio stands out as a great platform for agencies that wish to achieve better results for each of their clients' social platforms. Their approval workflow features will help your team communicate effectively with the clients and take control of their publishing schedules.
Additionally, ContentStudio offers in-depth, white-label analytics reports that allow you to make better decisions and show your clients all the progress you've recently made.
Pros: 
Great for content organization

Appropriate for businesses of all sizes

Good UI

No learning curve
Cons: 
No image editing feature

Support could use some improvements
Pricing: 
14-day free trial

Starter:

$25/month or $240/year

Pro:

$49/month or $480/year

Agency:

$99/month or $960/year
Zoho Social is an all-in-one agency platform that allows you to seamlessly organize and manage the brands you're collaborating with.
Their approval management features and intuitive content scheduler are guaranteed to save you time. As for social listening, it's now easier than ever, thanks to Zoho Social. Finally, their branded reports will help you measure your clients' social performance.
Pros: 
Easy to use

Efficient customer support

Handy content scheduler

Solid reports
Cons: 
Slightly pricey

Delay in rolling out features
Pricing: 
15-day free trial

Agency:

€320/month or €2760/year

Agency Plus:

€460/month or €3960/year
Sprout for agencies is described as an all-in-one social media management tool for agencies that aim for solid results.
The shared content calendar, content approval workflows, and competitor results are important for any agency that wants to offer high-quality services. Also, their client-ready reports and detailed performance data can help you make a great impression.
Pros: 
Great customer support

Easy to use platform

Clean design

Good training and onboarding
Cons: 
A few bugs

Limited number of keywords
Pricing: 
30-day free trial

Standard:

$249/month or $2988/year

Professional:

$399/month or $4788/year

Advanced:

$499/month or $5988/year

Enterprise:

Custom
Frequently Asked Questions
1. What Is a Social Media Marketing Strategy?
A social media marketing strategy is an integral part of any digital marketing agency's operations. It outlines your business' objectives, knowing and engaging with your audience and competitors, and making sure that your content is performing well. A strategy also helps an agency build relationships with its customers, increase brand awareness, accomplish target KPIs, and boost ROI.
2. Why Should Marketing Agencies Use Social Media Management Software?
Marketing agencies should use social media management software because it allows their clients to reach a larger audience and increase brand awareness. 
Without a social media management software, managing multiple accounts can be time-consuming and inefficient. You need to streamline all your manual processes and offer value to your clients.
3. Are There Any Free Social Media Tools Available for Agencies?
Yes, there are several social media tools that have free trials available for agencies, such as SocialBee, Hootsuite, Buffer, Canva, and Later.
SocialBee is one of these social media tools, as it offers agencies a 14-day free trial worth trying out.
Choose the Best Social Media Management Platform for Your Agency
In conclusion, a great, all-in-one social media management platform can help you run a marketing agency more easily. With social media management tools, teams can improve collaboration, automate key processes, and reap the benefits of robust performance reporting. 
SocialBee is the perfect social media scheduling tool for your agency. Our app will help you to efficiently create and schedule all of your posts so that they are automatically shared at precisely the right time. 
To ensure our customers have a chance to experience how amazing it can be, we offer an exclusive 14-day free trial! Don't miss out – try SocialBee today!
Manage All Your Client's Social Media Accounts with SocialBee!