We can confidently say that no business can survive without a good marketing team and a great set of marketing tools in today's age. No matter the field, your business needs marketing just like a fish needs water. 
But this doesn't mean that you don't need other things to be successful. Your sales and customer service departments for example are just as important as the marketing department is. So then, how does marketing differentiate itself from the others?
Well, when looking at the bigger picture, all of these departments combined keep your business afloat, but it is marketing that brings in new leads. This means that marketing is the element that helps you expand your business.
The Way Marketing Changed 
Now, for the longest time marketing has been quite limited, in the sense that you couldn't do much with it. Sure, you could create a TV, radio, or newspaper ad, and maybe even purchase a billboard. But that was about it. 
Things changed entirely once the internet appeared. All kinds of websites started appearing and people started spending more time online. 
Let's take social media as an example. In the past few years, a lot of social media outlets, such as Facebook and Twitter, appeared. Sharing ideas, pictures, and videos have never been easier, which is why people choose to spend so much of their time online. 
Research shows that internet users worldwide spend an average of 145 minutes per day on social media. Now, this might not seem a lot, but when we're because there are over 4.66 billion social media users, things start to gain a bit more perspective. 
It's only natural that with the apparition of social media, marketers developed social media marketing, a new and uncharted marketing channel. It did not take long for this type of marketing to become one of the best marketing channels used today. 
This way, marketing campaigns have shifted to the online domain, and more and more marketing channels started being invented to accommodate a new age and a new demand. 
The Use of Marketing Tools 
It comes as no surprise that people want to make things easier for themselves. It's only natural to think like this! This is why we have created all kinds of tools that can aid us in our daily lives and jobs. 
Marketing is no different. Once a new marketing channel was created, you can bet that people started thinking about tools that would make marketing in that particular channel easier. 
This is how we got so many marketing tools, readily available to be used by any business. But in a sea of marketing tools, how do you know which ones should you pick to grow your business? 
The answer is not easy. You need different marketing tools for different marketing channels, which means doing extensive research on both these subjects. Luckily, we've researched for you and we came up with five tools that will help your business grow exponentially.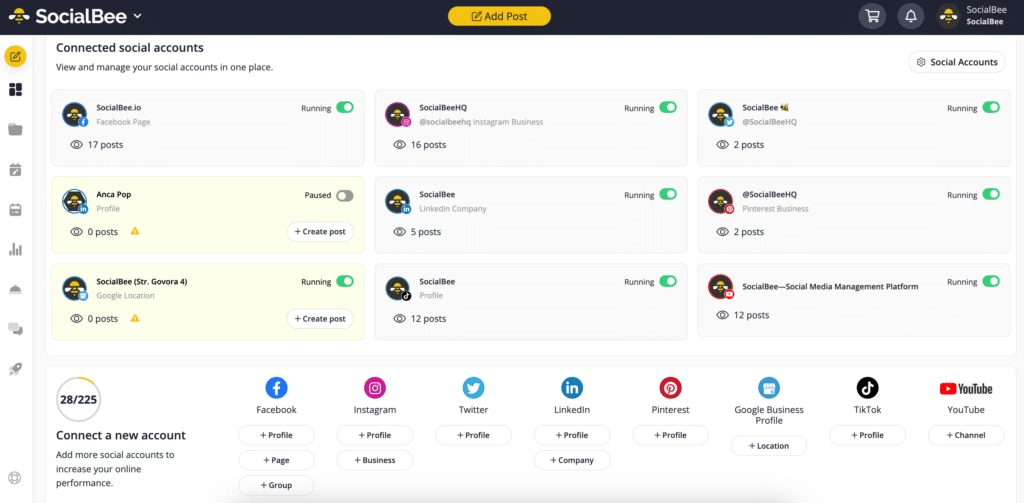 The Marketing Channel
Social media marketing is one of the marketing channels that appeared not that long ago, so it shouldn't be too complicated to handle, right? Wrong. 
There are many things that you need to pay attention to when it comes to social media. Because there are so many social media outlets, you need to be careful to respect the regulation and requirements of each outlet in part. 
For example posts on different social media platforms can have:
different picture sizes

different hashtag specifications

different character limits 

different target markets
Some best practices should be taken into consideration when posting on social media. All of these factors will influence the way you create your social media posts and how you present yourself online.
The Marketing Tool
Because there are so many elements that need to be considered, using social media marketing is no easy task. But this is where SocialBee comes into play. 
SocialBee is a tool that will help you:
Automate social media posting across several social media platforms

Set different posting times in your schedule

Schedule posting time

Create and customize posts for different social media platforms

Get weekly analytics reports
This particular tool has three options, Bootstrap, Accelerate, and Pro, which come priced at $29, $49, and respectively $99.
These are just a few of the things that the SocialBee tool can help you with. But there is even more to SocialBee than just the platform. This tool also offers Concierge Services, which make the creating process even easier. 
So whether you want to gain a large following on social media, educate and entertain your followers, or just build up your brand image online, SocialBee will have your back, with both platform and its Concierge Services. 
Find out why SocialBee is considered one of the top social media marketing solutions. Explore more independent reviews to get a better understanding of what SocialBee can do for you.
The Marketing Channel
Lead generation is crucial for identifying and nurturing prospects, driving sales, and boosting revenue. It allows for personalized marketing, tailored offers, and relevant content, increasing conversions and customer satisfaction. 
Effective lead generation strategies expand customer bases, improve ROI, and foster long-term relationships in just a few simple steps.
Landing pages, forms, and surveys act as powerful lead generation tools to engage visitors, gather contact details, and gain insights into customer needs and preferences. 
By capturing leads, businesses can personalize their marketing efforts, tailor offers, and deliver relevant content to specific customer segments.
The Marketing Tool
Woorise is an all-in-one lead generation and marketing platform that allows you to create a wide range of interactive campaigns such as landing pages, forms, surveys, quizzes, viral giveaways & contests, accept payments and more to help you reach your goals from a single platform.
Here are some types of campaigns that you can run with Woorise:
Landing page and lead generation campaigns

Surveys, quizzes and polls

Giveaways and contests

Refer-a-friend campaigns

Feedback and testimonial campaigns

Customer satisfaction surveys

Product launch campaigns

Event registrations

Coupon code campaigns

Newsletter sign-ups

Market research surveys

User-generated content campaigns
Woorise seamlessly integrates with well-known marketing platforms like Mailchimp, Hubspot, ActiveCampaign, Facebook, Google Analytics, Bitly, Zapier, PayPal, Stripe, and numerous others, enabling you to effortlessly route your fresh leads to the tools you already use, automating the process.
The great thing about Woorise is that it offers a free trial to try all the features before purchase. For simple campaigns you can also use the free version with limited features.
If lead generation is important for your business Woorise is the only tool you will need.
The Marketing Channel 
Email marketing is another marketing channel that experienced a boom in popularity within the last couple of years. Studies show that 73% of millennials prefer communications from businesses to come via email and this can be seen in the positive ROI that email marketing has. 
But if you're not convinced of email marketing, let's see some of the benefits that it has:
It increases customer loyalty and retention

Influences purchase decisions of the customers 

Educates and informs potential customers and established customers of your field, your services, and promotions

Increases revenue

Establishes a connection between your business and your customers
Just like with social media marketing, there are a lot of practices that marketers should be mindful of, some of them being: 
Sending 3-5 emails per week

Keeping the emails sweet and short

Using segmented campaigns 

Increasing readability for mobile phone users 
The Marketing Tool
Now, obviously, to have a successful email marketing campaign, you will need an email marketing automation tool. We believe MailBird to be one of the best options out there. 
There are many features that MailBird offers, but some of the most important ones include:
One inbox for all your accounts

Layouts that you can customize

Perfect app integration for apps such as Facebook, Google Calendar, Dropbox, etc

A speed reader

Multi-language support
You can try this tool for free and if you decide that you like MailBird, you can purchase the business version of the tool for only $2.46 per month.
If you'd like to take your email marketing campaigns to the next level and see your business thriving, then getting an email automation tool is the best decision you can make. And MailBird is definitely one of the finer options you can find online. 
The Marketing Channel 
A survey suggests that more than 55% of organizations around the world do not have access to key performance indicators to track their performance. Hence, the need for a project management tool becomes imperative for organizations. 
Every successful startup you see today is built on three key cornerstones: team communication, collaboration, and management. ProofHub offers all of these benefits and more
ProofHub is a cloud-based all-in-one project management and team collaboration tool that gives you ultimate control over your projects. It is a digital workplace that allows you to manage multiple projects under one virtual roof. You can manage everything from project planning to ongoing communication, to final project delivery effectively and conveniently. 
The Marketing Tool
Here are some exclusive features of ProofHub as provided:
Organize and visualize your task using multiple view options — table view, Kanban boards and calendar view. 

Track project timelines and dependencies of your project using Gantt charts.

Customizable timesheets to keep track of their team's billable and non-billable hours

Online proofing tool that helps you streamline your review and approval process.

Create customized workflows across multiple work streams

Add events, tasks, and milestones to your calendar

Create custom roles

Generate individual and custom task reports

Set Auto reminders for events and milestones 

Structured file management system
This web-based tool will help you increase your productivity and operational efficiency at your workplace. ProofHub is a flexible and easy-to-use tool with a simple learning curve that allows you to break down tasks into manageable chunks.
The Marketing Channel
Co-marketing is a promotion technique where two brands partner up to expand their reach. They share their marketing platforms with each other in order to showcase their products and services to a larger audience.
To make the most out of this marketing strategy, brands have to search for compatible businesses that are a part of the same industry with a similar target audience, or at least businesses that provide products and services that complement their offerings. 
Not only is partnership marketing a high ROI marketing tactic in its own right, but it's a powerful multiplier for your other marketing tactics.
Brand partnerships can help you enhance your social reach, gain more backlinks, improve your content strategy, and create better online and offline events.
The Marketing Tool
Researching the best candidates for your co-marketing campaigns can be exhausting and take up too much of your time. That is why platforms like Intribe exist.
Intribe is an online platform that allows you to discover brands looking for co-marketing opportunities based on location, industry, and target audience.
Here is how to use Intribe for your co-marketing initiatives:
Create an account that 

highlights your strengths as a co-marketing partner.

Search for relevant businesses for 13 different types of partnerships (including affiliate, content, co-branding, event integration, and cause marketing).

Start collaborating with valuable partners.
The Marketing Channel
If you have heard of SEO, then most definitely you have also heard of PPC (pay-per-click). With PPC, you can post ads on most search engines (such as Google or Bing), and nowadays, you can even post PPC ads on some websites, such as Amazon or Facebook. 
These ads are links to different pages of your website. These pages are called landing pages. 
But of course, there is a catch. Every time an internet user clicks on your ad, you will have to pay a fee. So unlike SEO, where website traffic comes organically, with PPC, you have to buy your website's visits. 
To get your ads to show up in the first options of the search engine's result page, you will have to participate in an ad placement bid. To win the bid and have a successful PPC campaign, there are certain steps you need to take:
Researching keywords

Placing the keywords in the right ad groups

Optimizing your landing pages for conversion
The Marketing Tool
If you want to start your own PPC campaigns on Google, then you will absolutely need to learn how Google Ads works. After all, that's where all the magic happens. 
With Google Ads, you will be able to achieve the following:
Get more business calls

Get more visitors to your store

Drive traffic to your website 
Google Ads will help you create advertising campaigns by giving you access to a handful of tools, such as the Google Keyword Planner. And the best thing is that all of these tools are for free. So all of your financial resources can go into bidding.
New and experienced businesses alike can benefit a lot from Google Ads campaigns, so if you don't have time to build your website traffic organically, definitely go for PPC. 
We mentioned at the beginning that you need all of your departments to work together harmoniously for your business to thrive and grow. This means that the collaboration and communication within and between departments should always be on point. 
Maintaining productivity levels high and keeping everybody on track is not the easiest task to do, but it is vital for your business. If the motivation levels drop or there isn't sound communication between team members, marketing projects will fail. 
This will not only make you lose money, but it might also make you lose your reputation. Losing money is somewhat manageable, but once you lose your reputation, you lose customer trust, and that's never a good thing. 
The Marketing Tool
Luckily, there are many tools that can help you with communication and productivity. And ClickUp is one of those tools. 
This platform has a lot of features that you and your team can use to stay on track with everything. Here are just a few of those key features:
To-do lists

Goal and time tracking

Docs and wikis

Reminders and events

Project management 
To make things work seamlessly, you can also connect with other apps that you are already using and even import your existing projects on ClickUp.
The fantastic thing about this tool is that it has a free version that you can use. But the paid version is a fantastic option as well, is priced at only $5 per month. And in case you have a bigger team, you can always contact ClickUp's sales department and try to strike a deal with them. 
All in all, ClickUp is the productivity tool that your business needs to remain focused on and sustain momentum. 
The Marketing Channel 
If you have a website, which many businesses do have nowadays, then you need to know your way around SEO (search engine optimization). The main reason why SEO is so important is that it drives traffic to your website. 
But what does this mean for your business? It means that your website will be more visible on search engines and that you have a higher chance to convert leads into customers. 
Some other benefits of SEO include:
Build brand awareness

SEO generated leads. The content that SEO leads to strengthens the relationship between your business and new potential customers

Showing that you are a trustworthy expert in your field 
When thinking about creating an SEO campaign, multiple factors need to be considered so that your attempt can be considered successful. These main factors are:
Keywords

Website content (blog posts, podcasts, infographics, the website's copy, the content on landing pages, etc)

Off-page SEO (backlink building) 

Local SEO (if you have a physical location where people can go to,  for eg. businesses like shops and dental clinics can benefit from Local SEO)
The Marketing Tool
So there are quite a few things that you need to be attentive to when working with SEO. This is the reason why an SEO tool can come in handy, and SEMRush is definitely a strong content and when it comes to SEO marketing tools. 
Let's see more exactly what this tool can do for you:
It can help you grow organically on search engines, increasing traffic as you use it 

It can assist you in the content creation process 

It will analyze the traffic of other websites, helping you figure out your competition 
SEMRush has three plans that can be billed monthly or annually. Billed monthly, these plans cost $119.95, $229.95, and $449.95.
If you want to be on top of your SEO game and increase your website traffic organically, while being knowledgeable of your competitors, then SEMRush is a must-have marketing tool. 
Bottom Line
Marketing doesn't have to be hard and boring. With the right marketing tools, it becomes a breeze, and you can become a marketing expert in less time and with less effort. So when planning your next marketing campaigns, make sure to check out and use these 5 marketing tools to grow your business and get success.