Finding the best time to post on Facebook can drastically influence your brand's visibility and engagement rates. 
In 2023, with over 2.9 billion active monthly users on the platform, understanding the optimal posting hours has never been more crucial. Given the high activity on every Facebook page, pinpointing the optimal posting time can be challenging.
Dive into this article to uncover the prime moments to broadcast your content and make the most of your Facebook strategy this year.
The Best Social Media Posting Times Cheat Sheet
Find out what is the best time to post across all your favourite social platforms.
Short Summary
Finding the best time to post on Facebook is crucial for brand visibility and engagement in 2023.

Social media experts suggest different optimal posting times, including weekdays between 8 AM to 1 PM EST and evenings from 6 PM to 9 PM EST.

Tailoring your posting schedule to your audience's habits and using analytics tools like SocialBee can help maximize engagement.

Avoid posting during late nights, early mornings, and weekends for better results.

Utilize tools like SocialBee and Facebook Insights to understand your audience's behavior and optimize your posting schedule.
What Is the Best Time to Post on Facebook According to Experts?
Figuring out the best time to post on Facebook has been a hot topic for a while. Seems like every social media guru out there thinks they've cracked the code. But with so many things to consider, it's hard to know who's really got it right. 
Don't sweat it, though. A bit of digging can clear up a lot of confusion. 
Let's see what some of the big names in social media have to say about when to post on Facebook. Chances are, the real answer is a mix of all their advice.
| | |
| --- | --- |
| Social Media Experts | The Best Facebook Posting Times |
| SocialBee | Tuesday, Wednesday, and Thursday, from 8AM to 1PM EST |
| Hootsuite | Tuesday and Thursday, from 8AM to 12PM PST |
| HubSpot | Friday and Saturday, 6PM to 9PM and 12PM to 3PM EST |
| Sprout Social | Wednesday from 11AM to 1PM CST |
| RecurPost | Wednesday, 9AM to 2PM |
The USA encompasses several time zones, including Central Standard Time (CST) and Pacific Standard Time (PST). However, in this article, we'll hone in exclusively on the Eastern Time Zone (EST). While we're focusing on EST, it's crucial to remember that each zone has its unique patterns. 
So, use these EST-based suggestions as a starting point and adjust according to your audience's specific location and habits.
How to Schedule Facebook Posts at the Right Time Consistently
Ensuring that your content appears at the optimal moments on your audience's news feeds is a cornerstone of effective social media marketing. Consistency, combined with timeliness, can significantly amplify the reach of your organic posts. 
Here's a guide on how to nail this balance every time:
Understanding time frames

: Generally speaking, there are certain periods during the day when users are most active on Facebook. This is when it makes sense to post on social media. However, it's vital to remember that these time frames can vary based on your target demographic and their habits.

Leveraging analytics tools:

Platforms like SocialBee aren't just content calendars; they function as a powerful analytics tool. By assessing your past posts and their performance, SocialBee can provide insights into when your audience is most active. This ensures that every time you post online, it aligns with peak engagement hours for your audience.

Tailoring to your own business

: What works for one business might not work for another. It's crucial to understand the nuances of your own business and its audience. Analyze your social account's performance, engagement rates, and other metrics to refine your posting strategy.

Balancing posting frequency

: While timing is crucial, so is the frequency of your posts. Overloading news feeds can be as detrimental as posting too infrequently. Finding that sweet spot ensures that your relevant content consistently captures attention without overwhelming or alienating your followers.

Review and adjust with SocialBee

: With the help of tools like SocialBee's social media content calendar, you can review

your scheduled posts

, ensuring they align with your determined optimal times. Adjustments can be made based on real-time data and the evolving habits of your audience.
View and adjust your Facebook posting schedule from SocialBee's social media content calendar.
Start your 14-day free trial at SocialBee today!
By implementing these strategies and utilizing platforms like SocialBee, you ensure that your social media marketing efforts are not only consistent but also timely. Remember, in the dynamic world of online marketing, staying agile and informed is key.
Create and Publish Your Facebook Content with SocialBee!
Create posts, publish, analyze, engage and collaborate, all from SocialBee.
What Is the Best Time to Post on Facebook During the Week?
As you tailor your content to resonate with your audience, understanding the optimal times for engagement is crucial. 
Here are the best times to post on Facebook for each day of the week: 
Best time to post on Facebook on Mondays

Best time to post on Facebook on Tuesdays

Best time to post on Facebook on Wednesdays

Best time to post on Facebook on Thursdays

Best time to post on Facebook on Fridays

Best time to post on Facebook on Saturdays

Best time to post on Facebook on Sundays
1. Best Time to Post on Facebook on Mondays
As the workweek commences, Mondays experience consistent engagement from early risers and those catching up post-weekend. The peak time to capitalize on this activity is between 8 AM and 4 PM EST. 
During these hours, your content has a higher likelihood of appearing on a person's news feed. Posting outside of these peak hours, especially between 9 PM and midnight, may result in reduced visibility.
2. Best Time to Post on Facebook on Tuesdays
Tuesdays continue the momentum with consistent engagement. The early afternoon, especially during people's lunch breaks, sees an uptick in activity. The best times to post are from 8 AM to 4 PM EST time zone.
3. Best Time to Post on Facebook on Wednesdays
By midweek, Facebook users are fully in the groove, and Wednesday offers some of the most consistent engagement. Your content should aim for the window between 8AM and 4PM EST, targeting those peak times. 
The hours from 8PM to 1AM typically see a dip in activity.
4. Best Time to Post on Facebook on Thursdays
Thursdays, being close to the weekend, might see some fluctuation in engagement. Nevertheless, the peak time remains between 9AM and the early afternoon, specifically 4PM EST. 
The post-lunch break period often witnesses heightened activity. But as always, ensure your strategy considers your own data.
5. Best Time to Post on Facebook on Fridays
As the weekend beckons, Facebook users might be planning their leisure but are still active, especially during the early afternoon lunch break. The hours between 8AM and 4 PM EST typically see the most engagement. 
However, posting later, from 9 PM to 1 AM, might not yield the best results as user activity wanes.
6. Best Time to Post on Facebook on Saturdays
The weekend's relaxed pace affects how and when the audience engages. On Saturdays, the best times to post are early at 8 AM and during midday from 10 AM to 3 PM EST. These are the peak times when content is most likely to appear prominently on a person's news feed. 
As nighttime approaches, engagement drops, so it's wise to avoid the 9 PM to 1 AM slot.
7. Best Time to Post on Facebook on Sundays
Sundays, while relaxed, still offer opportunities for engagement. The peak times shift slightly to between 11 AM and 4 PM EST. This is when most engagement happens, especially as people prepare for the week ahead. 
What Is the Worst Time to Post on Facebook?
The "worst" time to post on Facebook typically refers to when posts might receive the least engagement, visibility, or interaction from users. 
While the best and worst times can vary depending on your target audience and their specific habits, general consensus from various studies over the years has pointed to the following patterns:
Late nights and early morning hours

: Between the hours of 12 AM and 7 AM, most users are asleep or less active, making it a less ideal time for most businesses or brands to post.

Weekends

: Especially on Sundays, engagement rates can be lower. While Saturdays can be hit or miss, Sundays consistently show decreased engagement across multiple studies.

Mid to late afternoons

: Specifically, the time right after lunch, around 1PM to 3PM, can sometimes see a dip in engagement, as people may be returning to work or other activities.
However, these are broad generalizations. There are multiple factors that can influence the worst posting time for this social media platform, such as the algorithm, the specific target audience, or the type of content.
How to Find the Best Facebook Posting Time Scheduling Time for Your Target Audience
Understanding your audience's behavior is vital for achieving maximum engagement on Facebook. 
Here are two methods to help you pinpoint the ideal posting schedule for your target group:
Use SocialBee's insights

Use Facebook insights
1. Use SocialBee's Insights
Understanding and adapting to your audience's needs is paramount. SocialBee equips you with features that transform your approach to Facebook engagement. 
Here's how you can utilize these features:
Get to know your audience:

Demographics understanding

: With SocialBee, you can go beyond the surface. Understand the intricate details of who your followers are by analyzing data on their age, gender, country, and language. This nuanced insight can help tailor content that resonates with your audience.

Targeted strategies

: Once you have a clear picture of your audience's demographics, you can craft posts and campaigns specifically designed for them, enhancing engagement and reach.
Monitor your progress in real-time:

Instant feedback

: Gauge the immediate impact of your posts. Track changes in your follower count and understand the correlation between specific posts and surges in engagement.

Engagement pulse:

Get a real-time pulse on your social media heartbeat. Monitor daily activity levels, and see which content maximizes reach and interaction, allowing you to adjust your strategy on the go.
Analyze your performance without trouble

Unified dashboard

: Say goodbye to the cumbersome process of juggling multiple tabs and manually gathering data. SocialBee's consolidated dashboard offers a comprehensive look at all your metrics in one place.

360° overview

: Get a bird's-eye view of your entire social strategy. From individual past post performance to overarching campaign results, analyze every facet of your Facebook presence to identify strengths and areas for improvement.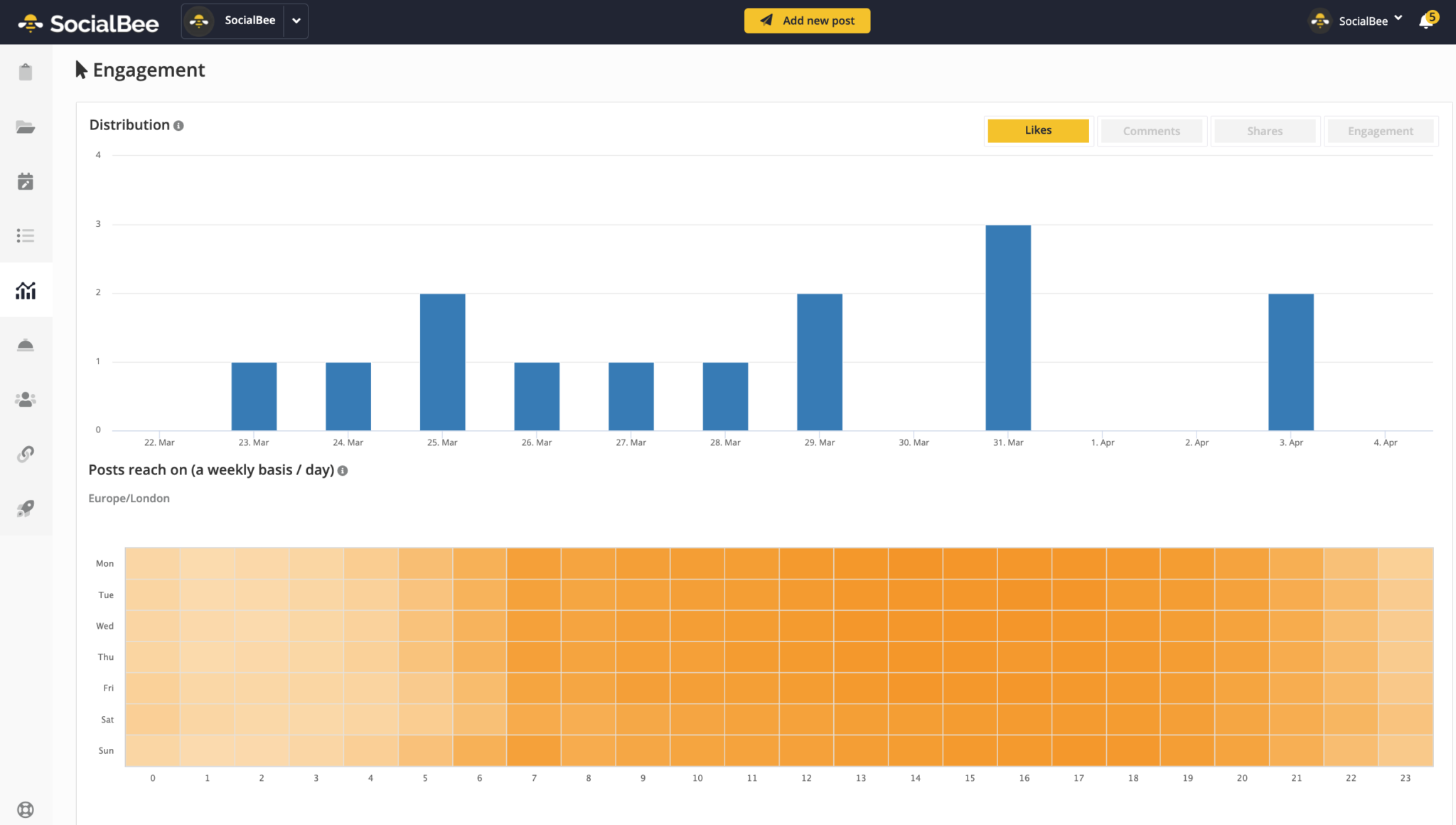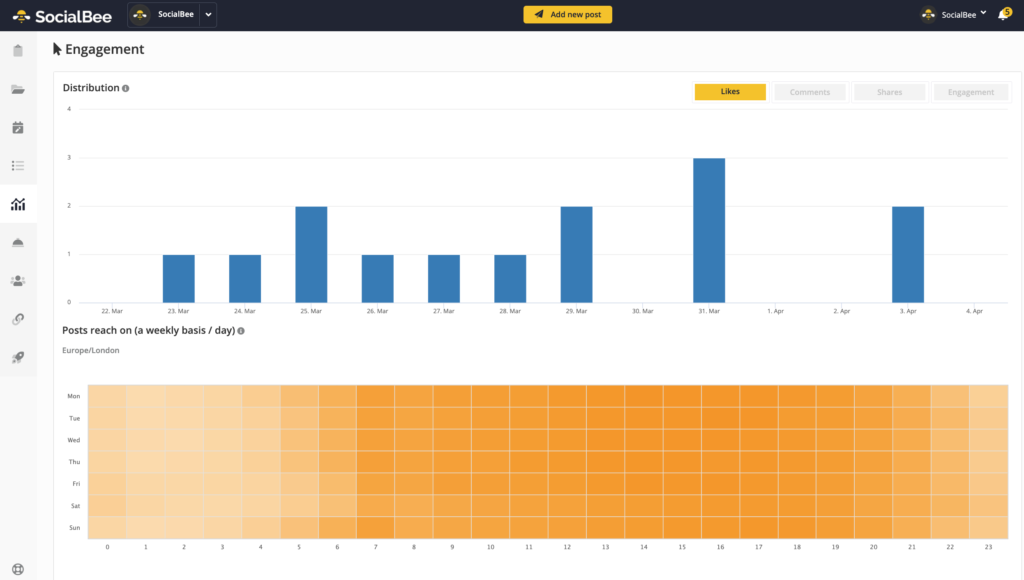 Keep track of your social media performance from SocialBee. Generate PDF reports in seconds and document your progress in real-time.
Start your 14-day free trial at SocialBee today!
Harnessing these features can drastically elevate your Facebook strategy. By truly knowing your audience, monitoring real-time changes, and having hassle-free analytics at your fingertips, you're equipped to make informed decisions that boost engagement and solidify your brand's online standing.
2. Use Facebook Insights
To determine the best posting times on Facebook for your audience, you can also tap into Facebook Insights. 
First, ensure you have a Facebook page, as this is essential to access Insights. To navigate to your insights, simply click on the designated link at the top of your page.
Interested in seeing when your followers are active? Click on 'Posts' located on the left sidebar. This will present a detailed view of when your fans are online, categorized by day and specific times.
Keep an eye out for noticeable peaks in the data, which highlight when your Facebook community is buzzing the most.
Furthermore, Facebook Insights provides a rundown of your top-performing posts. This section, found further down on the same audience data page, showcases posts with the highest engagement. Pay attention to their posting times. It might be worth replicating those timings for future posts.
Frequently Asked Questions
Make Use of the Best Posting Times on Facebook!
Harnessing the power of optimal posting times can be a game-changer for your Facebook engagement. It's not solely about crafting compelling content; timing plays a pivotal role. By understanding your audience's peak activity periods, you can ensure that your posts stand out and resonate more effectively. 
Don't let great content go unnoticed due to off-peak posting. Amplify your reach and impact by aligning with those prime engagement windows.
Ready to elevate your social media game? Start your 14-day free SocialBee trial now!
Create and Publish Your Facebook Content with SocialBee!
Create posts, publish, analyze, engage and collaborate, all from SocialBee.