If the answer was no, it would have been a very short article. Luckily it's not the case.
Social media is becoming more and more complex every year. Marketers have to keep up with an overwhelming amount of work to keep businesses visible and relevant online. 
While it's almost impossible to achieve the performance of funny cat videos, businesses can still make a name for themselves on social media. From advertising products, and services, building brand awareness, providing customer service, or increasing sales, social media can help you do it all.
As social media platforms grow and evolve, so does the number of tasks of a social media marketer. But, there is no reason to worry. Social media automation has become more intelligent than ever and can make a difference in the time and money you invest in your social media plan.
Today we are going to talk specifically about social media schedulers. So, let's wrap up the introduction and get to the real reason you are here.
What Are Social Media Schedulers?
Social media schedulers are tools that help you create, schedule, and share content on social media platforms — all from one single dashboard. Moreover, social media schedulers have a set of additional features meant to improve your social media marketing workflow, such as:
Content categories

Social media calendars

Social inboxes

Comment features

Performance reports

UTM builders
How a Social Media Scheduler Can Save You Time
You might have heard it before, but  "time is money." We can't argue with that. So, let's see how social media schedulers can minimize the time we invest in maintaining a social media presence while maximizing our performance.
1. Bulk Scheduling
By far the most efficient feature social media schedulers have is the bulk scheduling options. 
Benefit from moments of inspiration and creativity to craft your social media content, and let social media schedulers do the rest. Thanks to social media automation, you can plan posts for weeks or months in advance so you won't need to worry about taking time out of your day to post them on every platform.
This feature will help you:
Stay consistent with your social media content.

Stay focused on other important tasks without having to stop and post content on social media.
2. One Dashboard for All Social Media Platforms
Social media schedulers allow you to manage your social media presence from one dashboard. This means that you don't have to go to every social media platform to post your content.
Social media management tools provide a productive space where you can create, edit, customize and schedule posts for every social media platform.
Working from one dashboard also has other small benefits that make a difference in your workflow:
Avoiding page loading time

Working from one tab, instead of having dozens open
3. Social Media Posting Outside Business Hours
Self-care is very important, and although you would like to finish as many tasks as you can in a day at work, you have to know when it's time to relax. 
But what if you could unwind while crossing items off your to-do list?
Well, social media management tools can post your content, even when you are cooking a delicious meal for yourself, or enjoying a movie with your family.
In this way, you can make the most out of your posts by scheduling content in time intervals that are best for your target audience, while getting some well-deserved time off.
4. Better Team Collaboration
Most social media schedulers have features that optimize your teamwork. You can invite teammates to your workspace, assign them roles, and tag them to let them know what tasks need their attention. 
Moreover, instead of reaching out to every team member to provide feedback, you can simply add comments with the necessary instructions. 
Also, social media schedulers notify you about posts that need your approval. In this way, you will be able to double-check your content before posting and make sure you deliver the best social media content for your audience.
5. Better Client Management
If you work as a social media marketer, your social media tasks are much more complex. 
This is a time-demanding job because you are not only managing multiple social media pages for one business. Now, you have multiple social media accounts from various clients that require your attention. 
Having a social media scheduler will help you create workspaces for every client and manage all their social media activity from one dashboard. As a result, you will have more time to focus on the quality of your content instead of going from one social media page to another to publish posts.
How a Social Media Scheduler Can Save You Money
Spend money to save money.
Making smart financial decisions is not about giving up on making purchases, it's about investing in valuable products and services that will bring significant benefits in return.
Now that we know how social media schedulers can save time, let's learn about the financial side of things.
1. Optimizes Your Social Media Content Strategy
Social media schedulers can not only save you time and money, but they can also help you raise your profits.
Many influencers and social media agencies use task or project management tools to stay ahead on their content calendar. With that, they keep up with task management and use a separate scheduler or hire a VA for that – which is a lot of work to handle.
Working with a social media scheduler means that all your content is planned weeks or months ahead of time. And with all the time you save from posting all social media content from one dashboard, you can now focus more on your social media plan.
Make the most out of your social media content strategy, and think of upcoming opportunities that you can use to promote your business online. For example:
Product launches

Events

Collaborations

Holidays

Promotional initiatives 
Make content that creates hype around your products and services and helps you reach your business goals: promoting products, obtaining traffic to your money pages, generating sales.
Using social media schedulers means that you get to invest time into a content strategy that will maximize your social media performance by:
Creating engaging and customized content for each social media platform.

Scheduling content in optimal time intervals for your target audience.

Crafting post sequences that will raise awareness about your promotions.

Maintaining a consistent social media posting system that will keep your audience engaged.
2. Provides Additional Features
Most social media schedulers have built-in features that allow you to access insightful analytics and reports that monitor and evaluate your social media presence. 
Having access to performance reports is a way to stay on top of your social media game and constantly improve your content strategy. So change up low-performing content by experimenting with posting times, hashtags, visuals, or even try to make your content more interactive by adding questions. Next, use the analytics feature to monitor content performance and adjust it to make it better.
By investing in a social media scheduler with advanced features, you pay only once rather than buying multiple separate tools to get the same functionality. Therefore, you won't have to invest in additional tools to get the information your social media scheduler already provides you.
How Socialbee Can Help You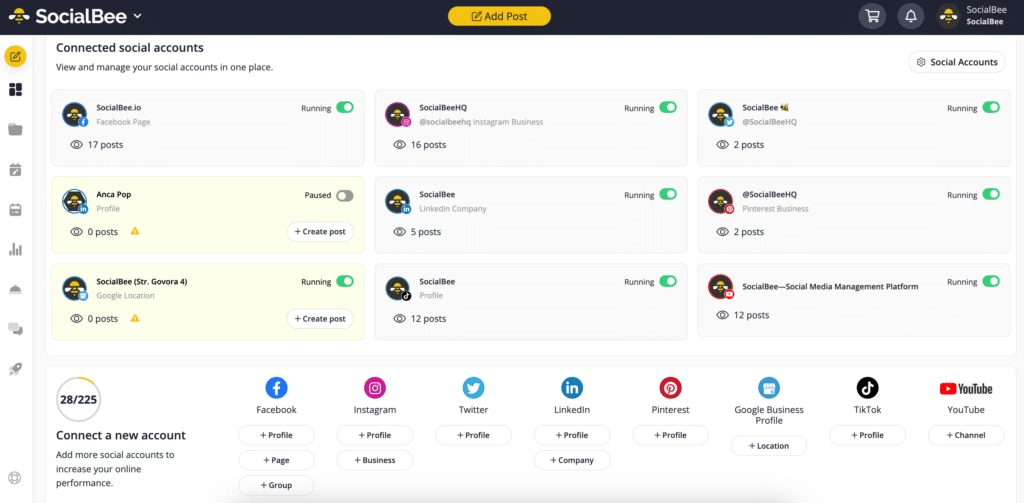 SocialBee is a social media management tool that goes beyond social media scheduling. Here are some of the benefits of using SocialBee in your social media content strategy:
Content creation: SocialBee allows you to create content, and customize it for every social media platform.
Workspaces: If you need to handle several social media accounts, this comes in handy. Create separate workspaces for each client to stay organized at all times.
Post sharing: You can share your content on multiple social media platforms (Twitter, Facebook, Instagram, LinkedIn, TikTok, Pinterest, YouTube, and Google Business Profile). A worthy mention is that with SocialBee, you can post directly on Instagram. Additionally, you have the option to expire time-sensitive content and also reshare evergreen posts.
Social media calendar view: All your scheduled posts can be organized in a social media calendar to give you a better look at your social media content plan. 
Content categories: Organize your content through topic categories, and use them to diversify your content on social media — set, pause, and reschedule posts based on content categories. 
Team workflow features: Assign tasks, approve and dismiss content and leave helpful comments for your teammate, all from one platform.
Notifications: Stay in touch with all your tasks by setting up email notifications every time something relevant comes up in the app.
Canva integration: Save time by making Canva designs directly from the Socialbee app, or add previously made visuals.
SocialBee comes with three subscription plans that you can choose based on your social media needs:
Bootstrap – $29 per month

Accelerate – $49 per month

Pro – $99 per month
You can get more information here about pricing and all the features available for each subscription plan.
Are you looking for an independent SocialBee review? Read this article from Blogging Wizard and find out why SocialBee is the number one social media scheduler on the list.
Want more? Check out the links below for reviews from SocialBee users:
Final Thoughts
So, can a social media scheduler save you time and money? 
Well, based on our calculations, yes. Time spent on simple time-consuming tasks + additional features that save you from further investments sure sounds sweet.
Let's look at social media management tools as if they were washing machines. Washing clothes is not a difficult chore, but when you have a full basket of dirty clothes, that simple task becomes a time-consuming burden. The same with social media, posting content is not hard, but dealing with large amounts of content on multiple platforms is an exhausting experience.
Your time is valuable, and your skills shouldn't be wasted on tasks that take up too much time away from the essential parts of your job. With all the challenges you face every day, it's time to make your job easier with social media automation. 
So if you are curious about the ins and outs of a social media scheduler, make sure to book a 30-minute demo for a quick overview of our app.
Schedule All Your Social Media Content with SocialBee!