Have you ever wondered what is the difference between Facebook and Instagram?
Instagram and Facebook are by far the most popular social media channels used by digital marketers. Not to mention that they're also the biggest platforms used by internet users worldwide.
So, today we'll look into the differences and similarities between these two platforms to help you figure out which one is the best fit for your business. 
Are you ready to make your choice between those two social media networks? Pick your fighter, and let's see what happens.
Free Editable Social Media Strategy Template
Get the social media strategy template you need to audit and plan your marketing efforts for maximum results.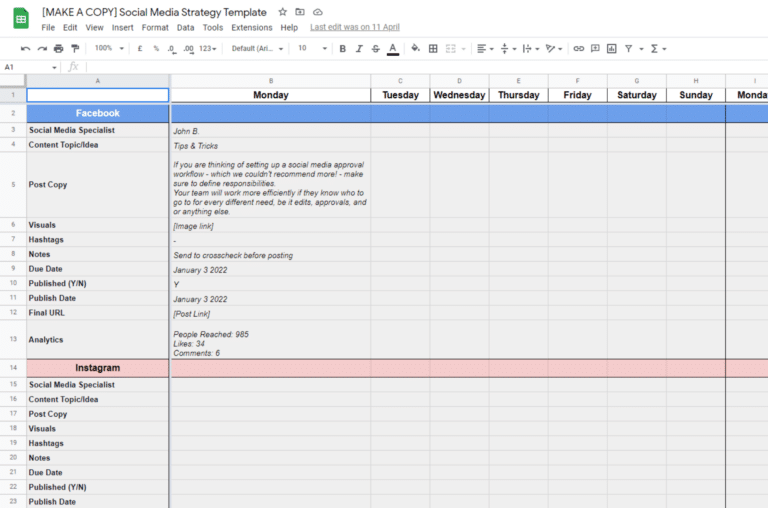 How Instagram and Facebook Work
Facebook and Instagram have been the topics of many social media debates in the past few years. Social media specialists, marketers and professionals from the online sphere have all wondered what's the best social network out of the two. For example, should you base your digital marketing strategy on Facebook or Instagram? Or both?
You don't have to replace Facebook with Instagram or vice-versa. You can use the information from this article to strengthen your strategy on both channels.
Some people say that Facebook is not that popular anymore and that Instagram has taken its place. Other people say exactly the opposite. So, choosing the right social media platform can become quite a hassle. Even more so when the opinions are all different in regards to this subject.
It's easy to think about Instagram vs Facebook as competitors, or anything else for that matter. However, knowing how they actually work will help you extract the most important details about these platforms.
Understanding how a social media platform works is vital for your business. Your digital marketing strategy should contain personalized aspects for each social network in order to increase your social media performance. 
SocialBee can actually help you with this. Create and customize posts for Facebook and Instagram and all your other social media platforms from one place by adding hashtags, changing image sizes, character count, and more.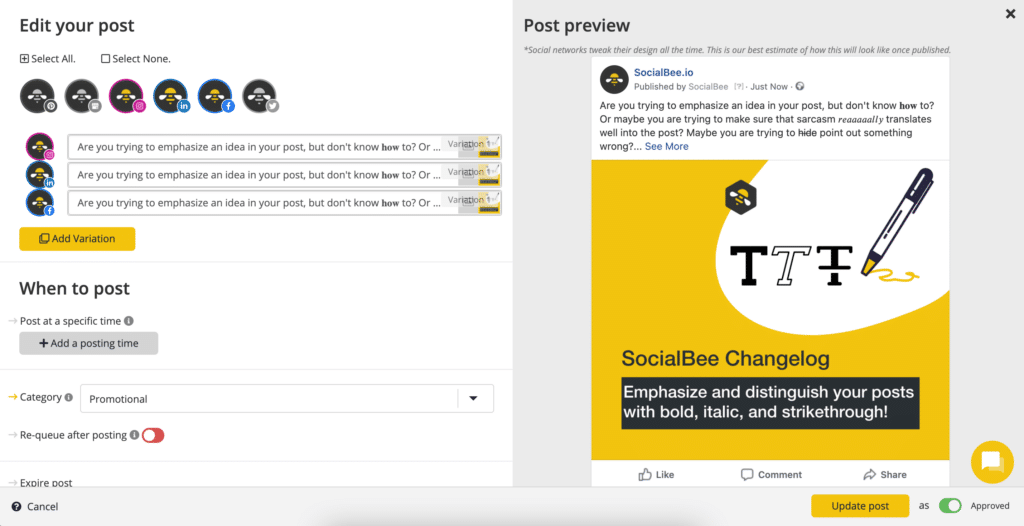 From the SocialBee content editor users can create, edit, customize and share posts directly on Facebook, Instagram, and all their social media platforms.
Start your 14-day free trial to test it yourself!
In addition, with SocialBee, you can craft different variations of your evergreen posts and share them multiple times while keeping them looking fresh and new.
You can also find out how your posts will look on each channel with the content preview option.
But before scheduling your posts, make sure you first download the Best Times to Post on Social Media sheet (shown below) to discover when you should be posting on the most popular online platforms.
Optimize Your Social Media Posting Schedule!
Download the Best Times to Post on Social Media sheet and start adjusting your content calendar for maximum engagement.
Facebook vs Instagram: Similarities 
Before we focus on what makes the two social media platforms stand out, let's find out their similarities.
1. Content Format
Both platforms allow image and video sharing. 
Moreover, you can also share posts and Stories, leave a comment, or like someone's post on both platforms. Alongside that, the possibility of adding a location on both platforms is also available.
Last, but not least, you can also tag different people in your posts.
2. Online Interactions
Another similarity revolves around sending friend requests and follow requests. Or, even blocking someone, if the situation begs for it. 
Going back, friend or follow requests can be sent to anyone. From family and friends, up to celebrities. Once added to your network, you will be able to see their posts and communicate with them. 
You can also choose to follow shopping accounts, brands, or businesses.
3. Social Media Shopping Features
And this brings us to the shopping aspect: both platforms have incorporated this. On Facebook, you will find it under the name of  Marketplace.
As a user, you can create a listing for almost anything you can think about. Different items, vehicles, and properties. There is something on the Marketplace for everyone.
Instagram simply calls it Shop.
Under this category, you can find the shops you follow first. There is also a category that recommends shops that would be suitable for your needs. And there's even a wishlist you can start filling, straight on the platform!
Similarities Between Instagram and Facebook
Post video and images
Share feed posts, Stories, Reels and multiple photos at once

Leave comments and like someone's post

Add a location

Tag people in your post

Send friend requests and follow requests, or block someone

Use the shopping feature to promote your products
Facebook vs Instagram Differences
We know the similarities between the two. However, we will not have an accurate understanding of the two without exploring the differences.
Let's get into it!
1. Post Structure
Instagram is primarily a photo-sharing app that also branched out to video content through Reels. Facebook, on the other hand, combines visual content with text as well. 
You've just tried imagining how adding just a block of text to Instagram (without the picture) would be like, right? 
This can be considered the main difference between Instagram and Facebook. You can't post text on Instagram if you don't have a visual cue.
2. Social Media Games
Another difference is related to what you can do on Facebook: play. Again, this is a feature you might not think about straight away, but games are not available on Instagram.
3. Image Albums
Another aspect worth mentioning is the posting structure on both platforms.
On Facebook, you can create albums for your pictures.  On Instagram, however, your pictures aren't placed in albums. Instagram Stories are the only ones that you can categorize as "Story Highlights."
4. Desktop and Mobile Optimization
Now we'll talk about how desktop-friendly these platforms are. Facebook has the same features on all devices. You can share a Facebook post from a desktop, as well as a mobile phone.
Things tend to change a bit when it comes to Instagram. While you can log in and view posts, you can't post from a desktop device. Instagram is more tied to the mobile phone, and you can only post from it.
5. Link Sharing
On Facebook, you can always post links and make them the main part of your social media posts.
Maybe you want to share some important industry news or promote one of your blog articles and have them appear on your followers' news feed.
You will be able to share the link on your Facebook page, have a preview of it visible to your followers, and allow them to click on the link.
However, when it comes to Instagram posts, clickable links can't be used in post descriptions. They are only allowed in your account's bio.
So, in order for you to share an article on your Instagram account, you will have to create a visual for the content you want to promote (since there are no link previews on Instagram) and redirect your followers to click the link in bio.
Look at how we at SocialBee promote our articles on Instagram:
If you have more links you want to share with your audience, you can use Instagram tools like Linktree to include more of them in your bio.
6. Account Bio
Speaking of bio links, let's expand on the topic of bios and what you can add to a Facebook bio compared to what you can include in an Instagram one.
Facebook provides business pages with much more options when it comes to creating their bio.
Here is what you can include in your Facebook bio with a business account:
Business description
Company's business hours
Address & contact information
Links to your website and Instagram page
Facebook Messenger button that automatically opens a conversation tab 
For an Instagram business account, the options are a bit more restrictive.
Besides having the ability to add your company's industry, you are limited to 150 characters. It's up to you to decide how will you use those characters and what is the most important information you need to add to your bio.
Also, on Instagram, you can only add one clickable link to your bio. As we mentioned before, to add more than one link, you can different tools to redirect your followers to multiple pages from your Instagram bio.
Facebook Versus Instagram: Differences
Facebook allows you to post images, digital lookbooks, videos, and text together or individually, while Instagram only allows you to post visual content (images and videos) with written captions — text-only posts can't be shared on Instagram.

Facebook has a Games feature, while Instagram doesn't.

You can create photo albums on Facebook. On Instagram, you can only categorize your Stories.

Facebook is both desktop and mobile-friendly, while Instagram is more mobile-friendly.

Facebook users can add clickable links to their posts, while on Instagram, the only clickable links you can find are in the bio.
On Facebook, you can build more comprehensive bios while on Instagram you are limited by the character count.
Now that we know both the similarities and differences between Facebook and Instagram, it's time to go more in-depth about their audience information and the user engagement rate.
Facebook Versus Instagram: Demographics
Instagram vs Facebook continues the battle when it comes to the key audience they serve as well. 
And knowing how many active users and what age groups they're a part of can take your social media marketing strategy to the next level. Moreover, demographics can give you a good idea of the direction you can take.
In the end, if you don't target the right segment, you might waste important time and resources. 
By looking at different Instagram and Facebook statistics, we can see that their biggest demographic is made up of people aged between 25 – 34 years old.
However, while Facebook is famous for older people, Instagram is more popular among teenagers and young adults. The platform has more users under the age of 24 and fewer users above 34 than Facebook. And this is why the main content developed for Instagram marketing will be more oriented toward Instagram's younger user base. 
And if we're talking demographics, we can also talk numbers. How many people use a specific social network can also help you make a decision. 
Facebook is by far the leader of popularity, as it has 2.96 billion monthly active users. Instagram is not that far away from the race, though, as it's experienced steady growth over the years. Nowadays, we're talking about 1.4 billion Instagram users.
With such a great online audience, it would be a shame if your content would get lost in the crowd. To make sure that doesn't happen, you can download the free Best Times to Post on Social Media sheet below and schedule your content to post according to professional recommendations.
This simple step can drastically improve your reach and engagement levels on all the most popular platforms. Use the 14-day SocialBee trial to create your optimized social media schedule and test it out for free!
Optimize Your Social Media Posting Schedule!
Download the Best Times to Post on Social Media sheet and start adjusting your content calendar for maximum engagement.
Instagram vs Facebook User Engagement 
Facebook is usually the place to start for most businesses. 
We've mentioned that it has more than 2 billion monthly active users. And this will also help you get the best out of your social media marketing strategy. But then again, the same thing seems to happen on Instagram. 
The numbers are not that different in the case of monthly users. And this platform can bring a lot of visibility to your business as well. So, what gives?
There's no perfect formula behind the user engagement equation. It's all going to break down to the platform your users are most used to. And, of course, the type of content you are going to concentrate the most on.
If your business is more oriented towards the visual component, go for Instagram as a main social media channel. There is one difference that we can mention here between Facebook versus Instagram.
Instagram is considered more attractive in terms of how its content is presented.
Instagram users follow more visually pleasing accounts. They open the application, see the images or videos, and either tap on them to like them or move on. This is a reason why your audience is likely to engage more with your Instagram content. Be it Instagram Stories, Instagram Reels, or IGTV.
Talking about Facebook, the presentation is similar but still different. When you open the app, you can't control the type of content you'll see. The first post can be a piece of news, a video, an image, but it's never one type of content only. 
If your audience is keener on reading a post, you will have to lean more toward Facebook. How you will build and present your brand will also matter. 
If you're targeting business owners, Facebook is your go-to for user engagement. That is because this free social media platform is more flexible. You can engage your audience with a good text, generally curated blog posts, as well as jaw-dropping pictures or videos.
If you say sales, you place yourself in the Facebook camp again. That is because you can also benefit from Facebook paid advertising to put together a great lead generation campaign.
While you can also invest in Instagram ads, the platform is more suitable if you want to dwell on influencer marketing. This social media platform allows you to be as visual as you want. And it also allows your audience to be there with you by using the Live feature.
So, if you want to give your audience a glimpse of your life, Instagram will become your go-to.
Keep in mind that how users engage with your brand depends on a lot of factors like who they are, what they're interested in, and what your business wants to achieve.
Instagram vs Facebook Content
We know how the platforms work, who they're addressing to, and how they provide user engagement. But then again, there's a bit of a catch with the type of content both social media platforms promote. 
Think about the following scenario: you have an image that you want to promote.
You end up choosing to do that on both Facebook and Instagram. But then you realize that the image has more success on a platform and less on the other. And you might be wondering why this happens since it's the same image.
It's important to mention that you can have the same content on both social media platforms. What makes the difference is how posting content works on Instagram vs Facebook. 
You can post one to three times a day on Instagram, whereas, on Facebook, things change a bit. The recommendation is to post around three times a week. So, cross-sharing might not be the best approach in this situation.
What is suitable for a specific platform might not be as much for the other ones. And this applies in the case of Facebook vs Instagram as well.
There is no need to worry because with SocialBee you can create separate content schedules for both Facebook and Instagram. This will help you increase your reach and engagement by scheduling content at the best time.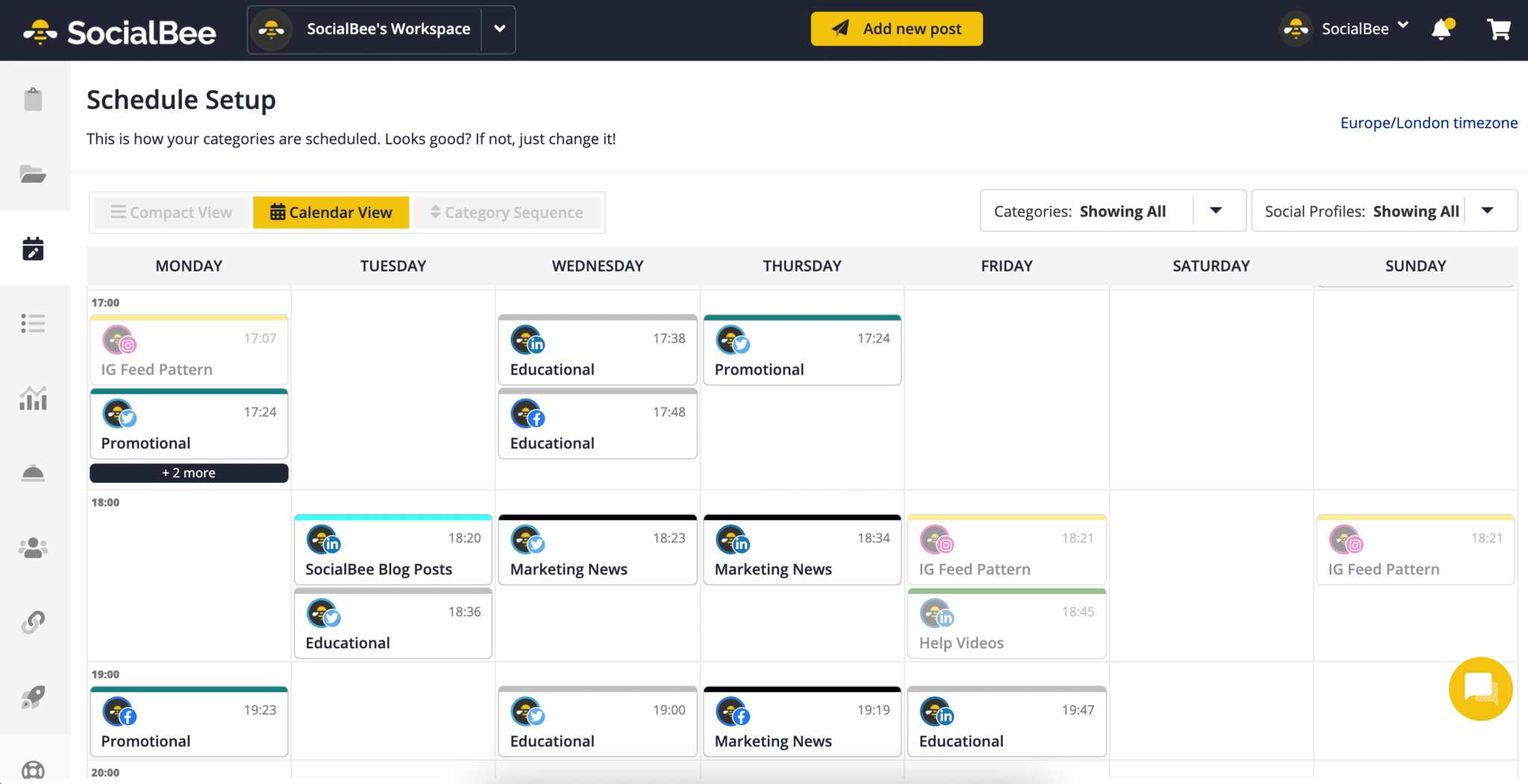 Here is SocialBee's schedule setup from where users can oversee and adjust their content strategy from a visual content calendar.
Start your 14-day free trial and have your content organized like this too!
Additionally, you can create content categories to diversify your content and publish posts that work best for each channel.  It doesn't matter only when and how often you post, but also how you personalize your content. With SocialBee, you can share the same post on multiple social media accounts, and, with the help of the variations feature, you can make small adjustments in terms of copy or visuals.

Which Is Better: Instagram or Facebook?
There is no universal answer, it depends on the nature of your business.
Each platform has its specific elements that make it more successful for a marketer. And the choice will depend entirely on the needs of the business in the cause.
If it were to be a discussion about Instagram vs Facebook: which one is better, it might lead to false hopes. Because what works for one business on Instagram will not work for the other business on the same platform.
Your business might even benefit more if it uses both platforms, for example. This is why understanding both platforms and always being in the loop will become key players for your digital marketing strategy.
Improve Your Social Media Presence with Facebook and Instagram
Social media is a great place for digital marketing strategies and efforts. But when you have to choose between Instagram vs Facebook, there are quite a few factors to take into consideration.
Even if both platforms are similar in what they offer and how they behave, they are still different from each other. And this uniqueness asks for different strategies adapted to the platform. Another thing to consider is that both of them are ever-changing. Thus, strategies also have to adapt to any newly added features.
Regardless of what you chose, just remember that SocialBee can help you create and share content on both platforms. 
You don't have to decide between the Facebook and Instagram app. In fact, you can actually customize your content for each channel and make the most out of both platforms.
Start your 14-day free trial today and start posting on Facebook and Instagram easier than ever before!
Post on Facebook and Instagram with SocialBee!