Nowadays, each brand is trying to build a strong social media community. 
Social media is ranked as one of the most popular communication methods, and it's expected to reach 4.41 billion users by 2025. Billions of people scroll every day searching for content that can solve their problems easily and lets them have fun in the process. 
When building your social media channels, you're not simply adding numbers. Those followers you gain are real people, they need to resonate with a brand in order to become a loyal customer. This is why having an engaged community can truly make your brand shine!
Ignoring the creation of a stellar social media strategy means ignoring new sales, customers, and massive brand exposure. If you are a social media community manager, and you are willing to supercharge your online communities, this material is for you.
Social Media Strategy Template
Streamline your marketing with an efficient social media strategy template.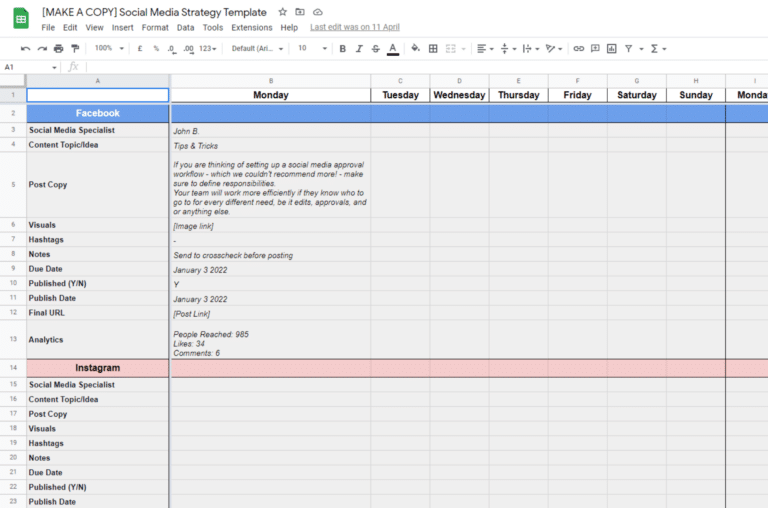 Why Is a Social Media  Strategy Crucial to a Business?
Social media has become so overcrowded in recent years. Even Whatsapp and Facebook Messenger have started to take on marketing initiatives. Without a clear strategy, your chances of making a name for your brand are slim.
But what are some tangible benefits of using social media for your marketing? Why do people put so much value into it? 
These are the main advantages of social media marketing:
Brand recognition
Access to diverse audiences
Strong online community
Higher conversion rate
Easy retargeting
Faster growth and sales
1. Brand Recognition
Making a name for your brand is done at the tap of a button. No need for expensive billboards or TV Ads. Community managers can achieve brand recognition through various methods, such as consistent messaging, branded visuals, brand-customer interaction, etc.
2. Access to Diverse Audiences
No matter the service or product you promote, on social media, you can find the exact type of person that cares about it through customized content and a targeted approach. This is why social media managers should maximize the brand's content on social media.
3. Strong Online Community
Building a community on social media nearly secures the reputation of your brand. Your fans remember and echo your brand name across their preferred channels. 
4. Higher Conversion Rate 
Studies say that customers are more likely to purchase from brands that have established themselves on social media.  In fact, 71% of consumers believe that it is important that they recognise a brand before they make a purchase.
5. Easy Retargeting
After you have started developing your social media community, you can discover more data about your target audience with the help of social media analytics and use this data to create highly targeted ads that will have a greater success rate.
6. Faster Growth and Sales
With a proper social media strategy that generates active engagement from your successful social media community, your company grows faster and scores more sales. But how can this be achieved? 
One way to do it is by posting lead magnets your audience can access by providing their email address. Once you have this data, all you have to do is send emails to your leads and use email marketing to turn them into paying customers.
Other practices include running giveaways or contests and giving away vouchers and discounts.
Taking the First Steps Towards Building a Social Media Community
The process of building an engaged community might be slow at first as you gather the initial followers, but eventually, it will come down to your content. This is the only way community managers can make a group of like-minded individuals stay close and connect with your business.
If you can engage with your audience you can significantly improve your social media performance. Those aren't just numbers to be kept noted down on your monthly reports but active fans with the potential of turning into loyal, recurring customers.
10 Smart Tips to Supercharge Your Social Media Marketing Strategy
What does it take to build a reputation on social media? Community management isn't as easy as it seems. But it isn't overly complicated either.
After you're done posting a few pieces of content and tweaking your bios and links, what follows next? What would make your social media marketing strategy drive results? How do you promote engagement?
If you want to find out the solutions to these questions, stay tuned as we talk about eight social media tips that will enhance your online strategy.We've got eight points for you that should help you find solutions to these questions. 
1. Chalk Out a Clear Objective
If you start running daily without a goal, you'd run different distances each day, meaning that you couldn't measure your progress and stay on a growing trend. 
On social media, things work similarly. If you post spontaneously without having clear marketing objectives, chances are that your online presence will hardly grow. 
Why? Because you won't know exactly what you are working towards. Having a list of clearly defined objectives will not only help you outline your ambitions, but it will also allow you to create a strategic social media marketing strategy that will help you reach new audiences, turn leads into customers, and boost your sales.
For you to get a real sense of what a clear objective is, let's take a look at this objective:
I want to post relevant content on social platforms 3 times a week, to engage with the top contributors at least 30 miunutes a day and to increase my social communities with at least 50 members per week. On a period of 2 months, I want to boost engagement by at least 2%.
This is an example of SMART objective. In short, SMART is a powerful tool that stands for specific, measurable, achievable, reaslistic and time-bound. So, when you set yourself an objective, make sure it's a SMART one!
2. Research, Research, and Research!
You can't form a connection with someone you know only a few things about. Just like real-life friendships, maintaining a community on social media asks for you to know other people's needs, problems and goals, and help them achieve these goals. 
Research your ideal prospects carefully and use social media marketing tools that help you keep track of data. 
Here are the insights you should monitor to understand your audience: 
Find out their demographics, interests, and start building their buyer persona.
Build NPS surveys that gather feedback on their experience with the industry and your business specifically. A good way of social listening is finding out more about how a brand is perceived through social media monitoring tools.
Also, don't be afraid to join forum discussions, create surveys and engage with other bloggers or social media influencers. Just look for specific keywords, and you will surely find a Facebook Group talking about it!
Once you gather all this information, it will be way easier to plan social media campaigns for people with common interests. You don't want to create content no one cares about.
3. Plan Contests to Increase Engagement
Running a social media contest doesn't only increase your social media reach and engagement, but it also helps you gather user-generated content that serves as social proof.
For instance, setting up a contest where you reward users who post a piece of content related to your brand leads to free UGC for your brand and supercharged brand awareness. 
At the heart of a successful contest or giveaway stands an irresistible offering. Make sure you give away a valuable prize for your specific audience that also reflects your business niche (e.g. it wouldn't make sense to offer a free TV if you're an email marketing agency). 
After selecting the offer, pick a date for the winner's announcement, and encourage user-generated content. That's when the growth magic happens in your social media communities.
Take a look at LAMY Malaysia's content: all you need to join their contest is to:
Draw something theme-related 

Post the outcome on your different platforms 

Tag the brand's account. 
A small effort from the customer's side, but a huge growth for the company.
4. Crate Diverse Content for Your Community Members
The content you create needs to be diverse.
Content repurposing works, but sometimes what seems like a viral content idea on Twitter won't bring any interest to Instagram or YouTube viewers. 
For example, longer video content might work out just well on YouTube, but it can fail on TikTok.
Create diverse content that appeals to users on the respective platforms and caters to the users' behaviors and algorithm changes. 
Having a presence on multiple social media channels is great, but it's more important to worry about quality, rather than quantity. 
This means that focusing on fewer platforms and creating customized content for each one of them will bring you more value than managing too many social media pages and sharing the same posts across all of them. For this, you should know what kind of content the audience in each platform prefers to consume.
Do you want to try the Content Categories feature? Start your 14-day SocialBee trial for free!
SocialBee: Your AI-powered social media management tool
Create posts, publish, analyze, engage and collaborate, all from SocialBee.
5. Identify and Make Use of the Right Tools
Building a solid social media strategy is crucial. Having compelling and appealing content is even more crucial. But scheduling, posting, and executing your strategy as planned is the final step without which all efforts for gaining an engaged community go to waste. 
Tired of switching between all your social media accounts to create and schedule content? SocialBee allows you to centralize all your content creation and distribution tasks in one place.
With detailed analytics and retargeting tools, you never miss how your audience reacts to your content. SocialBee brings to the table a long list of features, such as:
Content categories

Post variations

Canva integration

Social Media scheduling

Social Media analytics

Team collaboration

RSS feeds

URL customization
6. Make Use of Influencer Marketing  
One strategy to help your marketing team think outside of the box is to work with micro-influencers. They are an affordable way to diversify your content and stay relevant with your users. 
It is critical that the influencer you choose is relevant to your brand or the product you're attempting to sell. In addition, there are a few points for your social media team to consider when choosing an influencer for your brand when planning ahead:
The influencer's target audience should be your potential customers.
The content and lifestyle of the influencer should be relevant to your company.
The fees charged by the influencer should be within your budget.
Check to see if the influencer is currently endorsing one of your competitors.
Determine whether the influencer is interested in a long-term business partnership.
Take a look at Gabi Champ, an Instagram influencer that is promoting Shein's products on her page: she is a young girl passionate about fashion, and creating content for people like her. 
7. Do Not Oversell on Social Media Platforms 
Remember, the first goal of social media is for people to socialize, not purchase. 
Selling comes after you've established trust with your audience and have given a large amount of free value that has made your community feel grateful to you. If you've posted helpful and informative content, there won't be much need for you to be pushy with your promotional posts.
There's no need for you as a social media community manager to oversell and tout the horn about your latest offers daily. Social media is not the right place for hard-selling. People frequent these apps mainly for entertainment, so a more interactive approach will generate more results than a strictly promotional one.
The most promising way to convert followers into clients is by engaging with them regularly, adding a human touch to your online presence and winning their trust. As for selling, just make sure there's enough guidance on your profiles if they want to buy. Keep an eye on incoming direct messages by incorporating your social channels with your unified inbox.
8. Engage with Your Audience
After you've scheduled and posted your weekly or daily content, chances are that you'll receive some comments and feedback. 
As a social media manager, take some time to reply to these comments and try to spark genuine conversations with existing comments or initiate new ones on your posts or other accounts' posts. Through community management, you can strengthen the relationship with your audience. 
While replying to comments will take just a couple of minutes from your time, your community members will appreciate the effort. Just take a look at our previous example and how we connect with our thriving communities!
There's more than one way to interact with your audience and supercharge your social media community on various platforms. Here are a couple of more examples:
Quizzes
Polls
Stories
Challenges
Questions
Experts suggest that actively exchanging messages with your followers gives the impression that you are a brand they can trust. 
You can also increase the engagement of your posts by asking your community members for feedback. This way, not only do you generate community engagement, but you also collect useful data for further campaigns.
Let us help you keep your audience happy, engaged, and loyal to your brand with our IG Community Management service!
If you receive bad reviews from your customer base under your social media posts, it is highly important to ensure them that their opinion has been taken into consideration. You can turn a negative customer experience into a positive one through quality customer service.
9. Have High Quality Visual Content
Consumer attention spans are getting shorter and shorter, and this is an undeniable fact. They're attracted by visually appealing content that promises a solution. That's why they could spend hours scrolling through Pinterest without getting tired.
To build social media communities, you need content that captivates and resonates with your ideal audience. This is why we recommend you using an editor such as Canva to create your videos and images. With Canva, you can easily co-create content designed to achieve your business objectives. 
It enables anyone to create eye-catching designs for both personal and commercial use. It's designed for those who aren't graphic designers and can't afford to pay a lot of money for expert designs. This platform has it all, whether you're creating a résumé or designing an invitation card. You can also purchase the premium edition for more features.
Design and import your social media graphics with Canva directly from SocialBee. Start your 14-day SocialBee trial!
10. Promote the Content You Share
Knowing a few Instagram hacks to make your feed appear pretty and attractive is only half of the way to success with social media. Organic content is a sustainable way to get long-term results.
While paid social media ads can offer an instant boost in sales and visibility, they are not sustainable and take a large part of your budget.
Whether this means simply "Boosting" an existing post or creating an Ad from scratch, the point stands in driving as much traffic as you possibly can to your content and product/service pages. It could also mean promoting yourself through reposts, going live, or conducting Q&As. 
When you focus your marketing efforts towards promoting engagement, there's never too late to reshare a previous post. This is why you should focus on creating evergreen content!
Evergreen content is content that is relevant for a long time and continues to provide value to your social media community. The topic or message of evergreen content should not be time sensitive and should retain its relevance and attract visitors to your site long after its initial publishing date.
It's Time to Boost Your Social Media Communities!
No matter if you've been on social media for a while, or you're just starting out, these tips will help you level up. Building online communities is always challenging at first, but as the platforms grow in traffic, you'll start to enjoy it. 
Engaging with customers and creating content will be way easier after implementing the proper tools and putting more effort into the content. When you achieve some kind of stability in engagement and conversions, you'll see that everything was totally worth it. 
And SocialBee is here to help you supercharge your community management! Start your 14-day free trial now!
SocialBee: Your AI-powered social media management tool
Create posts, publish, analyze, engage and collaborate, all from SocialBee.
About the author: Carla Andre-Brown is a content marketer for Mailbird. She promotes having a healthy relationship with our jobs and our inboxes.
When she's not working on content, she's studying educational technology at the University of Saskatchewan, teaching digital marketing at BCIT, or making another cup of tea.