Are you searching for an Instagram scheduling app that will help you maintain a consistent posting pattern without dealing with repetitive and time-consuming tasks?
Say no more! We prepared a list of 10 picks, each one with different features and price points to help you find the best option for your business needs and resources.
So, keep reading to learn more about the apps that will not only help you schedule Instagram posts but also improve your social media marketing strategy in the process.
Let's get into it!
Social Media Strategy Template
Streamline your marketing with an efficient social media strategy template.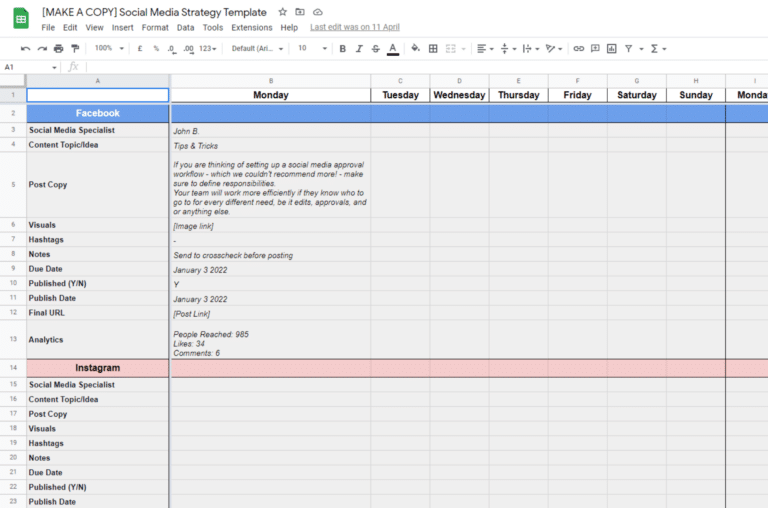 What Is an Instagram Scheduling App?
An Instagram scheduling app is an online tool that helps you plan your Instagram content by eliminating the repetitive tasks of having to open Instagram whenever you need to share a post. 
Moreover, an Instagram scheduler is not just what it sounds like, it has plenty of other features that can help you create, edit, schedule, and monitor your content from one place. It minimizes effort and helps Instagram users save time while maintaining a consistent Instagram content schedule with ease.
Why Should You Schedule Posts with an Instagram Post Scheduler?
You can post content to Instagram without using a social media management tool. But just because you don't need it doesn't mean that it won't be useful for your social media workflow.
Just think about it. Successful brands don't like to waste time on repetitive tasks. Their focus is on optimization, efficiency, and automation—work smart, not hard.
Especially when you are a small business owner who deals with the challenges of managing your social media accounts, finding a way to save time and clear your schedule is paramount.
So, let's explore the benefits of using an Instagram tool and find out what you are missing out on by not using one in your daily work life.
Here are the benefits of using an Instagram scheduler: 
Stay organized

Maintain a consistent posting schedule

Eliminate time-consuming tasks
Stay Organized
There are multiple possible two main scenarios in which you need a scheduling tool to manage your Instagram posts:
You are a social media specialist and have multiple clients you need to take care of

You are a small business owner with many responsibilities who doesn't have time to create and share content
No matter what your situation is, the obvious challenge here is to stay organized. When you need to create and publish content for multiple accounts, things can get messy.
Not to mention that social media posts need to be customized for Instagram and scheduled at specific times in order to reach the right people.
Let's not forget that Instagram schedulers also offer support for other social media networks, meaning that they don't just help you publish Instagram posts but also streamline the process of sharing content across all your other social media platforms.
For instance, with SocialBee, you can manage multiple accounts at once and share content on Instagram, Facebook, Twitter, LinkedIn, Pinterest, Google Business Profile, TikTok, and YouTube—all from one place.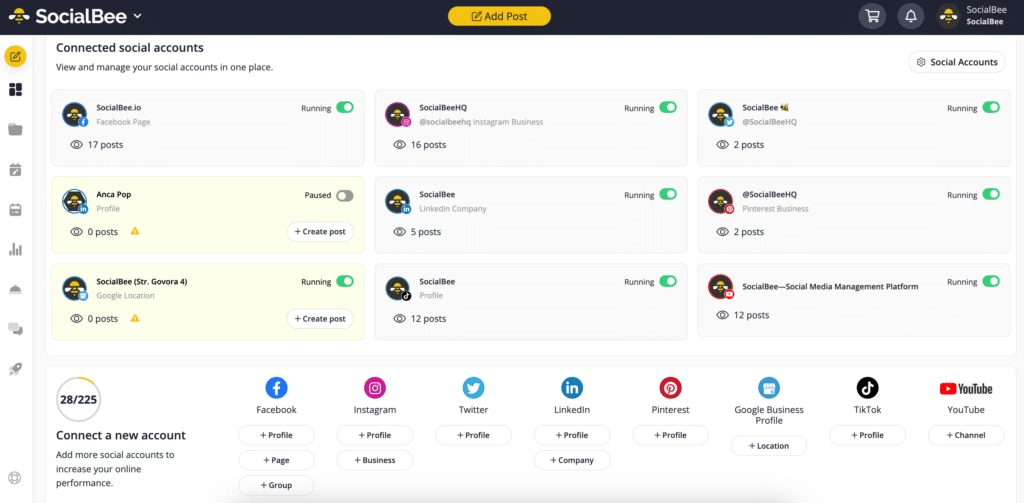 Connect all your social media accounts to SocialBee and start creating and sharing content to all your platforms easier than ever.
Start your 14-day free SocialBee trial today!
Besides, with SocialBee, you can create a separate workspace for every business you manage, and save all your future and previous content, all arranged in chronological order and organized in specific categories.
Not to mention that you can view your entire content strategy in a visual format—a built-in social media calendar.
Maintain a Consistent Posting Schedule
A successful Instagram strategy relies on three factors:
Consistency

Timing

Quality content
So, why is it so important to maintain a consistent flow of social media posts? Well, by posting on a regular basis, you keep exposing your content to your audience in a repeated manner. This way, you gain recognition and establish your business as a familiar brand in their life.
Besides, your content will act as a way to attract your audience, educate them and motivate them to make a purchase, all while establishing a valuable relationship between them and your brand.
But maintaining a consistent posting schedule without a scheduling tool can be challenging due to time-consuming tasks and other responsibilities that come in the way.
However, by using online scheduling tools, you get the chance to plan your content months ahead and schedule it, so you don't have to open your social media apps to post your content.

The Best Social Media Posting Times Cheat Sheet
Find out what is the best time to post across all your favourite social platforms.
Eliminate Time-Consuming Tasks
We mentioned before that Instagram, and social media schedulers in general, save you time. But what are the tasks that become obsolete once you start using such a platform?
Well, here are the tasks you eliminate by using an Instagram scheduler:
Switching between accounts and trying to find your way through multiple opened tabs

Going daily on the platform to create and schedule content

Gathering data from the analytics section regularly to have a comprehensive look at your performance

Spending time re-uploading the content you need to republish
While in theory, these tasks are pretty easy to do, when you add up all the time you spend doing them at the end of the week, you realize that they take hours out of your schedule—time you could have spent on other important responsibilities, or even just relaxing after a day of work.
The Best Instagram Scheduling Tools
Now that you know what an Instagram scheduler is and why you should use it, let's get into the real reason why you are here.
Here are the top 10 best Instagram scheduler tools you need to use to improve your social media strategy:
SocialBee

Loomly

Crowdfire

Sendible

Iconosquare

Planoly

ContentCal

TailWind

Preview

Sprout Social

Onlypult
Below you will find a description for each tool. Pay attention to the information provided to make sure you choose the best option for your brand.
Do you want to use an all-in-one social media management tool with advanced Instagram scheduling features? Say no more, SocialBee has all the features you need to improve your workflow while taking care of all your social media scheduling tasks.
Connect your Instagram account to SocialBee and start maintaining a consistent social media schedule with ease. Share videos, Instagram carousel posts, stories, and reels from one user-friendly dashboard.
Start your 14-day free trial at SocialBee today!
Do you own an Instagram business profile, or maybe just a regular one you would like to grow? No matter the case, SocialBee has got you covered.
Create Instagram carousel posts and schedule them along with simple images, and videos, as well as Instagram Stories and Reels.
Creating content doesn't have to be complicated. In fact, it can be quite easy if you use the right tool. How come? Well, by using SocialBee, you can easily create your Instagram post from scratch, including your visuals, and manage multiple social networks without performing repetitive manual tasks.
SocialBee integrates with Canva which allows you to open the design app straight from SocialBee's content editor and create and import your social media graphics without opening a second tab.  
Open a content editor, click on the Canva button and access all its design functionalities from SocialBee.
Start your 14-day free trial at SocialBee today and test the best social media integration for your content creation needs!
We can't talk about content creation without mentioning the content category feature. SocialBee helps you stay organized by allowing you to organize your posts in different content categories (e.g. promotional, funny, educational, etc.) and edit them all at once.
From SocialBee's content editor, you can:
Tag other accounts
Add location tags
Publish the first comment

under your scheduled posts

Receive hashtag suggestions
Create hashtag collections

 

Upload images and GIFs from Unsplash and GIPHY
Moreover, with SocialBee, you can publish posts on all the other major networks, such as Facebook, Twitter, LinkedIn, Pinterest, Google Business Profile, and TikTok.
When it comes to planning content, SocialBee allows you to:
Schedule posts at specific times

Customize your posting schedule for each social network

Schedule entire content categories at once 

Reschedule your best posts or variations of your best content over and over again
We covered content creation and scheduling, so now let's focus on Instagram analytics. What insights does SocialBee offer?
From SocialBee, you can oversee all your scheduled Instagram posts and keep track of your best content. 
Additionally, you can find out information about your page growth, content reach, engagement, and audience demographics, all from the same dashboard. 
Also, with SocialBee, you can also improve the way you collaborate with your team members by inviting them to the platform. This way, you will be able to tag them, provide feedback, and control the content shared on your socials by editing, approving, or dismissing certain posts.
Starting price:
$29/month
Bonus Tutorial: How to Schedule Instagram Stories with SocialBee
Are you looking to automate the way you plan your Instagram content? Start using SocialBee to efficiently schedule and share your Stories among other post types.
Here is how you can share Instagram Stories with SocialBee:
Choose a content category
Click on "Add post to this category"
Once you have entered the Post Editor, make sure to have Instagram selected
Click the "Customize for each profile" button
Select the type of post you'd like to publish (Feed post, Reel, Story)
Upload your Story content
Save your post as "Approved"
SocialBee: Your AI-powered Instagram management tool
Create posts, publish, analyze, engage and collaborate, all from SocialBee.
Next on our list of Instagram scheduler tools is Loomly, a social media tool that supports automated posting on Instagram, Facebook, Twitter, LinkedIn, Pinterest, LinkedIn, and Google Business Profile and manual publishing (via reminders + the mobile app) for Snapchat and Twitter. 
This social media tool allows you to manage your social media content, both organic and paid. So, if you often run social media ads, Loomly might be a good fit for you.
Loomly provides you with content suggestions based on trending topics to help you maintain a consistent flow of posts to your social media accounts.
Moreover, with its integrated media library, Loomly makes it easy for you to store all your content and ideas, such as notes, templates, images, and videos you need to create your posts.
Loomly allows you to create your Instagram posts ahead of time and schedule them with ease from the same place you manage your other platforms.
In addition, it provides a medium where you can collaborate with your team and also monitor your content performance in real-time.
Starting price:
$35/month
Crowdfire is a complete social media management tool that can help you do everything from content creation to social media monitoring from one dashboard.
This Instagram scheduler helps you curate images (already approved by their creators) in no time. This way, you will keep your Instagram content visually appealing without having to search the web relentlessly until you find the best images for your posts.
With Crowdfire, you can share content to Instagram, Twitter, Facebook Pages, LinkedIn, and Pinterest from one place. Additionally, it offers features that allow you to customize your content and posting schedules for each social media network.
Tired of struggling to keep track of your social media progress? Crowdifire can generate regular automatic reports with data about your content engagement, audience growth, and competitor status to make sure you stay ahead of the game and surpass your previous results.
Starting price:
$9.99/month
Looking for an Instagram tool that will help you build your brand on the platform without neglecting your other social media accounts? Well, say hello to Sendible.
Get ready to plan your Instagram posts months ahead, including images, videos, and carousels. Add geotags, first Instagram comments, and hashtags from Sendible, and forget about manual posting.
Sendible supports posting on Instagram, Facebook, Twitter, LinkedIn, Youtube, and Google Business Profile—this helps you deal with all your social media creation and distribution tasks from the same place.
To make things even better, Sendible integrates with Canva. Now you can use your favorite design tool with your social media management platform from one dashboard—better social media graphics in less time.
Other helpful Sendible features include:
Social media listening & sentiment evaluation

Social media analytics

Team collaboration
Starting price:
$29/month
Turn Instagram into your most powerful social media platform with Iconsquare and make your work more manageable than ever.
Start scheduling your Instagram content (images, carousels, and stories) with Iconsquare and make sure they fit into your account aesthetic by using the Instagram Feed Preview functionality.
Iconsquare has many features dedicated to Instagram posts, such as:
Tagging other users and locations

Adding the first comment

Including hashtags for better content classification

Saving caption ideas in a separate folder and adding them to your Instagram posts with a few clicks
But that's not all! By using Iconosquare, you can keep track of your content performance and evaluate your competition while monitoring your brand mentions from the same dashboard.
Iconosquare also supports posting on Facebook and Twitter.
Starting price:
~$60/month
Do you want to create, schedule, and publish your Instagram content from both web and mobile devices? Then, Planoly is here to make your dreams come true.
Manage your Instagram, Pinterest, Facebook, and Twitter content with one social media tool and say goodbye to repetitive tasks that stole away hours from your schedule every week.
With Planoly, you can share images and videos and keep track of their performance in real-time. The platform also provides a comment inbox where you can discover your newest comments and manage the interaction between your audience and your brand.
Starting price:
$11.25/month
Centralize your Instagram content creation and distribution in one place and save yourself the trouble of sharing posts manually multiple times a week.
ContentCal is not just an Instagram scheduler, it's a user-friendly platform with an integrated visual calendar and design options that will help you keep your content beautifully organized at all times.
Once shared, your content can be monitored from the analytics dashboard, where you can see how your posts perform on social media and which one of them has driven conversions.
To keep you close to your Instagram community, ContenCal introduced a unified inbox where you can manage your mentions, comments, and DMs from the same place—a quick and easy way to interact with your prospects and provide quality customer service.
Starting price:
$37/month
With Tailwind, you can schedule single image and video posts directly to Instagram. Stories and carousels can also be shared via Tailwind with the help of push notifications.
This Instagram scheduling tool has advanced content planning features. For example, Tailwind optimizes post scheduling based on the times your audience is most active on social media. It observes patterns and uses them to your benefit.
Moreover, Tailwind has an integrated content calendar from which you can oversee your content strategy. To adjust your schedule all you have to do is drag and drop your Instagram posts in the desired time slots.
Keep in mind that Tailwind currently supports posting on Instagram and Pinterest.
So, if you want to manage all your social media platforms from the same place, you will have to consider other options.
Starting price:
$19.99/month
Preview is a social media tool dedicated solely to Instagram. As a result, it has advanced features customized for Instagram that other tools might not have.
By using Preview, you can create, schedule, and post images, videos, Reels, IGTV content, and Instagram Stories. The number of posts you can share is unlimited.
Just by using your phone, you can rearrange and preview the way your future posts will be integrated into your feed.
The app also provides over 100 filters you can use to enhance your visuals.
Have you run out of Instagram caption ideas? No problem, Preview has more than 3,000 caption templates, ideas, quotes, and CTAs you can use anytime your creativity refuses to collaborate.
While you are free to get inspired by filters and caption ideas, don't forget about the practical side of things. With Preview, you can have a mix of both. The app allows you to manage multiple Instagram accounts at once and monitor your growth for each one of them.
Starting price:
$19.99/month
Sprout Social is a comprehensive social media management tool that enables users to post on Instagram, Facebook, Twitter, LinkedIn, and Pinterest from one platform. It's most appropriate for agencies, especially considering the starting price of $89 per month.
With Sprout Social, you can take care of every aspect of your Instagram strategy, from content creation and scheduling to monitoring and evaluating your progress.
The unified inbox features make it easy for you to keep track of your Instagram interactions and never lose the opportunity to engage with your community.
Besides providing in-depth analytics, Sprout Social also allows you to monitor your Instagram mentions while researching your competition and discovering relevant trends and hashtags for your posts.
Starting price:
$89/month
Onlypult is an easy-to-use platform for scheduling your posts to LinkedIn, Instagram, Facebook, TikTok, Pinterest, Twitter, and more.
With the Onlypult Publishing tool, post your content on all your accounts from one space. Manage images using the built-in editor – add filters, adjust the image size, and try emojis.
Moreover, the platform provides team management for a joint workflow with colleagues and customers, assigning roles, and giving access to necessary accounts without entering passwords.
The built-in analytics for Instagram accounts helps track engagement, audience insights, best posting times and hashtag effectiveness.
A nice bonus for all users is that they get access to many other features like a Builder tool for making mini landing pages, Monitoring for tracking mentions of your brand on social media and Multistreaming for going live on multiple platforms simultaneously.
Starting price:
$25/month
How to Choose the Right Instagram Scheduling Tools for You
As you can see from our list, there are plenty of Instagram scheduling tools you can choose from for your business. However, the hard part is not to find a scheduler but to choose the one that will be the best investment for your business.
To help you make a decision, we compiled a list of five aspects you need to consider before choosing an Instagram scheduler:
Budget:

How much can you spend on a social media scheduler? Look at the prices, compare them to the features they provide, and find out how much it will cost you yearly.

Supported social media platforms:

Not all schedulers support posting on the same platforms, so make sure that the one you choose has you covered.

Features:

Think about the main challenges you face while managing your Instagram account and choose the tool that will help you overcome them.

User experience:

The reason why many social media managers opt for scheduling tools is to make their job easier. So, pay attention to the interface and overall design to make sure you can navigate the platform with ease without having to spend weeks figuring it out.

Team collaboration:

In case you work with a team or want to include your clients in your content creation process and maintain a transparent relationship with them, look for team collaboration features that will allow you to include them in your workspace and workflow.
Once you evaluate all the aspects presented above, you will be able to make an informed decision and pick a scheduler that will cover all your content creation and distribution needs.
Start Scheduling Instagram Posts Ahead of Time
Instagram scheduling apps are designed to help you overcome one of the most challenging aspects of social media management: maintaining a consistent posting schedule.
While Instagram schedulers don't reinvent the wheel, they make it faster and help you get to your destination more efficiently.
By using a social media tool, you get to create, schedule, and post content from the same place where you monitor performance and collaborate with your team members.
The constant worrying about scheduling posts at the right time each day is suddenly gone, and you can shift your attention to more important tasks that need your attention.
And don't worry, you don't have to commit to using an Instagram scheduler before testing it first. Start your 14-day SocialBee trial today and experience the benefits of using a scheduler for free!
SocialBee: Your AI-powered Instagram management tool
Create posts, publish, analyze, engage and collaborate, all from SocialBee.