Learning how to make Reels on Instagram is more necessary than ever. In fact, 91% of active Instagram users watch videos weekly, so you know for certain that your target audience is somewhere in that group.
Stay tuned as we deconstruct the process of creating Instagram Reels and offer all the tips you need to gain more Instagram views, attract new followers and build a successful business platform for your brand.
Let's get started!
Free Editable Social Media Strategy Template
Get the social media strategy template you need to audit and plan your marketing efforts for maximum results.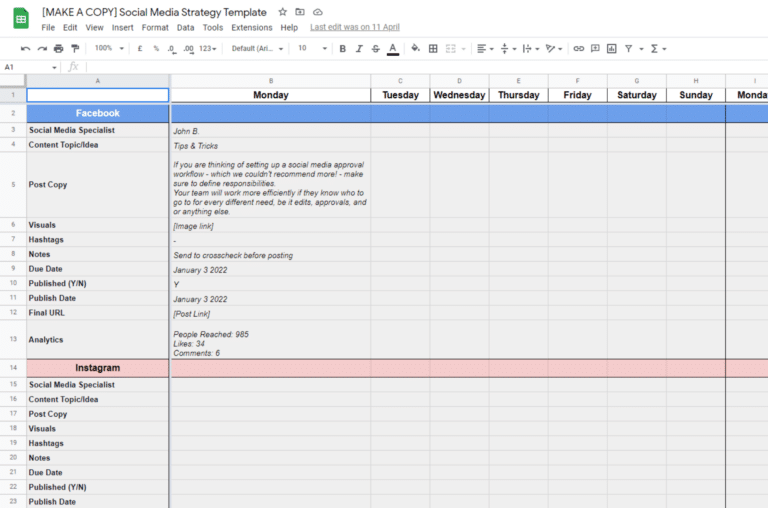 What Are Instagram Reels?
Instagram Reels are easily-discoverable short videos used to share entertaining, educational, or inspirational content on the app. They are displayed on a scrollable feed in a vertical format, which makes them easy to "consume."
Instagram Reels can be up to 90 seconds long and can also be shared as stories or normal feed posts.
Why Should You Create Instagram Reels?
Similar to TikTok's content-sharing algorithm, the videos that get posted on Instagram Reels go beyond your existing audience and open new opportunities for you to reach your potential customers faster and easier than ever before.
Here are the three main benefits of posting Instagram Reels:
Generate more exposure

– Posting Reels will help you reach users who don't follow your Instagram account and expose your brand to a whole new target market.

Gain new followers

– Dedicating your time to serve your audience and producing entertaining content pays off. People will start seeing you as a source of valuable content and they will follow your account to make sure they don't miss out on your new posts.

Boost Conversions

– Products often

go viral

and sell out as soon as content creators bring them into the spotlight. So, make sure you plan content that highlights useful features, presents undeniable results and focuses on your unique selling proposition to increase your chances of becoming the next Instagram sensation.
How to Create Reels in 5 Steps
How many steps does it get to make a reel? By our calculations, only five.
Here is the step-by-step process of creating an Instagram reel:
Film or upload a pre-recorded video

Choose a trending audio from the Instagram music library

Add creative effects

Adjust speed, layout, and time

Share your Instagram reel
1. Record or Upload a Video
Do you already have an Instagram Reel idea? Don't let it slide. Instagram offers you all the creative tools you need to create high-performing videos without too much trouble.
Let's go through all the ways you can create Reels on Instagram!
A. How to Create an Instagram Reel From the Reels Tab:
Open the Instagram mobile app 

Click on the Reels icon at the bottom of your screen

Click on the camera icon from the top right corner

Tap and hold the record button while filming your real

Add any finishing edits you might need and share your video
B. How to Create Reels From the Instagram Home Screen
Open the Instagram app

Tap on the plus sign placed in the top right corner of your screen

Choose the Reels option from the bottom-right corner

Tap and hold the record button while filming your real

Add any finishing edits you might need and share your Instagram video post
C. How to Create a Reel From the Instagram Stories Camera
Open the Instagram app

Access your Instagram story camera

Choose the Reels option from the bottom of the screen

Tap and hold the record button while filming your real

Add any finishing edits you might need and share your video 
If you already have a video ready in your camera roll, the process gets even shorter. And you can upload your Instagram Reels content from all three locations mentioned above with ease. 
Once you choose the Reel post format and have the camera open on your phone, all you have to do is tap on the gallery icon from the bottom left side and choose the clip you would like to share online from your camera roll.
2. Choose a Trending Audio from Instagram's Music Library
Unless you want only to keep the audio of your original video, you don't want to skip this step.
Here is how you can add a sound to your video:
Open your Instagram camera to create your reel

Tap on the music note icon from the left side of your screen to open the Instagram music library

Search for the audio you would like to use and select it

Adjust the part of the audio you would like to include in your clip
If you forgot to add an audio file before filming, you can also do this during the editing process. Here you will also have the option to record a voiceover for your video.
Adding music to your video can really tie your whole video concept together and keep your viewers engaged. You can keep the original video's audio and add some background music to make it more dynamic or eliminate any dead air that might have occurred during filming.
Another relevant thing to keep in mind is that Instagram users can use other people's original audio files. Usually, the creator sounds that gain attention from other users are the ones that have a transformative quality to them. They can become a way to tell a story or add to the humorous quality of a video. 
For instance, an audio of a quirky laugh can make a funny clip more hilarious, or a snippet of a motivational speech can turn an aesthetic video montage into an inspirational clip.
3. Add Creative Effects
This app has an impressive arsenal of creative tools that are enough to make your Instagram videos stand out.
Here are the Instagram effects you can use to edit your reel:
Filters:

Utilize trending filters your audience uses to make your videos more relevant to what they do on the app.  

Stickers:

Add gifs, animations, and polls to make your videos more interactive.

Drawing on top of videos:

Make your real original by drawing over your video, either to highlight something or just to show off your natural drawing ability.

Sound effects:

Add sound effects to emphasize the point of your video. Let's say you told a joke, that is the perfect occasion to add a drum sound that signals the presence of a punchline. 

Templates:

Instagram has a set of templates that allow you to make a professional Reel without even editing the video. Just upload your clips and images to make a quick video collage with already added filters and effects.
4. Adjust Speed, Layout, and Time
Besides filters, stickers, and audio files, there are some more editing tools that can help you make better IG Reels in no time: speed, layout, and time.
Do you want to create a time-lapse? Maybe you have a lot more to say and the time limit is restricting you too much. The solution is to adjust your video speed to fit your needs. A faster or slower pace can totally change the energy and feel of your video.
Furthermore, the layout feature is a tool unique to Instagram that allows users to film multiple frames and show them all at once under the umbrella of the same reel. This is great if you want to make your viewers stick around and repeat the video until they see all the different shots from your video.
Last, but not least, the Instagram timer enables you to be independent and film your reel video without having the awkward initial moment of fixing your camera before you get in the right frame or pose. Set your timer, prepare for the start of the video, and become the Taika Waititi of Reel directing.
5. Share Your Instagram Reel
After all that filming and editing, here comes the moment when you can share your hard work with your Instagram followers.
The trick here is to get the timing right. Those first few hours your Reel is up can decide the fate of your video. Let's break things down!
When you are creating a reel, you have a specific target audience in mind that will view and engage with your content. So, take a moment to identify their schedule. When are they online and scrolling away through Instagram Reels?
Why do you have to know this? Because you have to make sure that as soon as you drop your video, there are people from your target audience ready to engage with your video. Otherwise, Instagram will interpret the lack of engagement as a sign of poor content quality, (even if it's not true, timing is obviously at fault in this scenario).
As soon as Instagram sticks that negative label to your video, it will stop promoting it to other users, and your opportunity of reaching your customers has faded away.
The solution? Content scheduling. Upload videos to SocialBee, select Instagram as your platform of choice, pick the date and time, and you are all set.
How to Get More Views and Engagement on Your Instagram Reels
Now that you know the basics about Instagram video creation, it's time to get into the tips and tricks side of the article.
Here are seven ways to get more views on your Instagram Reels:
Use third-party tools

Create seamless transitions

Hop on trends

Remix other Reels

Recycle your Instagram stories and existing video clips

Add timed text to Reels

Make Reels shoppable
Let's learn more about each step!
1. Use Third-Party Tools
So, where were we? Oh yes, we were talking about the right way to share Instagram Reels, which brings us to the next important aspect of social media content management: using third-party tools to generate more Instagram engagement in less time.
First on our list…
As previously mentioned, timing is crucial for Instagram Reels. Scheduling your video posts ahead of time and adding a bit of strategy to your content planning can work wonders.
But how can you make the process more efficient and less time-consuming? After all, you are not always on social media, ready to share content. Easy, by using SocialBee.
Create, schedule, and share all your social media video posts across all your accounts from one dashboard. You can even customize your posts to fit Instagram's content requirements and schedule anything from carousels to Reels and stories.
Plan your Instagram content ahead of time from a third-party app
—post images, videos, carousels, stories, and Reels with ease from SocialBee.
Start your 14-day free trial today!
And that's not all, with SocialBee you can automatically generate hashtags for your Instagram posts to make sure you get your Reels on the right user feeds. You can save all your hashtags in collections and add them to your content with a couple of clicks when it's time to share a new post.
Schedule and Post Instagram Reels with SocialBee!
If you want to make your Instagram Reels stand out from the crowd, VideoScribe is the best tool for you! 
Best known for its iconic hand-drawn animation style, VideoScribe is an easy-to-use, drag-and-drop animation tool.
Whether you're brand new to animation or a serious video professional, you can create animated videos in minutes. This means your social posts get made faster, and your audience gets to experience your content sooner.
Work with templates, or create content from scratch by adding the iconic hand-drawn animation style, the classic fade, move-in, appear, and draw transitions to your elements and illustrations to make your video visually engaging.
Plus, with VideoScribe, you have the option to create your videos in the downloadable desktop app (that also works offline) or kick back in your favorite browser on desktop or tablet. 
Canva is not only an accommodating design tool for beginners, it's also an amazing help when it comes to video editing.
This online platform offers templates for your Instagram feed posts, stories, and even Reels you can easily customize for your brand. It has plenty of free stock clips, audio files, images, you name it. And the best part is, you can use Canva directly from SocialBee.
Use Canva directly from SocialBee to edit your video clips in no time.
Start your 14-day free trial today!
Open Canva from SocialBee's content editor with just one click. Edit clips, design and import your videos without even opening a second tab.
2. Create Seamless Transitions
Looped Reels have social media users in a chokehold. The never-ending video and the seamless transitions are enough to make your viewers stick around to uncover the craftsmanship behind your reel. 
When you loop a video, the end of your video melts into the beginning. As a result, your viewers will not be able to notice when your video ends. This leads to more repeats, and as we all know by now, the more views you get, the more Instagram will boost your video.
Here are a few tricks to create the perfect looped Instagram reel:
Make sure the lighting is consistent:

Film the entirety of your video at the same time so you can have the same lighting from start to finish.

Edit your audio:

Choose an audio file that contains a repeated rhythm that is easy to loop or create a voiceover that ties the end of your video to the beginning of your video (e.g. complete a sentence during the start and end of your video).

Go for a transition:

If you don't want to worry about lighting, you can use a transition as your way to stitch the end and start of your video together. It could be a mirror illusion (change of perspective) or covering your Reels camera with your hand to make the transition.
3. Hop on Trends
Participating in the latest Instagram trends is a simple way to gain more exposure on the app. Once a trend is formed, it's clear that people have a positive reaction to it and want to see more content dedicated to it.
So, take advantage of the trends that are currently popular on Instagram and participate in the fun. It's enough to scroll for a few minutes to identify a trend you can participate in.
Instagram trends have three main elements:
The staple audio used in all videos participating in that specific trend

Hashtags that contain the trend name

A specific video structure (e.g. making a transition, using a certain filter)
4. Remix Other Reels
The "remix" feature is inspired by TikTok's duet option which allows users to stitch the video of another creator to add to the conversation or share the post forward.
To remix a Reel all you have to do is tap on the three dots from the bottom-left side of the video you want to duet, choose the "Remix" option and pick one of the two format options: "With original video" or "After original video."
The original creator will be tagged in your video and you have two options: either have the original video next to yours or have it play for the first few seconds before your video pops up.
Remixing other Instagram Reels has the following benefits:
Gain more exposure:

When you remix another creator's video you will be able to reach a part of their audience.

Encourage engagement:

Using the remix feature to start a debate or share an opinion will determine other users to continue the conversation in the comments.

Find new content ideas:

Remixing other people's Reels is a way to combat your creativity block and use other popular videos to bring something new to the table.
5. Recycle Your Instagram Stories and Existing Video Clips
Do you have a collection of videos you are proud of? Then use them as Instagram Reels.
TikToks, stories, highlights, and any other clips you got stored on your phone can be recycled and shared on Instagram Reels. It's amazing what a bit of editing and customization can do. Just make sure the contents of your video are still updated and relevant. 
To save time and make the most out of your video posts, include evergreen clips as a part of your content strategy. Create videos that will have high informational value over time and schedule them multiple times on your accounts.
You can easily do this from SocialBee. Create an evergreen content category, add your content, and your videos will get reposted regularly according to your set schedule.
Organize your Instagram content in categories to edit and share your posts in bulk.
Start your 14-day free trial today!
The content category feature also allows you to diversify your content with ease. Assign a new topic to each category of posts and schedule them alternatively throughout the week to make sure you post a healthy mix of content.
6. Add Text to Reels
Adding text to your videos has more benefits than you might think. It can help you highlight a point you are trying to make in your video and gain views from people who scroll through Reels with the sound off.
If you think that percentage of people is quite low anyway, you might want to fact-check your speculation. Studies showed that 69% of people report viewing videos without sound in public places, while 25% of people report viewing videos without sound in private places.
More importantly, adding text to your Reels makes your videos accessible to hearing-impaired social media users and shows that you care about creating inclusive content.
7. Make Reels Shoppable
Although you should predominantly share Reels that are more entertaining and educational rather than promotional, from now and then you can dedicate your videos to talking about your products and services.
To turn all those views into something profitable, make your videos shoppable by adding product tags to your reel. 
This is a great way to provide a seamless buying experience for your viewers and make it easier for them to purchase from you.
Record/ upload your reel

Tap the "Tag products" option before sharing your video

Add a cover image and a CTA to optimize your performance
Instagram Reels FAQ
A. How Long Can Instagram Reels Be?
Instagram Reels can be up to 90 seconds long.
B. What's the Difference Between Instagram Reels and Stories?
The main difference between Instagram Reels and Stories is the section of the app they are featured in. While Reels are shown in a vertical video feed where users can scroll through videos, Stories are featured at the top of user feeds where people can see them by tapping from one Instagram Story to another.
Another important difference is the target audience. Reels have an audience mainly consisting of Instagram accounts that don't follow you on Instagram. On the other hand, the people that will be most exposed to your stories will be the ones that already fall into the "follower" category.
C. Are Reels Better than Instagram Feed Posts?
From certain standpoints, Reels are better than Stories because they offer more visibility opportunities, allow more engagement between the creator and viewer (likes, comments, shares) and provide more video creation and editing tools (video effects, templates, sound effects).
D. How Can You Make Reels with Existing Video Files?
If you want to make Instagram reels with existing video files, you can do so with the help of various tools or directly from the Instagram app itself.
To do this, open the Instagram camera, tap on "Reels," select "Create," then choose "Upload" from the list of options. From there, you can select the video files from your personal gallery and upload them to the app where you can start editing your Reel content.
E. How Can You Download Instagram Reels From the App?
Here's how you can download Instagram Reels from the app:
Tap the three-dot menu in the bottom right corner of the Reel you would like to save
Then, select "Save Video" and it will be added to your phone's camera roll or media library
You can also download Reels from other users' profiles by tapping on the "More" option below the Reel, selecting "Save Video" and then saving it to your device.
F. How Can You Create a Reel From Multiple Video Clips on Instagram?
To create a reel on Instagram from multiple video clips on Instagram:
Open the Reels tab in your profile
Tap "Create" in the top right corner and select "Upload"
Choose up to 30 videos or photos from your camera roll or gallery and upload video clips directly on the platform
Post Reels and Improve Your Instagram Marketing Strategy
Now that you are familiar with the Reel creation process and already have some tips and tricks under your belt, it's time to post reels on Instagram like there's no tomorrow.
Share some wisdom with your audience, show your fun side, and experiment with the multiple video effects Instagram has to offer.
And remember, you don't have to throw away your videos after posting. Repurpose your best Instagram Reels with SocialBee. Sign up for your 14-day free trial today and all your short-form video content from one platform.
Post on Instagram with SocialBee!