"Does posting with 3rd party social media tools have a negative influence on your engagement?"
This has become one of the most popular questions social media managers have been trying to figure out ever since social media management software has appeared on the market. 
Because so many social networks have appeared over the years, social media management tools have become necessary for helping marketers share their content faster and easier than ever and keeping track of their social media strategy. However, there was always a constant fear that 3rd party social media tools might affect social media engagement.
That is why today, we're going to find out what influence 3rd party social media tools have on user engagement and set things straight once and for all.
Are you ready to find out more? Let's hop right in!
What Are 3rd Party Social Media Tools?
Before digging in, we'll give a short explanation of what these tools are and how they're used. Simply put, 3rd party social media tools allow users to create, schedule, and post content across multiple accounts from one place. 
As a result, they improve the general social media workflow by automating simple and time-consuming tasks. 
Moreover, in most cases, management tools also have features such as social media analytics that make it easier for users to also monitor their performance.
However, the features are different for each social media tool. So, make sure to do your research before investing in such tools. Try to go for functionalities that can help you overcome your most noteworthy social media challenges.
Improve Your Social Media Engagement with SocialBee!
The Benefits of Using Social Media Marketing Tools
There are quite a few advantages that come with using a social media tool, and we'll quickly go through them:
It eases your workload.

It saves you valuable time.

It helps you post content at a suitable time.

It makes it easier for you to maintain a consistent posting schedule.

It allows you to evaluate your social media strategy.
Planning your content strategy and scheduling posts ahead of time will make sure you never forget about posting on social media. In fact, you actually get to make the most out of your content by taking time once a few weeks to brainstorm new post ideas and save them within your social media management tool.
Moreover, you also get to schedule content at the best posting times for each social network, in this way increasing your reach and engagement levels.
Customize your posting schedule for all your social media platforms from SocialBee.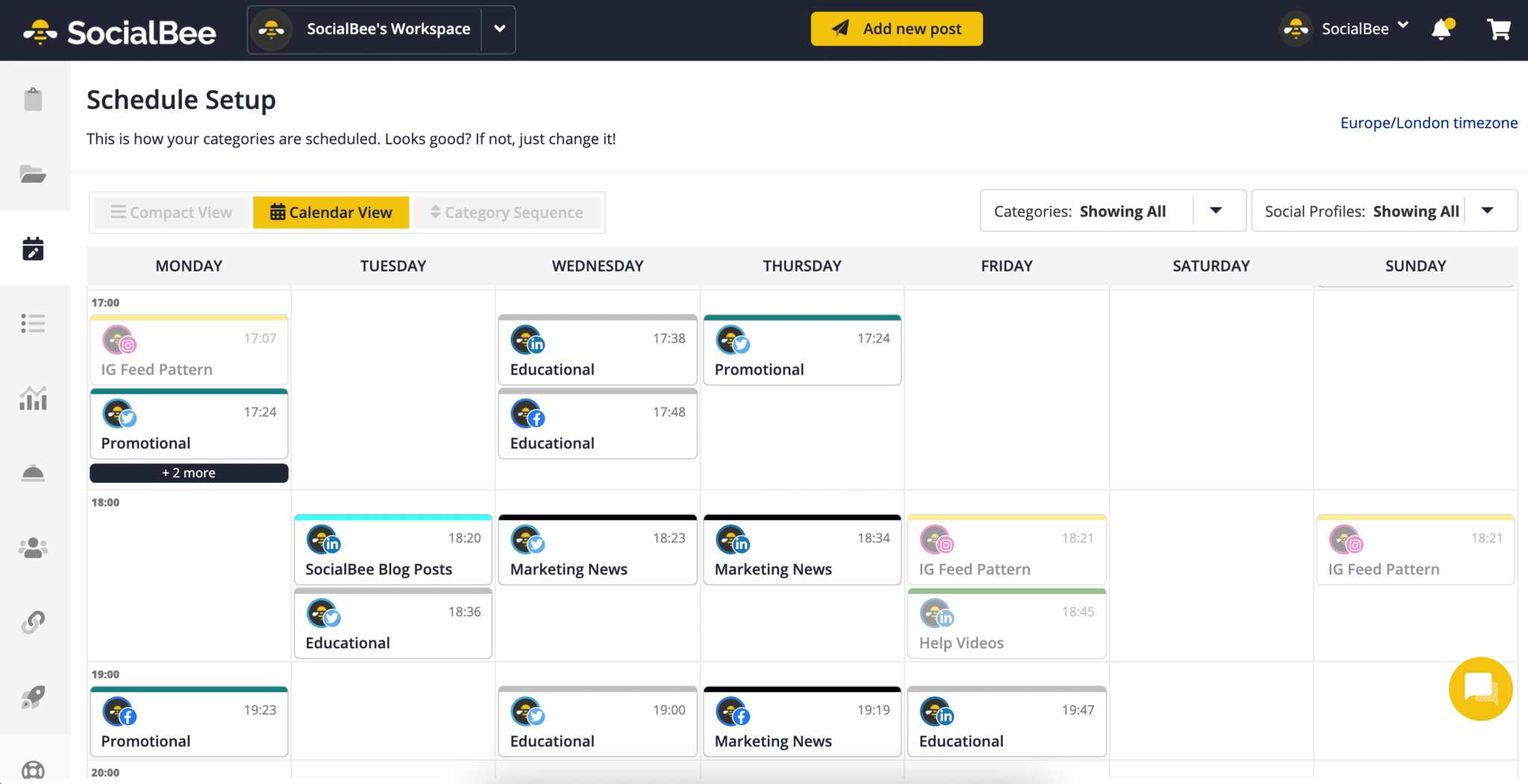 Connect your social media accounts to SocialBee and start scheduling your content at the best posting time on each platform for maximum engagement. 
Start your free 14-day trial today to test all the scheduling features SocialBee has to offer!
What Do Studies Say?
Unfortunately, there aren't so many studies on the topic of social media management tools. There is one study carried by Sendible that focuses mainly on Facebook posts. They analyzed five thousand posts from 58 different Facebook pages during a timeframe of a few months.
Depending on the type of post, there was either an increase or a slight decrease in user engagement. But these changes were linked to the quality of the posts. 
Study conclusion:
3rd party social media tools don't have any negative impact on user engagement.
Another study revolved around conducting a one-month-long experiment and had similar results.
The study revealed that factors such as posting frequency and timing, links, images, and videos all improve the performance of social media posts.
Study conclusion:
3rd party social media tools don't affect user engagement negatively. 
Many things go into the success of a social media post. So, it's quite difficult to determine what is the most important aspect that determines the success of a post, especially when considering that each social network has different requirements that improve or negatively impact reach and engagement.  
Bottom line:
There is no evidence that 3rd party social media management apps hurt user engagement.
This means that businesses can continue using social tools to create and distribute content and make their job easier.
What Should You Look at When Posting?
No matter if you've chosen native-posting or posting through a 3rd party social media tool, there are a few things you need to consider if you want to improve the performance of your social media content.
After all, the quality of your posts is the most important aspect that increases your reach and engagement levels. 
Here's a short version list of the elements that matter when creating and sharing a social media post:
Post quality 

Content customization

Best social media posting times

Posting frequency

Interactive content
Now, for the longer explanation:
Focus on Quality, Not Quantity
Posting many times a day is not always the answer for better social media results. In fact, posting too much can look spammy and determine your customers to quit following your page, especially when the content itself doesn't provide enough value.
So, instead of focusing on increasing the amount of content you publish, you should actually spend more time on making it more interesting for your audience. After all quality content can help your business increase its organic reach easily.
Why is that?
Because content that your audience can relate to will bring you more likes, comments, and shares. If a post is well-written and eye-grabbing, more people will interact with it, and as a result, the social media platform will recognize it as a valuable post and push it in front of many other users. 
Quality content requires a plan and a good knowledge of your audience. These two elements are the keys to opening the door to a new world of engagement. By defining your brand and putting your mission and values in line, you're making the first step towards on-brand quality content that resonates with your audience.
Customize Your Strategy for Each Platform
If you want to make to most out of your content, you have to adjust it for each social media platform. 
Aspects such as content topic, character count, hashtag use, and image sizes are different for each social network and they also influence post-performance. 
For instance, posting a meme on LinkedIn will not help you generate more engagement because it's mostly used for business-related content. On the other side, posting a meme on Facebook or Instagram would be a whole other story, as these platforms are mostly used for entertainment and recreational purposes.
Another example is the use of hashtags. While using hashtags on Instagram and LinkedIn can help you improve the visibility of your posts, on Google My Business it won't enhance your content performance — it will just end up looking like you don't understand the platform.
So, make sure to research each social media network and see how you can make your posts more successful.
To help you boost your content performance, SocialBee has developed features that can help you customize your posts for each social media platform.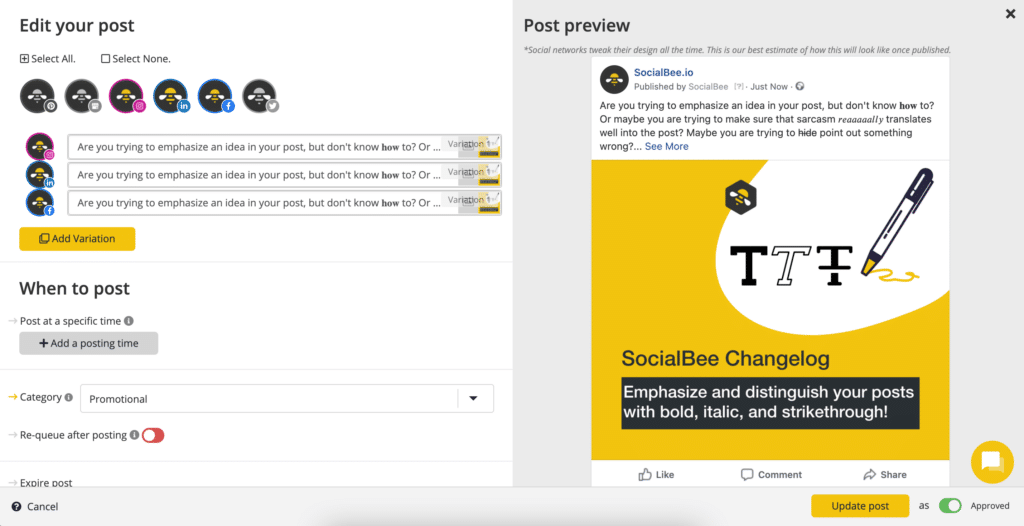 Adjust your word count, add hashtags, change image sizes and customize your content completely for each social media platform to improve your post performance.
Start your free 14-day trial today to enhance your social media strategy!
Post at the Best Time
One of the most influential elements that lead to a higher reach and engagement is timing. More specifically the day and hour you schedule posts to be shared on each network. 
Depending on each social media platform, there might be a better day or time to post your content. And this usually depends on the time during which most users are online.
Here is a list of the best posting times for the most popular social platforms:
There is one more aspect you should consider when scheduling your content: your audience. So, make sure you look at your analytics and identify when they spend the most time on social media.
When tasks start to pile up, remembering to post at a specific time gets more and more challenging. 
Let's say you wanted to share a post at 3 pm and you got caught up in other responsibilities. Now it's 6 pm, and posting at this time will not ensure you will reach your audience. 
This is why 3rd party social media tools are a must — you can simply set your posts and forget about them. Only in this case, they will actually be posted with the help of your social management tool.
Scheduling a post through such a tool will leave you room for handling other tasks.
Not having to worry about the clock ticking is one more thing you don't have to worry about. Be it 8 am or 6 pm, you won't have to build your day around posting content.
Take into Consideration the Ideal Posting Frequency
Now you know the best times to post on social media, but do you know how many times?
The key to social media success is to find a balance between too little and too much. After all, you don't want your audience to forget you, or on the contrary, get annoyed with your posting schedule.
As we said before, each platform is different — some of them are high maintenance, and other ones are low maintenance. 
Check out the ideal posting frequency for each social platform below:
Make Interactive Content for Your Audience
Your posts are not only a way to promote your business, but also to build a meaningful relationship with your customers.
So, how do you get to interact and connect with your audience? Well, by putting the social element back in social media. 
Ask Questions
One of the most straightforward ways to interact with your audience is to ask them a question. A simple poll or asking for an opinion can work wonders for your social media engagement. Thus, you give your audience the chance to have their voice heard, and who knows, maybe you gather valuable feedback that can help you improve customer experience.
Go Live
Live streaming on your social media platforms is another simple, yet effective way to interact with your audience. Giving them the chance to see the people behind a project or to talk to them builds trust and boosts engagement.
Share User-Generated Content
Sharing user-generated content can also be used to develop a bond with your audience.
As more and more people start posting about your business, the chances for your social media profiles to be more visible also increase. So, make sure to reward this behavior by resharing your customers' posts. As a result, you will gain more credibility in your niche. 
In case you don't have user-generated content at your disposal, there are some practices that will encourage your audience to help you, such as contests and giveaways. Challenge your audience to send you stories and images in exchange for a prize (e.g., vouchers, gift basket, free consultation).
Another idea would be for you to screenshot good reviews, testimonials and comments from your posts and share them. Use this opportunity to thank your customers for their support and show that you are more than just a business looking for profit.
The Only Social Media Management Tool You Need: SocialBee
SocialBee is an all-in-one social media management tool that allows you to create, schedule, and post content to all your social media accounts from one place.
So, if you are looking to move your entire content creation process to one platform, SocialBee is your best choice.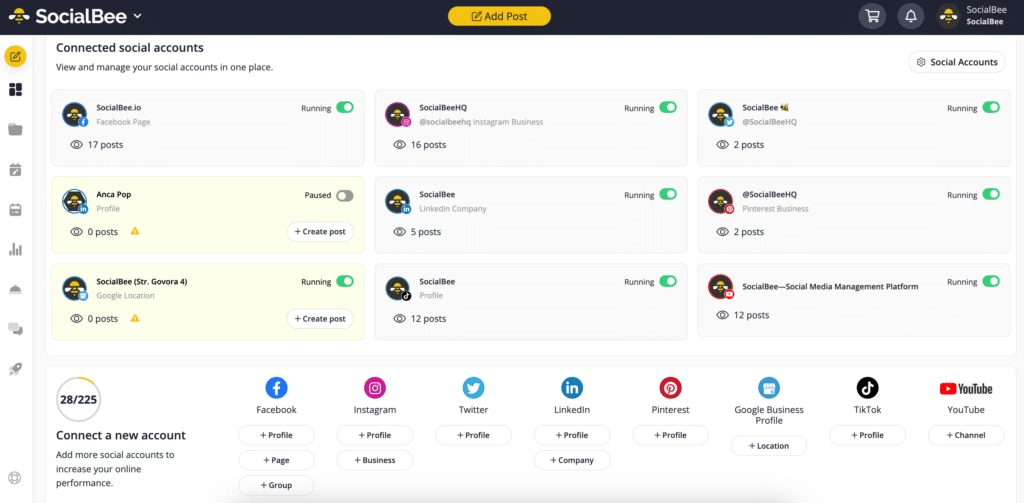 Connect all your social media accounts to SocialBee and start managing your entire social media presence from one user-friendly dashboard.
Start your free 14-day trial today to discover all the helpful features SocialBee has to offer!
Here are some of the main features you can benefit from by using this social media management platform:
Canva integration

– Design your visuals with Canva directly from SocialBee's content editor. You can also use this functionality to import your images from Canva and add them to your post.

Content categories

– Organize your posts in different content categories based on different topics and schedule them to post alternatively. As a result, you will have a diversified flow of content that will keep your audience engaged.

Content curation

– Use our Pocket integration to save any valuable resource you want to share with your audience later on and organize them by content topics in SocialBee. Also, you can use the Quuu integration that will automatically import content suggestions into your content categories.

Post customization

– Adjust your posts to fit the requirements of each social network from one content editor. Create different variations of your evergreen posts and keep your content fresh even after multiple shares.

Hashtag collections

– Save your hashtags in different collections and add them easily with the press of a button every time you create a new post.

Scheduling options

– Create separate posting schedules for each network to increase your reach and engagement. 

Team collaboration

– Create different workspaces for each one of your businesses and invite your team to SocialBee. In this way, you will be able to assign them roles, monitor their work, and provide feedback under each post.

Social media analytics

– Monitor your social media performance by accessing information about your reach and engagement, audience growth, and activity status from SocialBee.

URL integrations

– Rebrandly, Bitly, RocketLink, JotURL, Replug, PixelMe, BL.INK are SocialBee integrations that will allow you to shorten the links you share on social media. Moreover, you can also set UTM and Ref parameters for each content category to track the links you share in your posts.

RSS Import

– Import RSS feeds from any blog with this functionality. In this way, every time a new article is published, a new social media post is instantly created in SocialBee. 
Improve Your Social Media Engagement with SocialBee!
Final Thoughts
We can conclude that there's more than just one factor that influences engagement. It's sometimes easier to think that 3rd party social media tools are at fault. But there is a bigger picture we need to look at.
That bigger picture can help us see that many other elements influence the performance of our social media content.
So ask yourself:
Are you posting at the best time?

Do you respect the requirements of each social network?

Do you post enough/too much?

How do you interact with your audience?

Is your content adding value to your audience?
Social media is a world where everything connects. And also a place where everything has its well-established role. 
Taking everything into account, it's safe to say that 3rd party social media management platforms can only help you make the most out of your social media marketing strategy by optimizing your workflow, saving you time, and scheduling posts at the best time possible for maximum engagement.
So, what are you waiting for?
Start your free 14-day trial and discover how SocialBee can help you generate more leads with less effort!