A social media funnel may sound like a difficult or obscure concept, but after going through this guide, you'll never wonder where and how to integrate one into your social media marketing plan ever again.
As of 2023, everyone's online marketing strategy probably includes a social media presence, or at least that's how it should be. In a perfect world, people come across your social media platforms, and they instantly fall in love with it and make a purchase using the link in your bio. 
In reality, things are a bit more complicated than that. Social media marketing campaigns rarely give the best results if they're not managed properly, and it all comes down to your social media marketing funnels. 
Therefore, not only we'll teach you what it is, but also how to build sales funnels and integrate them into your strategy right away. 
Social Media Strategy Template
Streamline your marketing with an efficient social media strategy template.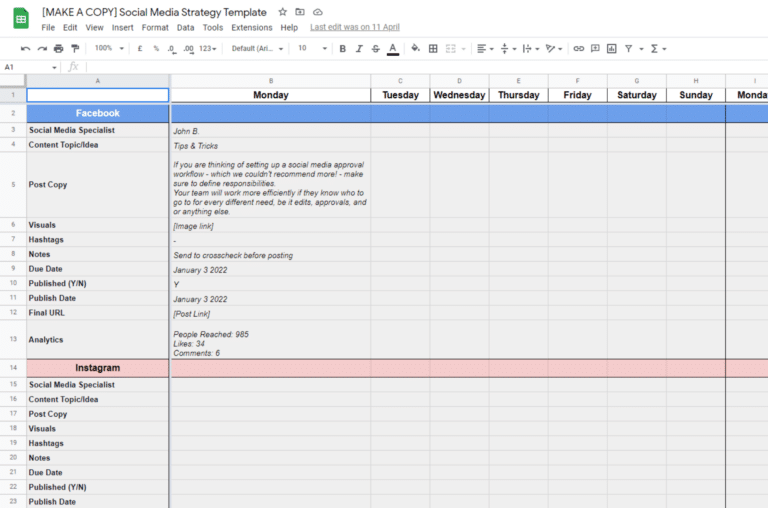 What Is a Social Media Marketing Funnel?
A sales funnel or a social marketing funnel represents the buyer's journey through the sales process, from its first interaction with the brand, going all the way up to them becoming a brand advocate.
Sales funnels have been around for quite some time now, dating as far back as 1898 However, they've been on an upward trend in recent years, gaining popularity along with the rise of social media.
A social media marketing funnel maps the customer journey from beginning to end, starting with the customer's awareness of the brand on social media. The first experience is a relatively important step in the sales funnel, but as prospects evolve on the ladder, the sales team gets more and more engaged with the potential customers.
During this process, the marketing efforts vary, as the limited resources are allocated to paying customers and relevant leads, not to all target users.  
While the prospect's journey is complex and potential customers often get lost along the way, marketers still find that sales funnels are widely effective methods of retaining more leads and increasing long-term brand advocacy. 
What Are the Stages of Social Media Sales Funnel?
A sales funnel on social media isn't much different from a regular sales funnel that many brands use for their website to attract paying customers and brand advocates. 
Here are the five essential stages of a social media sales funnel: 
Awareness – This stage begins at the first interaction of a potential lead with a brand's social platforms. Through efficiently targeted marketing efforts like Instagram ads, creative campaigns on Facebook groups, hashtags campaigns, and other digital marketing strategies, brands can easily increase awareness in this marketing funnel stage.

Consideration – This stage begins at the first interaction of a potential lead with a brand's social platforms. Through efficiently targeted marketing efforts like Instagram ads, creative campaigns on Facebook groups, hashtags campaigns, and other digital marketing strategies, brands can easily increase awareness in this marketing funnel stage.

Conversion –  The conversion stage is where you try to advertise and sell your products. Here you're displaying promotions, vouchers, a customer discount for existing customers, and promoting the features on your website (e.g. a blog post).

Engagement – This stage happens through posts that spark interaction, usually by asking the audience questions or having them communicate back with you. 

Advocacy – Finally, advocacy allows you to create and maintain a loyal audience. Do this by promoting worthy causes, social trends, or creating appreciation posts.

 
How to Build a Social Media Funnel?
Building a social media funnel starts with envisioning your buyer's journey. When you know each step on the way and have an idea about your customer journey, you can plan your sales funnel ahead of time.
Here are the 10 steps of building a social media marketing funnel:  
Customize your social media strategy based on your target audience

Maintain a consistent posting schedule

Align your social media posts with every stage of the funnel 

Encourage social media engagement

Include social proof tactics in your social media marketing strategy

Plan promotions and offers

Nurture your social media leads through email marketing

Use social media chatbots

Build a brand ambassador program

Monitor your social media performance
Now, let's explore each step in detail and learn how to build a social media sales funnel that takes the customer journey to a whole new level!
1. Customize Your Social Media Strategy Based on Your Target Audience
Every successful social media marketing funnel starts from a target audience. Essentially, the first step is to define who you're addressing and then how you want to get your point across during their customer journey.
If you're thinking about addressing a broad range of users and getting to everyone at once, you've already started on the wrong foot. 
Creating social media content based on target users is the only first step you'll need in any social media strategy and in the process of building a social media marketing funnel.
Here are some questions that you can answer to come up with a target audience for your sales funnel:
Where is my user located?

What does my user like to do?

What is he/ she interested in?

How much does he/ she earn

Where do they spend most of their time?

How can I address them in a way that captures their attention?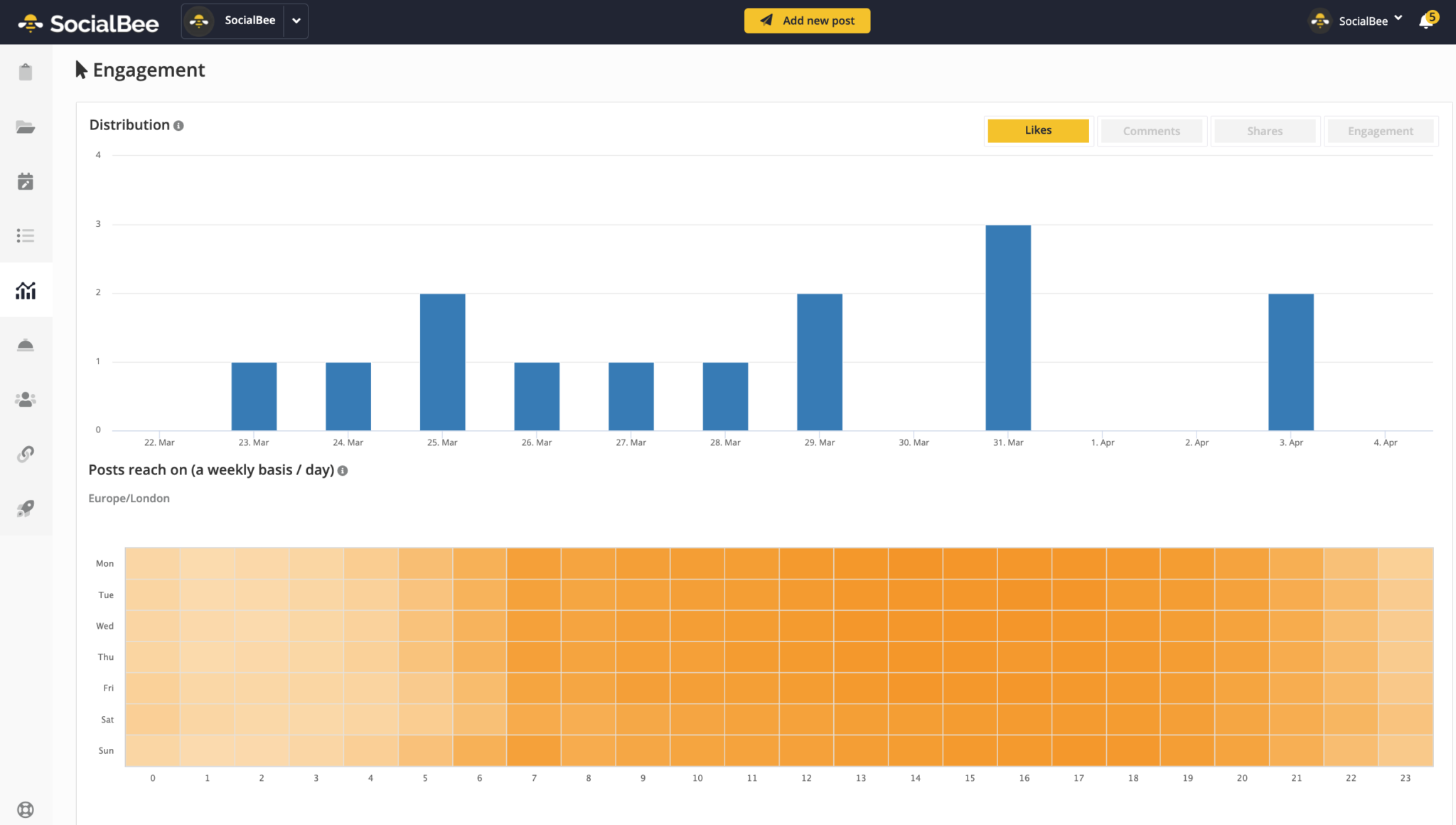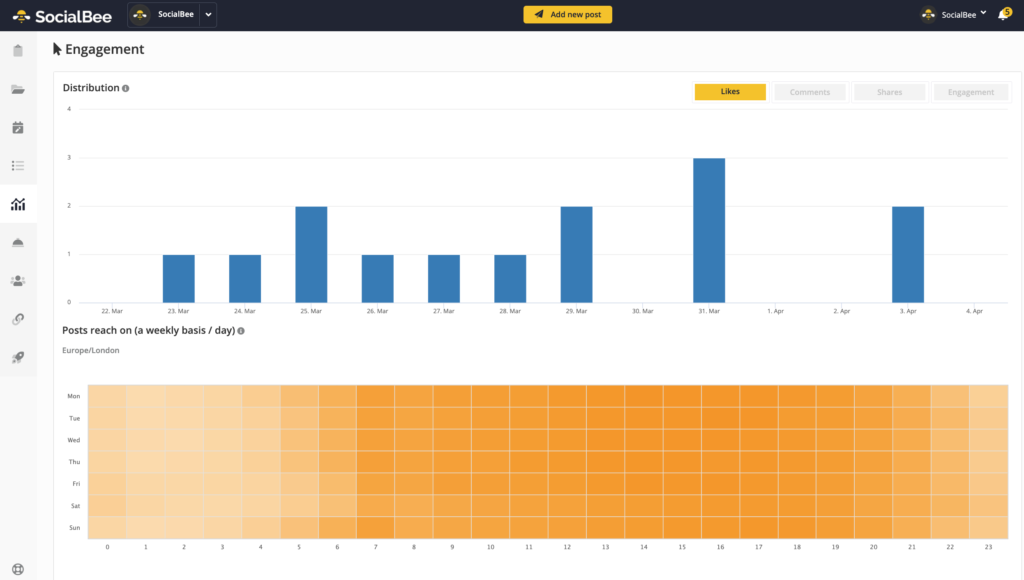 Find out who your followers are and how they engage with your brand on every social media platform.
Start your 14-day free SocialBee trial today!
2. Maintain a Consistent Posting Schedule
All valuable social media platforms have one aspect in common: they post consistently and maintain a consistent posting schedule. 
A consistent posting schedule is important to grow your audience and promote your brand. Posting regularly on social media ensures that people expect to see content from you at specific times and therefore stay in your community.
To do so, you'll need a schedule planned ahead of time, including all the posts from your content mix for the week. SocialBee can help you create, plan, and schedule all these posts ahead of time from one intuitive dashboard. 
Plan all your social media content from one platform.
Start your 14-day free SocialBee trial today!
The Best Social Media Posting Times Cheat Sheet
Find out what is the best time to post across all your favourite social platforms.
3. Align Your Social Media Posts with Every Stage of the Funnel
Sales funnels are designed to help you plan and manage your social media content across every action stage. With each phase of the funnel, you'll be able to identify where you're going to advertise, what content will be most effective at engaging your leads, how to craft a clear call-to-action and more. It would be good to acquire professional sales prospecting tools at the beginning so that you can have a clearly stated sales process going on and can track every stage.
When it comes to selling, your audience's actions on social media can give you valuable insights into their needs and preferences.
The issue is that they move through the sales funnel differently at every stage, so you need a plan that will help you reach them in the right places at the right time. For this reason, you need to create social posts that match every stage of the social media marketing funnel.
4. Encourage Social Media Engagement
When you upload a high-converting sales funnel on your social channels, you are taking the first step towards boosting your social media community and implicitly, your marketing funnels. 
Social media is where people spend most of their time and if you want them to interact with your brand, you need to start by engaging them on your digital channels. Many businesses fail for lack of content engagement. 
To boost engagement on your social channels, try these five tips:
Create interactive posts (Fill in the blank, giveaways, tips and tricks, how-to posts, etc.)

Build a campaign with brand ambassadors 

Answer customer questions live, in your stories, or through feed posts

Use paid ads on your platforms 

Create hashtag campaigns to make your posts more findable  
5. Include Social Proof Tactics in Your Social Media Marketing Strategy
Implementing social proof techniques into your marketing plan can significantly increase sales, conversions, and brand awareness. This makes social proof one of the most effective promotion tactics in the industry. 
If customers see that others are satisfied with a product or service, they will be more likely to buy from you.
Here are some examples of social proof techniques that you can implement in your social media marketing funnel:
Proof of satisfied customers (video testimonials, reviews, etc.)

Showcasing a loyal fan base

Having your product advertised by an influencer or celebrity 
6. Plan Promotions and Offers
Promotions and discounts are a great way to attract people who want to save money and find good deals. It's important to plan these offers before you start promoting them so that they're ready when you need to send them out.
Knowing how to run promotions and offers for your sales funnel can be the key to bringing in customers that are ready to buy. Creating effective promotions and discounts will help you attract people who have a problem or need that you can solve, and that want to save money by buying your product.
In the past decade, sales tools have undergone significant development, and now many of them are considered essential for any organization that wants to stay ahead of the curve. By utilizing these tools, you can maintain a strong presence on social media and stay competitive.
Use SocialBee to create, plan, and post content from one intuitive dashboard. You can promote your posts on Facebook, Instagram, Twitter, LinkedIn, Pinterest, Google Business Profile, TikTok, and YouTube!
7. Nurture Your Social Media Leads through Email Marketing
Social media is a great way to nurture leads, but it's typically a one-way street. Using email marketing, you can be in direct contact with your prospects and build stronger relationships than ever before. 
Email marketing is so much more than sending bulk emails to your social media followers. It's all about nurturing leads, driving engagement, and building relationships. When done properly, email marketing can help you build a community around your brand and generate new sales opportunities.
The same content won't work for everyone you reach out to. The process of moving from stage to stage, and even within that stage, can be different for each user. 
Understanding where each user is in the buyer's journey allows you to send them tailored emails and ads that lead them closer to a conversion.
8. Use Social Media Chatbots
Keeping your customers satisfied and happy is critical to the success of your business. Social media chatbots can help you reach out, engage, and establish a meaningful conversation with customers even when you're not in the office. 
They can answer product questions and provide marketing promotions you've prepared ahead of time. Essentially, chatbots save you time and keep your customer base happy and engaged 24/7. 
Learning how to find and implement a chatbot in your social media strategy may sound difficult at first, but with so many intuitive programs and built-in apps out there, you can implement one in minutes right away.
9. Build a Brand Ambassador Program
A brand ambassador program is one of the most effective ways to grow your brand's social media channels. By connecting the right influencers with your brand and having them promote you, you can organically grow your reach and earn sales on Instagram.
You can find influencers of any size directly on the platform, through hashtags, or even on your explore page. Once you've come across some profiles that match your expectations, DM them on the platform or send them an email if they have it displayed at the link in the bio.
Make sure to have clear expectations and guidelines in your affiliate marketing program. Communicate what you would like them to promote, which products are best, and how they should portray these assets. 
In exchange for products, you can ask them to publicly advocate for your brand, make a shout-out to their story and tag you, create feed posts, or promote it in other ways they see fit, as long as they stay true to your brand.
10. Monitor Your Social Media Performance
With social media increasingly becoming a key point of contact with their clients and prospective customers, businesses must monitor how they're doing to improve their performance.
Essentially, when monitoring your performance, you want to find out what you're doing right and what you're doing wrong. Naturally, you'll keep recreating posts that spark engagement, drive interaction, and implicitly, sales, while improving those that don't convert as much.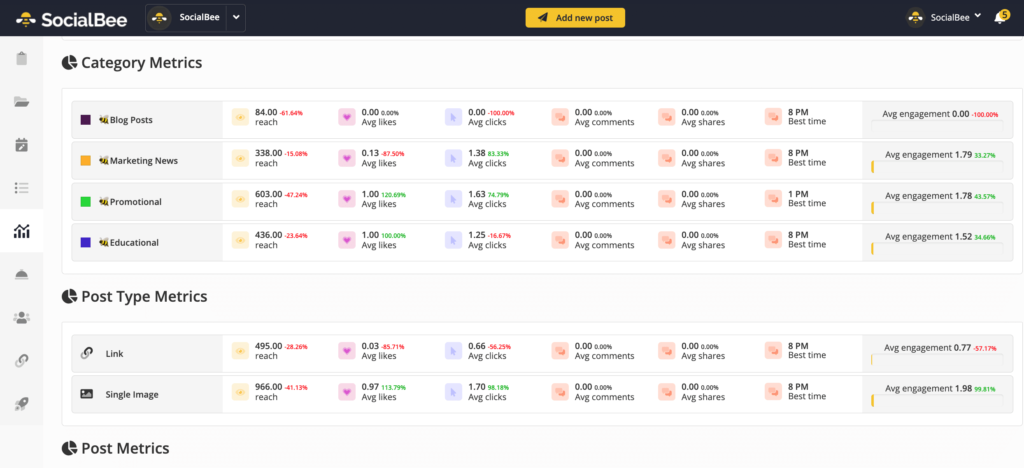 Track your content performance across all your social media platforms with SocialBee.
Start your 14-day free SocialBee trial today!
Social Media Content Ideas for Every Stage of the Funnel
A solid content mix not only helps upscale your social media strategy, but also fortifies your sales funnel and drives action in your prospects.
Now, let's explore some content ideas for each stage of the funnel and see how you can improve your strategy right away!
Social Media Post Ideas for the Awareness Stage
1. Create unboxing videos and product tutorials 
2. Collaborate with other brands & influencers  
3. Share testimonials/reviews (before VS after effect)
4. Run giveaways & contests
5. Tag Popular Creators
Social Media Post Ideas for the Consideration Stage
1. Talk about the benefits of your products and services
2. Reveal unknown product features
3. Share customer success stories
4. Post-user-generated content (images of customers owning/using your products), e.g. Online clothing store
5. Talk about your company's values
Social Media Post Ideas for the Conversion Stage
1. Post about your promotions & limited offers
2. Share vouchers & discount codes
3. Post lead magnets (templates, guides, free consultations, etc.)
4. Promote your newsletter on social media
5. Promote your blog articles & redirect people to your website
Social Media Post Ideas for the Engagement Stage
1. Share a "fill-in-the-blanks" post
2. Create polls and quizzes
3. Host live Q&As
4. Launch a challenge
5. Share a meme
Social Media Post Ideas for the Advocacy Stage
1. Promote your brand ambassador program
2. Advocate for meaningful causes
3. Write about your work ethic
4. Post photos from the office
5. Make an appreciation post for your customers
Use Social Media to Optimize the Customer Journey
Social media can help you connect with your customer and boost the effectiveness of your sales funnel. Use it to create a community around your brand and to generate leads, increase reach, and drive customers through the sales funnel.
Start your 14-day free trial with SocialBee today and see how simple it is to create, schedule, and post all of your sales funnel content from a single dashboard.
SocialBee: Your AI-powered social media management tool
Create posts, publish, analyze, engage and collaborate, all from SocialBee.