Nowadays every brand wants to know how to go viral on TikTok. Why? Because TikTok marketing can rapidly increase your brand awareness, help you generate more leads, and boost your sales in a short time frame.
What many people don't know about posting on TikTok is that viral videos are quite easy to make and don't require a special budget. With more than 1 billion users as of Q1 2021, there are plenty of people who will see your company's TikTok videos — you just have to learn how to mix the right content idea with several social media practices powerful enough to boost your reach and engagement levels.
So, keep reading if you want to find out the best 10 actionable tips you need to know to go viral on TikTok and look at the brands that already achieved TikTok fame by putting them into practice. 
Schedule Your TikTok Content for Better Engagement
Before we get into today's tips, let's take a moment to discuss how you can maintain a consistent posting schedule on TikTok in order to reach the right target audience for your business and improve your visibility on the platform.
What's the secret? Using a social media scheduler to post frequently on TikTok without the hassle.
SocialBee is an all-in-one social media management tool that allows you to create, schedule, and share content from one place.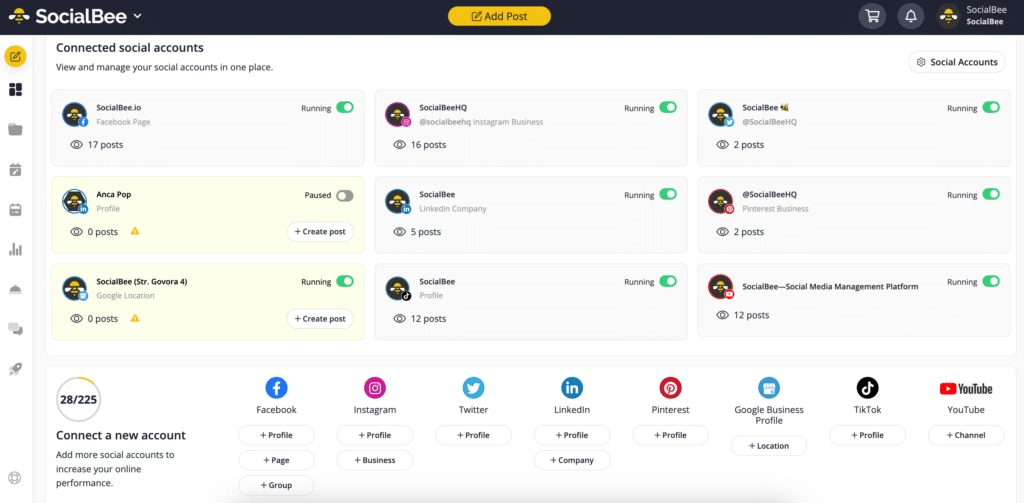 Connect your TikTok account to SocialBee and post videos faster and easier than ever before.
Start your free 14-day SocialBee trial today!
With SocialBee you can schedule and share both images and videos directly to TikTok. Plus, by using SocialBee you can customize your posting schedule and share content at the times with the most user activity. As a result, you will reach more people and get much more engagement on your TikTok posts.
Moreover, this social media management tool allows you to repost your evergreen content multiple times and make the most out of your creative TikTok posts.
Start your free 14-day trial today and start posting on TikTok faster and easier than ever!
Post on TikTok with SocialBee!
How to Go Viral on TikTok
Understand TikTok's Algorithm

Keep an Eye on Trending Content

Participate in TikTok Challenges

Add Hashtags

Use Trending Music

Keep it Short and Engaging

Interact with Your Audience

Use Tasteful Humor

Understand Your Audience

Monitor Your Competition
Tip #1: Understand TikTok's Algorithm 
Like the other social media platforms you use, TikTok uses an algorithm to show the best content to its users. They call it the recommendation system and it's how content is chosen to be displayed on the For You page.
Every user sees a unique, curated feed that's tailored to its content preferences. TikTok helps users discover other videos that are similar to what they've liked before. So, some users might see predominantly trending cooking videos while others might see lots of funny cat videos.
There are 3 main elements that TikTok looks at when deciding what videos to show users:
User engagement

– This refers to the actions users perform on the app, such as liking, commenting, and sharing content, following creator accounts. 

User interest

– How long a viewer watches your content is super important. If they make it all the way to the end, it shows the algorithm that your content can retain user attention. So TikTok will boost your content and show it to a larger number of users.

Content creation

– Using trending TikTok sounds, adding relevant hashtags to your posts, and

editing your video clips

 by adding captions, all work to increase the reach of your video content.
How can you use this information to boost your short engaging videos into viewers' feeds? To generate more engagement, you need to create videos that focus on interaction, keep your posts short (to improve average watch time), and use trending challenges, sound, and hashtags to your advantage.
Keep in mind that your follower count doesn't always guarantee that your video will go viral on TikTok, either. It can help more people see your content initially, but you still need to get comments and likes for it to be shown to a wider audience and go viral. 
Now you've got an idea of how the TikTok algorithm works, let's look at the type of content you need to be posting.
Tip #2: Keep an Eye on Trending Content
Almost every trending TikTok sound is associated with a new trend. It can be a glow-up transition, a dance, using a filter, sharing unpopular opinions, basically anything that gains popularity on the platform.
Keeping track of these trends can help you reach more people, gain the appreciation of many potential customers, and ultimately go viral.
Showing the fun side of your business humanizes your brand and allows you to establish a better relationship with your audience. So, this is your chance to show off your personality and maybe add a little humor to your content.
PRO TIP:
Timing is very important on TikTok. So, participate in trends while they are still popular and relevant. Otherwise, you will look out of touch, and the algorithm will not boost your TikTok videos since the trend doesn't get much traction anymore.
Example: Guess
GUESS, the fashion brand, has built a following of over 70,000 on TikTok and they know how to work trends and get huge view counts. 
They stayed relevant to their audience by following different fashion trends. They even posted about the huge Netflix series Squid Game,  taking advantage of a hashtag that was viewed over 65 billion times and giving it a fashion twist.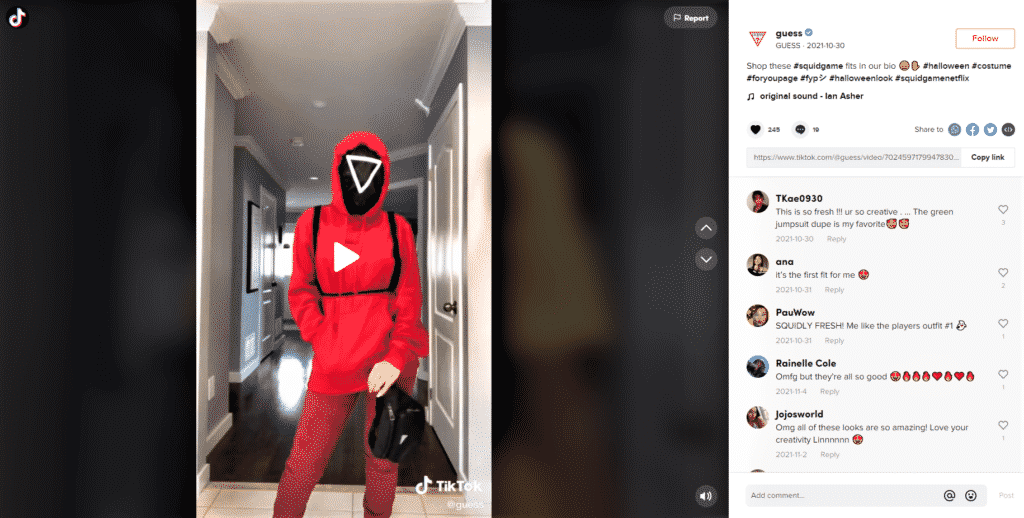 Bottom line, tapping into relevant TikTok trends will help you create videos that get noticed and attract new TikTok followers.
Tip #3: Participate in TikTok Challenges
TikTok challenges are created in two ways:
By brands looking to generate hype around their business.

By popular creators and TikTok influencers who want to get noticed. 
You can check out challenges on the Discover page on the app — simply search "challenge" and you'll get content that's under that hashtag. 
Stick with challenges that work for your brand and don't be afraid to participate in challenges. Your customers may see your videos as they scroll through their feeds, and hopefully, interact and help them get more traction.
Example: Waterdrop
Sticking with the Squid Game theme, the flavored water brand Waterdrop took on the #SquidGameChallenge. 
The content they produce on TikTok gets a healthy few thousand views each post, but when they took on the Squid Game challenge, they went viral. 
They earned over 160,000 likes and over 1.7 million views, going viral and showing off their product in a creative way at the same time. 
Tip #4: Add Hashtags
Using hashtags is one of the ways you can let TikTok know what your content is about. 
It's easy to find trending hashtags on the app; just head to the Discover tab and you'll be presented with a list of trending content types. 
Scroll through and choose hashtags that resonate with your content style and message and join the conversation. As a result, your content will be shown to people who are interested in videos with those hashtags. 
By using the popularity of trending hashtags you will be able to appear more and more on your customers' For You page.
With SocialBee you can create different hashtag collections and organize them by topics and social media channels.
Create hashtag collections in SocialBee and add them directly to your posts before sharing them on social media. 
Start your free 14-day trial today and discover all the helpful features SocialBee has to offer!
Avoid searching for hashtag ideas every time you want to post on TikTok. Save time by having them ready to go whenever you want to post.
Example: Biteable
Biteable is a video creation app and their social media team has built a strong community of over 23,000 followers. 
They make a lot of content about the challenges of working from home and use trending hashtags to get it in front of huge audiences. They also use humor to engage with their viewers.
At the time of writing, the top three hashtags on their recent post had the following views:
#WFHCheck

– 31.5 million views

#WFHLife

– 164.3 million views

#WFH

– 2.6 billion views
They've not only picked hashtags that TikTok users engage with but also hashtags that are relevant to the content they usually post, keywords that describe the topic of their videos.
It's worth mentioning that their TikTok videos get tens of thousands of views regularly. 
Tip #5: Use Viral Songs & Sounds
Almost every musician on the planet has a TikTok account now, such as John Legend, Billie Eilish, Taylor Swift, and Lizzo. And almost all of them try to have their songs go viral on TikTok, which they usually do.
If you don't know what music to use in your videos, you can simply go to add a sound on your video and go through the trending songs you find there. 
Also, you can just scroll through some videos on your feed to spot trending audio files that you hear the most.
Apart from songs, you will also find sounds made by different creators on the app, such as song mashups, dialogs taken from a cartoon or a movie and uploaded on the app, or just a funny remark made by a creator that people started using in their own videos.
Furthermore, if the sound is associated with a specific trend, you can also make it part of the video and put your own spin on it. Just make sure to add the song from the app so TikTok knows you're part of the trend. 
Also creating your own audio can be a great way to become a viral success and get your TikTok in front of a lot more customers. 
Now that you know how to find TikTok video ideas for your content strategy, here are some tips about how to edit your videos for the best results. 
Example: San Diego Zoo
The San Diego Zoo has over two million followers on TikTok. They sure know how to use TikTok to their advantage.
Besides posting cute animal videos, they also pair them with popular TikTok sounds that add value to their content.
For instance, in this example, they created a viral video collage and added a funny sound from a popular vine that made its comeback on TikTok.
Their creativity paid off because they got thousands of views and likes just from that video. How amazing!
Tip #6: Keep It Short and Engaging
TikTok started out as a short-form video app with a maximum of 15-second video length upload.
It has upped the limit to 3 minutes but most videos are still significantly shorter.
If you get your audience to watch your videos till the end, TikTok will recognize that people enjoyed them. This means that the social media platform will show it to multiple other users, contributing to the success of your content.
Example: Ryanair
Ryanair is a European budget airline that has become TikTok famous. The brand has 1.3 million followers, and almost all its short videos go viral on TikTok.
Besides using trending sounds and adding in a few popular hashtags, the content they produce is a few seconds long — nothing in their recent posts was more than 20 seconds long. 
For example, this 5-second video has over 267,000 views, proving that on TikTok a great idea is enough to bring you social media success.
Share the most simple version of your video idea and you'll increase your chances of people rewatching your content. 
Tip #7: Interact with Your Audience
The more you interact with your TikTok audience, the more you will have to gain. As we said before, TikTok sees user engagement as a sign of quality content.
So, consider going live on TikTok and engaging with your audience.
Here are some ideas that will get your audience to watch your live:
Response video to frequently asked questions

Ask me anything (AMAs)

Product tutorials

Interviews
You can answer questions from your viewers through the live chat you have at your disposal. As long as you are live, your video will be shown on the For You page and users will be able to join with a simple swipe.
The people who watch and comment on your live will most probably be the ones that will be exposed to your TikTok content in the near future.
Tip #8: Use Tasteful Humor
At its core, TikTok is a video platform for short-form entertaining content—people use it to laugh, learn, and relax. 
It started out as a platform dominated by lip-syncing videos, but now this social media giant is the main provider of all types of video content, from news, and funny stories to tutorials and even educational posts.
Your content shouldn't be about pushing your marketing agenda front and center. Instead, you should make content that people enjoy. That is the secret to a better reach and engagement on social media. 
Don't be afraid to use humor and have some fun with your content, this is a sure way to get people liking, commenting, and sharing your videos — all the signals TikTok needs to promote your content.
Example: Gymshark
Gymshark produces activewear and has gained a huge 3.5 million followers on TikTok thanks to their funny videos that often go viral on TikTok. 
Have you ever seen a dog do a bench press? If you follow Gymshark's content, you probably have seen one try at least.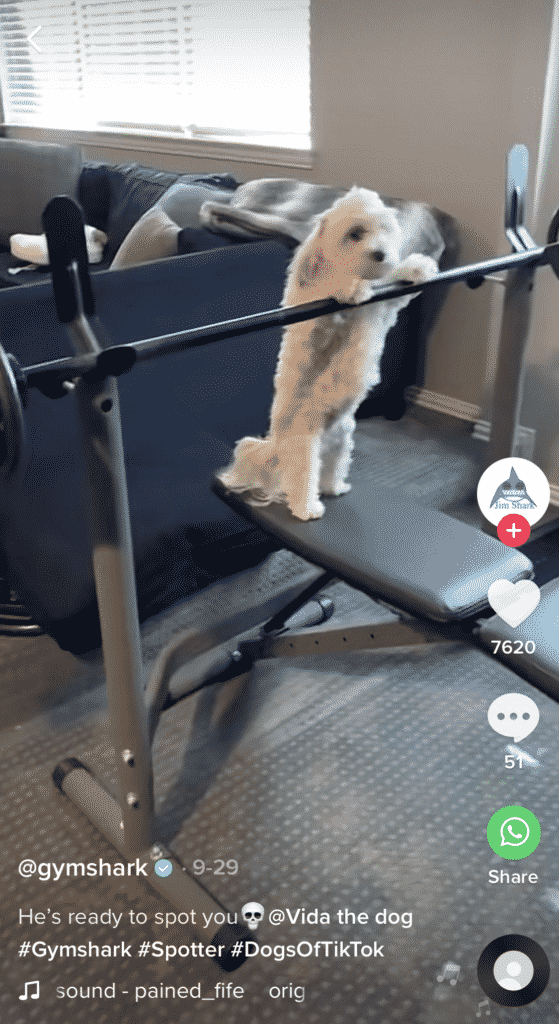 The team also uses memes to drive engagement and help their videos go viral into everyone's feeds. 
Tip #9: Create Content for Your Specific Audience
TikTok is one of the most popular social media channels right now, meaning that people of all ages and from different parts of the world use the app on a daily basis. 
So, you need to find your target audience within the app by creating content customized for their preferences. It's the only way you can go viral and actually have something to gain as a result.
For instance, making dance videos when your audience is looking for cooking content won't bring you any value because your potential customers will skip those videos rather than interact with them. 
To understand what works for your target audience, you need to:
Test different content formats.

Respect the best posting times.

Add niche, and relevant hashtags your customers are interested in.
Tip #10: Monitor Your Competition
Whenever you run out of content ideas, you can look at what your competitors are doing to go viral on TikTok. 
The goal is not to copy their content, but to use their best-performing videos as an example (maybe they have a viral video you can use as inspiration). Discover what content works best for your industry through their experience and try to elevate it further. You should also pay attention to the sounds and the hashtag they use in their videos.
Go Viral on TikTok
Now that you have a better idea about how to go viral on TikTok, it's time you take matters into your own hands and find your own recipe for success.
We've covered how to find relevant content ideas, what you need include in your videos to help them perform better, and also how to engage with the right audiences.
Going viral on any platform, including TikTok, can be a huge boost for brand awareness and can help you convert your audience into customers and even monetize your video content as an extra revenue stream.
SocialBee can help you stay on the right track and go viral on TikTok faster. It contains all the tools you need to create, edit, and schedule your content months ahead for all your social media networks from just one user-friendly dashboard.
Start your free 14-day trial and start sharing your viral content faster and easier than ever!
Post on TikTok with SocialBee!
Amir is the Head of Search at Uscreen, an all-in-one video monetization platform that empowers video entrepreneurs and creators to monetize their content and build thriving businesses around their videos.