Today's marketing landscape is content-driven, and marketers are creating and sharing staggering amounts of content.
Often, those who can produce the most amount of high-quality content tend to be the most successful.
However, even marketing professionals without the time or budget to create and publish huge amounts of content can still win by implementing content curation as part of their marketing strategy.
If you'd like to discover more about how this works, then read on to discover the 7 ways content curation is good for your business.
But first, the basics.
Content Curation vs. Content Creation
A lot of people assume that content creation and curation are the same. But, they are actually quite different.
Content creation is about creating and publishing fresh content on your website or social media that has been created specifically for your own purposes.
But, while posting unique content will always be king in the online marketing landscape, it can also be challenging trying to keep up with the fast-paced world we live in today.
As you well know, coming up with great content takes time, money, and energy. That's why it makes sense to complement content creation with curation which takes up fewer resources.
Content curation is more about getting content from other sources to post on your site or social media.
It's about gathering information that's relevant to a specific area of interest.
The process involves consistently finding, organizing, annotating, quoting, and sharing high-quality content for a particular topic in a given marketplace.
Curated content works particularly well for bloggers and small businesses who lack the time or resources to create their own content.
Even for those who regularly produce their own unique content, curation can be a very important part of the overall marketing strategy.
It facilitates the discovery of new, relevant information and provides consumers with tons of value, helping them make informed decisions.
Example of Content Curation: Magazines and Newspapers
Magazines and newspapers are a great example of this concept in use.
They typically publish timely and relevant content, but you may notice that a lot of the pieces are actually republished from various other sources.
This type of curation helps to attract readers on a regular basis looking for interesting stories, business updates, local news, and events, etc.
The magazine or newspaper publisher becomes an influential source of information because they are consistently aggregating high-quality content that is relevant to their readers.
At its best, curation is:
Done by a person, not a computer algorithm
About being discerning, selective, and discriminative
Focused on adding value and offering your perspective, insight, and guidance
Informed by a focus on your target audience
Not a one-time activity or event
Now that you have a better idea of what content curation is and how it's different from content creation, let's take a look at the 7 reasons why content curation is good for business.
Benefits of Content Curation for Your Business
Aside from the obvious benefits you get from content creation, such as not needing to spend time and money composing new content, there are a ton of other advantages to curating content as part of your marketing strategy.
I've listed some of the most important ones below:
1. Establish Credibility As a Thought Leader
Curating content will allow you to establish thought leadership on the latest data available.
You will be recognized for your ability to explore the best available content and your audience will appreciate the diverse perspectives you share about their topics and interests.
With the right content curation strategy, you will also enhance and grow your knowledge base so your audience can perceive you as an authority in your field and the go-to resource for your industry expertise.
Just remember that it's one thing to curate and share content from other sources, but it's another thing entirely to add your own context, opinions, and thoughts to the content.
Being able to share other people's content in your own words will not only make the content more of a unique fit for your target audience but also helps to encourage conversation and confirm that your website is legit.
Ultimately, your ability to do this effectively will be instrumental in helping to portray you as a thought leader.
Example: Hiten Shah – Product Habits
An example of an entrepreneur who uses content curation to build credibility as a thought leader is Hiten Shah.
Instead of simply curating interesting content for his audience, Hiten adds his personal thoughts to each post he curates, which helps to reinforce his credibility as a thought leader in his space.
2. Connect With Other Thought Leaders
Another huge benefit of content curation is that it provides opportunities to build relationships with other thought leaders and influencers in your industry.
Adding your own unique perspective and value to content from another thought leader positions you to connect with them and open up a dialogue.
A lot of industry experts tend to respond to curated posts with "likes" or a quick "Thanks for sharing!" Situations like these leave very little room for follow-up engagement.
But, when you add your own context to their content (and tag them), you make it more likely that other thought leaders in your space will actually engage with you, taking you a step further into starting a conversation and, hopefully, building a deeper relationship.
Example: Brian Dean – Backlinko
Brian Dean is a well-known blogger and entrepreneur.
One of the reasons for his phenomenal success online is his ability to build relationships with other industry experts in the digital marketing niche, including Kieran Flanagan of Hubspot, Rand Fishkin, founder of MOZ, and Neil Patel of NeilPatel.com.
3. Provide Your Audience With Real Insights
One of the main benefits of content curation to your audience is that it provides them with real insights and counseling.
It allows your followers to benefit from learning the latest information from you and offers your audience a wider array of viewpoints on the different subjects in your field of expertise.
This allows them to make better-informed decisions and ultimately helps to build trust between them and your brand.
A great way to achieve this is by using content curation to build and grow a knowledge base where your audience can easily find helpful information pertaining to your industry.
You can create your own library of content and ideas based on industry trends and patterns.
You can also monitor the activities of your competitors in order to gauge growth expectations or identify milestones.
Content curation can also help you identify useful resources for you, your team members, and your audience.
A prime example of this is what Instacart did in their informative post explaining how people adjusted their grocery shopping habits during the pandemic.
This piece is extremely informative as it provides original data by Instacart, but it also curates content from other sources and ties it into one narrative explaining how grocery habits have changed.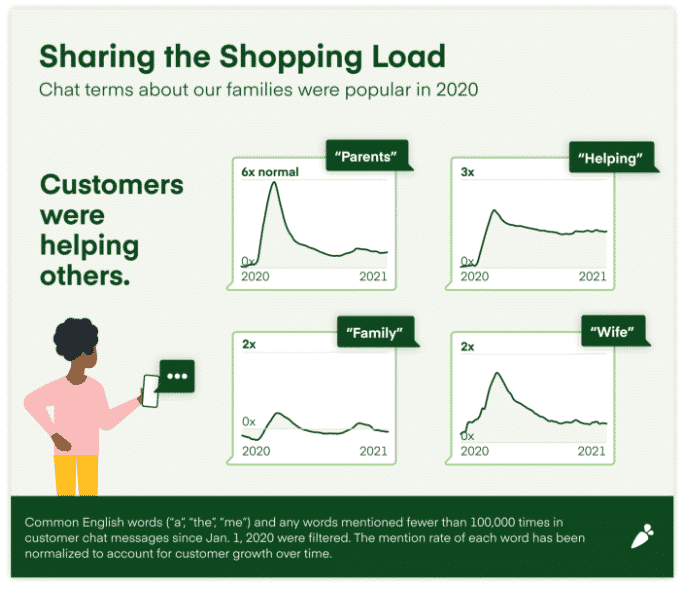 Not only was this piece essential in getting valuable PR for the company, but it also allowed them to recruit more Instacart shoppers as data supports that their service is growing and in even more demand than ever.
4. Boost Brand Awareness
Essentially, content curation can be likened to standing on the shoulders of giants in order to amplify your brand message with the assistance of thought leaders in your industry.
To some, it may seem a bit counterintuitive to share other people's content as a way to bring more eyeballs to your own website or social media.
However, that's how it works, and here's why:
The Law of Reciprocity
This is the principle which states that if you do something nice for someone, they will likely want to do something nice for you in return.
In other words, they feel obligated to reciprocate.
So, if you share other people's content (and tag them), you get on their radar, and they're a lot more likely to follow you, read more of your content, and share it with their own audiences.
This is a great way to boost brand awareness and get your message in front of brand-new audiences.
BUT, there's a caveat to this.
You need to make sure that you're not sharing content simply for the reason of getting yours shared as well.
Only choose content that offers value to your audience and will support them in achieving their goals.
Also, you need to pay attention to who's content you are sharing.
One of the drawbacks of content creation is that you may find yourself promoting your competition.
Even worse than that, you may unwittingly post information from a disreputable source and end up damaging your own reputation.
5. Complement Blogging and Social Media
Content curation is great for complementing your blog or social media posts.
With content curation, you don't need to spend as many of your resources creating content.
This makes it easier for those without the time, money, skills, or bandwidth to create high-quality, original content on their own.
Social media, in particular, makes it hard to keep up if you're creating all your content yourself.
Curating content from other sources will help you manage your social media accounts and keep your audience engaged without having to spend endless hours creating custom content.
Example: Gloria – TheBlogAbroad.com
Gloria (aka "Glo") is a great example of someone who uses content curation to complement their blogging and social media.
She is a talented travel writer who produces amazing content and is never afraid to voice her opinion.
A huge part of her success comes from social media content curation, where she finds relevant posts from her niche and shares them with her audience.
6. Provides Deeper Industry Insights
Content curation also helps you gain a better understanding of the ins and outs of your industry.
In turn, this makes it easier for you to build out your marketing content by giving you relevant data to work with so you can supercharge your results.
When creating your own content, it's normal to focus only on your specialty. However, if you intend to become a leader only influencer in your space, then you need to broaden your content offerings to include things that are happening in different parts of your industry.
This means you have to read and consume a ton of content from your industry and niche on a regular basis.
When you get the breaking news first, it gives you the ability to identify trends before they become widespread.
And, when you can effectively see trends and patterns, you'll be able to create or curate better content and communicate it with your audience.
Example: Neil Patel – NeilPatel.com
Neil Patel is a stellar example of someone who uses content curation to stay on top of trending topics.
He sifts through dozens of articles and social media posts to find relevant and timely information which he then shares with his audience.
This strategy has led to him becoming one of the leading movers and early adopters of emerging trends in the digital marketing space.
7. Improves Search Engine Optimization (SEO)
Everyone knows that creating your own content can boost your ranking significantly to increase targeted traffic to your website.
However, what most marketers don't know is that curated content can work just as well.
The reason that some marketers don't believe that content curation can boost SEO is that linking to a source website often sends readers away from your own site.
But, if properly implemented into your marketing strategy, curated content can create more opportunities for Google and other search engines to drive your target audience to your website or social pages.
When used as a long-term strategy, content curation can help your search engine optimization in the following ways:
Boosts Engagement: Gathering content from different sources helps you increase audience engagement, build community interests, and keep the conversation going.
Increases Dwell Time: When you have a wide range of interesting topics on your blog, it helps to increase the amount of time readers spend browsing through your articles.
Breaks Up Promotional Content: Curation helps you appear less self-promotional by breaking up the promotional content you push for your business.
Value-focused content curation on your blog and social media also helps to support your marketing goals, such as lead generation, nurturing leads, increasing sales, and getting new subscribers.
This happens because every time you share a social media post from another business in your niche, you also boost your own digital presence.
This activity drives traffic to your social profile and, indirectly, to your website where you now have the opportunity to convert the visitor.
Pro Tip: Pay attention to the trending news. Curating trending content allows you to take advantage of search algorithms that focus on content freshness and relevance.
Conclusion
Implementing content curation as part of your overall marketing strategy can provide phenomenal results with your target market.
While this strategy can never replace the creation of original, high-quality content, it's a great way to complement it with the most relevant and useful content from trusted sources in your industry.
Do you currently use content curation as part of your content marketing strategy? Share your thoughts in the comments below!
Ron Stefanski is a digital entrepreneur and marketing professor who has a passion for helping people create and market their own online business.
You can learn more from him by visiting OneHourProfessor.com