Nowadays, social media is a great way to reach your audience, be it local or global. However, you need to make sure that your social media marketing plan will bring you the desired results by adding some social media goals to it. So, how do you go around that? 
Not to worry, as we've got all the answers you need. We will take a look at 10 social media goals that you can set for your business, KPIs included.
We will define social media goals, talk about their benefits, and what you need to set your goals. Ready, set social media goals, go!
Free Editable Social Media Strategy Template
Get the social media strategy template you need to audit and plan your marketing efforts for maximum results.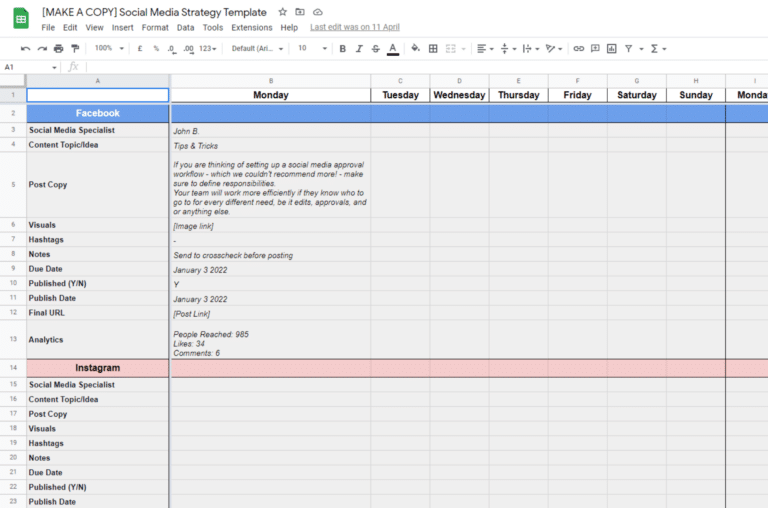 What Are Social Media Goals?
Social media goals support the social media marketing plan you prepared for your business.
Social media goals sit at the core of your social media strategy.
As an example, they can help you create content that maximizes your results in a short period of time. They can also help you figure out your budget, organize your work and get a clear idea of your social media presence.
Why Do You Need Social Media Goals?
Social media is a great place for community building, attracting new customers, or generating leads. However, to ensure social media success, you need to set clear goals to stay on track and make the most out of your social media marketing strategy.
Here are three reasons why social media goals matter:
Gain access to data: You can measure the success of your social media campaigns with the help of key metrics and KPIs. Social media objectives give you access to numbers and figures that can help you easily measure performance. You can check data for engagement, sales, or click rates.
Keep your work organized: Social media objectives can help you better organize your work and know exactly where your business stands and what your needs are. If your goal is to increase brand awareness, you can list all the steps you need to take to obtain a positive result.
Keep your budget in check: Setting social media goals can also help your business set a budget accordingly, as you might need to pay attention to how much you spend, and on what. Is the company blog your priority? Or do you prefer running ads on a specific social media platform? Each will need an allocated budget.
How to Set Realistic Social Media Goals
Wondering if there is anything specific you need to do to set social media goals that are in line with your business needs? We've got you covered.
Here's how to set realistic social media goals:
Look at Your Business Goals

Define Your Social Media Strategy

Set SMART Goals
1. Look at Your Business Goals
Your business objectives dictate the way your social media goals will look like. If we're talking about raising brand awareness as a business goal, it's important to figure out how you can achieve this through social media.
In this specific example, going for an increase in organic reach will sound like an attainable social media goal.
2. Define Your Social Media Strategy
A successful social media presence requires a strong social media strategy as well. Let's see how the key elements of a strong, successful media presence look like:
Using visual content regularly
Promoting your content on different social media platforms
Regularly posting on social media
Putting together a social media strategy
However, what does a social media strategy comprise?
Here's what it comprises:
Researching the audience
Taking a look at your current strategy
Knowing who your competitors are
Setting a posting calendar
3. Set SMART Goals
A "SMART" goal isn't just any kind of goal. Rather, it has a structure attached to it, to ensure effective organizing for any social media marketer. So, what's a SMART goal?
Specific: Your social media goal should include details about what your business is looking to achieve, who's in charge of the process, and a set of steps that need to be taken.
Measurable: If your purpose is to gain 200 followers more on your social media pages, you also need a metric that will confirm those numbers. It's all about setting a threshold and finding some key metrics.
Achievable: If your business goal is not realistic, you might be setting yourself up for disappointment. Know what your team can do and set your goals accordingly.
Relevant: It will help you solve a problem your business is facing. Knowing why you've added a goal to your list will give you a clear idea of whether it fits your overall strategy or not.
Time-bound: This refers to set specific time frames. Knowing when your team will start and finish a list of tasks will give you a strong idea of where your business stands.
10 Examples of Social Media Goals
Let's take a look at some examples of social media goals:
1. Automate Your Social Media Posting
Automating your social media posts can save you a lot of time, and it allows you to spend time on the most important tasks. You won't have to worry about missing a deadline or the best time to post on each social media platform once you start using a social media scheduler.
All you need to do is add the post to a social media management tool, then set the time, and have everything automatically posted.
Metrics to evaluate the success of your social media posts:
Social media mentions – great for seeing how engaged your audience is with your posts and which are the most successful
Likes, shares, comments – great for noticing what social media posts attract the most attention and when are the best days for posting
You might also want to take into consideration a social media management tool to share your content on social media channels. SocialBee has all you need to do that.
With SocialBee's posting calendar,  you can set up your social media campaigns across multiple platforms.
Start a SocialBee 14-day free trial to bring consistency to your weekly posting.
Post on Social Media with SocialBee!
2. Increase Brand Awareness
Increasing brand awareness is one of the most common social media goals. That is because increasing brand awareness means reaching more people, and thus, gaining more visibility.
You can use this as one of your social media goals to let people come in contact with your business, drive conversions or show your values to your audience.
Metrics to track brand awareness:
Share of voice – in the case of share of voice, it concentrates on how your business looks in front of its competitors
Social media posts reach – how many people have seen your post since it's been posted
Followers count – how many people can your business reach on social media channels
3. Drive Website Traffic
Social media is a great tool for visibility, but it's not all about social media platforms. Your website is just as important, but the good news is that you can set increasing website traffic as a new social media goal.
Metrics to measure your website traffic:
Unique visits to your website – you can check either daily, weekly, or monthly unique visits, depending on your business needs
Email signups and trials – how many visitors have used their email address to sign up to your website or get access to a resource
If you're also wondering what tools to use to measure website traffic, you might want to take a look at Google Analytics, as it's one of the most reliable tools for this purpose.
4. Boost Brand Engagement
Knowing how much people interact with your business and the frequency of this interaction is a great goal to consider. A high engagement rate shows how aware people are of your brand, and it also gives insight into the quality of your content and the overall responsiveness of people.
Metrics to estimate your brand engagement:
Engagement rate – this is the total number of engagements divided by the total number of impressions
Hashtag tracking – check how many users are making use of your hashtags, and also get an idea of how your online presence is perceived
Number of comments, likes, shares – one of the key metrics to get an idea of how your audience is engaging with your posts
5. Develop a Long-Term Content Strategy
Some blog posts perform well, while others might not. And this is why you need a strong content strategy in place. Monitoring the performance of your posts and organizing your workload in an editorial calendar can give you important insight into the direction your blog should go. 
You can also improve low-performing posts and get a general idea of what your audience is looking for.
Metrics to measure your content performance:
Web traffic – how many people have read your blog posts and how well they're performing in terms of unique visits
Sales/conversions – how many sales you generate through the content you're posting, especially if you want to boost your sales
Free Editorial Calendar Template!
Download the editorial calendar template to plan your content strategy across multiple marketing channels, including social media.
6. Generate Leads and Sales (Revenue)
Not every interaction with a customer will necessarily become a sale, and there are always going to be potential customers. That is why keeping in touch with them is crucial.
Generating leads includes information that will make your interaction with social media users easier. These pieces of information include emails, names, or any other fields the users might fill in.
Metrics to evaluate your leads:
Bounce rates – how many users click on your links but end up leaving the page without taking action
Social media conversion rates – how many conversions you've obtained from social media
Conversion rate – how many visitors take action on your page, divide by the number of total visitors
7. Build a Community
Customer conversations are a vital part of your social media marketing goals. That is because building a community also gives your brand a voice. Community building can also bring you more visibility and thus, better social media engagement with your audience.
Metrics to assess your community engagement:
Daily/Weekly/Monthly Users – insight into how many unique visitors your community has had over a specific timeframe
Number of mentions – insight into how many times your brand has  been mentioned on different platforms
Session length – how much time users spend on your page during their unique visit
8. Provide Great Social Media Customer Service
Effective social media customer service can improve your customer satisfaction score and even boost your revenue. Also, customer service can give you an advantage in front of your competitors.
Metrics to evaluate your social media customer service:
Response time – this metric will tell you how fast you're replying to your customer inquiries
Customer satisfaction testimonials/surveys – these will give you insight into the positive sentiment of your customers and are great for customer loyalty too
9. Perform Social Listening
Social listening gives you a better understanding of your audience, as you can easily track the mentions or keywords they're using to talk about your business.
Social listening allows social media marketers to come up with better ways to ensure customer engagement and also create more value.
Metrics to reckon social listening:
Feedback – the number of suggestions your customers have made through social media
Share of voice – how many conversations people in your area are having about your brand or product, in comparison to your competitors
If you're looking for a short pro-tip, we've got you covered. Not sure what social listening tools to use? Get started with tools like Brand Mentions and Brand24.
10. Get in Front of Your Target Audience
Last but not least, it's all about bringing your content in front of your audience. You can achieve that by running ads. Social media ads can help you get in front of your target audience, based on elements such as demographics, interests, location, or occupation. Not sure where to start? You can check out Elementor's Facebook ads library.
Metrics to measure your reach:
Conversions– used for tracking the actions set for your goal. You can use Google Analytics to track all the conversions.
Clicks – how many people have clicked on a link and visited your website or profile
Reach Your Goals with These 3 Social Platforms
With SocialBee you can preview in real-time your posts—while you edit and customize for each social network.
Start a 14-day free to schedule your posts like a pro!
Content categories for a solid mix of content
Recycle evergreen posts or expire time-sensitive content
Canva integration inside SocialBee's editor
Customize the posts for each platform
Real-time preview of your upcoming posts
Set up a posting schedule for all your profiles 
Use the URL shorteners to track your links 
Analyze the performance of your accounts
Have multiple workspaces and team collaboration features
Get started: 14-day free trial, no credit card required, 30-day money guarantee.
Pricing: Starting at $29/Mo.
Mentions feed to discover what people say about your business
Discussion volume chart to maximize your advertising strategy
Alerts to monitor the volume of discussion of your business
Get started: 14-day free trial, no hidden fees, no credit card required.
Pricing: Starting at $49/Mo.
Discover new trends and stay ahead of your competitors
Find the newest market opportunities and grow your business
Get better ROI and produce measurable results
Get started: Book a demo and speak to the Brandwatch experts.
Pricing: Book a demo and speak to the Brandwatch experts.
BONUS: Social Media Goals by Platform
We've put together a list of how your social media goals can look like based on the platform:
Facebook
Goal example for Facebook: "Boost sales on social media during Black Friday."
LinkedIn
Goal example for LinkedIn: "Increase the number of monthly leads by using our affiliate program."
Twitter
Goal example for Twitter: "Bring traffic to all the blog articles by sharing weekly, evergreen articles."
Instagram
Goal example for Instagram: "Develop SocialBee's employer branding on a platform where our ideal employee spends time to get entertained." 
Pinterest
Goal example for Pinterest: "Power up SocialBee's branding by adding bee-themed content to Pinterest."
Google Business Profile
Goal example for Google Business Profile: "Improve our local marketing efforts by sharing the latest updates on Google Business Profile."
Bonus: Embed Your Social Media Feed On Your Website 
You can opt to embed your social media feeds on your website and introduce your visitors to your social media pages.
Here are two metrics you can use to evaluate the effectiveness of adding a social media feed to your pages and posts. 
Website traffic: people tend to visit websites that are appealing to them, and social media feeds
help in this case.
Increases views on social media content: as more people get to see the content, you can
evaluate the success by analyzing the views you received on your social media posts.
What Are Your Social Media Goals?
Social media goals should stand at the core of your social media marketing plan. That's because they offer you the chance to make the best out of your strategy and create content that will reach your targeted audience.
Is your goal to increase brand awareness? Or are you more interested in lead generation? Regardless of what your business goals are, having a set of social media goals can take you a long way.
So, are you ready to start working on your social media goals? Start by posting and managing your account with a top-notch social media management tool: SocialBee. 
Post on Social Media with SocialBee!