You have finished writing a social media post, added the visual, all looks very nice. You check it twice, press share, and then you go to your feed to see how it looks.
And there it is — a mistake that sneaked in despite your best efforts. How does this keep happening?
Well, it's a common error that we all encounter from time to time. A great solution is to have a system that allows your content to go through an effective crosscheck process to ensure that you post the best social media content.
And now to transition to our article topic for today…this practice is known as a social media approval workflow.
So keep reading to learn how to set up a social media workflow that will not only optimize your content, but it will also improve your team collaboration.
What Is a Social Media Approval Workflow?
A content approval workflow is a system that outlines an effective course of action that employees must follow when creating new content for social media platforms. 
Moreover, it states the role of each team member and improves the team collaboration process.
The Benefits of a Social Media Approval Workflow
The main purpose of a social media approval process is to ensure that all the content you share on social media is of the best quality. But there is more to say about its benefits, so let's explore all the advantages it has to offer.
It Provides Polished and Consistent Content
The approval workflow process requires a designated person to be in charge of editing content before posting. This way, the published content is consistent in terms of tone, voice, and brand personality. Additionally, the editor makes sure the posts respect the company's guidelines and checks for any mistakes that may look unprofessional.
And of course, it's always helpful to have an objective team member evaluating the content as it can add insightful contributions and provide a fresh perspective on the topic.
It Helps Manage New Employees
When a new employee is hired, they usually need mentoring and an adjusting period to get used to their new role and learn how to write for the company. Oftentimes, this can cause delays in the posting schedule. But not with a workflow system put in place.
A content marketing workflow will:
It Streamlines Team Collaboration
A social media approval workflow establishes the logical steps that go into the work process and outlines the responsibilities of each team member.
As a result, everybody understands what they need to do and how they need to do it. Meaning that it saves the time otherwise spent on deciding the next course of action for each new task.
How to Set Up a Social Media Approval Workflow
Remember, when it comes to the content marketing workflow, you don't have to copy what other businesses are doing. You need to focus on your needs and how the approval process will help you overcome certain challenges.
Below, we have outlined the key steps you need to consider before crafting your own approval workflow. So, let's get into it!
1. Establish Tasks and Roles within the Team
To make sure each step of the creation process is completed in time, you will first need to delegate roles within your team. This way, in case something goes wrong, you will know who is responsible to fix it.
Furthermore, to assign roles, you will need to consider everyone's expertise, abilities, and availability. This may seem like an obvious observation, but your decisions will influence the quality of your social media content strategy.
A social media marketing team contains the following roles:
Content creators

– They create the copy for the social media posts.

Graphic designers

– They make all the visuals for the social media content.

Video editors – They are in charge of the video creation process.
Content editors

– They edit the content before posting to ensure everything is correct and on-brand.

Ads specialist

– They are in charge of creating social media ad campaigns.

Community manager

– They interact with your followers by replying to comments and messages and initiating social media interactions.

Social media manager

–

Approves posts and ensures the content is on-brand and on schedule.

Assistant regional manager

–

Makes the most sales and organizes the best fire drills.
Defining responsibilities is also helpful for the team because they will know who to go to for edits, approvals, and everything else they need to complete their tasks.
PRO TIP
: Assign more than one member responsible for reviewing and approving the content, so that in case one of them is out of office, you will have the role covered.
2. Set Guidelines for Your Social Media Content Strategy
In order to create relevant content for your business, your social media marketing team should have a clear image of your brand identity and content expectations. 
After all, how are they supposed to meet your expectations if they don't know what they are?
By offering clear directions to your marketing team, you get rid of the guesswork they would have to go through while creating content for your social media accounts. Also, you avoid spending time correcting and adjusting their work.
A great idea is to create a brand guide that contains all the information your marketing team needs to know, such as:
Color pallet

– Include up to 4 colors relevant to your brand.

Imagery

– Make a mood board of your aesthetic.

Typography

– Mention two fonts, one for headings and one for body text.

Tone of voice

– Define how you would like your brand to sound: friendly, serious, bold, energetic, conservative, etc.

Logo specifications

– Logo variations that will look good on different social media graphics.

Recommended practices

– Add the elements you would like to have included in your content, such as hashtags or emojis.

Aspects to avoid

– Define what you want to avoid in your content, like a sarcastic tone, grammar mistakes, etc.
3. Include Requirements for Each Social Media Platform
As we all know, each social media platform has its own specifications. Some restrict your character count (Twitter), some don't allow clickable links in captions (Instagram), and some perform better with hashtags (Instagram, Twitter, LinkedIn).
So, if you want to have well-performing posts, give your employees all the information they need to craft the best content for your social media accounts.
Here is the information you have to include for each platform:
Best posting times

Posting frequency

The type of content suitable 

Emoji use

Number and type of hashtags

Links

CTAs
4. Create a Timeline and Establish Deadlines
To establish a workflow, you have to get the timing right. 
Find out how much time your team members need to accomplish their tasks by timing their work. Then use that information to set reasonable deadlines for writing, editing, and scheduling social media content.
You also have to consider factors like team size and work volume, holidays, and vacations.
Your deadlines can be certain days of the week or month. For example, you can set Mondays for content creation, Wednesdays for edits, and Fridays for scheduling posts.
But why are deadlines so important for a workflow?
It will encourage your team to do their work in a certain time frame and keep them responsible. Moreover, it helps you maintain a consistent posting schedule.
5. Incorporate Content Creation Tools
When you incorporate digital tools into your workflow, you are also eliminating the chances of letting spelling mistakes or minor organizational mishaps slip through the cracks.
Moreover, through social media tools, you can optimize your social media content strategy and perform better on online platforms.
You can add the following tools into your workflow:  
6. Request Feedback from Your Team
Any social media strategy must have an evaluating step, and approval workflows are no exception.
When it comes to measuring the effectiveness of your approval process, your team is your best advisor. 
Make yourself open to suggestions and encourage your team to get involved. You can send monthly questionnaires to assess their level of comfort and find out more about their work volume or the challenges they face. Additionally, including a feedback section would be really useful. 
Social Media Approval Made Easy with SocialBee
Now that you know what it takes to set a social media approval workflow, it's time you learn how to put it into practice with SocialBee's social media management tool.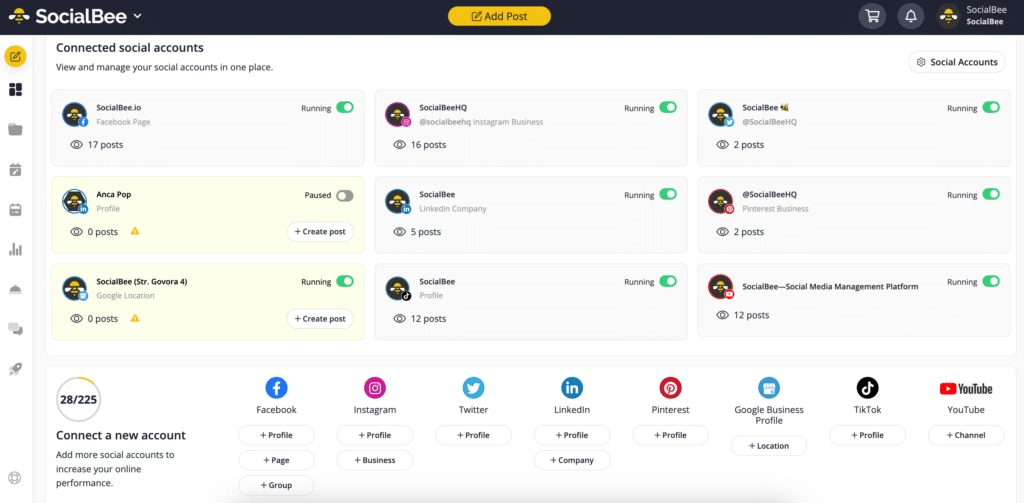 Use Content Approval Features
As we mentioned earlier, to deliver polished and consistent content, the social media posts must go through an approval process. You may think this is a time-consuming process, but with a social media management tool like SocialBee, there is no need to worry about that.
With our content approval feature, you can review, edit, and approve your social media posts in no time. All the drafts are organized in one section of the app, making it easy for you and your team to find and approve them.
All you have to do is open the app, find the Content Approval screen in your Content Menu. Then you can edit and approve posts based on your preferences.
Besides, this feature comes in handy when you would like to keep social media posts as drafts or templates for future use.
Stay Organized with Workspaces 
Do you work with multiple clients? No problem, our social media management tool can handle it.
To help you stay organized, our social media management tool operates with workspaces for each one of your clients. In this way, you eliminate the chances of posting content on the wrong accounts.
If you have a PRO plan (PRO 25 and up) you'll have access to multiple workspaces (from 5 to 30) that you can rename depending on your clients.
Here is what you can do by working with workspaces:
Create workspaces

– where you can

add profiles

,

create content

, and

schedule it

.

Edit workspaces

– add images and logos, change the short link settings or your default workspace, and more.

Delete workspaces

– get rid of workspaces that you no longer use to keep your dashboard organized.
Invite Multiple Users 
Running a social media strategy is a team effort. To give workspace access to your team members, VAs, or clients, you can send them an email invitation.
Each workspace must have an owner, and depending on your plan you can add different numbers of additional users.
Once they create an account, they will have access to your workspace. Based on the assigned role (Manager, Publisher, or Contributor) they will have a specific set of permissions. As a result, you will have full control over what they can and cannot do.
Below you can find the permissions for each role:
Leave Internal Notes
A great team thrives on open communication and feedback. In fact, it's more than necessary to let your team members know about what they can improve if you want to spend less time editing their work.
To make the process smoother and less time-consuming, SocialBee's approval tool has an internal notes feature that will allow you to provide feedback to your team directly from the platform. Furthermore, you can follow posts within the app and receive notifications when important updates are made. 
Say goodbye to writing emails whenever you have to leave comments related to your social media posts.
Here is how you can leave a comment in the SocialBee app:
You can leave comments in:
Each content category

The content approval screen

Your next posts tab
This feature is available for PRO plans and clients with SocialBee concierge services.
Are You Ready?
We know you can do this. 
Why? Because you have learned all the information you need to build a social media approval workflow.
Let's go over the insights we unpacked today:
✅ The definition of a social media approval workflow
✅ The benefits of a social media approval workflow
✅ How to build a social media approval workflow
✅ The features of SocialBee's social media management tool
So what are you waiting for? Start a 14-day free trial now for our social media management tool and get your social media approval process running and thriving alongside your team.
Post on Social Media with SocialBee!