If you are looking to maximize the impact of your pins, using a Pinterest scheduler is a must. Not only will you save time while planning your content, but you will also have access to multiple other social media management features that will reduce your work and boost your results. 
As you may already know by now, Pinterest is one of the top social media platforms in the world. Its visual characteristics are fit for creators and businesses that rely on a strong brand aesthetic. 
Pinterest is a fantastic channel that helps you increase engagement levels and rush conversions. Positive results can take some time though, especially when you choose not to schedule pins and instead post them manually. 
To make efficient use of your time, a Pinterest social media strategy powered by a great scheduler can help you streamline the process and save time.
Let's find out more about why you need to use a Pinterest scheduler!
Free Editable Social Media Strategy Template
Get the social media strategy template you need to audit and plan your marketing efforts for maximum results.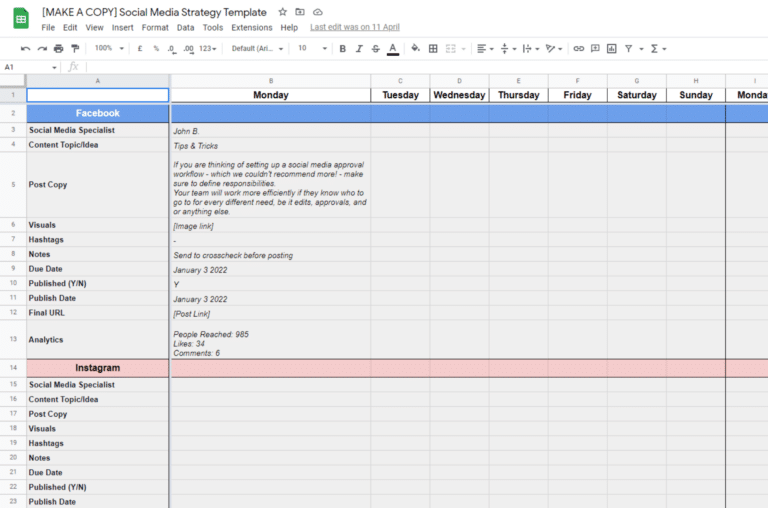 The Benefits of Using Pinterest Scheduling Tools
Using Pinterest scheduling tools will make you feel as if you've hired a personal assistant to give you a hand with the planning and managing of your Pinterest content.  
Similarly to an assistant, a Pinterest scheduling tool can save you plenty of time. It will basically do tasks that would otherwise take up multiple hours of your day. 
So, what are you waiting for? Automate the tedious task of manually posting to Pinterest and enjoy the perks that come with it.
Here are the top three benefits of using a Pinterest scheduler:
Save time and effort

Plan content in advance and post consistently

Manage your Pinterest strategy from one place
1. Save Time and Effort
Limit the time and effort you spend by using a social media management tool that can do the Pinterest scheduling for you.
Since manually uploading posts can become an unproductive and time-consuming chore, using a platform to cut out all the repetitive tasks out of your workflow can save you hours each week. 
Thanks to the great social media scheduling tools that are now available online, you can centralize all your work in one place and manage all your accounts with ease.
2. Plan Content in Advance and Post Consistently
Scheduling pins in advance allows you to easily plan out your Pinterest marketing strategy and maintain a consistent posting schedule week after week. You are probably aware by now that posting content regularly can increase your chances of reaching and converting more leads. 
A consistent posting schedule allows you to increase your reach, especially when you keep your brand identity in mind while developing your content strategy. A social media scheduling tool posts ahead of time for you and helps you maintain a consistent social media pace. 
3. Manage Your Pinterest Strategy From One Place
A solid Pinterest scheduling strategy usually includes multiple elements that will require your undivided attention. 
Here are some social media tasks you should pay attention to:
Content creation

 

━ Your content strategy could need some streamlining. Use an all-in-one tool that allows you to create awesome posts via photo editing tool integrations. Also, look out for tools that allow you to customize your posts for each social platform.
Social media scheduling and publishing

 

━ A content calendar ensures that you're sharing engaging content regularly. The way it does it is by automatically posting your content at the time and date you selected.
Rescheduling evergreen posts

 

━ Scheduling new posts every week can be tiring. Go ahead and make the most of your older, evergreen posts. You should look for a tool that offers evergreen post rescheduling.
Team collaboration

 

━ Team work is dream work. Your team members should always be able to provide their feedback points in a quick and effective way. Workflow approval is a must and you should find a tool that supports it.
Content curation

 

━ Use your RSS feeds to curate relevant content that's worth reposting to your social media channels. A useful tool should easily allow you to add RSS feeds to your content calendar.
Social media analytics

 

━ Having a Pinterest scheduler will help you understand more about your target audience and allow you to build their

 

buyer persona

. This kind of information is easy to discover, thanks to tools that have integrated social media analytics. 

Becoming familiar with your target audience will ultimately help you adjust your Pinterest strategy in a way that converts.
Top Pinterest Schedulers
Without further ado, we've comprised a great list of Pinterest schedulers for you. We are certain that you will find your favorite among them. 
Here are the top five Pinterest schedulers:
SocialBee

Pinterest

Tailwing

RecurPost

Later
Product description:
SocialBee burst onto the scene in 2016 and remains one of the leading social media management tools available today. 
You can now automatically post on Pinterest – no additional effort necessary! SocialBee is a true all-in-one tool that needs to be under your belt.
With Pinterest being one of the most visual social media platforms out there, it's important to mention that SocialBee features a set of impressive integrations for Canva, Unsplash, and GIPHY. 
As far as Pinterest posting is concerned, SocialBee allows you to pin your next post to a specific board of your choice. Thinking about adding a source link to your pin? SocialBee also takes care of that. Finally, the font styling options that are readily available will surely add some personality to your Pinterest posts.
Manage your Pinterest account from one user-friendly dashboard: create, schedule, and share pins with ease.

Start your 14-day free trial at SocialBee today!
Pros: 
An all-in-one social media management tool

Great quality-price ratio

Solid analytics

Awesome for owners of multiple social media accounts

Impressive customer support
Cons: 
A slight learning curve at the beginning
Pricing: 
Bootstrap: $29/month or 290/year
Accelerate: $49/month or 490/year
Pro: $99/month or 990/year
Pro50:

$179/month or 1790/year

Pro100:

$329/month or 3290/year

Pro150:

$449/month or 4490/year
Create, Schedule and Share Your Pins with SocialBee!
Product description: 
The in-built Pinterest scheduler is a great automation tool for users who own business accounts. Although it does have its limitations, such as not being able to schedule more than 100 pins, this free tool is a great addition.
Pros: 
Easy scheduling process

Free scheduling functionality

Convenient for those who want to schedule up to 100 pins
Cons: 
Requirement is to own a Pinterest Business Account

Lacks editing preferences once the pins are scheduled

Scheduling available only 2 weeks in advance
Pricing: 
Product description:
Tailwind is a social media scheduler that takes care of your social channels for you. Their tool is great for creators or businesses that share their content on Pinterest, Instagram, or Facebook.
Pros: 
An all-in-one tool

Efficient post creation functionality

Intuitive schedule design

Awesome for owners of multiple social media accounts

Great for batch work
Cons: 
Slow customer service

Slightly expensive
Pricing: 
Free plan for one Pinterest account

Pro:

$19.99/month or $155.88/year

Advanced:

$39.99/month or $239.88/year

Max:

$79.99/month or $479.88/year
Product description:
Recurpost is an advanced Pinterest Scheduler that simplifies the task of scheduling Pinterest posts. With Recurpost, you can easily plan out your Pinterest content for weeks in advance. 
Pros: 
An all-in-one tool

Evergreen schedules

Best times to post feature

Great customer support
Cons: 
Slightly buggy

Quite expensive
Pricing: 
Fledgling:

$15/month or $150/year

Professional:

$39/month or $390/year

Business:

$79/month or $790/year
Product description:
Later is an all-in-one social media management platform. Their link in bio feature is also a great way to generate leads. Plan, analyze, and publish content in advance for ideal business growth.
Pros: 
An all-in-one tool

Efficient Reels scheduling

Great interface

Free link in bio feature

Easy scheduling
Cons: 
Frequent UI problems

Faulty customer support
Pricing: 
Free account

Starter:

$18/month or $180/year

Growth:

$40/month or $399.96/year

Advanced:

$80/month or $800.04/year
How to Schedule Pinterest Posts: Tips & Best Practices
Are you ready to use Pinterest in a way that maximizes your business' reach? Stick around to learn how to schedule your pins like a pro and craft a well-structured content strategy.
Here are the four steps to schedule Pinterest posts:
Customize your content specifically for Pinterest

Schedule your posts at the best times

Let your team crosscheck your scheduled pins

Keep track of your Pinterest analytics
A. Customize Your Content Specifically for Pinterest
Try not to manually schedule your next pins. Instead, go ahead and rely on a tool that allows you to automate the entire process. Furthermore, look for a scheduler that allows you to customize your content specifically for Pinterest.
In order for you to drive website traffic and make sales via Pinterest, you'll need to resize your visual content by following the 2:3 aspect ratio. Furthermore, you'll need to carefully adjust the pin description and title. Think of the description as a caption.
Did you know that the SocialBee app allows you to customize your posts before they get posted across various social media channels? This allows you to limit your description characters when needed or remove links that should belong to your bio instead. 
Customize your content before it gets posted to Pinterest with SocialBee!
Start your 14-day free trial at SocialBee today!
B. Schedule Your Posts at the Best Times
Pinterest is a vital tool for aesthetic-oriented businesses that wish to optimize their social media presence and build strong relationships with existing and prospective customers. 
At the same time, Pinterest can be rather tricky to manage. Its unique content requirements and fast-paced nature require an understanding of the best times to post. By choosing to schedule your posts ahead of time, you'll be much more likely to post at the correct times and drive the most engagement.
You can discover the best times to post on Pinterest either by following the guidance of social media experts or by taking a look at your analytics. The best time to post on Pinterest can be seen below.
| | | | |
| --- | --- | --- | --- |
| Best day to post on Pinterest | Worst day to post on Pinterest | Best time to post on Pinterest | Worst time to post on Pinterest |
| Saturday | Monday through Thursday | Between 8 PM – 11 PM and between 2 AM – 4 AM | Work hours (9 AM – 5 PM) |
Optimize Your Social Media Posting Schedule!
Download the Best Times to Post on Social Media sheet and start adjusting your content calendar for maximum engagement.
C. Let Your Team Cross-Check Your Scheduled Pins
The content you intend on scheduling to your Pinterest account should be carefully checked by your team of social media experts. A cross-check process ensures that your scheduled pins are flawless and ready to go. 
Maintaining an efficient workflow is what can make or break your Pinterest strategy. Make sure that your team can easily exchange feedback points and edit the content accordingly.
For example, SocialBee's social media approval workflow allows your team to cross-check the posts until they are completely error-free. Additionally, you can invite team members to the workspace and assign specific roles. This will allow them to leave feedback and mention each other when necessary.
Crosscheck posts, invite team members, and assign specific roles with SocialBee's social media approval workflow.
Start your 14-day free trial at SocialBee today!
D. Keep Track of Your Pinterest Analytics
Using Pinterest Analytics is the ultimate way to improve your marketing strategy. Leverage valuable insights and take a look at how multiple pins are currently performing. 
For a better idea, look at the number of impressions, saves, and clicks in order to optimize your posts and campaigns. Analytics also help you to identify the types of content that resonate with your audience.
Here are the four insights you can track with Pinterest Analytics:
Distribution during the day

Top 3 categories

Top 3 post types

Top 3 posts
To get a better idea of your audience's online habits, you'll need to leverage much more complex analytics.
With SocialBee, you can keep a close eye on the social media metrics that matter most. From engagement rate, your Pinterest growth levels, to your total reach, SocialBee's got it all covered.
Leverage your analytics and inform your marketing strategy accordingly with SocialBee!
Start your 14-day free trial at SocialBee today!
Pinterest Scheduling FAQ
What Is a Pinterest Scheduling Tool?
A Pinterest Scheduling tool is a software that allows users or content creators to easily schedule posts to their Pinterest boards. In turn, this enables them to reach their target audience with much more ease, without having to manually post each piece of content. 
A Pinterest Scheduler allows you to set up the time and frequency of your pins in order to create a coherent and efficient post calendar.
How Do I Schedule Pins for Free?
You can schedule Pinterest pins for free with the in-built Pinterest scheduler. However, keep in mind that this method is time-consuming and less efficient if you manage multiple social media accounts. 
With Pinterest's built-in scheduling tool, you can only schedule up to 100 pins. Also, you will be unable to edit them once you scheduled them. These are details worth keeping in mind before starting to schedule pins for free.
A better way of scheduling Pinterest pins is through third-party apps like SocialBee. These apps allow you to easily create, schedule, and automatically post as much content as you like at the best times.
Does Pinterest Have a Scheduler?
Yes, Pinterest has a content scheduler. In order to schedule standard Pins for future posting, you need to run a business account. 
However, do keep in mind that you can only schedule pins up to two weeks by using the free Pinterest scheduler.
How Do I Automatically Post on Pinterest?
Perhaps the most affordable way to automatically post on Pinterest would be to use the built-in Pinterest scheduler. 
For best results, you should instead opt for a reliable and efficient third-party app. That way, you can easily create, customize, schedule, and automatically post Pinterest pins. Finally, you have a great selection of metrics that you can go ahead and leverage for your next post or campaign creation process. 
What Is a Pinterest Marketing Strategy?
A Pinterest marketing strategy is a plan of action that aims to increase the visibility of your brand and bring you closer to your target audience. Furthermore, a Pinterest marketing strategy boosts engagement through constant optimization efforts. 
Start Scheduling Pins to Make Your Work Easier
The benefits of using a Pinterest scheduler are undeniable. Start to schedule pins ahead of time and free up your time for other important tasks. 
Ready to invest in yourself and give one of our services a try? SocialBee offers an unbeatable 14-day free trial without needing to provide any credit card information. We look forward to having you join us!
Create, Schedule and Share Your Pins with SocialBee!