The fastest way to spread awareness about a product or service to a large audience is through a viral marketing strategy.
But how can you transform virality into a profitable business opportunity and use all the attention to your benefit? The answer to your question is email marketing.
So, if you want to know how you can generate leads and turn them into paying customers by using email marketing and viral advertising, stay tuned as we reveal the five most important tips that you must include in your marketing plan.
Let's get started with the basics!
Free Social Media Marketing Plan Guide
Download the guide to learn how to put together a social media marketing plan for your business. 
What Is Viral Marketing?
Viral marketing is a marketing strategy that relies mostly on the audience to do the promotion of a product or service. The usual channel for this marketing strategy is social media, while the viral message can also be shared via word of mouth.
The goal of viral marketing campaigns is to create a message so appealing (or fun) that the audience chooses to share it with their entire social network. 
Viral marketing is a great way to generate interest in a brand in a short amount of time. So it doesn't come as a surprise that 80% of online companies leverage viral marketing tools as part of their strategy.
In a nutshell, viral marketing is used in order to increase brand awareness, improve lead generation, and of course increase ROI.
The Defining Traits of a Viral Marketing Campaign
No matter what viral marketing techniques a brand uses to gain exposure or the channel they choose for promotion purposes, their viral campaigns have the following five traits in common.
Viral Campaigns Are Funny and Shareable
To achieve viral marketing success, you have to be able to create content that your audience would want to share with their network.
The easiest way to do that is by using humor. Funny content is very successful on social media. Don't believe us? Just look at how memes dominate social media.
Not to mention that most brands have gone viral or built a following due to their humorous approach to social media content. 
One of these brands is Wendy's. They, more often than not, share memes and funny posts that gather hundreds of comments and thousands of likes on each post. For a brand, this is huge, and over the years, they managed to gain a one million follower base on Instagram alone.
They successfully use humor and promotional messages to both engage with their audience and market their products.
Viral Campaigns Are Unique
The most viral campaigns usually are the ones that have a unique take, something that is special and different from what was done in the past.
Now, this is not the easiest task in the world, but it's not impossible. 
Keep in mind that you don't have to be shocking to catch the attention of your audience, you can just make a special social media campaign that emphasizes the distinct traits of your products and services. Similar to what Starbucks did for their Unicorn Frappuccino campaign.
The drink was limited edition (indeed rare like a unicorn) and visually pleasing, which meant that people couldn't help but try it. The drink went even more viral because people were taking photos of their orders and sharing them on social media.
Viral Campaigns Are Highly Visual 
When you think about viral content, what most likely comes to mind is an image or a viral video you saw on social media.
Visual content tends to be more memorable than just plain text, so whenever you think about creating a viral campaign, put all your effort into visually sharing your message.
In this way, you make sure you catch the attention of your prospects and that they clearly understand what you have to say.
A great example of video content is the short clip Gillette shared that:
Made a positive impact

Promoted a meaningful cause

Increased their brand awareness
Viral Campaigns Have an Emotional Appeal
Viral marketing tactics usually make use of emotional triggers to have an impact on viewers. This can be achieved either by using customer pain points, needs, or desires to make the message of the campaign more relatable and meaningful.
It can also be about speaking about societal issues, promoting a cause that affects your target audience, or talking about certain events that had an impact on the world.
The emotional appeal used in viral campaigns has the role of emphasizing a message and making it memorable.
Here is an example from Citi Bank that uses emotional triggers in its viral campaign. The photos capture the faces of 12 little girls at the moment when they found out about the pay gap between men and women.
They use the expressions of angry and disappointed children to put things in a different perspective. Is this the future parents want for their girls?
Viral Campaigns Are Simple and Easy to Understand
Aside from being entertaining or having a valuable message, viral marketing campaigns also need to be easy to understand. 
The message needs to be clear from the first seconds your audience sees your content. If not, you risk losing a part of the viewers that are not willing to spend time decoding your message. Or even worse, you risk having people misunderstanding your message and getting a negative reaction as a result.
So, before you launch a campaign, make sure to test it around the office and even create focus groups with people from your audience.
The Benefits of Viral Marketing
Not sure if it's worth putting effort into creating a viral marketing campaign? Well, let us help you make a decision.
Here are the benefits of viral marketing:
Viral marketing is low cost and low effort

– Brands don't need to spend as much as they normally would for promoting their campaign because it happens organically. People reshare and spread the message willingly to their own personal networks. 

Viral marketing offers more credibility

– When other people that are not associated with your business spread the word about your company or product, it gives you more credibility and this leads to a more positive perception of the company.

Viral marketing improves reach and engagement

– Viral content spreads fast because it evokes a reaction from the audience. People like, comment, and share which boosts your posts higher on your prospects' feed. This means that you get to reach more people in less time due to the engagement you get on your post.
Why Social Media is Indispensable for a Viral Marketing Strategy
More than a decade ago, going viral was something that happened rarely. Occasionally there would be commercials or posters around town that were creative or shocking enough to get the attention of the audience. But that's just about it.
Later on, with the rise of Youtube, even normal people got the chance to achieve internet fame. Those commercials got re-uploaded, and brands were then for a second time enjoying the exposure this online platform gave them. Around that time, going viral was still pretty rare.
However, nowadays, things are different. It seems that brands can go viral much easier by crafting strategic marketing campaigns and maintaining a consistent posting schedule on social media. These constant efforts to provide content open new doors for exposure. 
Not to mention that platforms like TikTok are known for allowing creators to go viral easier than ever before. But there is a catch here, going viral doesn't happen on such a large scale, and it's not as special as it was years ago. Due to the new algorithms, creators and brands can go viral while still staying in their niche.
How is this possible? Well, social media platforms are much more advanced, and they customize the content they show to their users. So, it makes sense that brands only reach certain demographics. And this is a good thing because they reach the people with the highest conversion rate.
Remember that successful viral marketing campaigns are not created overnight. 
Brands spend months creating content and experimenting with different formats that might potentially help them go viral.
So, your best chance of achieving internet fame is to:
And don't worry. Maintaining a consistent social presence doesn't have to be hard or time-consuming. SocialBee is here to help you manage your content creation tasks faster and easier than ever.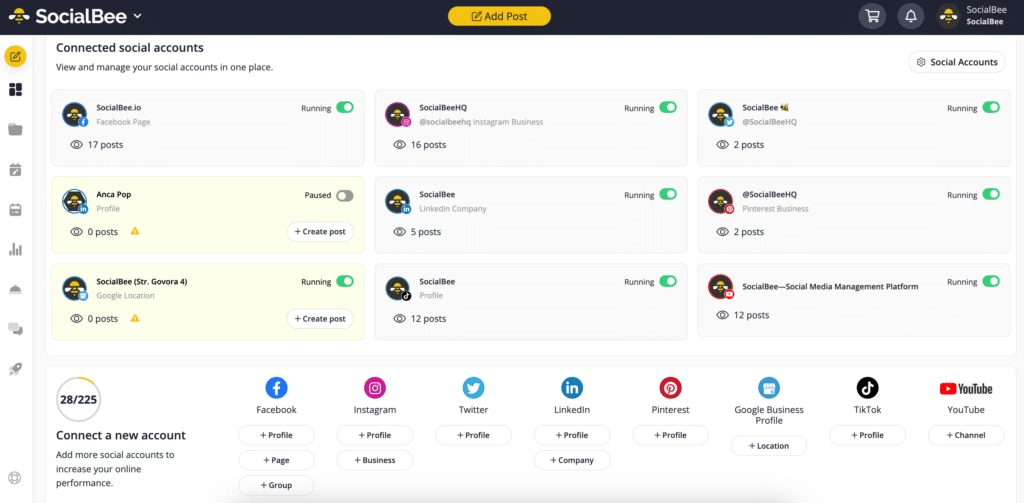 SocialBee allows you to create, edit, and schedule content for all your social media platforms from the same place. All you have to do is connect your social accounts to the platform, and you are all set.
Start your free 14-day SocalBee trial today to create and share content in the best way!
Also, you can easily create customized schedules for each social media platform to make sure your content gets posted at the right time, no matter what responsibilities you have that day.
Share Social Media Content with SocialBee and Go Viral!
5 Tips to Incorporate Email Marketing into Your Viral Campaigns
A successful viral marketing campaign doesn't only increase brand awareness, it also helps brands generate leads and turn them into paying customers.
So, if you want to increase the profitability of your business and get the most out of your viral marketing efforts, make sure to use email marketing as a way to guide your prospects down the marketing funnel and get them to make a purchase. 
Check the following five tips to find out how!
1. Use Lead Magnets 
When creating viral content, it's best to think of a way to turn the reach and engagement you generate into profitable business opportunities. One way to do that is to attach a lead magnet to your viral post to give your audience a reason to interact with your content.
Lead magnets are usually free things that get users to give you their email. It can be anything from a free ebook to a free consultation or even a voucher. The whole lead magnet concept is based on the principle of reciprocity. You give something valuable to your audience, and they give you something in return—contact information. 
Offering free products and opportunities is always a good tactic to get your audience to engage and build brand awareness.
So, if you are creating a social media viral campaign, make sure to also attach lead magnets to your posts to encourage your prospects to provide you with their email address. Once you have their contact information, you can use email marketing techniques to nurture your new leads and turn them into paying customers.
Another great way to incorporate lead magnets in your marketing strategy is to use online form builder tools to create eye-catching lead generation for your website. You can use the A/B testing functionality to experiment with different variations and see which works best, thus maximizing their effectiveness.
Here is an example by OfficeVibe giving new users a free checklist to join their email list.
2. Run Social Media Contests and Giveaways 
Contests and giveaways are a great way to generate more reach and engagement and grow your email list faster than usual. They create buzz and get people talking about your brand.
But how? Well, the way people can usually participate in these initiatives is to:
Like, comment, or share the post

Tag their friends and family

Send user-generated content or post it on social media
The main point is that these types of actions represent engagement, and as we mentioned before, engagement can boost a post and considerably increase your reach. 
As a result, you manage to reach and engage with more people from your target audience and increase your chances of going viral.
The rules are flexible, and they usually vary depending on the business and their campaign goals. So, if you want to grow your email list, all you have to do is change the rules of the contest/giveaway. Besides asking your audience to like your post, you can also ask them to send you an email.
For instance, let's say you own a gym. You could create a giveaway and offer a 3-month free membership. To enter, your audience must send you an email writing about the reason why they want to change their lifestyle via email. In this way, you collect more emails and gather user-generated content you can then use on your social media pages.
3. Integrate Social Media with Email Marketing
Integrating social media with email marketing is one of the easiest things to do. And you can actually do it in two simple ways.
First, you can take advantage of social buttons and link them to your social media profiles. Email marketers usually add their Facebook and Instagram accounts. But it's perfectly fine to link back to other networks that better suit your needs.
Here's an example of social media buttons from Ettitude offering five different ways to connect and incentivize potential shoppers to share their style through the hashtag #MyEcoAttitude.
Apart from including social buttons, you can use your social media content to promote your newsletter and encourage your target audience to subscribe.
Here's how St. Ives uses email marketing to increase Instagram engagement:
4. Create a Viral Email that Gets Shared Through Social Buttons
Being able to understand your target audience and create emails that resonate with them is vital to the success of a viral campaign. More specifically, messages that elicit a response from the audience are more likely to get shared.
That's exactly what Buzzfeed leverages successfully. They use subject lines that generate curiosity and an email format that makes a promise—in this case, to make the readers laugh.
The point is to create unique and interesting content that users will want to share with their friends. You should also focus on proper subject lines and engaging SaaS email templates to ensure the success of your email marketing campaigns.
Another thing to consider here is the wow factor.
People are inherently curious about things they see online, so you need to leverage that to pique their curiosity and draw them into your story.
In general, your content needs to be entertaining and not salesy, otherwise, you risk reducing the virality of your campaign.
5. Implement a Referral Program and Promote It Using Email Marketing
Referral marketing is all about motivating your already engaged customers to incentivize their friends to take action. This call-to-action (CTA) can be a discount or any other offer that will benefit both them and their friends.
To create a successful referral program for your audience you need to follow a few steps:
Create a converting headline:

State the immediate benefits right from the start. For instance, "Refer & earn up to $75."

Make your offer easy-to-spot:

Create a dedicated referral email campaign with a clear CTA or dedicate a section to your program.

Explain the benefits of joining the program:

Show your existing customers why they should recommend you to their peers.

Decide on the incentive:

Choose whether the incentive will be one-sided or two-sided. To win, you'll need to make the offer as attractive as possible.

Use a referral marketing tool:

Choose a platform to design and manage your referral program as efficiently as possible. Tools like

Referral Rock

and

ReferralCandy

are popular options to do so.
If you want to leverage viral marketing to the fullest, you'll need to consider all of the above and create an incentive that your audience will fall in love with. 
Of course, don't forget to create an enticing email campaign with a clear CTA to set the viral email marketing gears in motion! 
Here's how Saatchi Art does it:
Final Thoughts
Viral marketing is an affordable way for companies to reach a wide audience and at the same time generate interest in their brand. 
By applying email marketing as part of your viral strategy, you are increasing the chances of having a successful viral campaign with the potential to drive more conversions and bring in more revenue than ever before.
So what do you think? Are you ready to try our marketing tips to grow your business?
Share Social Media Content with SocialBee and Go Viral!