Today's digital landscape is ever-changing, making it difficult to map out your strategy. Yet, as you plan for next year, it's essential to have a digital marketing strategy that's comprehensive for 2023.  
To help your brand build the right strategy, let's take a closer look at our digital marketing strategy framework and tips for taking control of your digital campaigns. 
Free Social Media Marketing Plan Guide
Download the guide to learn how to put together a social media marketing plan for your business. 
What Is a Digital Marketing Strategy?
A digital marketing strategy is a roadmap for achieving your online marketing goals.
Typically, it involves all your brand's relevant digital channels, including web, blog, social, video, email, SEO, PPC and display ads, mobile, affiliate marketing, and more.
Digital marketing involves a wide range of tactics to achieve your goals. For example, your website strategy may include driving customers to your product pages. This could be done using CTAs, visuals, blogging, downloadables, etc. 
Every aspect of a digital marketing strategy will define different actionable items to reach your goals and gather correct audience information. 
To help you put together a solid winning digital marketing strategy, we prepared an effective framework to get started.   
During each step, try to think digital-first so that you can build a strategy that's not just an afterthought to your brand's other marketing campaigns. 
How to Build Your Marketing Plan
Assess Your Current Digital Strategy
Plan Your Digital Marketing Strategy
Create and Improve Your Website
Implement Your Digital Marketing Strategy
Monitor Your Digital Marketing Performance
Step 1: Assess Your Current Digital Strategy
First, it's important to know what's going on with your current digital marketing plan. What's working (and not) about your efforts so far? Take a step back to understand your plans and assets so far. 
Research Your Audience & Create Buyer Personas
Next, you should thoroughly research your target audience, and from there, build buyer personas that give you a better understanding of your customers.
Don't assume that you already know them – you may be surprised by what the research tells you.
Use the audience analytics from your social media platforms as well as your Google Analytics to gather all the data you need to build a buyer persona. You can also create surveys and polls and post them on social media, or send them through email to your current customer base.
It's essential that you base your digital marketing strategy on correct audience information, as it will guide your whole approach. Making assumptions about your customers and creating a marketing strategy around it might be damaging and stir your efforts in the wrong direction.
Here is a list of the details you have to gather to create a buyer persona:
Location

Age

Gender

Job Title

Income

Challenges

Interests

Desires

Buying habits
Understand Your Digital Sales Funnel
The digital sales funnel is different for every brand. Dig into your digital sales funnel to know what your target audience is searching for and how to attract them, engage with them and convert them into loyal paying customers.
The marketing funnel offers information about the customer journey and shows you exactly what you need to improve in order to generate more conversions and boost your sales.
Here are the three stages of the marketing funnel you need to consider:
Top of Funnel (TOFU)

: At this stage, your customers are not familiar with your business, products, and services.

Middle of the Funnel (MOFU)

: During this stage, your customers are aware of your business, and they are now researching your products and services.

Bottom of the Funnel (BOFU)

: The third and final stage is when your customers are ready to purchase from your business.
Let's look at an example of how you can use the marketing funnel to improve your digital marketing strategy. For example, if you notice that your website visits are low and your business is not bringing enough new customers, this means that you must work on your TOFU.
Since not enough people are aware of your brand, you must focus on increasing your online reach and visibility. 
In this case, you could start by:
Define Your Brand
During the assessment phase, you should also hone in on your brand identity. 
If you don't have a brand voice or style guide, this is the time to make one. In the long run, this will help maintain a consistent online presence that is both recognizable and memorable.
So, make sure to include the following elements in your brand style guide and monitor them to ensure that your business has a great overall look and feel to it:
Tone of voice

Logo guidelines

Color palette

Typography

Imagery
Don't be afraid to get inspired by looking at other brand style guides available online. Mozilla Firefox has a great brand style guide you can use as an example:
Evaluate Your Digital Marketing Channels and Practices
Organize all the data in a spreadsheet and include all the channels and marketing methods you used for each one of them. Look at the results and calculate your ROI to find out if they are worth investing in in the future.
To fully evaluate your digital strategy, you will have to look at the owned, earned, and paid media aspects of your approach:
Owned media

– Look at all the digital assets your business owns and create a list of pros and cons for each one, as well as a list of actions that will improve your approach. These can be social media accounts, blog content, websites, and more.

Earned Media – Here you can include all the PR work you did to grow your business, such as link-building efforts, guest posts, webinars, etc.
Paid media

– Go through all the paid initiatives you used to boost your results, such as any type of digital ads or sponsored collaborations.
Now that you have a better understanding of your current digital strategy, it's time to work on a new and improved version that will take your business to a new level of success.
Evaluate your entire social media marketing strategy in under 20 minutes by using SocialBee's editable
audit template
.
Step 2: Plan Your Digital Marketing Strategy
With such valuable information at hand, it's time to put it to good use by building a better digital marketing strategy.
Let's get started!
Set Marketing Objectives
Step one has been great for identifying your strong points as well as your weaknesses, but now it's time to create a plan around them. So, what better way to start than by setting objectives that will help you grow your business, overcome your challenges and make the best out of your best assets?
Remember that your marketing objectives should be aligned with your business needs. For instance, if your sales have been decreasing, you must adjust your marketing strategy to help you convert more leads into paying customers.
Before you set your goals, answer the following question from the S.M.A.R.T. objectives formula:
Specific

– What do you want to achieve, and how do you plan to do it?

Measurable

– How are you going to measure your progress?

Attainable – Is your objective realistic for now?
Relevant

– How does it solve your business needs?

Time-based

– How much time do you need to achieve your goal?
Identify Your KPIs
We can't speak about marketing objectives without mentioning key performance indicators (KPIs). These are measurable values that help you monitor how close you are to achieving your objectives.
Let's take the following marketing objective example and think of a KPI that will help us track its performance:
"Grow our email list by 30% within the next two months by creating two lead magnets and promoting them on our website and social media platforms."
In this case, a good metric to keep track of is the number of people that downloaded your resource from your website.
Here are some marketing KPIs examples that you should keep track of regularly:
Return on investment

– The profit you generated by investing in certain marketing practices and tools.

Return on ad spend

– The profit generated for every dollar spent on advertising.

Marketing qualified leads

–

A lead that has engaged with your business and has the potential to become a serious prospect.

Sales qualified leads

– A serious prospect that is ready to make a purchase.

Conversion rate

– The number of visitors that performed the desired action.

Website visitors

– The number of people that visited your website.

Social media engagement

–

The number of likes/comments/shares/mentions on social media.

Follower growth

–

The number of new followers you gain on social media.
Understand that your KPIs will change depending on your goals and scenario. For example, some key tactics for mobile app engagement include tracking KPIs like user churn and active users. However, your website would be better off monitoring visitors and site growth.  
Focus On the Digital Channels & Activities That Matter
When choosing the best marketing channels and activities for your business, you have to keep in mind the research you conducted in the first step. More specifically, you must consider your audience, competitors, and your marketing funnel. 
Furthermore, remember what you discovered by evaluating your digital strategy and answer the following questions:
What are the channels and activities you should focus on?

What are the channels and activities you must get rid of?
With your objectives in front of you, start thinking about the ways you can achieve them. First, decide on the channels that are worth your time and resources. 
Here is a list of the most important channels you should include in your marketing strategy:
Social media marketing

– Focus on the social media networks where you can find a significant part of your target audience.

Email marketing – Use email marketing to generate more website traffic, boost your sales and nurture your leads.
Paid advertising

– Run paid ads regularly to boost your brand awareness and increase your sales.

Affiliate marketing – Create an affiliate program and encourage other websites to promote your products and services in exchange for a percentage of the generated purchases. Don't forget to implement affiliate tracking techniques to be well aware of the results.
Influencer marketing

– Collaborate with relevant influencers and expose your brand to a larger audience.

Search engine optimization (SEO) – Optimize your content for search engines to increase the visibility of your business on SERP (search engine results pages) and optimize your website as a whole to get the best results.
Next, you need to take every channel and plan a set of activities that will help you achieve your marketing goals.
Let's take social media marketing for example. For this channel you could plan to:
Choose the Right Tools
You can't implement your digital marketing strategy without the right marketing tools. 
As you set up your goals, be sure to think about the resources you'll need to achieve them. This includes choosing the best technologies, such as a social media management tool, a webpage builder, an email marketing platform, a WordPress social media plugin, etc.
The more you can automate tasks, the better because such tools will not only help you achieve better results but will also save you time and money.
For example, SocialBee is a social media management tool that helps you create and post content on all your social media accounts from one place so you don't have to go to each platform to write and share a post.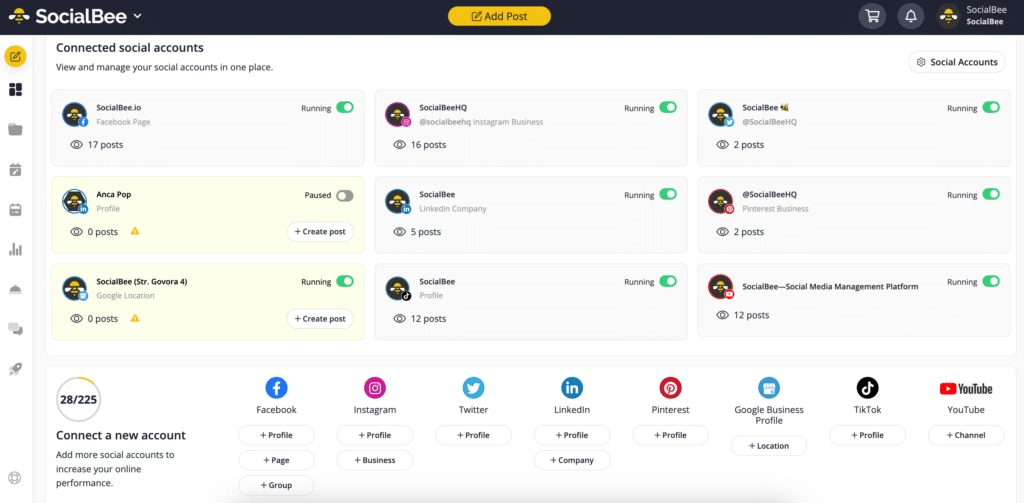 Connect all your social media accounts to SocialBee to create and post content on all your platforms from just one dashboard. Adjust your posts and content schedules to fit the requirements of each platform from SocialBee.
Start your 14-day free trial today to test all the amazing features!
Moreover, it has many integrations that can help you:
Curate content by using the Pocket and Quuu integrations.

Create visuals from their content editor with SocialBee's Canva functionality.

Customize URLs by using the following integrations: Rebrandly, Bitly, RocketLink, JotURL, Replug, PixelMe, Switchy, and BL.INK.
And there is a whole lot more to say when it comes to benefits. SocialBee also allows users to access their social media analytics from the platform and easily collaborate with their team members.
Why invest in multiple platforms when you can have an all-in-one social media tool that can do it all?
Optimize Your Digital Marketing Strategy with SocialBee!
Build a Marketing Calendar
Finally, you should create a robust marketing calendar that integrates all your digital channels into a seamless action plan. 
Include all your marketing activities in one document that your entire team can access. As a result, everybody will have a better understanding of the marketing strategy and their responsibilities.
Having a marketing calendar provides clear directions at any point during the implementation of your digital marketing strategy. Additionally, because it helps you achieve your tasks on time, it also contributes to achieving your marketing objectives.
Step 3: Create and Improve Your Website 
A powerful and clean website design will help to attract customers' attention and distinguish you from your competitors. But if you are still from those who have no website, it's time to build one. 
Creating a successful website is not as complicated as you might think. Today, building a website is a matter of a few clicks, editing it is predominantly drag and drop (yes, even on WordPress).
Once your Website is ready, work on it to attract more visitors and convert them into paying customers by:
Going for a user-friendly design

Adding visible CTAs (calls to action)

Using relevant keywords that match your customers' search intent

Getting backlinks

Improving your page loading speed
Step 4: Implement Your Digital Marketing Strategy
It's time to put your plan into action. Your digital marketing campaigns are the centerpiece of implementation, so start checking off the actionable items of your marketing plan.
This is the most important part of your digital strategy, so make sure you stay focused and go through all the tasks you set in the first steps.
Keep an eye on your team and set up a system where you can see your progress in real-time.
Step 5: Monitor Your Digital Marketing Performance 
Tracking your digital marketing is an essential step to understanding what you need to improve.
If possible, set up regular metrics reports so you can easily analyze the results. Even free tools like Google Analytics let you set up regular reports and dashboards.
Optimize Your Marketing Efforts
Once you have metrics to analyze, you can use insights to troubleshoot your digital sales funnel. If you notice a high bounce rate on your latest landing page, evaluate why and identify potential fixes.
Every campaign should lead you to more insights and better planning. Revisit your digital marketing strategy to make improvements and optimize your plan for better results. 
Example of a Digital Marketing Strategy in Action: Zillow
Sometimes it helps to see how real brands are putting their digital marketing strategies into practice. Zillow is a good case study to see the full range of its digital prowess.
Zillow's digital marketing strategy has top campaigns on the web, blog, and social. Take, for example, its website. Zillow offers value-added tools for potential customers, including a free estimate of your home's value and a mortgage calculator. 
These types of tools keep users on-site and engaged while increasing Zillow's brand reputation.
Moreover, its content marketing strategy offers the brand more credibility and authority within the real estate industry. 
For instance, on its "Zillow Porchlight" blog, you'll find tips, home improvement advice, and neighborhood guides. These range from the practical "How to Install a Kitchen Faucet" to the whimsical "How to Carve the Best Pumpkin on the Block."
Finally, Zillow owns its social channels with campaigns that encourage user engagement. Its Twitter is packed with mini-surveys and questions – such as "What's the best place for a holiday food coma?" – these initiatives often provide intriguing user-generated content that Zillow often retweets. 
Boost Your Digital Marketing Strategy Today
With our digital marketing framework, you can start building the strategy you need to navigate the digital world. Prepare your brand for 2023 by following these steps to a solid digital marketing strategy that gets your brand real results.
And if you need a little help with your social media marketing strategy, we have great news. SocialBee is here to help you create and share content on all your favorite social media platforms from just one place.
Make sure you benefit from the 14-day free trial and test all the features SocialBee has to offer!
Optimize Your Digital Marketing Strategy with SocialBee!
Nick Huss is a digital entrepreneur and business enthusiast who is constantly seeking and testing new ways of doing business better. 
When not doing business Nick plays soccer, travels the World, and writes books.